UFC 280: Beneil Dariush vs Mateusz Gamrot Live Blog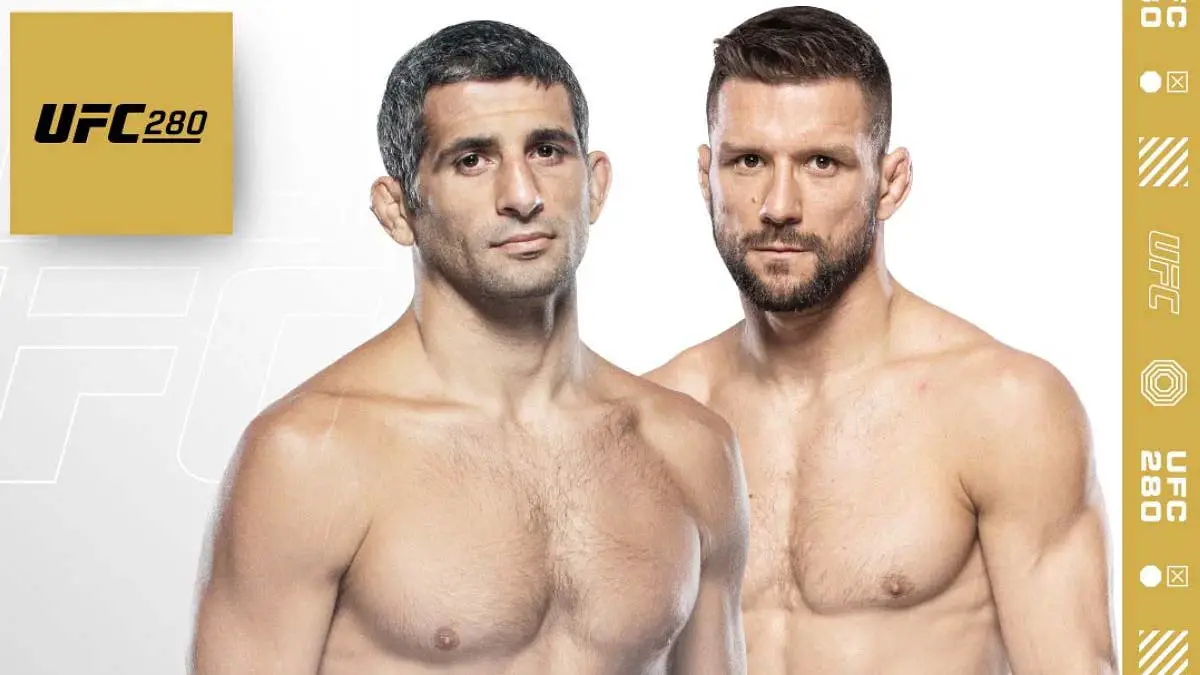 Beneil Dariush and Mateusz Gamrot clash on the main card of UFC 280 on October 22, 2022, in Abu Dhabi.
Number #6 lightweight Dariush is just behind the title contenders Charles Oliveira and Islam Makhachev in terms of winning streak in the division with 7 consecutive wins. He was also the backup for main event title fight at UFC 280 until he was replaced by #1 Pound for Pound Alexander Volkanovski. Dariush is just knocking on the door for a title shot. Will a win here secure it for him?
Mateusz Gamrot arrived UFC in 2020, but lost his first fight. However, he has won 4 bouts in a row since then and has brought himself in the lightweight rankings. He last defeated Arman Tsarukyan to headline a Fight Night event in June this year.
Tune in as we bring you live updates from Beneil Dariush vs Mateusz Gamrot Lightweight bout from UFC 280 PPV with play-by-play and round-by-round updates.
Live Updates
We are on video package for this fight. Gamrot comes out hyped up.
Dariush is also hyped and full of energy as he walks out next. Bruce Buffer does the announcements and we are ready to go.
Gamrot fakes a punch and tries to go for a takedown early. Dariush defends it and looks for his strikes. A big body kick lands. Gamrot goes for a takedown again and Dariush does well to defend. They are scrambling on the mat. Gamrot comes out on Dariush's back. They reset and are back to the middle. Dariush lands a sidekick but Gamrot catches his leg and brings him down. Gamrot is going for a leg lock. Dariush tries to counter with an ankle lock. Dariush gets up and Gamrot is on his back. Dariush breaks the waistlock again. Gamrot punches him on the back of his neck. Gamrot goes for another takedown in fourth minute. Dariush is out of position but does well to maintain his position for more than 20 seconds. He goes for Kimura to counter Gamrot's work. Gamrot punches again on back of the neck. He catches another kick but fails to do anything with it. A good kick lands for Dariush. Gamrot slips in the last action of the round.
Both men look for early jabs. Dariush hits a high kick. He defends another takedown attempt. He lands more jabs on the face. He lands a low kick as Gamrot was charging in. Gamrot blocks a knee but fails in takedown attempt. Dariush keeps avoiding Gamrot's counters and continues to land his punches and kicks in between. Gamrot goes for a takedown but Dariush defends it again. Dariush lands more kicks on his body. Dariush refuses to give his legs to Gamrot as he blocks another takedown attempt. Dariush hits more body kicks. Gamrot lands a jab and avoids a counter. Dariush lands another kick to the ribs. He lands a high kick. Gamrot hits a high kick and opens up with a knee strike. Gamrot manages a takedown in the final seconds of the round. A clear round for Dariush.
Frantic start to the round. Gamrot goes for a takedown but Dariush counters. Gamrot has to run away as Dariush was about to land a big shot on his head. Dariush lands a sidekick. Another big kick before he counters a kick with a punch. Another counter from Dariush. Gamrot lands a clean shot in his third attempt. They both go for knee strikes at the same time. Gamrot goes for a takedown again but Dariush manages to be on his feet. Gamrot has to give up that attempt after scrambling for 15 seconds. Dariush hits a punch and a sidekick. We are into the final two minutes and Dariush looks more and more comfortable. Dariush lands a big shot to drop Gamrot with 90 seconds left. Gamrot gets up quickly though. Dariush lands more jabs. Gamrot swings with a jab as we are in the final minute. Gamrot hits a knee and goes for another takedown. They are on the mat now but Gamrot is not in control. Dariush gets back up and lands a jab in the final seconds.
Beneil Dariush won via unanimous decision(30-27, 30-27, 29-28).