UFC 283 Glover Teixeira vs Jamahal Hill Live Blog, Play By Play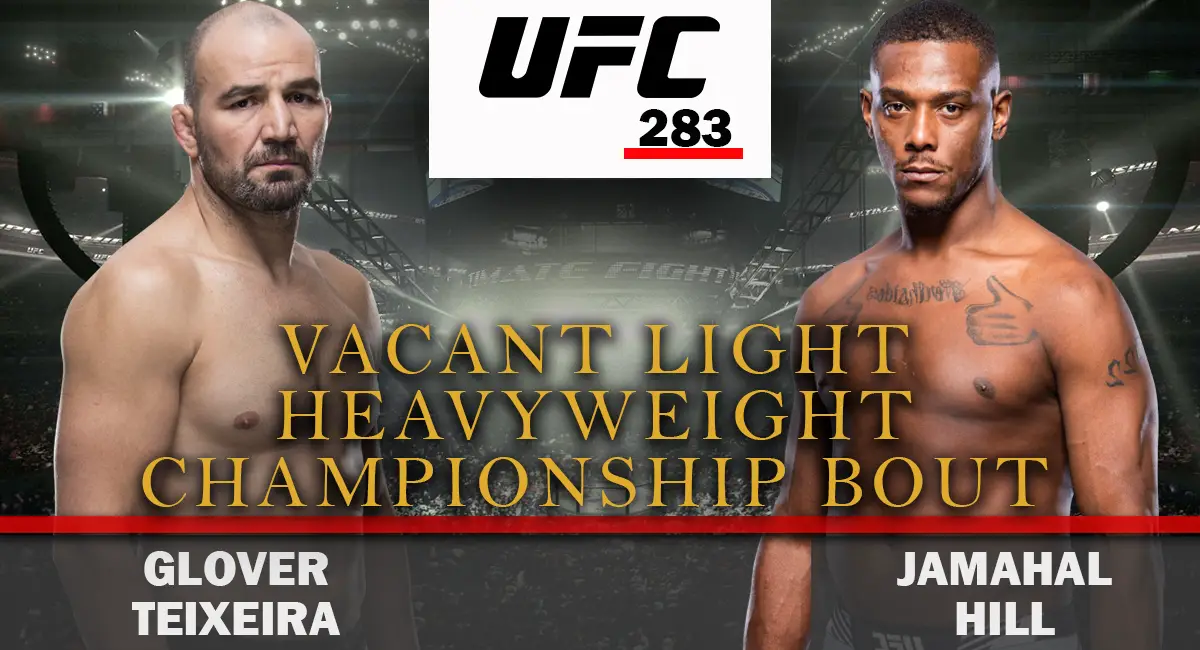 Glover Teixeira and Jamahal Hill found themselves fighting for Light Heavyweight Championship in the main event of UFC 283 PPV in an exciting turn of events.
Texeira became the Light Heavyweight Champion unexpectedly at UFC 267 when he defeated Jan Blachowicz. Teixeira lost the title in his first defense at UFC 275 to Jiri Prochazka in the final seconds of the bout. Teixeira and Prochazka were set for a rematch at UFC 282 main card, but Prochazka had to undergo surgery.
Teixeira was removed from the bout altogether when he refused to face Magomed Ankalaev on short notice. Jan Blachowicz faced Ankalaev in the UFC 282 headliner which ended in a split draw, leaving the promotion without a Light Heavyweight champ once again. As soon as that bout ended, UFC called up Teixeira and Hill to offer them the title bout, which was readily accepted by both.
Check below for a live blog with round-by-round updates and play-by-play action from Glover Teixeira vs Jamahal Hill bout for UFC Light Heavyweight Championship at UFC 283.
Live Updates
Teixeira feints a takedown. Hill throws his hands to push him back. Teixeira attempts a takedown again but Hill defends it. Hill lands a knee to the face and follows up with a combo. Glover attempts takedowns a couple of more times but Hill blocks them successfully while also throwing kicks and punches. Glover also lands a couple of jabs. He once again picks the leg but fails to takedown Hill. Hill hits a big kick to the body. He lands a few left jabs.
Glover connects a jab but Hill connects several jabs and punches in the next few seconds. Hill hits a knee to chest. Glover ducks a swing and lands his punches to Hill's body. Glover swings freely and connects a couple. The bout is stopped due to an eye poke on Hill. Hill blocks another takedown but Glover hits outside calf kicks now. Hill lands a combo and Glover's nose is leaking. Both men find their punches landing with just 25 seconds to go. Hill lands an outside calf kick before they trade punches to end the round.
Hill keeps his distance before connecting with a right. Glover hits an inside kick before Hill lands another punch. They both connect some low powered punches. Hill accidentally pokes Glover's eyes when he was going for a knee to the chest. Glover hits another calf kick. Hill lands a big head kick. A second high kick stuns Glover. Hill is on Glover as Glover tries to close the distance. Hill lands big punches before another kick. Glover comes out of it firing with his punches. He also lands a big kick. Hill fires back with more bodykicks. Hill fires big rights and legs.
Glover completes a takedown. Hill works his way back up against the cage. Glover goes for his neck but Hill blocks his choke. Glover gets him in the guard on the mat. Hill goes for an elbow to the head but had to block the choke. Hill slips out and gets back up. Hill throws a couple of punches as the final minute starts. Hill lands a straight right. Glover also connects a jab. He goes for another takedown but has to quickly get back. Glover's left goes through. A couple of jabs from Hill to close the round.
Glover starts with a takedown attempt. Hill changes the position against the cage and comes out of the waistlock. Hill connects his jabs. Glover fires a jab back. Hill connects a big head kick. Glover is wobbled again and falls as he steps back. Hill is on him with his big shots. Glover blocks it by turning his face. Hill is on him and continues to land big shots.
This goes on for a minute before Hill lets Glover get up to his feet as he was not able to land desired power punches. Hill hits a body kick and right punch. Glover fires his jabs but Hill dodges them. Glover fires a combo as the final minute starts. Hill is being patient to pick his spots. Glover has turned on the volume now but he is unable to land anything big. Hill lands a knee to the face as the round comes to an end.
Glover is cut open on his eyebrows. Hill lands body kicks before landing a front kick. He lands a left jab to poke at the cut eyebrow. He lands a head kick moments before a knee to head. Glover closes the distance and attempts a takedown. They come back to the middle and Glover lands a jab. Hill lands a high kick before a combo. Hill lands a sidekick to the body before more punches. Glover swings and misses a big right. Hill is dictating the pace now. Glover lands a combo out of nowhere in the counter.
Hill lands high kick. Hill is being patient as he dodges a couple of jabs. Glover is on him now with punches to head and body. Hill lands a combo before another big right hand. Hill fires with knees, punches and everything he can. Glover throws in a counter left. Hill throws a barrage of strikes including uppercuts, jabs, knees, and kicks. It is amazing that Glover is still standing with so much blood leaking. The round comes to an end with Hill in control.
The ringside physician checks on Glover before the round begins. Hill lands a big right after a few jabs. Glover goes for a takedown and manages to complete it. Hill has not given him much control but Glover has locked his legs and stops Hill from getting up. Glover hits elbows to Hill's head before he changes his crossbody stance to half-guard. Glover lands a few shots in the half-guard before Hill slips out and completes a takedown on Glover to get on top of him with half a round to go.
Hill is in the controlling position as we get to the final two minutes. Hill keeps Glover on the ground and keeps hitting him whenever he gets the chance. They get up to their feet in the final minute. Jabs from both sides. Glover tries to push the pace with 30 seconds to go but Hill keeps his distance. The round ends with not much action in the final seconds.
Jamahal Hill won via a unanimous decision(50-44, 50-44, 50-44).