How To Watch UFC 276 Online Streaming, PPV Prices Worldwide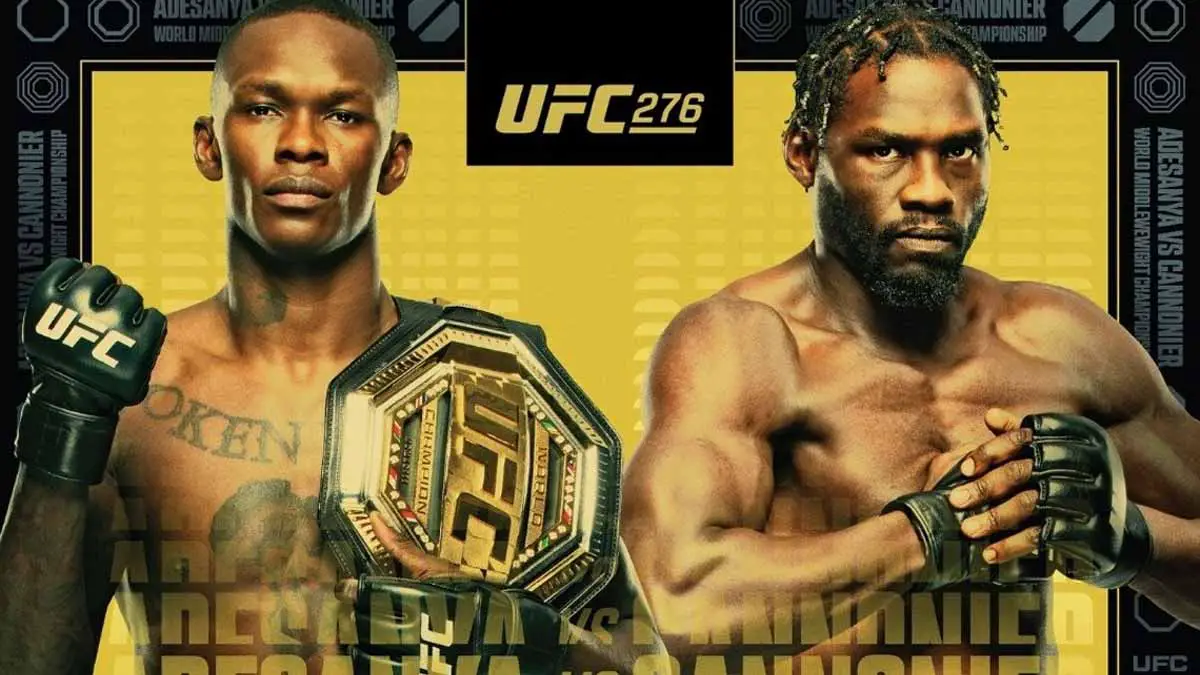 UFC 276 PPV will be headlined by double title fights with the likes of Israel Adesanya, Jarod Cannonier, Alexander Volkanowski and Max Halloway in the main event and co-main event.
The event is part of 10th UFC International Fight Week and will be taking place on July 2, 2022, from T-Mobile Arena in Las Vegas, NV, and can be easily considered the biggest UFC PPV of the year.
Israel Adesanya will be making the fifth defense of Middleweight Championship as he takes on Jarod Cannonier at UFC 276. Cannonier has lost just one bout from six since he has moved down to middleweight. Adesanya has remained an immovable object since arriving at UFC, winning all of his middleweight bouts, and only tested defeat against Jan Blachowicz when he attempted to become a double champion. Cannonier is known for his knockout prowess, but will his game plan work against Adesanya who largely remains out of harm's way?
After headlining two PPVs, Alexander Volkanowski will be in the co-main event as he faces Max Halloway for the third time at UFC 276. Volkanowski dethroned Halloway from the featherweight throne in their first bout back at UFC 245 in 2019 via unanimous decision. He was able to get a razor edge split decision in his favor in their rematch at UFC 251. Halloway has since got two dominant unanimous decision wins to return to #1 contender status.
The card will also feature Shane Strickland taking on Alex Periera, who is considered as a contender to dethrone Adesanya. Sean O'Malley will face Pedro Munhez in a bantamweight bout on the main card. "The Cowboy" Donald Cerrone faces another veteran in Jim Miller in the prelims. Uriah Hall and Jessica Eye are the other names that will be on the prelims.
The event will be a PPV in most countries like United States, Australia, Canada, United Kingdom and other countries. Check here on how to watch UFC 276: Adesanya vs Cannonier PPV online live streaming and on PPV in various countries, along with PPV prices and more details.
United States
UFC 276 early prelims will be airing on ESPN and prelims will air on ABC TV channel in US. UFC 276 PPV main card can be ordered in United States exclusively via ESPN Plus. For online streaming of the main card via ESPN Plus, you will need to pay $74.99 plus the monthly subscription price for ESPN Plus, $6.99. So, UFC 276 PPV will cost you a total of $81.98.
Prelims and early prelims will also be available on ESPN+. Check the below link to purchase UFC 276 PPV.
United Kingdom & Ireland
UFC PPVs are available in UK and Ireland on BT Sports, both for online streaming and cable TV. The prelims and main card of UFC 276 will air on BT Sports 1 in UK and Ireland. You can subscribe to BT Sports Monthly Pass for £25 to access both TV and online services.
To watch early prelims in UK, you will need to subscribe to UFC Fight Pass monthly subscription for $6.99 per month.
Canada
UFC 276 will be available on all major satellite PPV providers in Canada like Rogers, Shawdirect, Bell and others. For online streaming, you can order UFC PPV on UFC Fight Pass for $64.99.
Australia
Australia's own Max Halloway will be in action in the co-main event of UFC 276, while New Zealand's Israel Adesanya will be headlining the event. UFC PPVs are available via Main Event PPV on satellite TV. For online streaming of UFC 276, you can order it via Kayo Sports or UFC PPV on UFC Fight Pass. The prelims will air on ESPN TV channel and ESPN on Kayo Sports via subscription as well as on UFC Fight Pass.
Germany, Austria, Spain, Italy & Switzerland
Dazn's website and apps will be providing access to UFC 276 event in European countries like Germany, Italy, Austria, Spain and Switzerland via their monthly subscription.
India
Only the main card of UFC 276 will be airing in India via Sony Ten 2 on cable TV and via Sony Liv for online streaming. Sony Liv's yearly subscription costs Rs 999 per year or Rs 199 per month. Online streaming is also available on Jio TV mobile app exclusively for Jio Mobile Subscribers.
Worldwide
UFC's own UFC Fight Pass service airs all the UFC events including UFC 276's early prelims, prelims and main card. Prelims and early prelims will be available via Fight Pass monthly subscription while main card will be available after buying UFC PPV on Fight Pass.