Jorge Masvidal vs Colby Covington Grudge Match To Headline UFC 272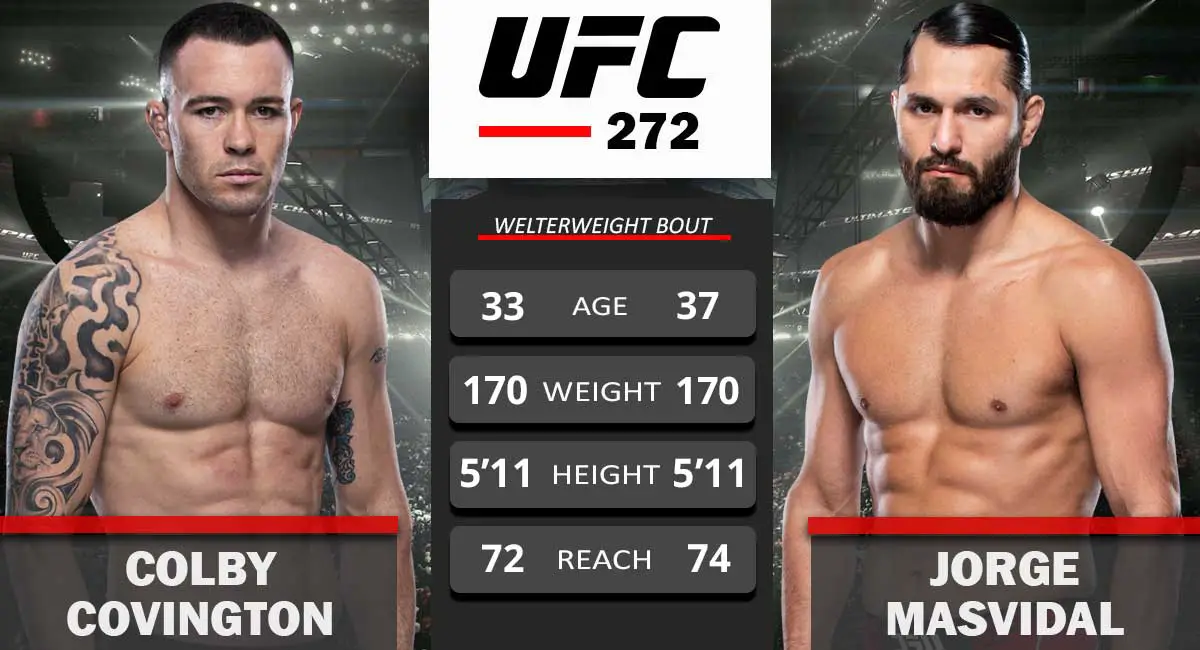 The friends turned to foes – Colby Covington and Jorge Masvidal – are headed to the main event of UFC 272.
UFC Chief Business Officer Hunter Campbell confirmed the promotion's plan to ESPN's Brett Okamoto that the bout is nearly finalized with verbal agreements, but not signed yet. Several other media outlets confirmed the news later.
Masvidal and Covington were former teammates at American Top Team and were even roommates for a period in time. Both men turned up at each other's fights and almost climbed in the welterweight rankings at the same time. However, things turned sour between them when Masvidal alleged that Covington did not pay a coach who helped him prepare for a fight against Rafael Dos Anjos. Covington denied those claims and said Masvidal got jealous of him when he defeated Demian Maia, who earlier defeated Masvidal.
The animosity between them increased so much so that American Top Team had to implement a rule against trash-talking between teammates who are not up for a fight against each other. ATT even had to take additional measures to keep them apart to avoid any kind of violence. Covington eventually left the gym and joined MMA Masters.
This fight also comes at a similar time for both fighters. Both men are coming off back-to-back losses to UFC Welterweight Champion Kamaru Usman in the last two years. Covington was the first challenger for Usman at UFC 245 and lost via 5th round TKO. Masvidal then challenged Usman's reign at UFC 251 to go the distance to lose via unanimous decision. Both fighters had rematches against Usman last year with Masvidal losing via KO in the second round at UFC 261 and Covington losing via unanimous decision at UFC 268.
Both Masvidal and Covington had to win this fight keep themselves as the top contender for another shot at Usman or any other future champion. But they are not in a mood to spare each other of any verbal shots. And the same can be expected to continue in the ring when the bitter rivals enter the cage at UFC 272 on March 5.
Masvidal earlier took a shot at Covington last week and asked "coward" to accept the fight when UFC comes calling. In his reaction to the bout being finalized, Covington told ESPN's Brett Okamoto that Masvidal better F***ing show up.
UFC 272 was earlier supposed to be headlined by two title fights between Alexander Volkanovski vs Max Halloway and Aljamain Sterling vs Petr Yan. After Halloway withdrawing from the bout, Volkanovski will face Chang Sung Jung at UFC 273 and Sterling vs Yan is also moved to the April 2022 PPV.