BKFC 47 Results Live, Fight Card, Time, Mundell vs Richman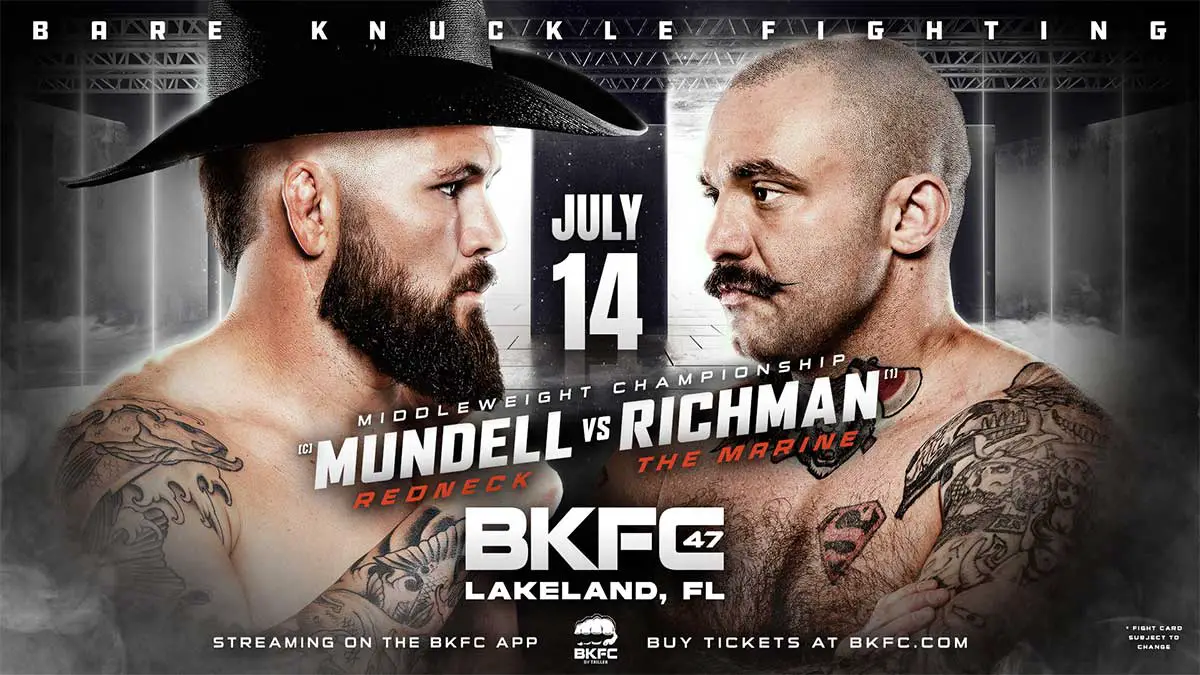 BKFC 47 event featured two title fights as it aired on July 14, 2023, from Jenkins Arena in Lakeland, FL.
David Mundell defended BKFC Middleweight title against Mike Richman in the main event. Mundell defeated Francesco Ricchi at BKFC 34 to win the title, which was his fourth win in a row. Richman was in his second bout this year after he lost to Lorenzo Hunt at KnuckleMania 3 in a bout for light heavyweight title.
In the co-main event, Josh Dyer and Jared Warren were in a bout for interim Light Heavyweight title bout. Both men returned to action for the first time this year. Dyer's bout against Joe Riggs ended in a No-Contest at BKFC 29. Warren beat Jay Jackson at BKFC 32.
The prelims card featured 2 bouts as it started from 8 PM ET. The main card was from 9 PM ET. Check below as we post results live from BKFC 47: Mundell vs Richman event with fight card, and more details.
RESULTS
Prelims
Michael Larrimore def. Daniel Gary via TKO at 0:22 of round 1 – Featherweight Bout (Watch Video)
Ja'Far Fortt def. Tim Hester via TKO at 1:58 of round 3 – Welterweight Bout (Watch Video)
Main Card
Crystal Pittman def. Toni Tallman via TKO at 1:07 of round 2 – Women's Bantamweight Bout (Watch Video)
Tony Murphy def. Michael Jones via TKO at 1:16 of round 3 – Middleweight Bout
Gabrielle Roman def. Martyna Krol via TKO in round 1 – Women's Flyweight Bout
Ryan Reber def. Travis Thompson via split decision – Bantamweight Bout
Brandon Allen def. Seth Shaffer via TKO at 0:50 of round 2 – Featherweight Bout
Co-Main Event: Josh Dyer vs Jared Warren (no-contest (illegal strike to the head) at 2:00 of round 2 – Interim BKFC World Light Heavyweight Championship Bout
Main Event: David Mundell def. Mike Richman by KO at 1:52 in round 2 – BKFC World Middleweight Championship Bout