BKFC 34 Hollywood Results, Palomino-Tom Shoaff, Ricci-Munde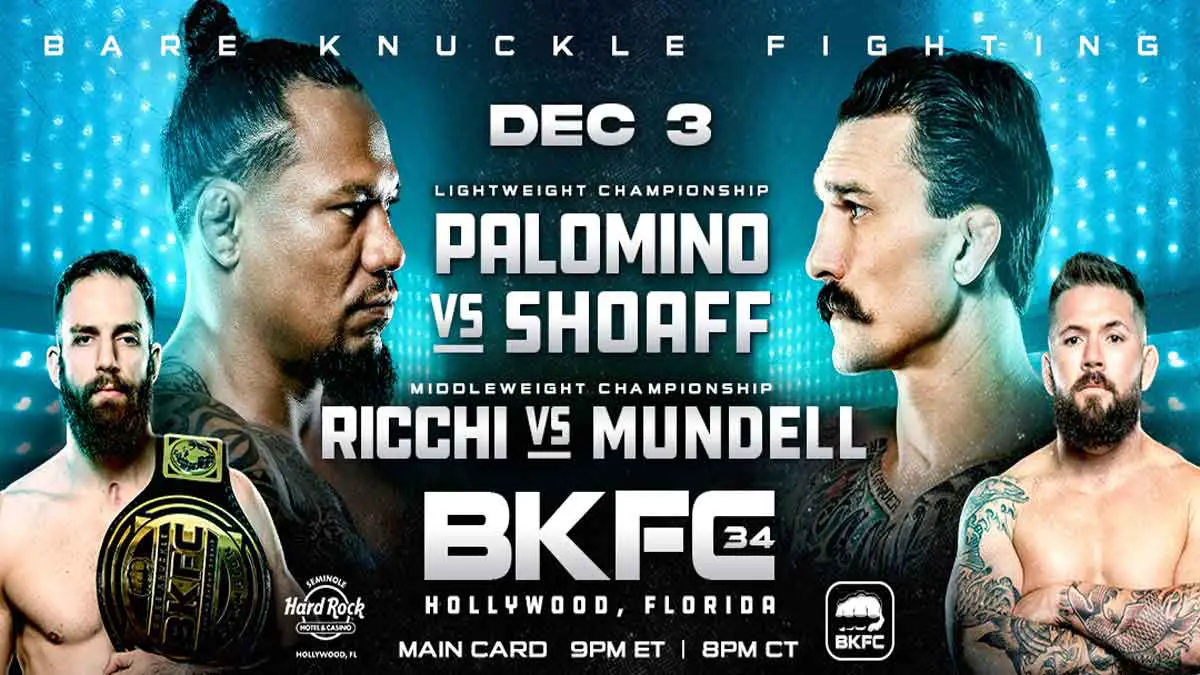 Bare Knuckle FC will present BKFC 34 Hollywood event on December 3, 2022, from Seminole Hard Rock Cafe & Arena in Hollywood, FL. The event will feature two title bout in the main event and co-main event.
Luis Palomino will defend his BKFC Lightweight Championship against Tom Shoaff in the main event. Palomino won the title from Elvin Leon Brito at BKFC 26 earlier this year. Shoaff is coming off a win over Bruce Lutchmedial in April this year to take his winning streak to three wins in a row.
Francesco Ricci will defend Middleweight title for the first time since winning it at BKFC 26 by beating Ulysses Diaz. David Mundell is coming with two wins this year over Julian Lane and David Simpson.
The prelims will feature 5 bouts starting at 7 PM ET while the main card will start from 9 PM ET. Tune in for the results live from BKFC 34 Hollywood: Palomino vs Shoaff event.
Results & Card
Prelims Card (7:00 PM ET)
Freddy Masabo def. Shawn Moffett via TKO at 0:27 of round 1- Featherweight Bout
Rambo Russo def. Jakobi Lowry via TKO at 2:00 of round 1- Flyweight Bout
Jeremy Smith def. Leo Valdivia via KO at 1:52 of round 3- Light Heavyweight Bout (Watch Video)
Alberto Blas def. Jeremiah Potts via TKO at 0:54 of round 1- Bantamweight Bout
Joshua Famez def. Glendel Futrell via unanimous decision(48-47, 48-47, 49-46)- Welterweight Bout
Guillermo Perez def. Rob Fuller via KO at 1:54 of round 1- Flyweight Bout (Watch Video)
Main Card (9:00 PM ET)
Rene Rodriguez def. Jake Young via TKO at 1:57 of round 1- Welterweight Bout
Bryan Duran def. Kobe Bowen via KO at 0:15 of round 1- Lightweight Bout
Blake Davis def. William Dunkle via KO at 1:43 of round 1- Middleweight Bout
Christine Vicens def. Jocelyn Lybarger via unanimous decision(50-45, 50-45, 50-45)- Women's Flyweight Bout
Louie Lopez def. Howard Davis via TKO(doctor stoppage) at 1:59 of round 1- Featherweight Bout
David Mundell def. Francesco Ricci(c) via KO at 1:48 of round 3- Middleweight Championship Bout (Watch Video)
Luis Palomino(c) def. Tom Shoaff via TKO in round 4- Lightweight Championship Bout