BKFC KnuckleMania 3 Results LIVE, Hunt vs Richman, Card, Time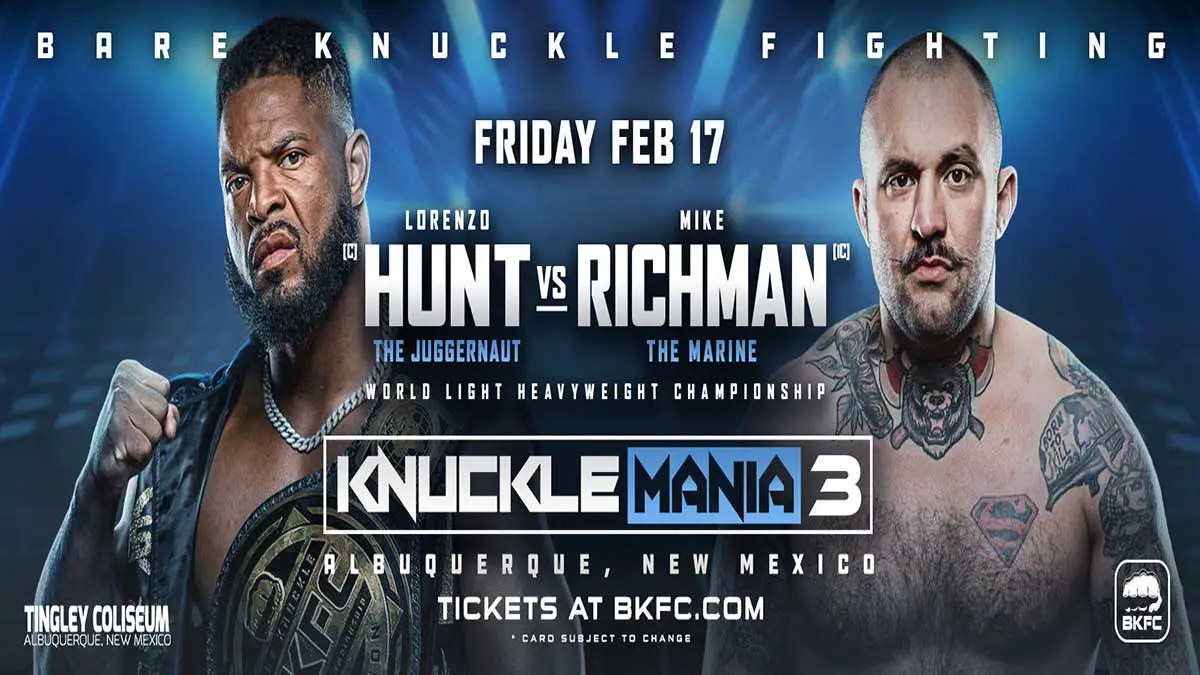 BKFC presented KnuckleMania 3 event, their biggest event of the year, on February 17, 2023, at Tingley Coliseum in Albuquerque, New Mexico.
The headliner featured light heavyweight championship bout between Lorenzo Hunt and Mike Richman. Hunt made the third defense of light heavyweight title that he won in November 2021 by beating Hector Lombard. Hunt was in action twice in 2022 to defend his title and beat Joe Riggs at BKFC 24 and Quentin Henry at BKFC 30.
Mike Richman remained undefeated in BKFC prior to this clash. Did that change here? Richman was last in action to headline BKFC 31 to beat Isaac Doolittle. His only other bout in 2022 was beating David Rickels at BKFC 23 in April 2022.
Diego Sanchez and Austin Trout were in the co-main event to make their BKFC debut. Former UFC fighter Greg Hardy also made his BKFC debut. Gaston Reyno vs Daniel Vansickle and Derek Perez vs Anthony Sanchez were the other bouts featuring both debutants.
The action startsed at 8 PM ET with prelims card. The main card started at 9 PM ET. Check below as we posted results from BKFC KnuckleMania 3: Hunt vs Richman event with complete card, start time and more details.
RESULTS
Prelims (8 pm ET)
Derek Perez def. Anthony Sanchez via unanimous decision(49-45, 49-45, 50-44) – Bantamweight Bout
Nick Gonzalez def. Sito Navarro via KO at 0:41 of round 1 – Featherweight Bout (Watch Video)
Eric Dodson def. Gene Perez via KO at 1:32 of round 1 – Featherweight Bout (Watch Video)
Main Card (9 pm ET)
Kevin Croom def. Chevvy Bridges via KO at 1:11 of round 1 – Lightweight Bout (Watch Video)
Joshua Moreno def. Christian Torres via TKO(doctor stoppage) at 1:02 of round 2 – Middleweight Bout (Watch Video)
Gaston Reyno def. Daniel Vansickle via TKO(doctor stoppage) at 1:26 of round 1 – Lightweight Bout (Watch Video)
Will Santiago def. Noah Cutter via TKO(doctor stoppage) at 2:00 of round 1 – Middleweight Bout
Jayme Hinshaw def. Charisa Sigala via KO at 0:38 of round 1 – Women's Strawweight Bout (Watch Video)
Josh Watson def. Greg Hardy Jr. via KO at 0:19 of round 2 – Heavyweight Bout (Watch Video)
John Dodson def. Jarod Grant via KO at 1:41 of round 1- Flyweight Bout (Watch Video)
Co-Main Event: Austin Trout def. Diego Sanchez via TKO(doctor stoppage) at 1:44 of round 4 – Welterweight Bout
Main Event: Lorenzo Hunt def. Mike Richman via KO at 1:50 of round 1 – World Light-Heavyweight Championship Bout (Watch Video)