Austin Theory Beats John Cena to Kick Off WWE WrestleMania 39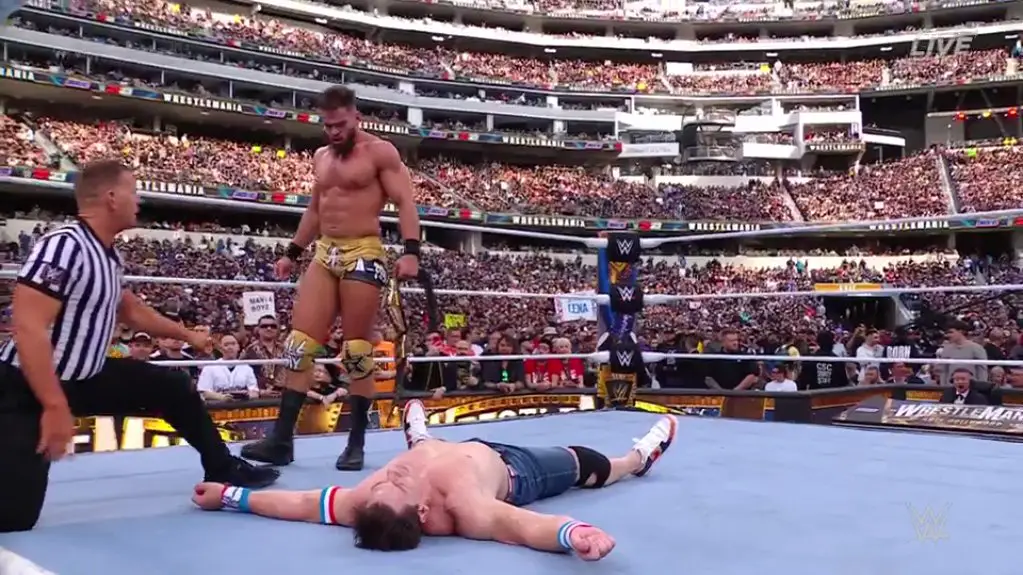 Austin Theory defended his WWE United States Championship against the legend John Cena in the opening match of WWE WrestleMania 39 Night 1 on April 1, 2023.
Storyline
Austin Theory teased a match with John Cena for several weeks at the start of this year. When WWE announced that John Cena would appear on the March 6, 2023, episode of RAW, Theory revealed that he would confront the leader of Cenation. Austin Theory did confront Cena and offered him a WWE United States title match at WrestleMania 39.
However initially, Cena refused to face him and decimated him verbally in front of the WWE Universe with insults. Theory then stated that Cena is disrespecting his fans by declining his challenge. Cena then accepted Theory's challenge and made it clear that regardless of a win or loss, Theory cannot come off better out of WrestleMania. In the following weeks, Theory claimed that he will make Cena believe in him.  
Live Update
-Austin Theory made his entrance first followed by John Cena who entered along with Make a Wish kids.
Theory kicks off things with a neck lock but Cena counters it drops him down, and comes with a neck lock of his own. After some back and forth Theory pushes Cena to the corner and then bites his ear. When Cena was showing the same to the referee, he came and attack Cena from behind. 
Theory then tries to hit John Cena with a suplex but Cena counters it with a suplex of his own. However, he rebounds with a jumping blockbuster for a two-count. He hits Cena with a dropkick for another two-count.
Theory measures Cena again, but the latter counters and puts him in the STF. Theory bites Cena again and then drops Cena with a clothesline. Theory stomps Cena and mocks the crowd. Cena blocks the next stomp and tries to hit the AA, but Theory counters with a DDT. 
John tries to fight and they both trade punches until Theory puts him in a sleeper home. Cena overpowers Theory and hits his signature shoulder tackle followed by a five-knuckle shuffle. Cena lifts up Cena for AA, but Theory holds the top rope and tries to get down, and takes down the referee in the process. 
John Cena puts Theory in the STF and Theory taps out. However, the official doesn't see it. Theory takes advantage and hits Cena with a low blow followed by A-Town Down to get the pinfall. 
Austin Theory officially retained the US title against John Cena in possibly the biggest match of his career so far.