WWE SmackDown September 22, 2023 Results, Live Updates, Winners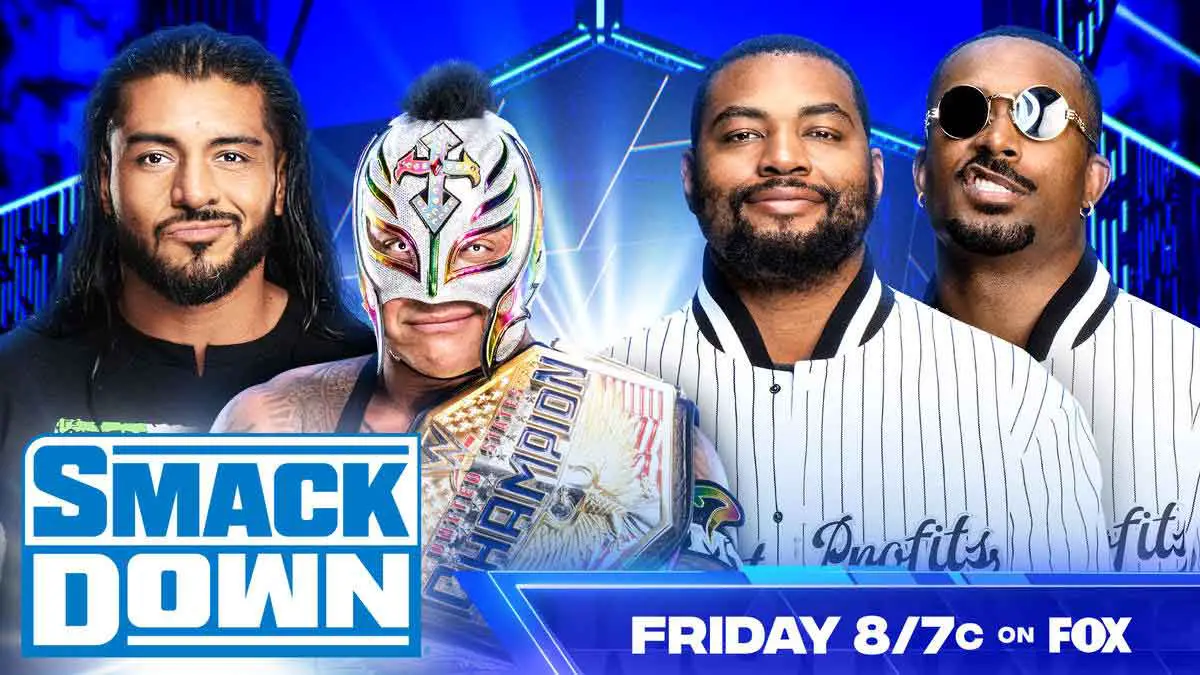 Welcome to the live results page for WWE SmackDown episode on September 22, 2023, live from Diamond Desert Arena in Glendale, AZ.
Two matches were set for the show with the build-up for Fastlane 2023. The Street Profits were taking on LWO's Rey Mysterio and Santos Escobar in a tag team match. Iyo Sky defended WWE Women's Championship against Asuka in a singles match.
John Cena was set to continue his recent WWE run with appearances. Tune in below as we post results from WWE Friday Night SmackDown September 22, 2023 episode, with live updates, winners and more.
QUICK RESULTS
LWO(Rey Mysterio & Santos Escobar) defeated The Street Profits(Montez Ford & Angelo Dawkins) in a tag team match via pinfall.
Iyo Sky(c) defeated Asuka in a singles match via pinfall to retain WWE Women's Championship.
Austin Theory & Grayson Waller defeated The Brawling Brutes(Ridge Holland & Butch) in a tag team match.
LIVE UPDATES
John Cena Wants a Match
John Cena opens the show. He says he has been able to do a lot since coming back on SmackDown, but he didn't come back to be a referee, a host, or a backstage correspondent. He came back to compete and he wants a match tonight. He then says he is angry at The Bloodline, and specifically at Jimmy Uso and Solo Sikoa. He thinks he has found himself a tag team partner.
AJ Styles' music hits and he comes out. AJ clarifies that Cena wants him to be his tag team partner to face The Bloodline, then he accepts his offer. He tells The Bloodline to come and get some action. Jimmy Uso's music hits, and he appears alongside Solo Sikoa. The two of them stare down Cena and Styles to close the segment.
The Street Profits(Montez Ford & Angelo Dawkins) vs LWO(Rey Mysterio & Santos Escobar)
Dawkins starts against Santos. Dawkins puts on a side headlock, and follows up with a sholder tackle. Santos hits a dropkick. Mysterio hits a hurrricanrana as he comes int. Dawkins decks him. Ford tags in for more shots. Rey hits a springboard crossbody. Rey uses a low bridges to send Ford to the floor. Rey goes for a basement slide but Dawkins pulls Ford out of the way. Dawkins hits a big tackle to send Santos flying and take us to a break.
Rey tries to fight back as we return. Rey sends Ford into a turnbuckle using a hurrricanrana to counter some other move. Santos hits some quick shots before hitting flying forearms. He hits a crossbody from the top rope. Ford hits a big kick and a splash for a two-count. Ford goes the top and Santos takes him down to the mat with a hurrricanrana to get a two-count. Santos hits a knee to the chest in to corner. Ford slips out of Phantom driver.
Dawkins tags in and hits a Samoan drop. Santos escapes a move and hits a knee. Rey tags in and sets up 619. Dawkins cuts him off with a spinebuster. The action leads to everyone but Dawkins on the floor. Lashley hits Rey with a chokeslam on the apron. Dawkins hesitates a bit before going for a powerbomb on Rey. Rey counters with a sunset flip to get the pinfall.
Winners – LWO
Lashley is shocked and so is Dawkins. Lashley walks to the back alone.
---
We see a recap of The Rock's return last week and segment with Austin Theory and Pat McAfee. After the recap, we see Theory trying to argue with the commentary team as we cut to a break.
---
Back from the break, Adam Pearce is telling Austin Theory that he can't hijack the show like that. Grayson Waller joins Theory. The Brawling Brutes then challenge them for a match later tonight.
---
Bobby Lashley is pissed with The Street Profits and tells them to give him back the suits and all the luxury he has given to them.
Iyo Sky(c) vs Asuka – WWE Women's Championship
Charlotte Flair comes out to the commentary table as the match starts. Asuka puts on an arm wringer. Iyo reverses it which leads to more reversals from both sides. Asuka puts on a side headlock. Iyo reverses that also. Asuka gets her in a takedown. She uses legscissors to get Iyo to the mat to get a two-count. Asuka hits deep armdrags before getting to the second rope. Iyo hits her with an armdrag from the second rope. Asuka rolls to the floor. Iyo misses a moonsault on the floor. Asuka hits a big boot as Iyo charges at her. We cut to a break.
Iyo fights off a superplex as we return. She hits a springboard dropkick next. Another springboard dropkick follows after a few seconds. Iyo hits a few kick. She goes to the top and Asuka hits he with some quick shot. Asuka hits a superplex, but she is late to cover and only gets two once again. Asuka hits a running knee to get another two-count. Iyo hits a clothesline to get a two-count. Asuka hangs onto the ropes but Iyo breaks her grip and manages to hit a German suplex.
Asuka counters and puts on a crossface. Iyo rolls her up to break free. Asuka lands a kick to Iyo's face. Asuka hits a missile drop kick. Asuka lands her face on the knee. Asuke hits a running knee and puts on fujiwara armbar. Iyo gets to the ropes to break it. Asuka goes to the top but Iyo hits her with a dropkick to send Asuka tumbling to the apron. Iyo tackles her off. Asuka misses a kick and her legs end up on. Iyo hits a moonsault on the floor to take us to another break.
Iyo hits a bridging German suplex to get a two count. Iyo puts on a crossface but Asuka is quick to get the ropes. Asuka reverses the lock in second attempt with an armbar. Asuka goes to the top and hits a missile dropkick to get a two-count. Iyo hits some punches. Asuka puts on anbarbar. She tries to go for Asuka Lock. Iyo gets to the ropes. Iyo is in trouble but manages to break free. Asuka slams her face the mat. Asuka puts on the Asuka lock. Bayley puts Iyo's leg on the ropes. Charlotte Flair attacks Bayley on the floor. Iyo hits Asuka with double knees on the ropes. She follows up with a moonsault to get the pinfall.
Winner – Iyo Sky
The Bloodline is backstage with The Bloodline. He hands them a contract for a tag team match against AJ Styles and John Cena. Heyman tells him that he is ok as long as the match is not tonight. Pearce says the match is for Fastlane.
---
We get a video from Pretty Deadly where Kit Wilson tells us about how miserable is Elton Prince due to his injury. We see Prince working out but the doctor says Prince will be fine.
The Brawling Brutes(Ridge Holland & Butch) vs Austin Theory & Grayson Waller
Theory starts against Butch and hits a big clothesline after they go back and forth. Theory hits some punches before tagging in Waller. Butch works on his arm and stomps on it. Ridge tags in and hits a double underhook suplex. Butch hits a dropkick as we return. Theory disturbs the bottom rope and Butch goes crashing to the floor. Theory chases him. Butch hits him with 10 beats on Beltran on the barricade while Ridge does the same to Waller on the ropes. We cut to a break.
Ridge throws around Waller with body slam and double underhook suplex after decking Theory off the apron. Waller counters but Butch breaks the pin. Butch uses a low bridge to send Waller to the floor. Ridge cuts him off with a tackle to block a roll in stunner. Ridge hits Theory with a body slam in the ring. Butch hits a moonsault on Waller on the floor. Ridge hits an Alabama Slam to get a two-count. Ridge puts on a Boston Crab. Butch puts a sleeper choke on Waller by jumping on his back. Waller drives Butch into the ring post. Waller hits a roll in stunner on Ridge. Theory hits A-Town Down on Ridge to get the pinfall.
Winners – Austin Theory & Grayson Waller
The Contract Signing!
Adam Pearce is in the ring and he welcomes us for the contract signing. He brings out John Cena. Cena comes out and signs the contract for the match right away. Pearce announces AJ Styles next. AJ's music hits but he does not come out. We see Jimmy Uso is beating up AJ backstage. He slam AJ's face on a production crate. Solo hits a splash on top of AJ on a production crate after jumping from 15 feet. WWE Crew is here and they try to clear the area to get AJ Styles out of there. Solo and Jimmy leave. We see Adam Pearce and John Cena reaching AJ to check on him.
After the break, we see AJ on a stretcher with The OC members, John Cena and some of the WWE Crew. Paul Heyman walks on the ramp amid boos. AJ is loaded up in an ambulance and is taken to the hospital. Karl Anderson tells John Cena that he told AJ not to get involved in the Bloodline stuff. Jimmy Uso and Solo Sikoa also come out to the ring. The crowd continues booing as Heyman takes the mic.
Heyman says he has a contract signed by John Cena in his hands, but there is no tag team partner with him. Jimmy snatches the mic away from Heyman and tells us to look at what happens when someone messes up with the Bloodline. Jimmy continues the trash talk until Cena runs out. He runs over Solo on the floor. He hits shots in the ring before hitting Jimmy with an AA. Solo comes in and Cena gets him up on the shoulder. Jimmy hits a superkick on Cena to save Solo. Solo hits a Samoan Spike on Cena.
They beat up Cena for a while before hitting another Samoan Spike. Jimmy hits a Usos Splash on Cena. He picks up the contract and signs it. Solo also signs it. Jimmy hits another Uso splash. Solo and Jimmy throw one up in the air as the show comes to a close.