WWE SmackDown March 4, 2022: Results, Card, Preview, Tickets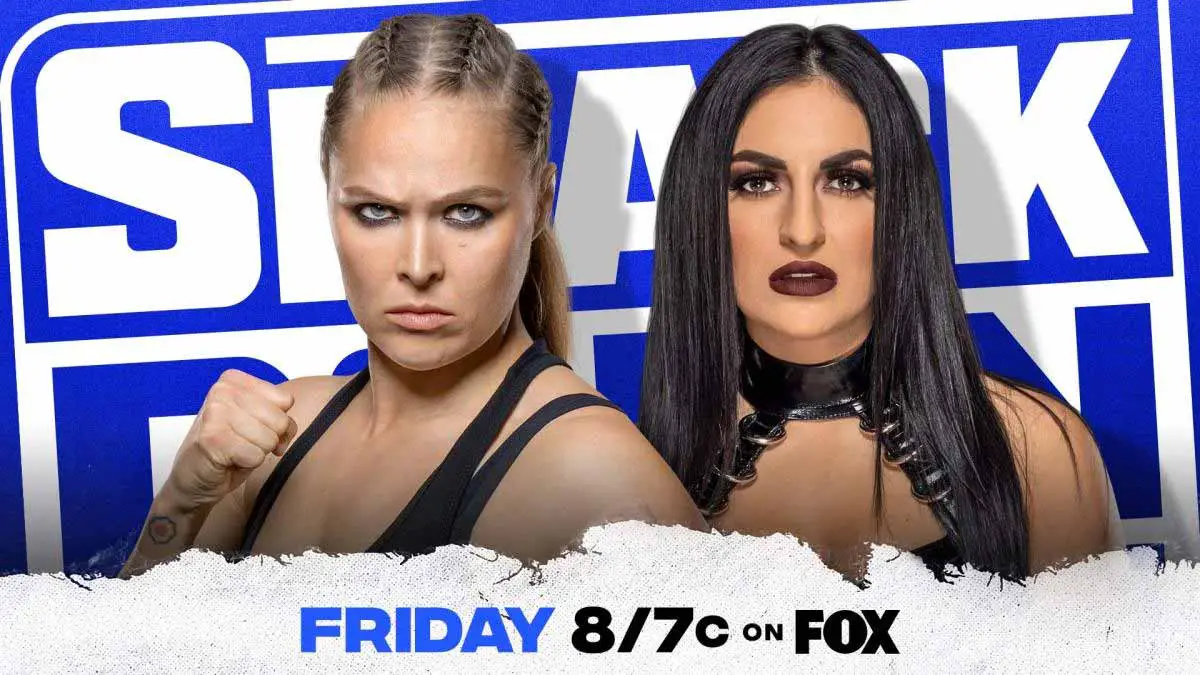 WWE SmackDown episode of March 4, 2022, will feature Ronda Rousey in action for the first time on the blue brand. The event will air live from the FTX Arena, Miami, Florida, US. 
The show will continue to build up towards WrestleMania 38. Ronda Rousey will square off against Sonya Deville in a grudge match. Two title matches are also announced with The Usos defending their SmackDown tag-team championships against The Viking Raiders, and Sami Zayn facing Ricochet in an Intercontinental title match. 
Continue reading to get all the details on the March 4, 2022 episode of WWE SmackDown.
Show – WWE SmackDown
Date – March 4, 2022
Location – FTX Arena, Miami, FL
Start Time – 8 PM EST
Live Updates
We get opening promos from Paul Heyman(for Roman Reigns), Ronda Rousey, Sonya Deville, The Viking Raiders, The Usos, Ricochet and Sami Zayn.
Sami Zayn(c) vs Ricochet – Intercontinental Championship Match
Ricochet starts with a sunset flip to get a two-count. He hits a dropkick and runs around quickly until Sami drops him with a clothesline. Sami slows down the pace and hits punches to the face. Ricochet gets to his feet off the chinlock and hits a step-up enziguiri to get another two-count. Sami is on the apron. Ricochet hits a superkick. Zayn hits back with an exploder suplex to take us to the break.
Sami is stomping on Ricochet. Ricochet brings him down from the top with a headscissors for another two-count. Ricochet springboards but Sami counters it with a powerbomb. Sami stomps on Ricochet some more. Ricochet fires with back elbows. He counters an exploder, sweeps Sami's leg and gets another close count. Sami moves to the floor. Ricochet hits a handspring dive.
Ricochet goes to the top as they return to the ring. Sami pushes him and drops him to the floor. Johnny Knoxville comes out to the ramp. Sami gets distracted by this. Ricochet takes down Sami with headscissors and keeps pressure on the legs to get the pin.
Winner – Ricochet
After the match, Knoxville mocks Sami for a while before leaving. Sami is irate. Ricochet celebrates his title win.
Sami Zayn is angry and throwing things around backstage. He says Knoxville is stalking him everywhere and following him everywhere. He looks at the camera and asks Knoxville will he follow him to Dallas, TX, for WrestleMania?
Austin Theory comes out to the ring with a mic and introduces himself as the protege of Vince McMahon. He says he has to ask Pat McAfee something. He wonders why Mr. McMahon was on his show. It was to set McAfee up. Austin says McMahon was 4-5 steps ahead of him. He continues to talk for a while before getting down to the floor and stand face to face to face with Pat McAfee in front of the announce table. Theory reveals to McAfee that he is his opponent for WrestleMania and slaps him to send the headset flying. Theory leaves and McAfee gets up on the announce table starts shouting at Theory. He continues to rant against Theory, asking Michael Cole who is this guy.
Naomi vs Carmella
Carmella comes out and gets her facemask. Naomi knocks her face with a sidekick on the apron. Zelina causes a distraction and Carmella brings her down. Carmella puts on a chinlock. Naomi gets her up on her shoulders and drops her for a jawbreaker. Noami htis a big kick to the face. Carmella attacks her on the top rope. Zelina tries to run another distraction but Sasha sweeps her on the floor and hits her with a Meteora. Naomi counters Carmella's charge and hits a moonsault to get the win.
Winner – Naomi
Happy Corbin and Madcapp Moss are playing poker in their locker room. Corbin talks about his WrestleMania wins and says McIntyre will be his victim and will retire him. Moss makes a joke about oldman McIntyre.
Drew McIntyre vs Jinder Mahal
They lock up and McIntyre pushes Mahal to the ropes. Mahal hits punches. McIntyre drops him with a headbutt. Mahal hits a big roundhouse kick to the face to drop McIntyre. He puts on a chinlock. McIntyre hits him with a belly-to-belly suplex. He hits a neckbreaker next. Shanky tries to intervere but Drew slams his face into the turnbuckle. Mahal tries to puts on chinlock. Drew hits another headbutt and Claymore kick to get the pin.
Winner – Drew McIntyre
Drew says he does not give a crap on what Corbin or Moss think. Nobody has any respect for them. Drew asks everyone who gauges their eyes out everytime Corbin and Moss are on the screen. Many from the crowd raise their hands. Drew promises to give Corbin a beating at WrestleMania.
Acknowledge Him!
Rick Boogs is out on the stage. He plays Shinsuke Nakamura's entrance music to bring him out. The Usos attack Boogs and Nakamura on the stage. Roman Reigns comes out after Nakamura and Boogs are down. He makes his entrance to the ring with Paul Heyman and The Usos.
Roman asks the crowd to acknowledge him before talking about both him and Brock Lesnar defending their titles at Madison Square Garden. Roman says he will smash anyone who steps up to him and send them back, just like he has been doing it for last one and a half year. But, Brock Lesnar's defense is where it gets tricky. Roman wants Lesnar to handdeliver the WWE title to him at WrestleMania. He has a spoiler for us. He says he has been like Babe Ruth here, calling his shot and delivering everytime.
Roman says he will beat Brock at WrestleMania and stand over him in the biggest main event match of all time, and Brock is going to acknowledge him. Roman loses his composure and starts shouting. He once again says Lesnar will acknowledge him. Roman gets his title from Heyman and raises it in the air to end the segment.
The Usos(c) vs The Viking Raiders – WWE SmackDown Tag Team Championship
Erik starts with Jimmy and brings him down to stomp on him. Both Usos are sent to the floor and Ivar hits them with a senton dive. Back to the ring, Ivar hits a splash on Jimmy to get a near fall. The Usos double team against Ivar and sends him to the floor. Erik tries to fight back on the floor but The Usos double on him and beat him up. Erik is sent into the barricade as we cut to the break.
Erik drops Jey as we return. Jimmy takes a blind tag and Jey drops Ivar off the apron. Jimmy drops Erik but Erick gets his knees up on the Usos splash. Ivar comes in and hits the Viking Experience. Jey breaks the pin. Jey and Erik tag in. Jimmy pulls out Ivar as the Vikings were going for a double team. Erik hits a ripcord knee on Jey. Jey sends him to the ropes and distracts the referee so that Jimmy could take a cheap shot.
Erik and Jey trade pin attempts for near falls. Jey and Jimmy hits 3D to get the pin on Erik and the win.
Winner – The Usos
Sheamus vs Big E
Big E and Sheamus are in the ring to start the match. Kofi starts to play New Day Rocks on ATV's horn. Ridge Holland slams Kofi with a chair. Big E is in two minds about going to save Kofi or face Sheamus. Holland starts slamming ATV with the chair. Big E decides to save Kofi but Sheamus brings him down with a chop block. Sheamus and Holland beat up New Day and then leave with their ATV. The match never started.
We go to backstage for an interview with Johnny Knoxville. Knoxville says Sami is pathetic and some more things along that lines. He accepts Sami's challenge for match at WrestleMania.
Corbin and Moss are playing darts backstage. Corbin goes to count the points on the dart board when McIntyre puts his sword across the dart board. Corbin and Moss run away seeing McIntyre.
Ronda Rousey vs Sonya Deville
Sonya and Ronda are in the ring. Smackdown Women's Champion Charlotte Flair comes out to join the commentary. Ronda runs over Sonya to start. She brings down Sonya for armbar but Flair runs a distraction for Sonya to hit a chop block. Sonya starts beating up Ronda. She hits a running knee and then puts on a chinlock. Flair says Ronda is one trick pony and she knows how to come out of the armbar.
Sonya slams Ronda back to the mat as she was getting to her feet. Ronda hits back elbows. She puts on choke using the ropes. Ronda hits a running knee before hitting combination punches in the corner. Ronda hits piper's pit and then puts on the armbar to get the win.
Winner – Ronda Rousey
After the match, Ronda asks Flair to get into the ring. Flair talks trash before getting in the ring. Ronda puts her in the ankle lock and Flair taps out. Ronda does not leave her for sometime. Flair rolls to the floor while Ronda stands tall to close the show.
---
Tickets
The tickets price of Friday Night SmackDown on March 04, 2022, are available at the below link. The price ranges from $50 to $1388.
Preview
Ronda Rousey vs Sonya Deville: Ronda Rousey will look for revenge after the sneak attack of Sonya Deville this week as the Baddest Woman on the Planet will face Sonya in a singles match on SmackDown. Sonya is also on a short lease with management who are reprimanding her time and again over her actions against Naomi and Ronda.
SmackDown Tag-Team Championship Match: The Viking Raiders will finally get a shot on WWE SmackDown tag-team titles after being robbed of their match at WWE Elimination Chamber 2022. They became the #1 contender a month back by winning a fatal 4-way contender match.
Intercontinental Championship Match: Sami Zyan promised that he would be a fighting champion, and now he has to fulfill his promise as he defends his Intercontinental Championship against Ricochet.