WWE RAW September 18 Results, Live Updates, Highlights, Winners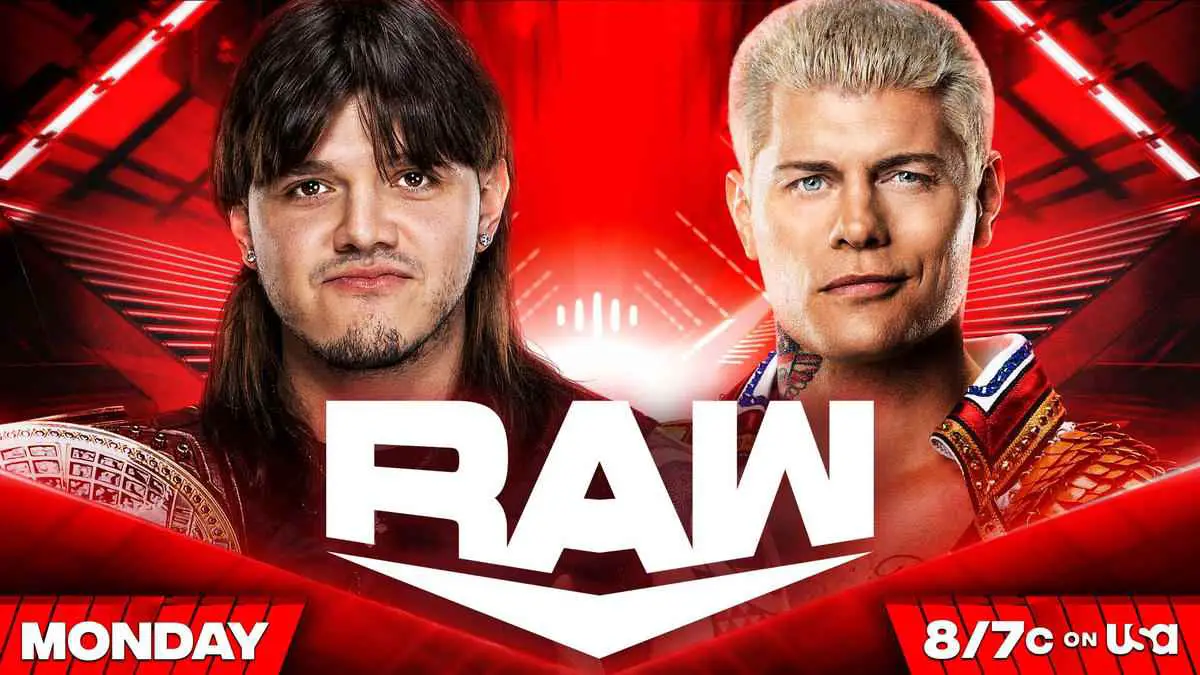 Welcome to the live results blog for WWE RAW September 18, which aired from Salt Lake City, UT, with the build-up for Fastlane 2023 matches on throttle.
4 matches were announced in advance, with 3 of them being rematches. Dominik Mysterio teased Cody Rhodes last week, leading to Cody hitting him with CrossRhodes, and that had resulted in a rematch between them. Another rematch saw Shinsuke Nakamura taking on Ricochet with one eye still on World Heavyweight Champion Seth Rollins.
New Day took on The Viking Raiders in a 2 out of 3 Falls match, with both teams at 1 win apiece in their two encounters since New Day's return. Jey Uso and Drew McIntyre were set for a big singles match, which was Jey's second match since coming to RAW. Who came out on top in this encounter?
Additionally, Becky Lynch appeared on RAW with her newly won NXT Women's Championship and issued an open challenge. Nia Jax's demolition drive also continued. Tune in below as we post results live from WWE Monday Night RAW September 18, 2023, with live updates, winners, highlights and complete action.
QUICK RESULTS
Cody Rhodes defeated Dominik Mysterio in a singles match via pinfall.
Kofi Kingston defeated Ivar in a singles match via pinfall.
Shinsuke Nakamura defeated Ricochet in a singles match via disqualification.
Piper Niven & Chelsea Green defeated Shayna Baszler & Zoey Stark in a tag team match via disqualification.
Bronson Reed defeated Chad Gable in a singles match via pinfall.
Becky Lynch(c) defeated Natalya in a singles match via pinfall to retain NXT Women's Championship.
Tommaso Ciampa defeated Giovanni Vinci in a singles match via submission.
Drew McIntyre defeated Jey Uso in a singles match via pinfall.
LIVE UPDATES
Cody & Dominik
Cody Rhodes opens the show with his entrance. He was interrupted last week, so, he really wants to talk about Main Event Jey Uso. Dominik Mysterio's music hits and he comes out. He has the mic on the stage, but the boos are not letting him talk. He says they will continue to be the most dominant faction in all of WWE. He also tells us that Rhea is out since Nia Jax injured her last week. But, tonight after he beats Cody, he will dedicate his victory to Mami.
Cody asks Dominik to tell the crowd the same thing again. Cody says then may be Rhea gets inspired to define their relationship. Cody says Dominik is more into Rhea than Rhea is into Dominik, and she had eyes for Jey Uso last week. Dominik tries to argue otherwise as Finn Balor and Damian Priest of Judgment Day come out.
Cody Rhodes vs Dominik Mysterio
Cody starts with his signature drop-down and punch. He hits a delayed vertical suplex next. Cody puts on a figure four leg lock. Dominik catches the rope. Cody hits overhead chops in the corner. A counter whip sends Cody to the floor. Balor pulls him off the apron. Dominik hits a couple of suplexes. Cody blocks the third one and hits Cody Cutter. He finishes off things with CrossRhodes to get the pinfall.
Winner – Cody Rhodes
After the match, Judgment Day line-up to take on Cody, but Kevin Owens and Sami Zayn run out quickly to side beside Cody. Judgment Day back off and leave. Cody leaves the ring. But, Kevin Owens asks him to get back into the ring as he wants to talk about something.
They Talk Jey Uso!
KO is sitting in one corner as he says Cody is one to bring in Jey Uso to RAW. KO asks him why he thought that it would be good idea to bring Jey to their locker room. Cody agrees that there are a lot of people in the back want to hear the explanation. Cody says he has a lot of jobs and roles, but his main job is to entertain the fan. Cody says everyone should get a second chance, and Jey deserves a second chance.
Sami adds that KO takes time to trust people, but he is the one who trusts people easily. Sami says it took a lot for Jey to come out of The Bloodline, but Jey deserves a second chance. KO says if they want him to pretend that he cost Sami and Cody title matches, and 5 title matches to KO, then he will continue to pretend. KO walks out of the ring alone.
Kofi Kingston vs Ivar
Adam Pearce informed New Day earlier today that Erik is not medically cleared. They talk him into booking a singles match instead. So, here we are.
Kofi goes for a side headlock takedown but Ivar is too big for him. Ivar hits a big shoulder tackle off the ropes. Kofi leaps over him a few times as he runs the ropes. Kofi hits an uppercut. Ivar hits his signature hip press from the corner. Ivar hits a hard whip across the ring. Kofi avoids a move from the top. Kofi hits quick punches and a clothesline. A big kick sends Ivar down and Kofi gets a two-count. Ivar sends Kofi with a back body drop to send him to the floor. Ivar hits a splash on the floor. We cut to a break with Valhalla and Ivar posing in front of announce table.
Ivar hits a side walk slam as we return. He hits a low crossbody to get a two-count. Kofi moves away from a frog splash from the top rope. Kofi hits a splash himself to get a two-count. He hits a crossbody next to get another two-count. Ivar hits a ground kick to drop him. Kofi hits SOS for a near fall. He hits a boom drop next to set up Trouble in Paradise but Ivar ducks it. Kofi also avoids a back heel kick. Ivar blocks SOS and hits a double underhook double powerbomb for a near fall.
Ivar connect a spinning back heel kick for another near fall. Ivar hits a hip attack in the corner. He gets to the second rope. Valhalla tells Ivar to turn around. Ivar hits a moonsault from the top rope but Kofi kicks out. Valhalla screams in frustration. Ivar is throwing fits. Ivar puts up Kofi on the top turnbuckle. Kofi fights back and hits a sunset flip powerbomb. Ivar rolls away from him to avoid a pin. Kofi hits Trouble in Paradise to get the pinfall.
Winner – Kofi Kingston
We see a recap of Shinsuke Nakamura attacking Ricochet backstage last week while Seth Rollins was challenging him. Ricochet is asked for his comments in his interview backstage. Ricochet says Nakamura made it personal last week and it is game over tonight.
Nakamura makes his entrance. As he is completing the entrance, Seth Rollins' music hits and he comes out. Adam Pearce gets security to stop Seth. Seth runs into the ring. Nakamura hides behind the security to get us to a break.
Shinsuke Nakamura vs Ricochet
Ricochet pushes Nakamura to the corner. Nakamura takes a cheap shot as the referee is pulling out Ricochet away. Nakamura hits more kicks after this as he keeps Ricochet grounded. Ricochet hits back and Nakamura gets to the ropes to avoid the attack. Nakamura hits a low dropkick to catch him during a handspring move. Nakamura takes control after his. He hits a some sidekicks to the face before starting to work on the ribs.
Ricochet hits a jawbreaker and a standing moonsault to get a two-count. Nakamura hits elbow shots on Ricochet to take control again. He unloads with chops and forearm shots in the corner. Ricochet tries to hit boots but Nakamura sets him up on the ropes instead. Ricochet avoids a sliding German. A dive from the apron from Ricochet takes us to a break.
Ricochet hits a running knee as we return. He hits a handspring kick and standing shooting star press to get a two-count. Ricochet avoids a knee in the corner after being set up, hits an enzuigiri and springboard crossbody for a near fall. Nakamura hits him with a big boot in the corner. He kicks Ricochet's leg on the apron to trip him. Ricochet hits a kick and a step-up enzuigiri. Nakamura goes for a chair shot but Ricochet ducks it. Ricochet instead hits Nakamura with a chair shot to cause a disqualification.
Winner – Shinsuke Nakamura(via DQ(
After the match, Ricochet argues with the referee in the ring. Nakamura hits him with a kick to the back of his knees. He hits kinshasa next. Nakamura slams his leg into the ringpost before a series of chair shots on the leg. Rollins runs out to attack Nakamura. Rollins goes for a pedigree on a chair but Nakamura hits him with a back body drop on the chair. Security runs out but Rollins tries to attack Nakamura again. Rollins drops him on the announce table.
After the break, Seth Rollins is screaming in pain as he walking backstage. A referee helps him get into the medical room.
---
We get a recap of how Shayna Baszler beat Chelsea Green last week, and Zoey Stark coming to her aid backstage against Chelsea and Piper Niven. Chelsea and Piper are backstage for an interivew with Byron Saxton and are asked about Baszler and Zoey. Chelsea discounts their tag team and calls she and Piper as best friends. Piper asks her from where she is. Chelsea gives a bunch of wrong answers and Piper goes away. Chelsea chases her after snapping on Byron.
Piper Niven & Chelsea Green vs Shayna Baszler & Zoey Stark
Zoey starts with quick shots taking Green to the corner. She beats up Chelsea for a while. Baszler tags in when Chelsea tries to counter. She hits a low dropkick to trip Chelsea. Zoey tags back in and keeps control for a while. She gets to the top and Chelsea counters a crossbody. Piper tags in and beats up Zoey briefly. Chelsea tags back and gets hit with a superkick from Zoey. Piper breaks the pinfall. Shayna catches her with a knee strike as she is going back. Piper drops Shayna on the floor and hits a senton. Nia Jax attacks Piper to send her into the corner to cause a disqualification.
Winner – Piper Niven & Chelsea Green(via DQ)
Nia gets into the ring to drop Zoey. She drops Chelsea next. Shayna tries to fight her former tag team partner but she hits her with a corner splash. She hits annhilator next on Shayna. Nia puts the whole locker room on notice.
---
Adam Pearce is talking to upper management on call about Seth Rollins being injured, and Nia Jax running wild. Chad Gable walks in and asks him what will he need to do get another shot at Intercontinental title. Bronson Reed comes in and starts to argue. Pearce has had it and tells them to take things to the ring.
---
We see the recap of The Rock's appearance on SmackDown last Friday.
---
Jackie Redmond interviews Jey Uso backstage and asks about Drew McIntyre and Kevin Owens not being in his favor. Jey says he has a lot of eyes on his back. Damian Priest comes in and asks him for a favor. Priest tells him that Judgment Day is looking for an Uso to join the faction. He is rooting hard for Jey but the group wants Jimmy. Priest asks Jey not to let him look bad in front of his family, and gives him until the end of the night for him to decide.
Bronson Reed vs Chad Gable
Reed starts with big shot and keeps Gable at bay for a while. Gable hits him with quick shots, clotheslines, and a missile dropkick to drop Reed. Gable fails to hit a German suplex. Reed hits him with a belly to belly suplex. Reed corners Gable to hit a splash before throwing him over. Reed keeps control. Gable tries to counter and gets to the top rope. Reed pushes him down to the floor. We cut to a break.
Gable is fighting back with some shots. He hits a chop block on the knee. Reed hits him back with a clothesline. Gable then puts him in an armbar on the ropes. He manages to drop Reed and hits a diving headbutt from the top rope to get a two-count. Reed avoids the Chaos Theory. Reed hits him with a Thesz press. Gable hits a chop block again. Gable is unable to hit Chaos Theory again. Reed goes for a senton but Gable gets his knees up. Gable jumps on his back and Reed drops back to hurt him. Reed hits Tsunami from the top rope to get the pinfall.
Winner – Bronson Reed
Tommaso Ciampa cuts a promo backstage saying he decided to be patient when coming to RAW. But, he found out that patience isn't a virtue and you need to create your own opportunities. So tonight, when Giovanni Vinci taps again, what will he get. Gunther has what he wants.
---
Kevin Owens and Sami Zayn are arguing backstage over Jey Uso. Jey also joins into the argument after coming in. Jey accuses KO of talking behind his back. KO says he can tell it to his face that he is with Judgment Day, or will be with them soon enough. The argument continues until Sami talks KO into getting to his car.
Becky & Opportunities!
Becky Lynch comes out to the ring with her NXT Championship. She says if she has learnt anything this year is that you have to take the chances and opportunities that come your way. Becky talks about the NXT Women's title representing the future of this business. And she is ready to give them all chances. She can't think of a better time and place….
Natalya's music hits and she comes out. She says nobody fights harder than her, and is waiting for her next shot after fighting Rhea Ripley 8 weeks back. Becky tells her that she meant for the open challenge for someone who is waiting for opportunity, not like someone who is here for 15 years already. Natalya says she has worked hard for 15 years, and Becky should not talk about opportunities as she has stomped on everyone's opportunities and won the title. Natalya decks Becky, which prompts Becky to accept the challenge.
Becky Lynch(c) vs Natalya – NXT Women's Championship
Natalya rushes Becky as the bell rings to drop her to the floor. We cut to a break with Becky down on the floor.
Becky hits a flying shoulder tackle as we return from the break. She hits an exploder next to get a two-count. Natalya hits a German suplex to counter the Manhandle Slam. She hits a superplex to get a two-count. Natalya goes for the sharpshooter, but Becky kicks her away before sending her into the turnbuckle. She hits a missile dropkick. Natalya rolls to the floor and Becky hits a basement slide. Back to the ring, Natalya avoids a move from the top and hits a discus clothesline. Becky puts on an armbar. Natalya has to work to get to the ropes. They trade quick pin attempts before Becky gets the three count for the win.
Winner – Becky Lynch
Adam Pearce is backstage with Dragon Lee when Dominik Mysterio comes in and blames Pearce not doing his job for Rhea's injury from Nia Jax's attack, and ultimately leading to his loss tonight. He tells Lee that he does not like masked man as they remind him of his deadbeat dad. Dominik claims that he will retain the title next week.
Giovanni Vinci vs Tommaso Ciampa
They lock up and tussle a bit before Ciampa is sent to the corner. Vinci catches Ciampa's kick and hits him with a clothesline. He hits big shots on Ciampa's back before throwing him into the ring post. Vinci hits a side suplex to get a two-count. Ciampa hits back with punches and chops. Vinci picks him up, but Ciampa slips out and hits a Thesz press to get a two-count. He hits an inverted DDT to get a two-count. Vinci rolls him up for a two-count. Ciampa counters a springboard move with a knee strike midair. Ciampa puts him in a Sicilian stretch to get the submission.
Winner – Tommaso Ciampa
Gunther is unhappy with Vinci over this as he watches it from backstage. Kaiser is also screaming at him.
---
Seth Rollins is out of the medical room and gets interviewed by Byron Saxton. Rollins says he is losing his mind and is going where he does not want to go mentally. Rollins tells Nakamura is that the ball is in his court, and he can name the time and place and stipulation. The match will define either Rollins or Nakamura's legacy.
Drew McIntyre vs Jey Uso
Drew McIntyre starts with big shots. Jey hits back with some of his own. Drew hits a kick in the corner before hitting a suplex to get a two-count. He hits some chops to drop Jey. A headbutt from Jey knocks him back. Jey hits a few punches from the second rope. Jey manages to send Drew to the floor and hits a suicide dive. He hits another suicide dive. Judgment Day's Priest, Balor and Dominik are out to take us to a break.
Drew is making a comeback as we return. Both men are down. Drew gets up first and hypes Jey. They trade shots. Drew comes off the ropes and Jey hits him with a Samoan Drop. Drew catches him with a shot at the ropes. Jey ducks him jump from the top but Drew hits him with a spinebuster for a two-count. Drew whips him to the corner. Jey hits a boot but Drew ducks his clothesline and hits a neckbreaker. Drew signals for the Claymore but Dominik distracts the referee to allow Priest to interfere.
Jey hits a superkick to take advantage. Drew kicks out at two. Jey is in the corner and Balor and Priest gets in his ears. Jey fist bumps Priest as he gets on the apron but then hits him with a superkick. Superkicks to Dominik and Balor also. McIntyre hits him with the Claymore kick to get the pinfall.
Winner – Drew McIntyre
Jey is surrounded by Judgment Day after the match. They start to beat up Jey while Drew watches it from the ramp and contemplates whether to help him or not. He draws boos as he starts to walk back. Cody Rhodes ultimately runs out to attack Judgment Day. He uses a low bridge to send Priest to the floor. Priest is hit with a superkick from Jey. Cody drops Dominik with Crossrhodes. Cody picks Jey up to close the show.