WWE RAW September 11, 2023 Results, Live Updates, Highlights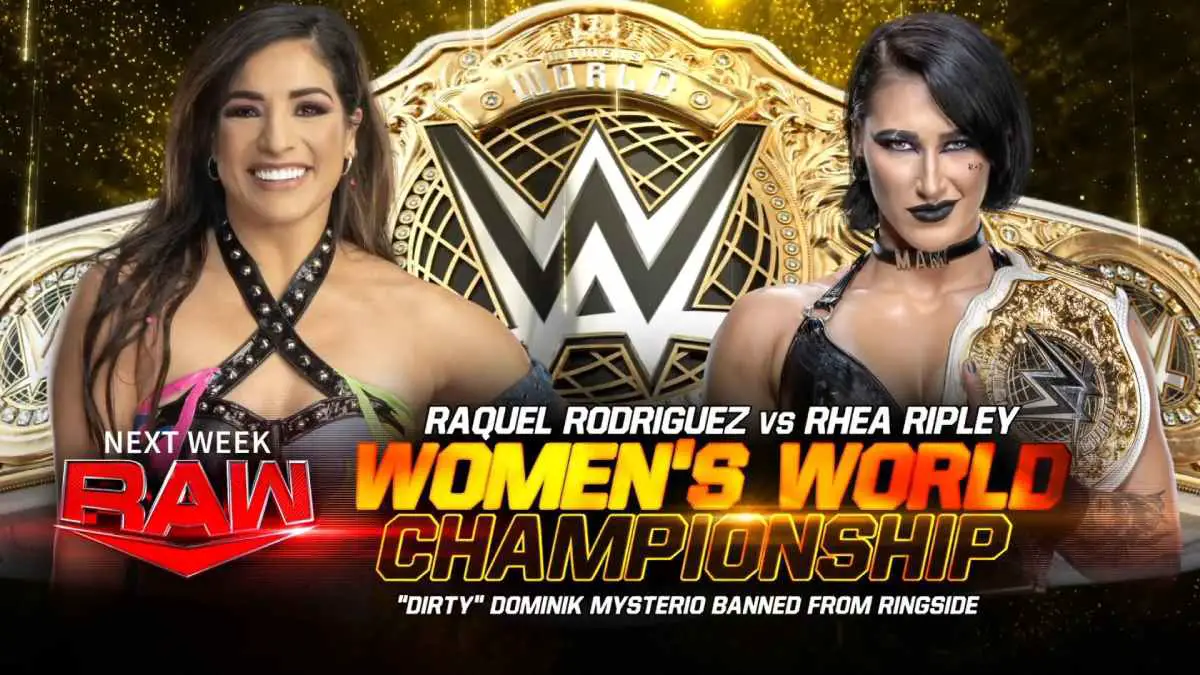 Welcome to the live results blog for WWE RAW September 11, 2023 episode which was live from Scope Arena in Norfolk, VA.
The build-up for Fastlane 2023 PLE was expected to kick-start with the show. Rhea Ripley and Raquel Rodriguez are set for a rematch over Women's World Championship. They clashed earlier at Payback, but the difference here was that Dominik Mysterio was banned from ringside.
Intercontinental Champion Gunther was set for a celebration as he passed Honky Tonk Man to become the longest-reigning Intercontinental Champion. Cody Rhodes was also back this week, but nothing was revealed about his involvement on the show. The feud between Seth Rollins and Shinsuke Nakamura also continued.
Tune in below as we post results from WWE Monday Night RAW September 11, 2023, with live updates, winners and highlights.
QUICK RESULTS
Judgment Day(Finn Balor & Damian Priest) defeated Jey Uso & Kevin Owens in a tag team match via pinfall.
The Miz defeated Akira Tozawa in a singles match via pinfall.
Drew McIntyre defeated Xavier Woods in a singles match via pinfall.
Shayna Baszler defeated Chelsea Green in a singles match via pinfall.
Alpha Academy(Otis & Chad Gable) & Tommasi Ciampa defeated Imperium(Gunther, Ludwig Kaiser & Giovanni Vinci) in a tag team match via pinfall.
Rhea Ripley(c) defeated Raquel Rodriguez in a singles match via pinfall to retain Women's World Championship.
LIVE UPDATES
The show opens with the commentary team going through the announced card.
Jey Uso & KO
Jey Uso makes his entrance in his ring gear after this. He takes the mic and says it feels good to be out by himself without The Bloodline, and it feels good to be on Monday Night RAW. Kevin Owens' music hits and he comes out. Owens looks in a foul mood. KO takes the mic and says Jey might have meant that he is on the Kevin Owens show. He was once in the same place as Jey as he did a lot of things to a lot of people, and it was hard to earn people's trust and respect. So, he understands. There are so many people coming to him saying that they should do something to Jey Uso. He names Cody Rhodes and Sami Zayn are the only one with Jey. Jey has a long way to prove to KO that he is not the scumbag anymore and earn his trust.
Judgment Day interrupts and Finn Balor says Jey does not need to get KO's trust as Balor trusts him, and Judgment Day trust him. Priest says KO does not speak for the whole locker room. He adds that Judgment Day doors are open for Jey always, and gives example of Dominik Mysterio thriving after joining the group. Dominik tries to speak but the crowd booing does not let him. Priest cuts off and says they are out here for a match against KO and Sami. KO replies Sami is not here but he will fight all 3 of them. Jey offers to by his side. KO takes a few seconds to think about it as Dominik continues the trash talk. KO tells Jey to lets do it. Jey nails Dominik with a superkick to start a brawl. Judgment Day is sent to the floor to take us to a break.
Jey Uso & Kevin Owens vs Judgment Day(Finn Balor & Damian Priest)
Priest corners Jey as the match start. Balor comes in and takes Jey to the mat. Jey gets back up and decks Balor. Jey tags in KO who tackles Balor. Balor fires punches before KO a DDT to get a two-count. Balor hits KO with a chop block on the knee from behind. Priest hits an uppercut after the tag. KO hits an enzuigiri and tags in Jey. Jey hits a crossbody from the top rope to get a two-count. Jey hits a Samoan Drop. Priest rolls to the floor. Balor is also thrown out. Jey hits a suicide dive on Judgment Day duo. Dominik trips KO on the apron to take us to a break.
Priest hits a clothesline on Owens as we return. Balor puts on a chinlock on the mat after the break. Balor misses an elbow drop and Jey tags in. Jey knocks Priest off the apron before quick shots on Balor. Balor stops Samoan drop with a rake to the eyes. Jey hits an enzuigiri. Balor avoids a hip attack in the corner. Jey hits a neckbreaker. He keeps Priest out of the ring with a kick on the apron. Balor rolls him up for a two-count. Jey hits a thrust kick on Balor. Balor gets his boots up as Jey goes for a splash. KO and Priest get the tags.
KO stomps at Priest in the corner. His knee gives up as he goes for a cannonball. He keeps control though, and hits a tornado DDT to get a two-count. Owens gets to the top rope. Priest decks him. KO fires back and a headbutt sends Priest back to the mat. Balor tags in and KO hits him with the brainbuster from the top rope. Priest breaks the pinfall on Balor. Priest decks Jey as he comes in. Jey goes for a superkick but it catches KO. Priest takes Jey to the floor. Balor hits Coupe de Grace from the top to get the pinfall.
Winner – Judgment Day
After the break, Jey Uso is trying to apologize to Kevin Owens for the superkick. KO is not having it and tells Jey to join Judgment Day as the new Bloodline.
---
We get a video package with highlights from Gunther vs Chad Gable match last week and becoming the longest-reigning Intercontinental Champion of all time. A car comes in and Ludwig Kaiser and Imperium come out. Gunther comes out from back door. They all are suited up.
---
Next is a video package for 9/11.
The Miz vs Akira Tozawa
Tozawa ducks a big boot and firess his shots. He hits a dropkick next. Miz hits a big boot to get two-count. He works on Tozawa on the ropes before a running knee. Miz hits several side kicks on Tozawa. Tozawa fires back with some shots before Miz throws him to the apron. Tozawa hits an enzguiri from the apron. Miz cuts him off once again before hitting a Skull Crushing Finale. Miz hits a couple of more times to get the pinfall.
Winner – The Miz
Raquel Rodriguez is interviewed backstage and asked about her match vs Rhea Ripley. She says Rhea Ripley is not the tallest and strongest woman in their match, and with Dominik banned from the ringside, she won't have anyone to help her. Raquel vows to beat Rhea for the title tonight.
---
Shayna Baszler is interviewed backstage. Shayna says Zoey surprised her last week. Chelsea Green interrupts her and says she is looking for a tag team partner tonight. Green calls Shayna a peer and offers her to be her tag team partner. Shayna instead tells her to meet her in the ring where she will take off her limbs. Piper Niven is behind Chelsea after Shayna leaves and snatches one of her tag team belts from Chelsea before saying she is medically cleared.
Gunther's Celebration
Ludwig Kaiser gives a grand introduction to Gunther who comes out. All 3 members of Imperium are in suits. Gunther gets some pyro as he poses from a podium in the ring. Gunther says to the surprise of nobody, he is the longest reigning IC champ. He gives his respect to all the champions before him and says they contributed nothing to the title, and it was he who made the title prestigious.
Chad Gable interrupts him and says they gave a main event for ages last week before congratulates Gunther for his achievement. Gunther asks him to get into the ring. Gable says he saw a look into his eyes which signified that he came the closest to beat Gunther. Gable says he also saw the look on his daughter's face who was crying. Gable says Gunther has lit a fire in him to make this whole thing right. He swears to win the championship and her daughter will be walking out with a smile.
Gunther asks Gable wants another opportunity to see his family being dragged out again only to see him lose again. Gunther says Gable gave him the fight of his life but Gable is a terrible father. Gable hits Gunther with a punch to start a brawl. Imperium take over control. Otis runs out and sends Kaiser & Vinci to outside. Gunther sends Otis out but Gable fights back until Vinci & Kaiser return. Tommaso Ciampa runs out with a chair to force Imperium to leave.
---
Earlier today, Xavier Woods asks Drew McIntyre why is he talking trash about Kofi Kingston when it was clear that he tried to help them last week. Drew is still apprehensive about Kofi's intentions. Woods says Drew might be jealous due to the fact that Kofi won WWE Championship in a full stadium while Drew got his moment in an empty stadium. Drew tells him to meet him in the ring.
---
Tommaso Ciampa is with Alpha Academy backstage and says Adam Pearce advised him to seize his moment, and Gunther's celebration was just that kind of moment. Otis proposes a carnage tag team match with Gable, Ciampa & Otis taking on Imperium. Ciampa is good with it.
Drew McIntyre vs Xavier Woods
Woods starts with punches and chops. He avoids the corner and continues to fire his shots. Glasgow kiss drops Woods. Drew hits big chops to keep things under control. Woods ducks a clotheline before hitting some thrust kicks. Drew is thrown out and Woods hits a suicide dive, which get caught easily. Drew throws Woods over the table to take us to a break.
Drew has Woods on the top rope. Woods blocks an Air Raid Crash and hits a sunset flip powerbomb. Woods hits a leg drop from the top rope to get a near fall. Drew hits him with a couple of belly to belly suplexes. He follows up with a neckbreaker. Drew signals for Claymore but Woods cuts him off with a superkick for another near fall. The next superkick is blocked and Drew hits a big chop. He goes for Alabama Slam but Woods turns it into a roll up. Woods hits another superkick, a dropkick and running knee. Woods hits more punches. Drew gets into it with his punches. They run the ropes, ducking each other several times. Drew catches Woods with a Claymore kick off the ropes to get the pinfall.
Winner – Drew McIntyre
What Does Cody Wants to Talk About?
Cody Rhodes comes out to the ring. He starts to talk about Jey but Dominik Mysterio and JD McDonagh come out to interrupt him. Dominik says they are so happy that Cody has brought Jey Uso to RAW, and when he joins Judgment Day, it will make Cody look like a fool. Dominik flicks Cody's tie and draws a punch from Cody. Cody fight both JD and Dominik. He sends JD to the floor with a back body drop and hits Cody Cutter on Dominik, a crossrhodes on JD and a crossrhodes on Dominik. JD pulls Dominik out of the ring.
---
Drew McIntyre tells Jey Uso backstage and tells him that he does not trush Jey one bit. Jey says it's cool. Drew says Judgment Day might be looking good to him as he could not stand on his two feet. Jey challenges him for a match next week. Drew agrees.
Shayna Baszler vs Chelsea Green
Chelsea ducks Shayna. Shayna grabs her hand before hitting her with a German suplex. Chelsea avoids a stomp on her hand and hits a couple of kicks. Shayna gets her in an armbar. Chelsea breaks free and rolls to the floor in front of Piper Niven. Shayna tells Piper to back off. She shoves Piper on her way in. Chelsea rolls her up as she gets into the ring. Shayna hits Chelsea with exterminator to get the pinfall.
Winner – Shanya Baszler
Piper comes in to start throwing shots on Shayna. Zoey Stark comes out to counter Piper and Chelsea double team. Zoey hits a knee strike on Chelsea. Piper leaves the ring to avoid more attack.
---
Shinsuke Nakamura asks Seth Rollins if he still feels like a champion. He brings up Rollins turning on Shield and breaking trust of many along the way.
Seth Rollins is Ready!
Seth Rollins comes out before the break. He welcomes us to Monday Night Rollins. He says he is a manipulation, deceiver, and a lair, and all the things Nakamura claims he is. But, he is also a father, a fighter and our World Heavyweight Champion. Rollins says he did not know who he was for a long time. He surrounded himself with wrong people in the Authority, but that did not work out. So, then he became the Messiah, but then he became himself. He is the Seth Freakin' Rollins and that's why we sing his song.
Rollins says the fans are the reason that he can go back to home to see his daughter smiling and look himself in the mirror. Rollins says the fans are not here just to talk, but to see him fight. Rollins says he called out Nakamura last week, but Nakamura replied that he would do it in his own time. Rollins claims that he took away more from Nakamura than he was showing. He calls out Nakamura to come out and have a World title match right away.
Nakamura's music hits but he does not come out. Instead, he is beating up Ricochet backstage. Nakamura says he wanted to fight Rollins, but he thought Rollins was not medically cleared. So, he fought already. He beats up Ricochet some more before saying something in Japanese.
---
Jey Uso is interrupted by Finn Balor. Balor brings up Jey's difficulties with Drew McIntyre and Kevin Owens. Balor adds that he, Priest, Dominik and Rhea are his fans and their door is always open.
Imperium(Gunther, Ludwig Kaiser & Giovanni Vinci) vs Alpha Academy(Otis & Chad Gable) & Tommasi Ciampa
Vinci and Ciampa start the match. Ciampa gets him down with a side headlock takeover. Vinci hits knees to midsection and punches. Ciampa slips out and hits a Thesz Press. A big right sends Vinci to the corner. Gable comes in. Vinci takes him to his corner to tag in Gable. Kaiser hits big punch before putting on arm and shoulder stretch. Gable rolls over a few times to reverse the stretch. Vinci tags in. Gable hits him with a kick. Kaiser uses a low bridge to get Gable to the floor. Imperium kick at Gable on the floor before throwing him back into the ring. Gable hits punches to midsection but Kaiser keeps him away from a tag. Kaiser hits back with a clothesline to drop him and take us to a break.
Gunther drops Gable with a big chop as we return. He knocks Ciampa and Otis off the apron. Gable hits him with a hip toss and tags in Ciampa. Vinci comes in and eats punches and a clothesline. Ciampa knocks Gunther off the apron before an inverted DDT from Ciampa. Vinci counters and tags in Kaiser. Kaiser blocks a tag. Ciampa hits him with a hip toss and tags in Otis. Otis hits body slams on Kaiser before a corner splash. He hits a caterpiller elbow drop. Kaiser slips out of fireman's carry. Otis goes for a tackle but misses Vinci in the corner.
Tags to Gunther and Gable. Gunther hits a German suplex. Gable slips through into an ankle lock. Gunther tags in Vinci. Gable hits Chaos Theory but Gunther breaks the pin. Ciampa hits a running knee on Gunther to send him to the floor. Kaiser decks Ciampa. Otis hits Thesz press on Kaiser. Gunther hits a big boot on Otis. Gable puts Vinci in an ankle lock. Gunther tries to break it but Ciampa puts him in a Sicilian lock. Vinci taps out to ankle lock.
Winners – Alpha Academy & Tommaso Ciampa
Judgment Day are discussing Jey Uso and say the more Jey will feel isolated, the more he will need Judgment Day.
---
Tiffany Stratton is backstage with Adam Pearce who has a contract. Becky Lynch comes in. Tiffany asks Becky why is she coming after her. Becky says Tiffany came to her show to get attention on her dead-end title reign and tried to take the spotlight. Tiffany says she will have no problem taking care of Becky. She signs the contract and leaves.
Rhea Ripley(c) vs Raquel Rodriguez – Women's World Championship
Rhea hits a clothesline to start the match. She hits another clothesline before slamming Rhea to the corner and hit shoulder blocks. Rhea tries to fight back but gets hit with a powerslam. Raquel puts on a bear hug. She goes to slam Rhea to the corner but Rhea counters. Rhea hits a missile dropkick. Raquel rolls to the floor and Rhea hits a cannonball off the steel steps. Rhea hits a running knee back in the ring. She keeps control for a while. Raquel sends her to the floor with a back body drop. Raquel hits a running boot against the barricade to take us to a break.
Rhea has the match under control as we return. She puts on a leg lock. Raquel slams her face into the mat to break the lock. Raquel misses a big boot in the corner. Rhea slams her face into turnbuckle. Rhea picks her up and drops her face into the turnbuckle. Raquel overpowers Rhea and drops her on the turnbuckle. They hit each other with a running boot at the same time and both women are down. They fire shots at each other as they get up. Rhea stomps o the feet. Raquel attempts a spinebuster but Rhea lands on her feet and hits a back heel kick. Rhea hits a Northern Light suplex to get a two-count with a bridge.
Raquel blocks the Riptide and drops Rhea face first into the turnbuckle and hits a body block and a running boot to get a close two-count. Rhea counters in the corner. She hits a frog splash off the top rope to get a near fall. Rhea hits a baseball slide to send Raquel to the floor. Raquel grabs her when she goes for a cannonball. Raquel swings her into the announce table before hitting a Tihana bomb on the apron. Raquel throws Rhea into the ring. Nia Jax comes out and hits Raquel with a Samoan drop on the floor while the referee is busy checking on Rhea. Raquel manages to make her way into the ring but Rhea hits her with Riptide to get the pinfall.
Winner – Rhea Ripley
Nia Jax gets into the ring after the match and hits Rhea with a headbutt. Nia hits a leg drop and a hip drop from the second rope. She gives flying kisses to the crowd to close the show.