WWE RAW Results July 11, 2022, Live Updates, Highlights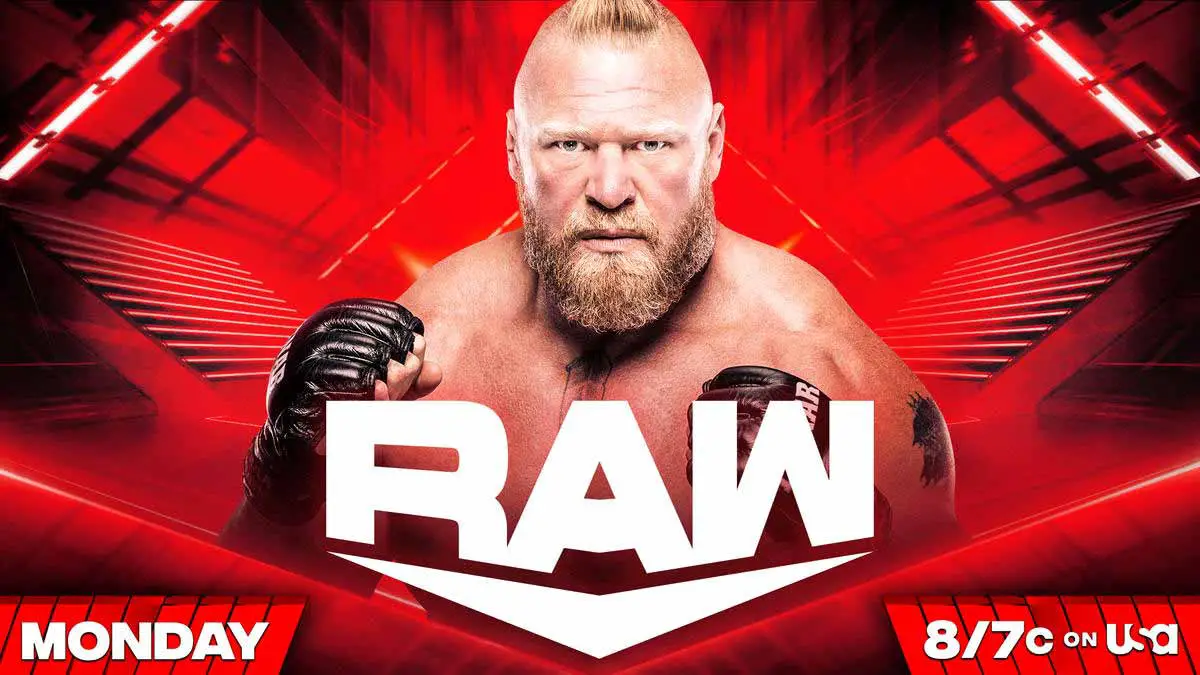 Welcome to WWE RAW Results live blog for July 11, 2022 episode from AT&T Center in San Antonio, TX.
The show will feature the return of Brock Lesnar as he builds up toward SummerSlam for a match against undisputed WWE Universal Champion Roman Reigns. Bobby Lashley will be issuing open challenge for his United States title as it has been the norm.
Two young guns of WWE clash and Theory takes on Riddle in another singles match. We might also get to know what is next for the likes of Becky Lynch, Seth Rollins, Bianca Belair, Asuka and other big stars. Also expect Logan Paul to make an appearance.
Check below as we bring in results from WWE RAW July 11, 2022 episode with live updates, winners, videos and more details.
Live Updates
Brock Lesnar is a Hog Slaughterer!
The show opens with Roman Reigns' clip from SmackDown last Friday. Brock Lesnar comes out now with a good response from the crowd. Lesnar takes the mic and says Roman has been flying high since WrestleMania. He says Pigs get fat and Hogs get slaughtered. He calls Roman a hog and that he slaughters hogs at his farm.
Paul Heyman interrupts him. "You S**k" chants for Heyman. Lesnar asks him if he is going to say something worthwhile. Heyman says we have gone from the Greatest WrestleMania of All Time to Most Barbaric Summerslam of All Time. Heyman says Brock is a hog slaughterer, and annihilator, recalling all the streaks that Lesnar has ended. Heyman says he is promising that Brock is not conquering Roman's title reign.
Before Lesnar could answer, Theory's music hits and he comes out. He says Summerslam is going to be the greatest night in WWE History as he would win back US title and then would wait to cash in after Roman vs Brock match. Brock asks him why does he not come down right now. Theory replies that their match at Summerslam would be life-altering. He shows us how Lesnar threw him at Elimination Chamber from the top of the pod.
Thoery then says that footage could be Roman. He then tells Brock that he didn't forget about it. Alpha Academy – Otis and Chad Gable- are at the ringside now. Otis get into the ring. Lesnar gets ready to face him but Gable hits him with a chop block from behind. Lesnar is still on his feet and smiles at them. Lesnar throws Gable out of the ring and then clotheslines Otis to the floor. He hits them with steel steps and them with steel chairs. He hits Gable with a German suplex and then hits Otis with an F5 on the announce table.
Rey Mysterio vs Finn Balor
Rey Mysterio enters with Dominik and we cut to a break. Finn Balor comes out with Damian Priest. Priest takes the mic and demands that all rise and show proper respect to Judgment Day. He says what happened last week was giving proper respect to the old guard and restoring Judgment Day's pride. He says Rey Mysterio will celebrate 20 years in WWE two weeks later at Madison Square Garden.
Priest says Rey is done and washed away. He hypes Dominik to join Judgment Day or perish with his father. Finn Balor now takes over and tells Dominik to get out of his father's shadow who is just a legend now. He shows us what they have done to a legend like Edge by replaying footage of attack on Edge. Balor says Edge was a bad leader, but Rey is also a bad father. Rey attacks Balor while Dominik takes on Priest. They send them to the floor and take us to a break.
A back and forth start to the match. Rey sends Balor to the floor with a hurricanrana. He follows with a crossbody before taking Balor back to the ring. Balor catches him with a backbreaker. Balor puts on a crossface for a while. Balor hits an elbow drop on Rey's back. He hits some shoulder tackles in the corner before putting on a chinlock.
Balor goes hits a suplex and was going for three amigos. Boos from the crowd, but Balor quickly changes it. Rey slams his face in the corner. He goes to the top but Balor trips him. Balor is now working on the leg. Rey falls to the floor and Balor gets him back. Balor gets distracted by Dominik and Rey hits him with a dropkick to send him into the barricade. We cut to a break.
Rey is fighting back on the top and takes down Balor with a hurricanrana from the top rope to get a near fall. He hits an enzuigiri to set up and hit 619. Rey gets to the top but misses the frog splash. He almost catches Balor with a crucifix for the pin. Balor drives him to the mat with an elbow. Balor hits an inverted suplex and then hits Coupe de Grace to get the pin and the win.
Winner – Finn Balor
Dominik gets into the ring immediately after the match to check on his father. Balor and Priest once again try to intimidate him for a short while.
---
Becky Lynch comes out to take us to a break.
Becky is on top of the announce table as we return from the break. She says she lost her mind a little bit after losing Money in the Bank. Then she realized that cashing MITB like Liv would be like winning a lottery. She does not want a lottery as she work every week for a paycheck. She reminds her of beating Asuka in a No Holds Barred match last week and says she should be getting a rematch for RAW Women's Champion, but it is Carmella who is getting a rematch. Becky demands a title match and throws the mic.
Bianca Belair makes her entrance. Becky talks trash to her as she enters the ring. Carmella enters next and we cut to a replay of Carmella attacking Bianca after she lost to her at Money in the Bank.
Bianca Belair(c) vs Becky Lynch – WWE RAW Women's Championship
The match starts and Bianca puts her in the corner to hit her with takcles. Carmella hits a back elbow and drops her to the floor. Bianca replies with a shoulder tackle in the middle of the ring. Carmella rolls to the floor and Bianca slams her to the announce table. Bianca argues with Becky to take us to a break.
Bianca counters a crossbody with a suplex. She slams Carmella into all four corners one by one. Carmella counters the Glam slam with a sunset flip. Bianca drops her with the Glam Slam the second time. Carmella gets her knees up to a standing moonsault. Carmella hits a superkick to get a two-count. Bianca counters another superkick. Carmella counters KOD with a bulldog to get a close two-count. Carmella hits back elbows in the corner. Bianca puts her in the corner to hit shoulder blocks.
Carmella goes for the powerbomb but Bianca hits a clothesline. Bianca then hits a spinebuster for another two-count. Carmella sends her to the floor with a low bridge. Bianca trips her on the apron. Carmella gets out of the ring now and rakes Bianca's eyes when she gets to the floor. Carmella stops a suplex on the floor but Bianca sends her back to the ring as the referee gets to 7 counts. Becky distracts Bianca now and the referee completes the 10 counts on Bianca.
Winner – Carmella(via count-out)
Becky goes up the stage mocking Bianca over the loss. Carmella also mocks Bianca by holding her title. Bianca hits her with KOD.
---
We get another promo for the mystery man which featured Mick Foley's shirt, Orton's RKO shirt, John Cena's cap among other things.
The MizTV with Ciampa
The Miz has Ciampa in the ring for The MizTV. Miz talks about Ciampa's vicious attacks on others in WWE over the last few months. Ciampa says he wanted to command people's attention with all the attacks. Miz then starts to talk about how he teamed up with Logan Paul at WrestleMania. We see Logan's promo against The Miz and how he is coming after him at Summerslam.
Miz says he knows that Logan is trying to stir up some controversy.
Meanwhile, he is looking for a new tag partner and Ciampa is that guy against AJ Styles tonight. AJ Styles comes out and talks about Miz and Ciampa attacking him when his back is turned. He calls Miz a coward who has tiny tiny balls. Ezekiel enters and says he wanted to introduce himself to AJ Styles. He says Elias always thought AJ is great and Miz's balls are tiny. He proposes a tag team match instead of AJ facing them in a handicap match. We cut to a break.
The Miz & Ciampa vs AJ Styles & Ezekiel
A couple of shoulder tackles from Ezekiel against Ciampa to start. Zeke puts on a side headlock and keeps Ciampa on the mat. Ciampa gets to his feet, pushes Zeke to the corner and hits a knee to midsection. Ezekiel hits back with a mule kick. Ciampa hits a big boot on the ropes. Miz tags in and Ezekiel hits him with an armdrag. AJ tags in and Miz hits him with a punch. AJ hits a dropkick. Ezekiel tags back in.
Miz takes Zeke in his corner to tag in Ciampa. Zeke tosses him up in the air before throwing him across the ring. Ciampa counters with a back elbow. Miz takes a cheap shot at Ezekiel. Ciampa knocks him off the apron with a running knee strike. He throws Zeke into the barricade now. They return to the ring before Ciampa throws Ezekiel to the floor again. Miz tags in and beats up Ezekiel on the floor to take us to a break.
Ciampa and Miz continue to work on Ezekiel as we return. Ciampa puts on a bulldog choke. Ezekiel throws him over. Ezekiel hits a high knee to drop Ciampa. Styles and Miz get the tags and AJ unloads with quick strikes. He hits a clotheslines, a flying clothesline and a gut buster on Miz to get a two-count. AJ knocks Ciampa off the apron and Miz catches him with a DDT for a two-count of his own. AJ counters with a brainbuster but Ciampa breaks the pin.
Ezekiel takes Ciampa to the floor. Miz hits Ezekiel with a dropkick on the floor. AJ puts Miz in the Calf Crusher. Miz is struggling. Ciampa attacks AJ and causes a DQ.
Winners – AJ Styles & Ezekiel(via disqualification)
After the match, Ciampa and Miz regroup on the floor. AJ hits him with a Phenomenal Forearm and Miz pushes Ciampa into it. Miz runs up the floor.
---
Bobby Lashley is warming up backstage when Riddle comes in for some goofyness. Lashley wants to make Theory and Rollins pay. Riddle wants to watch Stranger Things with Lashley as he gets scared alone.
Alexa Bliss & Asuka vs Nikki ASH & Doudrop
Nikki drops Asuka to the floor to start. Asuka no-sells a tackle and drops Nikki herself. Alexa tags in for a couple of pinfall attempts. Doudrop gets a blind tag. Alexa hits a knee on Niki before Doudrop tackles him to the mat. Nikki comes back and tackles her in the corner. Nikki puts on a chinlock and cranks on the neck. She misses a splash in the corner before they both hit clotheslines at the same time.
Asuka and Doudrop tag in. Asuka hits quick kicks and then hits a dropkick to keep Doudrop under control. Nikki tags in and Asuka brings her down easily. Alexa tags in for some double team. Doudrop pulls Asuka to the floor but she misses a senton. Alexa hits a DDT on Nikki to get the pin.
Winners – Alexa Bliss & Asuka
R-Truth & Omos Get Involved in Tag Team Rivalry
The Usos have the mic in their hands. They say they will say once again say the same thing as they will win their match at Summerslam. They continue to hype themselves up until The Street Profits interuptt with their entrance. More trash talk follows until R-Turth comes out. R-Truth says he is certified to be a Priest, marriage counsellor, and even certified Fighter pilot. He adds that he is also a tag team counsellor. The Usos tell him to get the hell out of her unless he is a referee also.
R-Truth hands them a certificate for being a referee. He reveals his referee's shirt and shows off how he can count out one of the The Usos. R-Truth wants to fight when The Usos intimidate him. He proposes a 3-on-2 handicap match. Omos and MVP enter. MVP says Omos should be the special guest referee at Summerslam in Usos vs Profits match. R-Truth says Omos could not even count to 10. MVP proposes Omos team up with The Usos tonight. A brawl breaks out to take us to a break.
R-Truth, Angelo Dawkins & Montez Ford vs Omos, Jimmy Uso & Jey Uso
Omos tackles Dawkins. Jey tags in and Dawkins unloads on him. Ford comes in to hit a dropkick on Jey. R-Truth tags in and hits a big punch on Jey before Jey takes him to his corner. Quick tags from Jimmy and Omos. Omos slams R-Truth's chest with a big slap. Jey hits more chest slaps. R-Truth tries to fight back but Jey hits him with a headbutt. Jimmy and Omos tag in. R-Truth counters a double suplex from The Usos.
Profits hit the Usos with dropkicks in tandem. R-Truth hits a dropkick on Omos on the apron. The Profits also hit Omos with a dropkick but he just lands on his feet on the floor. Profits hit suicide dives on The Usos on the floor. R-Truth goes for the same on Omos but Omos easily slams him to the floor. We cut to a break.
Omos is working on R-Truth as we return. He hits a big blow to R-Truth's back before knocking off Dawkins from the apron. Omos throws R-Truth into the corner and tags in Jey to hit a superkick. R-Truth hits back with a dropkick. Ford and Jimmy tag in. Ford hits a gamengiri and dropkick. He hits a big clothesline, a kick, enzuigiri, a neckbreaker and a standing moonsault to get a two-count.
Omos stops him from suicide Dive. Dawkins and Ford work together to slam his face into the ringpost. The Street Profits hits Blockbuster on Jimmy but Jey breaks the pin. Jimmy sends Ford to the floor. R-Truth hits a spinout powerbomb on Jimmy but Omos pulls him out when he goes for a 5-knuckle shuffle. Omos tags in and hits a double handed powerbomb on Dawkins to get the pin.
Winners – Omos & The Usos
Seth Rollins is interviewed backstage and he is excited to be back in main event tonight. He talks about not caring about Ezekiel's identity. But, he is bothered by Riddle and asks who does he think he is – a savant or just an idiot Randy Orton felt sorry for. Rollins says he will not let Riddle use his name for some clout. Austin Theory comes in and asks Seth for advice on cashing MITB. Rollins says he has come to right place and is happy to help him. They send us to break.
Seth Rollins & Theory vs Riddle & Bobby Lashley
Theory starts with some kicks against Riddle and unloads with lefts in the corner. More lefts from Theory before he tags in Rollins. Rollins puts Riddle to the mat and hits him with knees. Theory comes back for more beat down. Riddle hits back with sidekicks in the corner. He hits a gutwrench suplex before tagging in Lashley. Lashley hits a big shot in the corner.
Rollins comes in and Lashley hits double DDT on him and Theory. Riddle tags in to hit an assisted moonsault on Rollins. Lashley hits corner tackles. Rollins manages to send him to the floor. But, Lashley catches his dive. Theory tries to attack Lashley but Riddle stops him with a penalty kick. Lashley drives Rollins into the ringpost. Dolph Ziggler's music hits and he comes down the ramp to take us to a break.
Riddle is fighting back from the corner with elbow strikes. He goes to the top and Theory trips him. Rollins hits an inverted superplex to get a close two-count. Rollins stomps on Riddle's hand and feet now. Riddle hits some chest slaps but Rollins puts on a choke and transitions into a front chancery. Rollins drops Riddle again and puts him on the mat. Riddle gets back to his feet but Rollins stops the tag. Riddle counters with a Pele kick.
Theory tags in and Riddle slams him to the mat. Theory counters a choke by slamming Riddle to the mat on his back. Lashley comes in hot and hits Rollins with quick shots. Lashley hits some corner tackles. Rollins hits back with an enzuigiri. Lashley hits back with a powerslam for Theory to break the pin. Rollins hits a frog splash to get a close two-count. Theory and Riddle tag in. Riddle hits clotheslines and a powerslam. Riddle hits a draping DDT.
Rollins pulls out Theory. Lashley tackles Rollins through the barricade. Theory is shocked looking at it. Theory drops Riddle on the ropes. He tries to use the ropes for the pin but Ziggler removes his legs from the ropes. Riddle hits RKO to get the pin.
Winners – Riddle & Bobby Lashley
Riddle and Lashley celebrate their win and exit to the stage. Ziggler gets into the ring and nails Theory with a superkick to close the show.