WWE RAW Results & Live Updates December 19, 2022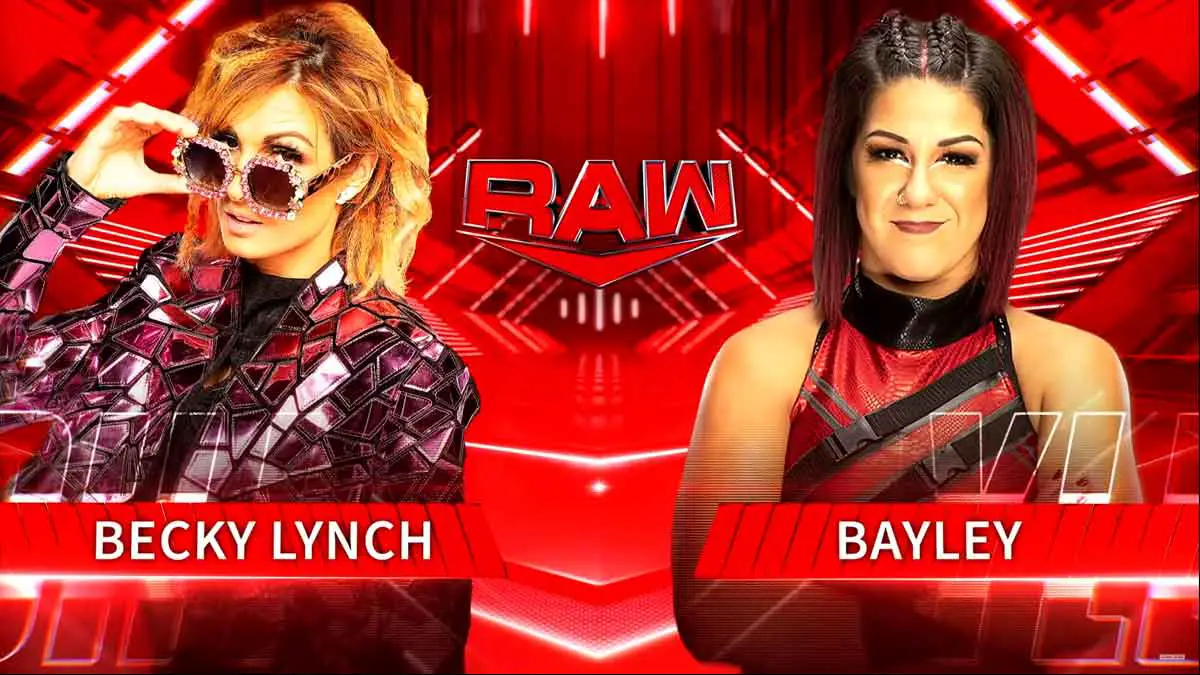 Welcome to the live results blog for WWE RAW episode of December 19, 2022 episode, which will feature a big singles match between Becky Lynch and Bayley.
Additionally, a ladder match is announced between The Miz and Dexter Lumis with a large amount of money on the line with Winner Takes All stakes. The Street Profits will take on Judgment Day in a tag team match.
Two news #1 contenders were crowned last week as Alexa Bliss became the contender for RAW Women's Championship and Seth Rollins became the contender for United States title. How will these two storylines continue? What will happen to Bobby Lashley now after Adam Pearce suspended him?
Check below as we post results from WWE RAW on December 19, 2022, with live updates, winners, highlights and more details.
RESULTS
The Street Profits(Montez Ford & Angelo Dawkins) defeated Judgment Day(Finn Balor & Damian Priest) in a tag team match via pinfall.
Rhea Ripley defeated Akira Tozawa in a singles(intergender) match via pinfall.
The OC(Karl Anderson & Luke Gallows) defeated Alpha Academy(Otis & Chad Gable) in a tag team match via pinfall.
The Miz defeated Dexter Lumis in Winner Takes All Ladder Match
Sami Zayn defeated AJ Styles in a singles match via pinfall.
Bayley defeated Becky Lynch in a singles match via pinfall.
Seth Rollins & Kevin Owens defeated The Usos(Jimmy Uso & Jey Uso) in a tag team match via pinfall.
LIVE UPDATES
WWE Universal Champion Roman Reigns opens the show with a backstage promo. Roman talks about Kevin Owens bringing in John Cena as his tag team partner on SmackDown two weeks later. Roman says it will not matter if Cena is KO's partner, because they will continue to torture him and he will need the whole RAW locker room to have his back to save himself.
We cut to RAW backstage where Solo Sikoa and Sami Zayn are beating up Mustafa Ali and The Usos hype them.
The Street Profits(Montez Ford & Angelo Dawkins) vs Judgment Day(Finn Balor & Damian Priest)
Both teams make their entrance. Street Profits have Akira Tozawa with them in the corner. Preist starts with an arm wrench on Ford. He hits a knee to midsection when Ford tries to reverse. Ford hits a kick to the midsection followed by a dropkick and some quick punches. Priest takes Ford to his corner to hit some punches and tags in Balor. Balor puts on a side headlock. We see The Bloodline is now beating Andre Chase from NXT backstage. Ford fights out of it and tags in Dawkins. Some back-and-forth action follows between the two teams until Priest sends both Ford and Dawkins to the floor. We cut to a break.
Ford is fighting back against Balor as we return. Ford tags in Dawkins who hits a dropkick, a tackle and a swinging neckbreaker on Balor. He knocks off Priest off the apron before hitting a corner splash on Balor. Priest comes in and hits a chokeslam on Dawkins. Ford hits Priest with a crossbody. Balor hits Ford with a slingblade. On the floor, Tozawa throws some drink into Dominik's eyes. This distracts Balor, and Ford capitalizes by getting a pin with a roll-up.
Winner – The Street Profits
After the match, Street Profits quickly leave to the stage. Tozawa is showing off on the ramp. Rhea Ripley comes down the ramp and decks Tozawa. She calls Tozawa to face her in the ring.
Rhea Ripley vs Akira Tozawa
After the break, we see Streets Profits hyping Tozawa to enter the ring. Tozawa ducks a few swings before Rhea hits a kick to midsection. Tozawa feels conflicted to put his hands on a woman but Rhea invites him to have a free shot. Rhea tackles Tozawa. She whips him to the corner before pummeling him with more shots. Tozawa tries to hit a suplex but Rhea counters with her suplex for a two-count. Rhea puts on a side headlock.
Tozawa fights out of it and manages to send Rhea into the corner. Tozawa rolls her up for a two-count. He counters a powerbomb into a hurricanrana. Rhea rolls to the floor. Tozawa was looking for a suicide dive but Balor trips him. The Street Profits hit Balor and Pries with suicide dives. Tozawa counters Riptide with a DDT. Tozawa knocks Dominik off the apron when he tries to distract him. Tozawa misses a senton and Rhea quickly hits Riptide to get the pin.
Winner – Rhea Ripley
We see a recap of how Adam Pearce lost his cool on Bobby Lashley hitting the referees last week and suspending him. Adam Pearce is backstage now and is frustrated with backstage attacks from The Bloodline. He calls Triple H who is apparently not answering his calls. Pearce then tells Cathy Kelley that he had a discussion with Lashley last week and he could come back in a few weeks. MVP comes in and wants to discuss about Lashley but a referee runs in to get Pearce's attention on some big incident. Pearce runs with the referee.
We return to see Pearce checking on Cedric Alexander and Dolph Ziggler who are down after attacks from The Bloodline.
Alpha Academy(Otis & Chad Gable) vs The OC(Karl Anderson & Luke Gallows)
Gable starts against Anderson with a takedown. Gable shows off his wrestling skills and keeps Anderson on the mat. Anderson reverses a side headlock before hitting a shoulder tackle. They trade hip tosses and arm drags before Anderson tags in Gallows for a double-tackle on Gable. Gallows nails some body shots on Gable before tags in Anderson. Gable takes Anderson to his corner. Anderson fights out of the corner and hits an armdrag.
Gallows tags in and nails Gable with an uppercut to answer his "shooosh". Otis tags in and sends Gallows to the corner. Otis hits a corner splash. Gallows answers with a tackle and sends Otis to the floor. Anderson hits a back body drop on Gable to send him to the floor. We cut to a break with The OC standing tall in the ring.
Gable hits a dragon screw leg on Anderson to keep him under control. He continues to work on his leg. Gable puts on an ankle lock. Anderson skips past Gable and tags in Gallows. Gallows hits quick body shots before hitting a clothesline to send Gable to the floor. Otis takes a blind tag and manages to bring down Gallows with a big tackle. Gable tags in and hits a crossbody from the top to complete a double-team body slam on Gallows. Anderson breaks the pin on Gallows. Otis misses a corner tackle and falls to the floor. Good Brothers hit Magic Killer on Gable to get the pin.
Winner – The OC
The OC poses in the ring before The Bloodline attacks them. Gallows is hit with 1-D on Gallows. Adam Pearce and other officials walk out as we cut to a break.
After the break, Adam Pearce is down on the floor with security and tells The Bloodline to leave the ring. The Usos hype the crowd before Sami Zayn takes over the promo and tells Adam Pearce that only he has a problem with their attacks while the crowd is loving it. Pearce tells security to get them out of the ring. Sami replies that their work is done here and they will leave by themselves. Sami and The Usos were leaving. AJ Styles jumps on Sami but the security separates them quickly.
AJ tells Pearce that he needs a match against anyone from The Bloodline. Pearce makes AJ vs Sami official.
---
We see a recap of Alexa Bliss becoming the #1 contender for WWE RAW Women's Championship against Bianca Belair. Bliss and Belair are backstage with Byron Saxton for an interview. Saxton asks Bliss about a hint of Bliss' turn to her supernatural character. Bliss explains how Bray Wyatt turned her into Lilly. Bianca says she can't trust Alexa with all this going on. Alexa replies that Bianca is trying to make it about Bray when it is about Alexa only. Saxton ends the interview but Alexa slams Bianca with a glass and leaves her on the mat.
The Miz vs Dexter Lumis – Winner Takes All Ladder Match
The Miz leaves the ring quickly to get a ladder. Lumis goes to the floor and slams Miz into the ladder. He is taking a ladder to the ring but Miz hits a slide to hit Lumis with it. A tug of war in the middle of the ring for the ladder. Lumis slams Miz to the corner using the ladder. Lumis sets up the ladder on the second turnbuckle and slams Miz's face into it. Lumis sandwiches Miz in between the ladder and turnbuckle. He steps up on the second turnbuckle and hits a superplex on Miz.
Lumis teases a groin strike using the ladder but takes his time before hitting it. Lumis takes a bigger ladder into the ring while Miz rolls to the floor. Lumis climbs to the top but Miz quickly climbs from the other side and fights him. They trade punches on the top of the ladder. Lumis goes to put Miz in a Vice grip. The ladder gets unbalanced and trips, leaving both men laid out in the ring. We cut to a break.
Lumis stops Miz from taking off the money as we return. He slams Miz's face into the ladder a few times. Lumis then climbs to the top of the ladder. Miz trips the ladder. Miz then climbs to the top and Lumis pulls him back, Lumis goes for a Vice choke but Miz manages to tackle him into a ladder. Miz uses a ladder to hurt Lumis. He throws more ladders and chairs on Lumis. Miz attacks Johnny Gargano at ringside and sends him over the barricade.
Lumis recovers and hits an Urinage on Miz on the floor. He sets up Miz on the announce table and climbs a ladder beside it. Miz avoids a legdrop and Lumis crashes through the table. Miz gets back into the ring and sets up the ladder as he tries to take off the money. Lumis follows him quickly and pushes him off. Lumis was about to win when Bronson Reed pulls him off. Reed slams Lumis into the ladder and hits Tsunami Frog Splash. Reed sets up the ladder, pulls Miz into the ring and helps him up the ladder to win the match.
Winner – The Miz
Miz poses a bit on the top of the ladder before getting down and posing with Bronson Reed.
---
We cut to backstage to Seth Rollins who is in his home state tonight. Rollins throws his shirt on a crew member to hand it to him.
AJ Styles vs Sami Zayn
AJ hits quick shots in the corner after counters in the corner. Sami fires back and was going for a Blue Thunderbomb early. AJ blocks and forces Sami to the floor. AJ hits a flying Forearm on the floor. AJ takes Sami back to the ring where Sami drops AJ on the ropes with a back body drop. Sami keeps control for a while with some punches. He goes for an elbow but AJ counters with a snap dragon suplex. AJ unleashes a flurry of strikes. Sami manages to send him to the floor. We cut to a break.
AJ hits a rack bomb to get a close two-count. Sami hits a brainbuster next to get a close two-count for himself. Sami hits a couple of punches. AJ hits a series of quick punches. Sami cuts him off with a big boot before AJ hits him with a Pele kick. Both men are down. Sami hits an exploder into the turnbuckle. AJ puts him in Calf Crusher. Sami struggles for a while before he gets to the ropes. Solo Sikoa is walking down the stairs.
AJ sets up for Phenomenal Forearm but he goes to attack Sikoa first. AJ unloads on Sikoa with punches and kicks on the floor. Sami goes to the floor and eats more strikes from AJ. Sami gets back to the ring and distracts the referee. Sikoa hits AJ with Samoan Spike. Sami picks up AJ to hits Blue Thunderbomb and gets the pin.
Winner – Sami Zayn
Adam Pearce comes out and screams at Sami and Sikoa about how the match ended.
Is Theory the New Rollins?
Seth Rollins makes his entrance. Rollins talks about The Bloodline jumping on everyone backstage, but they did not try anything against him. However, he wants to send a message to Roman that Monday Nights belong to Seth "Freaking" Rollins. Austin Theory makes his entrance. "You S##k" chants for Theory as he gets into the ring. Theory says nothing belongs to him since he holds United States title and "The Champ is Here!", inviting more boos on that John Cena reference.
Theory says Rollins is gonna pass the torch to him and if he won't, Theory will take it off their hands. Theory says Rollins is the #1 contender since Lashley decided to take his frustrations off on the referee. Rollins asks him why he is angry all the time. More "You Sucks!" chants for Theory. Rollins says Theory has grown up, does not take selfies anymore and is the champion now. But, Theory will never be Seth Rollins as long as he is here and is not on his level.
Theory replies that Rollins has fumbled every time he is handed the ball, has fallen off the Mountain top and is actually the third most successful member of the Shield. Rollins gets agitated by this and says he is the Mountain Top himself. He says the title does not define the man, but the man defines the title and Theory should show him what kind of man Theory is. Rollins dares Thoery to attack him.
Rollins sees The Usos walking through the crowd. He tells Theory to deal with them first. Theory runs off when The Usos get on the apron. Rollins fights The Usos alone but the numbers catch up on him. Kevin Owens runs out and fights alongside Rollins. Adam Pearce comes out with the security to take the situation under control. Owens proposes a tag team match against The Usos. Adam Pearce makes it official.
---
Becky Lynch is backstage and talks about her clash with Bayley. Becky says she understands about removing the threats in this business but at least Bayley should have been holding the knife when she was backstabbing her.
Becky Lynch vs Bayley
Becky starts with an arm wrench and goes for an arm bar. Bayley comes out of it and tackles her. Some quick counters from both sides before Becky rolls up Bayley for a two-count. Becky hits a deep arm drag and works on the arm. A distraction comes from Iyo Sky from the floor and Bayley slams her face into the mat. Becky comes back with a flying shoulder tackle and quick takedowns. Bayley is sent to the floor and Becky poses for the crowd as we cut to a break.
Bayley is under control as we return. Becky hits a dropkick to make a comeback. They trade big forearms. Becky comes on top with uppercuts and hits a dropkick. She hits a bexploder before some more kicks. Becky hits a leg drop from the second rope to get a two-count. Bayley comes back with a suplex to get a two-count. Becky gets a two-count with a backslide. Bayley hits sliding lariat to the back. Becky hits an inverted DDT to get a close two-count.
Bayley avoids a leg drop on the ropes. She manages to hit a Bayley-to-Belly suplex to get a near fall. Bayley looks for Roseplant but Becky counters with Olympic Slam. She hits a back elbow. Bayley takes her to the top. Becky counters with a stunner from the second rope. Bayley rolls her up using the ropes for the pinfall.
Iyo Sky and Dakota Kai try to interfere but Becky gets the referee's attention to it. The referee boots them from the ringside. Bayley then uses a plank to hit Becky from behind and hits Roseplant to get the pin.
Winner – Bayley
The Usos(Jimmy Uso & Jey Uso) vs Seth Rollins & Kevin Owens
A brawl breaks out before the bell rings. Rollins and Jey start the action. Rollins unloads in the corner. He gets on the second rope and unloads with more punches. Owens tags in to continue beating up Jey. Jey tries to fight back but Owens decks him. Owens also decks Jimmy on the apron to take us to a break.
Jey is hitting corner tackles as we return. He misses a running tackle and Owens tags in Rollins. Rollins unloads on Jey with quick moves. He hits a falcon arrow to set up the stomp. Jimmy gets into stop the stomp. Rollins hits the Usos with a double crossbody. Owens gets to the top and hits a frog splash on Jimmy. Jey hits a superkick on Rollins on the floor. Jimmy gets his knees up on the Swanton Bomb.
Solo Sikoa comes out now. The Good Brothers run out to neutralize them. Jey dives on The Good Brothers. Rollins hits Jey and Sikoa with a suicide dive. Rollins sends Sikoa into the ring post and follows it up with a stomp on the floor. Owens is looking for a Muscle Buster from the second rope but Jimmy blocks. Theory takes out Rollins on the floor with the title belt.
Owens and Jimmy fight in the ring. Jimmy nails Owens with a superkick for a near fall. Owens goes for a stunner but Jimmy blocks it. Jimmy also blocks pop-up powerbomb. Owens blocks his superkick and throws him to the ropes to set up and hit a pop-up powerbomb to get the pin.
Winner – Kevin Owens & Seth Rollins
Kevin Owens stands tall. Sami Zayn comes out but does not engage with Owens and just checks on the rest of the Bloodline. The show goes off the air with Owens and Rollins on the floor.