WWE RAW Live Results – 28 June 2021: Last Chance Qualifier, Strap Match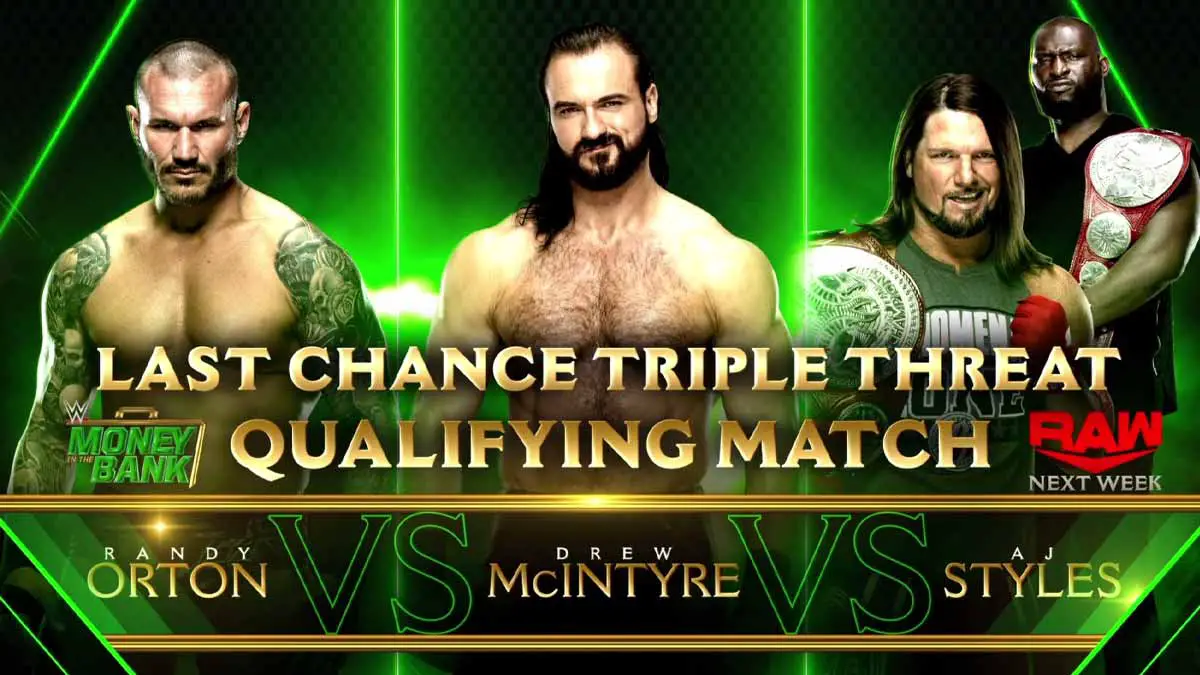 Welcome to the live blog for WWE RAW episode of 28 June 2019. The show has 3 matches advertised – a last chance Money in the Bank Qualifier, a strap match, and a 6-woman tag team match. Kofi Kingston vs Bobby Lashley storyline is expected to continue with a segment between Kofi and MVP. More build-up for Money in the Bank PPV is expected. You can check more details in the preview here.
Join us as we bring complete action, live results, updates, list of winners and highlights from WWE RAW episode of 28 June 2021.
Show – WWE Monday Night RAW
Date – 28 June 2021
Location – Yuengling Center, Tampa, FL, US
Time – 8 PM EST(29 June 2021 12 AM GMT/5:30 AM IST)
WWE RAW 28 June 2021 Quick Results
Riddle wins the Battle Royal to qualify for the Money in the Bank Qualifier.
Nikki Cross defeated Shayna Baszler in a singles match via pinfall.
Doudrop & Eva Marie defeated Asuka & Naomi in a tag team match via pinfall.
Ricochet vs John Morrison singles match ended in a double count-out
Charlotte Flair, Tamina & Natalya defeated Rhea Ripley, Dana Brooke & Mandy Rose in a tag team match via pinfall.
Jaxson Ryker defeated Elias in a Strap Match via pinfall.
Drew McIntyre defeated AJ Styles and Riddle via pinfall for qualify for Money in the Bank Ladder Match.
---
We see many wrestlers from the RAW Roster in the ring. We cut to Adam Pearce and Sonya Deville at Gorilla Position. They inform us that Randy Orton is not here to compete in the Last Chance Money in the Bank Qualifier match, so they have booked a Battle Royal to replace him in the match. Matt Riddle runs in with a note from Orton. The letter says Orton would like to nominate on his behalf in the match. Pearce calls Riddle out for making a false note in the name of Orton. Riddle then asks to be put in the Battle Royal and compete on behalf of Orton. Sonya gets Pearce to agree over it. Orton will be in the Money in the Bank match if Riddle wins Battle Royal and Last Chance qualifier.
Battle Royal For Last Chance MITB Qualifier
The Battle Royal begins and Shelton Benjamin and Mustafa Ali try to eliminate Riddle. He survives though. The brawling continues. Shelton eliminates Drew Gulak. Jinder Mahal eliminates Shelton next. Mansoor sends Angel Garza over the ropes but he lands on one leg and makes his way back. Garza goes after Mansoor and tries to eliminate him. Ali comes from behind and eliminates Garza.
Ali then tells Mansoor to not trust anyone and then throws over to eliminate him. Jinder Mahal tries to eliminate Riddle but he hangs onto the ropes. Riddle stomps on Jinder. R-Truth charges at Jinder and ends up getting eliminated with a back body drop. Jinder also eliminates Akira Tozawa.
Drew Gulak rolls up Tozawa to pin him for the 24/7 title. R-Truth hits him with the corkscrew forearm and pins him to win the 24/7 title. Tozawa hits him with a moonsault to win the title back. Tozawa runs away as the focus returns back to the ring. Jinder Mahal and Ivar were fighting at the ropes. Omos comes and tries to pull Ivar out of the ring. Erik comes to save Ivar but Jinder pushes both of them from behind as Omos pulls them over the ropes and eliminates them. We cut to a break.
As we return from the break, we see Damian Priest, Jinder Mahal, Riddle, Jeff Hardy and Cedric Alexander left in the match. Mustafa Ali was eliminated by Humberto Carrillo during the break. Priest and Jinder brawl and Priest manages to eliminate Jinder Mahal. Hardy goes on a rampage with quick moves on the other three opponents. He was going for Twist of Fate on Priest when Cedric Alexander pushes him from the top to eliminate him. Priest sends Alexander over the ropes to eliminate him.
Priest and Riddle circle the ring. Priest misses a big boot but survives the elimination. Priest with quick thai kicks. Riddle takes him down with a big knee. Riddle charges in the corner with big elbow strikes. Priest cuts him off with a spin heel kick. Priest sends Riddle to the apron. Riddle tries to use ropes to put Priest to sleep. Priest pulls him back and runs him over with a big clothesline. Riddle puts on the triangle on the ropes. Riddle comes back to the ring while Priest fights from the apron. Priest gets on the top of the ropes and Riddle eliminates him with a big knee strike.
Winner – Matt Riddle
After the match, Riddle asks Randy Orton's music and celebrates with Orton's pose on the turnbuckle.
We see the recap from last week how Alexa Bliss hypnotized Reginald and won the match with Nikki Cross to qualify for Money in the Bank. We cut to backstage to Shayna Baszler. Nia Jax and Reginald roll-up. Baszler says she is trying to keep her head clear. She will put Nikki Cross in her place and then send Alexa Bliss in a timeout just like her "stupid doll." They all leave for the match. We see Alexa Bliss watching them from behind in the corner.
We see the replay of Omos eliminating The Viking Raiders from the Battle Royal and how Riddle celebrated in Orton's style. AJ & Omos are backstage with Kevin Patrick. Patrick asks AJ about Riddle getting in the MITB qualifier later today. AJ says normally when someone is absent, they lose their spot and it should have been him vs Drew McIntyre in the qualifier. But now Omos has to do overtime in watching over his back. Patrick brings up Omos eliminating The Viking Raiders. AJ takes us to the replay of how Raiders interfered in his match against Ricochet. AJ says Omos did the same thing to Raiders today. AJ goes to talk about winning MITB briefcase and then becoming WWE Champion.
Nikki Cross is at the Gorilla Position in her new superhero costume. Lucha House Party gives her a pop before Sarah Schriber comes up for an interview. Nikki says she is almost a superhero and that she is trying to inspire everyone. She says she will be the inspiration for little boys and girls when she wins Money in the Bank briefcase and then the RAW Women's Championship. Nikki makes her entrance and is announced as "Almost A Superhero."
Nikki Cross vs Shayna Baszler
We return from the break. Shayna Baszler makes her entrance. Nia Jax and Reginald follow her. The bell rings and Nikki goes for the waistlock. Shayna with a standing switch and drops Nikki. Nikki puts on a headlock but runs into a shoulder tackle. Nikki hits a crossbody coming from the ropes to get a two-count. Shayna unloads on Nikki and hits a body slam. Shayna hits a suplex to get a two-count.
Shayna kicks at Nikki's knee before whipping her hard to the other corner. Shayna misses a knee in the corner and Nikki sends her out to the floor with a dropkick. Nia and Reginald pick up Shayna just as Alexa Bliss' music hits. Bliss comes out to the stage. Nikki takes advantage of the distraction and takes Shayna, Nia and Reginald out with a crossbody dive. Nikki celebrates in the ring as we cut to the break.
Shayna is in control as we return. Alexa is watching from the floor. Nikki tries to fight back but Shayna takes out her knee with some kicks. Shayna drops Nikki on her face and hits a knee strike in the corner. Shayna goes to ask Alexa what she is doing here. Nikki hits a tornado DDT to Shayna. Bliss goes and put Nia in hypnotism. Reginald tries to attack Alexa and this breaks the hypnotism. Alexa drops Nia to her knees and also kicks Reginald to the floor.
Shayna avoids a roll up pin and hits a clothesline. They go back and forth and Nikki manages to put Shayna in the jacknife pin once again to get the pin.
Winner – Nikki Cross
Nikki celebrates her win in the ring. We go to the replays. Nia Jax recovers on the floor and picks up Reginald.
Kofi Kingston Confronts MVP
We cut to the recap of Kofi Kingston vs Bobby Lashley rivalry and the Hell in a Cell match between Lashley and Xavier Woods, followed by Lashley assaulting Woods inside the cell after that match. Kofi makes his entrance as we switch back to the arena. We go to a commercial break.
Kofi takes the mic in the ring. He says he is not sure how last week has affected him for good or bad. He could not do anything for Woods when he needed him. Kofi talks about a lot of people disrespect Woods but he showed us what he is capable of last week. But what happened after the match was not ok. Kofi talks about how he felt when Lashley was beating up Woods. He promises to take everything away from Lashley by taking away WWE title from him.
MVP's music hits and he comes out to the stage with some of his lady friends. MVP says Kofi thinking of winning the title is the most ridiculous thing he has ever said. MVP says Kofi is not a threat to Lashley. Lashley has asked to relay his message to Kofi that he will thrash Kofi much worse than Brock Lesnar. Kofi brings up how Lashley was inches to getting beaten by Drew and Woods. Kofi also reminds them that he has already beaten Lashley few weeks back and that his layer of invincibility are peeling off.
MVP fires back saying that Lashley deserves all the success because he put in the work. Kofi retorts by saying he also put in the work and says he did not even take a break during his 6 months title reign while Lashley is on the break. Kofi says Lashley's eyes are off the prize and he will take that prize away from him at Money in the Bank. MVP approaches the ring and brings up the beating that Lashley gave to Woods that Woods is about to be out for a long time. Kofi says Woods will return next week, unlike MVP who is milking a knee injury. MVP says he is not cleared for combat otherwise he would be in the ring. Kofi comes out and MVP tries to attack him with his cane. Kofi drops him with Trouble in Paradise on the floor.
We see the replay of Eva Marie calling Piper Niven as "Doudrop" and Niven refusing to tag in Eva in their match against Naomi and Asuka. Kevin Patrick is with Eva and Doudrop backstage. Eva says Doudrop made a rookie mistake last week and therefore she has got them a rematch tonight to make up for their mistakes. Asuka makes her entrance for the match.
Eva Marie & Doudrop vs Asuka & Naomi
Doudrop starts with Naomi and takes her to the corner. Naomi catches her with a sidekick. Doudrop hits her with a senton. She misses the next senton and Naomi tags in Asuka. Asuka runs rampant with kicks. Asuka goes to hit a German suplex but Doudrop is too big for her. Doudrop drops on Asuka on the mat. Asuka gets her boot up as Doudrop charges at her in the corner. Asuka manages to put on the Asuka lock. Doudrop goes to tag in Eva Marie but Marie denies tagging in. Doudrop gets angry and drops throws Asuka over. Naomi comes in only to be dropped in the ring. Doudrop hits the running crossbody splash to Asuka and gets the win.
Winner – Doudrop & Eva Marie
Eva Marie is shocked at the win. The announcer goes to declare the winner but Eva takes the mic and announces herself as the winner.
We see the replay of John Morrison beating Randy Orton after some "Drip Stick" interference from the Miz. We cut to Miz and Morrison backstage for an interview. Morrison says Miz might not be the fastest or the strongest, but he is the smartest. Ricochet cuts off the interview to talk about their match. Ricochet has stolen drip stick from Morrison and sprays them with water from it.
Ricochet vs John Morrison
Ricochet is already in the ring. John Morrison makes his entrace with Miz on the Wheel chair. The bells rings and Ricochet catches Morrison's kick to send him to the corner. Ricochet hits a body slam after some back and forth action. Morrison hits him with back elbow in the corner and a dropkick. Morrison gets a two-count before putting on a shoulder stretch.
Ricochet hits a big dropkick as Morrison comes from the ropes. Morrison lands on the floor. Ricochet hits a baseball slide dropkick next. Miz gets in between Morrison and Ricochet. Ricochet uses the wheel chair as the springboard to hit the Canadian Destroyer on Morrison. Miz was looking to use the drip stick on Ricochet but Ricochet snatches it and spray Miz with it. We cut to a break as Ricochet gets back to the ring.
Morrison is unloading with punches in the corner. Ricochet fires back with an uppercut. Morrison fiends a roundhouse kick and takes out Ricochet's leg. Ricochet fights back with big right hands. Ricochet hits the springboard crossbody. Back and forth action and Ricochet hits double ax handle. He drops Morrison to the mat with a rolling senton and hits the basement clothesline. Morrison hits the rolling senton and a running knee. Ricochet rolls up Morrison for a two-count. Morrison hits hits with a springboard kick but misses the starship pain.
Ricochet dropkicks Morrison out to the floor. Morrison goes past the barricade to avoid a suicide dive. Morrison is now sitting on top of the barricade. Ricochet hits the crossbody from the apron. It looked devastating. The referee counts down to 10 and the match ends in a count-out.
Result – Double Count Out
Charlotte Flair is at Gorilla position with Tamina and Natalya to talk about respect and continuing the family legacy. Natalya talks about how she has already forced Mandy Rose to submit to her at Hell in a Cell. Tamina brings up Dana and Mandy taking cheap shots at them and wants a receipt.
Rhea Ripley, Dana Brooke & Mandy Rose vs Charlotte Flair, Tamina & Natalya
A brawl starts even before the bell could ring. Rhea and Charlotte make their way to the ring. Others also enter the ring. Rhea, Mandy and Brooke get the upper hand and forces their opponents to go to the floor. We cut to a break.
After the break, Mandy and Natalya are fighting it out. Natalya goes for the sharpshooter but Mandy tags in Dana. Dana puts Natalya in the swing and follows with summersault elbow strikes. Natalya decks Dana and tags in Tamina. Tamina is sent to the floor. Charlotte gets the tag. Dana tries to charge Tamina on the floor but Charlotte decks her at the back of her head. Charlotte keeps Dana in their corner. Quick tags between Tamina and Natalya to keep Dana in their corner.
Charlotte tags in and Dana rolls her over for a pin attempt. Everyone starts to get involved. Charlotte hits a big boot to Mandy to get the pin.
Winner – Charlotte Flair, Tamina & Natalya
After the match, Rhea hits Charlotte with a chop block and runs away to the ramp.
Jaxson Ryker is backstage and he is beating himself up with the leather strap. WWE 24/7 Champion Akira Tozawa runs across him. R-Truth is chasing him, but he stops when he sees Ryker. R-Truth asks Ryker if he is not happy with himself. Ryker replies that he is making himself familiar with the strap so that he could feel the pain during the match.
Jaxson Ryker vs Elias – Strap Match
Elias catches Ryker with a knee strike to start. Elias slams him with the strap and unloads in the corner. They go to the floor and Elias beats him up on the floor. Elias has put the strap over the ringpost and slamming the other side of the strap on Ryker's chest. Ryker turns it around and slams the strap to Elias a few times before going back to the ring.
Ryker pulls Elias back as he tries to run away at the ramp. Ryker drops him and hits an elbow drop. Ryker was going for the double ax handle but Elias catches him with double knees. Elias slams the strap on his back. Ryker ducks him and uses the strap to whip Elias from corner to corner. Ryker hits his finisher to get the pin and the win.
Winner – Jaxson Ryker
We see the replay from the Battle Royal earlier tonight. Damian Priest approaches Riddle backstage and wishes him good luck. Riddle is role-playing Orton and says he is not Riddle, he is Randy Orton. Priest mentions looking for Riddle for a visit to Burger King. Riddle ends up stopping Priest from leaving, breaking RKO character. Riddle says he is just worried about letting Orton down tonight. Priest says he would be lucky to have a tag team partner like him. Riddle thanks him as he goes back. Riddle goes back into character like Orton, doing his signature pose.
Back from the break and Kevin Patrick is with Drew McIntyre in the back. He cuts a wacky promo and says he won't how his hand to anyone, but he's headed to the ring to slap AJ Styles and Riddle around, knock their heads off their shoulders, and go on to Money In the Bank and win.
Drew McIntyre vs AJ Styles vs Riddle – Money in the Bank Qualifying Match
The bell hits as they go at it. Riddle gets dropped. AJ chops Drew in the corner but Drew turns it right around with one of his own. Drew decks Riddle in the corner. He whips him to the corner where AJ hits him with a big boot. Drew hits a big clothesline to Riddle to get a two count. Drew whips AJ to the corner. Riddle goes to hits sidekicks in the corner. He charges at AJ with an elbow strike. Riddle goes for the same on Drew but Drew catches him and hits him with a belly-to-belly suplex.
AJ charges at Drew only to be sent flying with a back body drop for a two-count. AJ low-bridges Drew out of the ring. Drew takes out his knee on the apron. Drew clears the announce table and states at Omos. Drew goes to slam AJ through the table but AJ counters and send Drew over the announce table. Riddle flies on AJ on the floor. All three men start to trade strikes now. AJ tries to suplex Riddle on the announce table but Riddle counters to hit the suplex on the floor. Drew hits a suplex on Riddle on the floor. AJ hits enziguiri on McIntyre. Riddle helps AJ to send McIntyre through the announce table. We go to a commercial break.
AJ and Riddle are fighting it out in the ring. AJ hits a big kick. Riddle hits him with a knee strike. AJ catches Riddle with a Pele Kick to get a nearfall. AJ goes and kicks at Drew as he was recovering. As AJ returns, Riddle unloads with quick punches. AJ hits him with a spinebuster and puts on the calf crusher. Riddle struggles to reach the ropes. Riddle kicks at AJ from the other leg to break the hold. AJ hits a brainbuster to get another nearfall.
AJ was looking for the phenomenal forearm but Riddle cuts him off and hits the draping DDT. Riddle hypes up for RKO like Orton. AJ counters with the burning hammer to get another near fall. Riddle fights off the Styles Clash. Drew sends him into the barricade. Drew gets to the ring and catches the Pele kick from Riddle. He runs over Riddle from corner to corner. Drew hits him with the reverse Alabama Slam.
Drew goes for the Claymore but Riddle ducks it. AJ hits a basement clothesline on Drew on the floor. Riddle ends up taking both of them out with a moonsault. Riddle hypes up and hits sidekicks to both AJ and Riddle. Riddle charges at AJ but AJ moves out to send Riddle into the steel steps. Riddle has hurt his knee. The official immediately calls for the medical team. Riddle is helped to the back as we cut to another break.
Drew and AJ are fighting in the middle of the ring as we return. Drew hits belly-to-belly suplex. More back and forth action. Drew puts AJ on the top and hits some big right hands. AJ slips out and slams Drew's face into the turnbuckle. AJ hits Ushi-garushi for a two-count. AJ picks him up and hits a flurry of strikes. Drew hits the Michinoku driver for a two-count. AJ goes for the calf crusher and Drew tries to block him. AJ manages to put on the calf crusher.
Riddle comes back and puts AJ in the bro-mission. Drew attack Riddle and Riddle hits him with a Pele kick. Riddle catches AJ with double knees when AJ went for the Phenomenal Forearm. Riddle hits the RKO and goes for the pin but Omos pulls AJ out of there. Drew hits the Claymore kick on Riddle to get the pin and the win.
Winner – Drew McIntyre(qualifies for the Money in the Bank Match)
Drew celebrates his win. AJ and Omos are on the floor. We cut to the replays. Drew poses in the corner as the show goes off the air.