WWE RAW Live Results: 21 June 2021- Hell in a Cell Fallout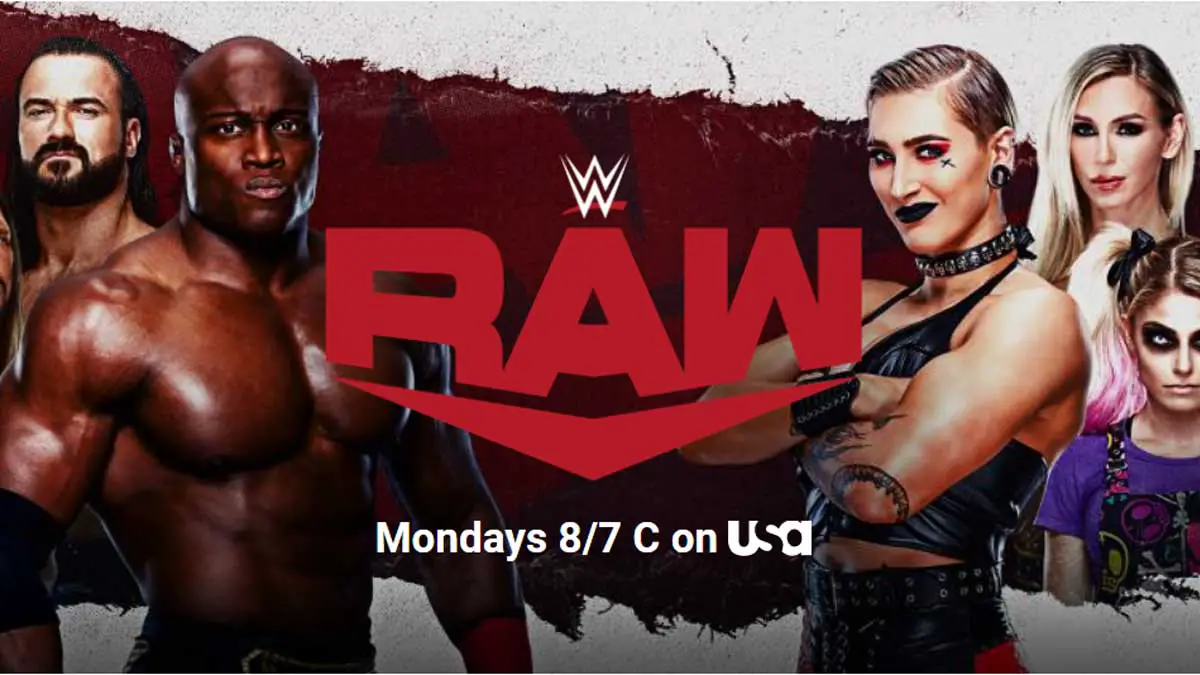 WWE RAW episode of 21 June 2021 will deal with the fallout from Hell in a Cell PPV as well as start to build towards the return of fans in the arena next and Money in the Bank PPV. Check the preview here.
Join this live blog for complete action, results, updates and highlights from WWE RAW 21 June 2021 episode.
Event Name – WWE Monday Night RAW
Date – 21 June 2021
Location – Yuengling Center, Tampa, FL, US
Time – 8 PM EST(22 June 2021 12 AM GMT/5:30 AM IST)
WWE RAW 21 June 2021 Quick Results
Ricochet defeated AJ Styles in a singles match via pinfall to qualify for Men's Money in the Bank Ladder match.
Asuka & Naomi defeated Eva Marie & Doudrop in a tag team match to qualify for Women's Money in the Bank Ladder match.
John Morrison defeated Randy Orton in a singles match via pinfall to qualify for Men's Money in the Bank Ladder match.
Alexa Bliss & Nikki Cross defeated Nia Jax & Shayna Baszler in a tag team match to qualify for Women's Money in the Bank Ladder Match.
Matt Riddle defeated Drew McIntyre in a singles match via pinfall to qualify for

Men's Money in the Bank Ladder match

.
Bobby Lashley defeated Xavier Woods in Hell in a Cell match via submission.
Kofi Wants WWE Title Shot
Bobby Lashley comes out with MVP and his lady friends for the VIP Lounge segment. They breifly talk about Lashley's win over Drew McIntyre and remind us that Drew cannot challenge for the title again. New Day pair of Kofi Kingston and Xavier Woods interrupt them. Kofi and Woods throws the french toasts at Lashley and MVP to irritate them.
Kofi reminds Lashley how he pinned him last month. Kofi wants a title match at Money in the Bank. Lashley says he will give him a title match if Woods could beat him tonight. Woods cuts a promo taking shots at Lashley and says he will face him in a Hell in a Cell match tonight.
AJ Styles vs Ricochet – Money in the Bank Qualifying Match
AJ starts with a chop and whips Ricochet to the other corner. AJ misses in the corner and Ricochet sends him out. AJ ducks a move and scoops Ricochet to send him into the ring post. We cut to a break.
AJ is control after the break. Ricochet hits some back elbows. AJ runs him over with a double ax handle. Ricochet hits punches to the midsection and slams AJ's face to his knees. Ricochet hits a springboard crossbody. A clothesline in the corner from Ricochet before he whips AJ to the corner for another clothesline. Ricochet hits two Northern light suplex back to back.
AJ counters with a roundhouse kick and a modified powerbomb for a two count. AJ was going for another powerbomb when Ricochet flips out of it and hits step-up enziguiri. AJ misses the Pele kick. Ricochet hits German suplex bridge into a pin attempt. AJ rolls him over into the calf crusher. Ricochet was too close to the ropes to break the move.
AJ hits the Ushi-Garushi. He was looking for the phenomenal forearm when The Viking Raiders run down to attack Omos. Omos swats them away. AJ gets distracted. Omos charges at the Vikings but he misses and crashes into the barricade. Ricochet decks AJ. AJ fires back and goes for the Phenomenal Forearm but Ricochet hits the codebreaker to get the win.
Winner – Ricochet(qualifies for the Money in the Bank Ladder Match)
Backstage, Riddle comes to Randy Orton and says how good of an idea it would be to win Money in the Bank and carry his whooper stash in it. Randy snaps and ask him what he wants. Riddle wants pointer to win the Money in the Bank qualifying. Orton tells him that he should stay out of his way.
Asuka & Naomi vs Eva Marie & Doudrop- Money in the Bank Qualifying Match
Patrick stops Eva Marie and her friend backstage. Eva says that she caught a cold last week and therefore she could not compete. So, instead of throwing in a towel, she found a new protege to compete for her. Eva asks her protege what her name is. She was about to say Piper Niven when Eva cuts her off and says her name is now Doudrop.
Asuka and Naomi makes their entrance for the match. Naomi says she was off-guard from Doudrop last week. Asuka hypes up for the match. Eva Marie makes her entrance with Doudrop alongside her. Doudrop is carrying Eva's robe. We cut to the break.
Asuka and Eva Maria starts. Eva tags out immediately. She pushes Asuka away and no-sells Asuka's kick. Asuka uses big boots but Doudrop splashes her. Asuka tags out to Naomi. Naomi with a takedown from behind. Doudrop drops her in the corner and hits a cannonball.
Doudrop drags Naomi to her corner. She was going for a splash from the top when Eva tags in. Eva covers Naomi for the pin but Naomi kicks out. Eva goes to tag out but Doudrop is upset at her and moves away. Naomi rolls up Eva and uses her tights to get the pin.
Winner – Naomi & Asuka
Eva is shocked at Doudrop's betrayal. Asuka & Naomi celebrate their big win. We are told there are 8 spots on the women's Money in the Bank Ladder match.
Rhea & Charlotte
We get a recap of Rhea Ripley vs Charlotte Flair match from Hell in a Cell which ended in a disqualification. Sonya Deville & Adam Pearce will address the controversy around the match next.
Adam Pearce & Sonya Deville are out in the ring. They talk about Rhea vs Charlotte match at Money in the Bank. They summon Rhea Ripley and she comes out to the ring. Sonya points out how Rhea took advantage of the fact that title could change only by pinfall or submission. Rhea says she has seen Charlotte taking advantage of the rules many times.
Flair comes out to the stage now as her music hits. Flair says she is not mad and is proud of Rhea, since Rhea proved for the first time that she is a strategic competitor. Flair warns Rhea that she will destroy her. Deville says if that's Flair's way of asking for a rematch, she will grant it. Pearce agrees. Deville announces Flair vs. Ripley for the title at Money In the Bank.
Randy Orton vs John Morrison – Money in the Bank Qualifying Match
The Miz is on the commentary for the match. Orton starts with a head ock. Morrison forces a break by taking him to the corner. Orton with a takedown from the headlock. Morrison reverses for a pin attempt. They are now locked in front face lock. Morrison switches to a shoulder stretch. Morrison hits knees to Orton's ribs and hits a big roundhouse kick. Morrison keeps Orton on the floor with a shoulder stretch and puts pressure on Orton's neck.
Orton decks him to finally come out of the stretch. Orton slams his face to the mat. A whip to the ropes is followed by a clothesline to send Morrison out to the floor. Morrison tries to send him into the announce table but Orton counters to hit a side slam on Morrison over the table. We cut to a break.
Orton is under control as we return. Orton stomps at Morrison's face. Orton whips him to the ropes and was looking for a back body drop. But Morrison kicks at Orton before sending his shoulder into the ring post. Morrison slams the shoulder into the steel steps next. Back in the ring, Morrison puts on a shoulder stretch again. Morrison now slams Orton's arm to the mat to get a two-count.
Orton turns it around and is unloading over Morrison in the corner. Orton hits a superplex and then a draping DDT. Orton was getting ready for the RKO but Miz sprays water at him with the drip stick. Morrison catches Orton with a roll-up for a two-count. Riddle comes out and chases Miz on his scooter. Orton gets distracted and Morrison decks him from behind. Morrison hits the Starship pain to get the pin on Orton.
Winner – John Morrison
Nia Jax & Shayna Baszler vs Alexa Bliss & Nikki Cross – Money in the Bank Qualifying Match
Alexa Bliss makes her entrance before we cut to a break. Nikki Cross gets a promo at Gorilla Position as she debut her new superhero inspired character. Nikki enters for the match. Shayna Baszler and Nia Jax come out with Reginald.
Shayna and Nikki start the match. Shayna takes down Nikki and whips her into the corner. Nikki leapfrogs and hits an armdrag. Shayna takes the control back. Nia tags in and misses in the corner. Nia rolls out to the floor where Alexa puts Reginald in a trance. Shayna comes up to them as Nia breaks Reginald's trance. Nikki takes them all down with a crossbody.
Nikki splashes Shayna in the corner and hits a bulldog. Alexa tags in to hit a running senton. Shayna rakes Bliss' eyes and tags in Nia. Nia takes big shots at Alexa before throwing her in the corner for Shayna to hit a ripcord knee. Shayna puts on a face lock. Bliss gets back to her feet as Nikki hypes her up.
Bliss decks Shayna. Shayna catches her and puts her on the top. Alexa hits the sunset flip on Shayna. Both women are down. Alexa crawls like catwomen to her corner while Shayna drags herself to tag in Nia. Nikki gets the hot tag. Nikki runs the ropes but Nia catches her crossbody. Nia slams her and tags in Shayna. Nia holds Nikki as Shayna goes to take a shot at her.
Nikki ducks and Shayna was also able to stop her shot before she could catch Nia with it. Nia gets upset over this and gets to the floor. Alexa puts Reginald in hypnotism and forces him to slap Nia. Nia hugs Reginald as she understands what has happened. Nikki hits a suplex on Shayna. Nikki hits Nia and Reginald with a dropkick. Shayna tries to slam her but Nikki puts her in the jacknife cover to get the pin.
Winner – Nikki Cross & Alexa Bliss(qualify for Women's Money in the Bank Ladder Match)
Riddle vs Drew McIntyre – Money in the Bank Qualifying Match
McIntyre takes Riddle to the corner to start the match. The referee forces the break. They lock up again and once again McIntyre forces Riddle to the corner. Riddle goes for the leg and McIntyre slams him to the mat. Riddle hits a chop and McIntyre replies with a big shot. McIntyre unloads in the corner before tossing Riddle across the ring.
Riddle fights back with chops and elbows. McIntyre gets angrier and unloads on him. McIntyre tosses him with a suplex for a two-count. A bit of back and forth action. Riddle goes on a rampage with some quick moves. Riddle goes for the gutwrench suplex but McIntyre counters with a backbreaker. They end up on the floor and Riddle hits a gutwrench suplex on the floor. Riddle gets back to the ring while McIntyre is down on the floor as we cut to the break.
McIntyre gets out of the chin lock with elbows to the midsection. Riddle sends him in the corner and hits back elbow strikes. Riddle hits a suplex and Penalty kick in succession. McIntyre gets her knees up as he goes for the Broton. McIntyre gets to his feet had hits belly-to-belly suplexes in succession. McIntyre kips up but looks spent, showing the effects of the Hell in a Cell match.
Riddle turns the Futureshock DDT in a back body drop. Drew slams Riddle's face in the corner and then hits the reverse Alabama Slam. Riddle kicks out at two again. Drew puts Riddle on the top now. Riddle fights back with elbows. Drew manages to throw him over with a German suplex. Orton is out on the stage now. Riddle looks at him in elation while Drew is brooding. We cut to a break.
Drew and Riddle are on the top turnbuckle. Riddle slips out of the White Noise to hit a powerbomb. McIntyre kicks out at two. McIntyre counters the Pele kick and hits Riddle with the Michinoku Driver for a two-count. Drew gets to the top now. Riddle transitions from his clothesline into a triangle choke. McIntyre powers out of it. Riddle goes for the backslide but McIntyre hits him with Futureshock DDT.
McIntyre gets ready for the Claymore but Riddle collapses to the floor. McIntyre goes to scoop him and Riddle counters to hit him with a ripcord knee. Riddle sets up for the floating bro but misses it as McIntyre pulls away. McIntyre goes for the Claymore but Riddle puts him in the Kirifuda clutch. McIntyre gets to his feet and hits a headbutt. Riddle counters and gets the pin with a victory roll.
Winner – Matt Riddle(qualifies for Men's Money in the Bank Ladder Match)
Riddle goes to Orton who was still on the stage. Riddle goes to fist bump him but Orton does not respond.
We see the replay of Jaxon Ryker vs Elias feud. Ryker was beating himself up with a strap. Mansoor walks up asking for advice. Ryker advises him not to let his enemies escape since the people closest to you would backstab him. Therefore, Ryker will face Elias in a strap match next week. Ryker goes on for a while talking about how he will beat up Elias with the strap and all.
Ryker leaves but Mustafa Ali was waiting for Mansoor. Ali rants at Mansoor for asking everyone for advise and asking wrong questions. Ali tells him that he should be concerned that they did not get a chance in Money in the Bank qualifying. Mansoor nods at him and Ali leaves in digust.
Bobby Lashley vs Xavier Woods – Hell in a Cell Match
Xavier Woods enters for the match with Kofi Kingston. We cut to a break.
Lashley makes his entrance with MVP after the break. Lashley walks inside and poses in the corner. The door gets locked and the bell rings.
Woods starts with a dropkick. Woods kicks at Lashley's legs. Lashley turns it around in the corner and hits shoulder thrusts in the corner. Lashley hits a neckbreaker. Woods goes for a pin attempt to get a two-count. Lashley slams him to the mat a few times. Lashley hits a flatliner to get a two count.
Woods goes to the floor and grabs a steel chair. Lashley punches at the steel chair against Woods' face. Lashley misses a spear and crashes in the turnbuckle. Woods follows with basement slides back to back. Woods slams him with the steel chair a few times as we go to the break.
Lashley is in control as we return. Woods sends him to the floor with a low bridge. Lashley traps him in the apron and unloads. Lashley slams Woods into the cage. A kendo stick is out now. Lashley stands on Woods's face near the ropes. Kofi is hyping Woods from the outside. Lashley is now beating up Woods in the corner.
Woods hits a low dropkick at Lashley's knees to bring him down. Woods hits another dropkick and then starts to slam Lashley with a kendo stick. Woods sticks the kendo stick on Lashley's neck. MVP and Kofi shout at the competitors from outside. Back to the ring, Lashley catches the kendo stick but Woods takes big shots at him. Woods hits the sunset flip. Lashley looks tired now. Woods hits a tornado DDT to get a two-count.
Lashley somehow gets to his feet as Woods sets up a table. Lashley goes for the powerbomb through the table but Woods hits a superkick. Woods sets up Lashley on the table and hits an elbow drop through the table. Woods covers quickly but Lashley kicks out at two. Lashley sends Woods into a steel chair in the corner. Lashley hits a spear and then puts on the Hurt lock to get the submission win.
Winner – Bobby Lashley
After the match, Lashley celebrates the win. MVP gets inside the cell and gets it locked up again. Lashley puts Xavier Woods in the Hurt Lock again and puts him to sleep. Kofi could only watch all this from outside the cage. The show goes off the air.