WWE RAW March 7, 2022: Results, Card, Preview, Tickets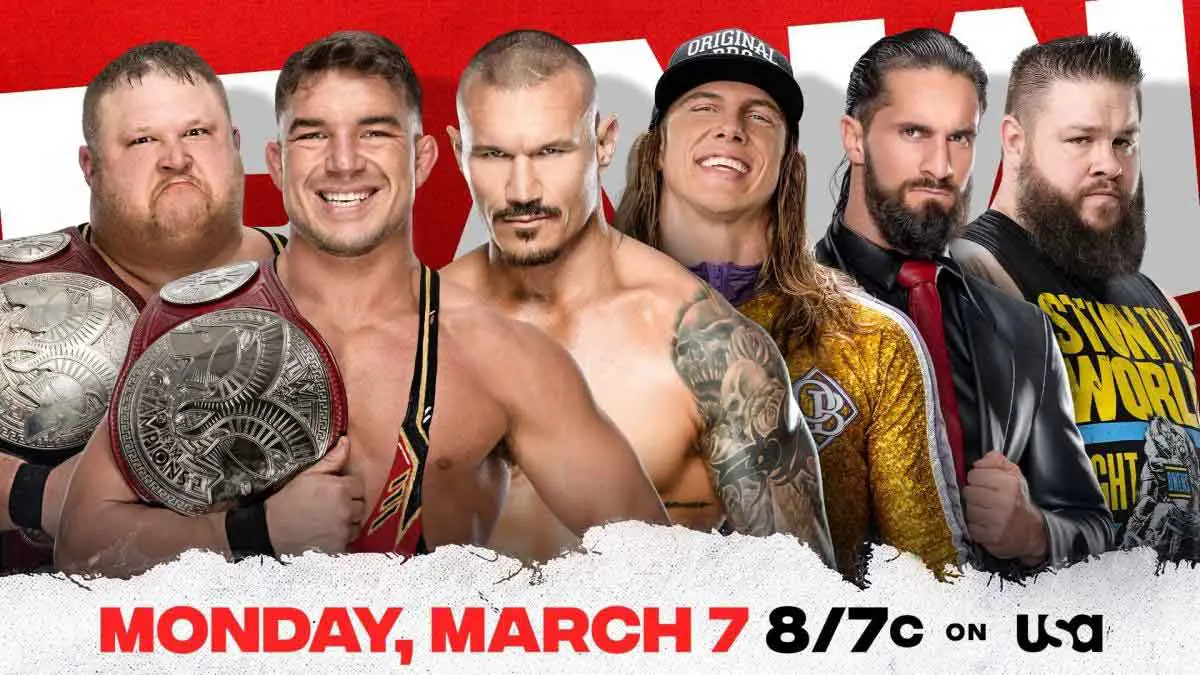 WWE RAW episode of March 7, 2022, will continue the build-up towards WrestleMania 38. The show will air from Rocket Mortgage FieldHouse in Cleveland, OH.
A three-way WWE RAW Tag Team Championship match between Alpha Academy, RK-Bro and Seth Rollins & Kevin Owens is announced. Logan Paul appears on Miz TV for homecoming celebration. Edge will explain his actions while Jerry Lawler will return to RAW.
Keep reading for more details on WWE Monday Night RAW episode of March 7, 2022.
Show – WWE RAW
Date – March 07, 2022
Location – Rocket Mortgage FieldHouse, Cleveland, OH, US
Time – 8 PM EST
WWE RAW March 7, 2022 Results
RK-Bro(Randy Orton & Riddle) defeated Alpha Aaademy(Otis & Chad Gable)(c) and Seth Rollins & Kevin Owens in a Three Way Match via pinfall to win WWE RAW Tag Team Championship.
Dana Brooke defeated Tamina via pinfall to retain WWE 24/7 Championship.
Bron Breakker & Tomasso Ciampa defeated The Dirty Dawgs(Dolph Ziggler & Robert Roode) in a tag team match via pinfall.
Omos defeated Apollo Crews in a singles match via pinfall.
Liv Morgan & Rhea Ripley defeated Queen Zelina & Carmella in a tag team match via pinfall to get a title shot at WrestleMania.
Finn Balor(c) defeated Austin Theory via disqualification to retain United States Championship.
WWE RAW Live Updates from March 7, 2022
The show opens with a recap of what happened at WWE Live Event at MSG between Brock Lesnar and Roman Reigns.
---
Seth Rollins and Kevin Owens make their entrances. Rollins takes the mic and says he and Owens are so close to winning the tag team titles. Owens says their chances of making it to WrestleMania was going beyond them and they had no control over it. Owens takes a shot at Texas again and says the only thing making it bearable is that he will be there with his best friend Seth Rollins.
Rollins takes us to the recap of how they defeated RK-Bro two weeks back to qualify for the title, and then to how they defeated Alpha Academy last week. Owens goes on rant saying Riddle, Otis, Shorty G and Dallas suck. Chad Gable sushes him as he enters. Gable says that their victory last week was a fluke. Gable says he is an Olympian and he should be wrestling at WrestleMania. Orton and Riddle are at the Gorilla and Riddle uses some big words to show his extensive vocabulary. Orton is hyped to win back the titles.
Alpha Academy(Otis & Chad Gable)(c) vs RK-Bro(Randy Orton & Riddle) vs Seth Rollins & Kevin Owens – Three Way Match for WWE RAW Tag Team Championship
Riddle, Gable and Rollins start. One man from each team will be in play all the time. Gable is knocked off to the floor by Rollins. Riddle and Rollins go back and forth. Rollins drops Riddle and brings in Owens for some double team. Owens hits punches and chops. Gable pulls out Riddle and drops him with a Northern Light suplex. Owens drops him as he comes to the ring. Owens hits a Vader bomb and brings in Rollins. Rollins hits drop toe hold and Owens hits a senton on Gable.
Rollins slams Gable to the corner. Riddle follows suit. Rollins is sent to the apron. Rollins hits a springboard crossbody on Riddle and Gable. Owens comes in and knocks off Orton and Otis. Rollins and Owens send Gable and Riddle to the floor. Rollins hits a suicide dive on them. Owens hits a senton on Gable for a two-count. We cut to a break.
Riddle is hitting kicks on Rollins. Otis drops Riddle and Rollins with clotheslines. He also tackles Owens and throws him to the floor. Riddle is whipped to the corner and tackled there. Otis hits a standing splash on Riddle for a two-count. Gable works on Riddle's leg. Otis comes back to kick at it. Rollins is kept away from the ring by Otis. Otis stops Riddle who almost has reached Orton for tag. Otis puts on a chin lock and then hits a corner splash. Otis misses the Vader bomb.
Orton gets the hot tag and drops Gable with clotheslines. He hits powerslam on Gable and then on Rollins. He hits double draping DDT on Gable and Rollins. Orton fights back against Gable and then counters the stomp with RKO. Owens pulls out Orton to break the pin. Orton drops KO on the announce table. And then drops Gable on it. Riddle comes up to help him drop Otis on the table. We cut to another break.
Riddle rolls over Gable for a two-count. He hits a big kick and then hits Floating Bro. Owens breaks the pin. Owens hits a doubled up senton, slamming Riddle on top on Gable. Orton comes in and rains with punches. Otis hits him with powerslam. Riddle is dropped by Otis with a spinebuster. Otis and Gable hit splash on Riddle. Rollins breaks the pin. Otis crashes to the corner as he goes for the corner tackle.
Rollins trips Gable on the top. They fight on the top and Gable escapses Rollins' attack. Owens comes in and attempts double superplex. Otis comes in to complete the Tower of Doom spot. All 6 men are down in the ring. They start to brawl. And takes us to yet another break.
Rollins gets Riddle in a Tree of Woe and hits double stomp for a two-count. Rollins gets mad watching WrestleMania sign. Riddle puts him in an arm triangle. Gable breaks the submission. He drops Orton with a German suplex, followed by Rollins and Riddle. Gable goes for a moonsault but Orton comes and hits RKO on him. Owens throws Orton out of the ring. Owens and Rollins superkick Otis. Gable is hit with a stunner from Owens and then with a stomp from Rollins. Riddle throws out Rollins and steals the pin on Gable.
Winner- RK-Bro
Orton and Riddle celebrate the title win. Rollins is shell shocked. Owens is sitting on the floor in disappointement. Rollins walks back, still in shock. RK-Bro are interviewed in the ring and Orton says he has never had this much fun his 20 years career as he is having with Riddle. He calls Riddle his friend and is hyped that they are going to WrestleMania.
Backstage, Kevin Owens is seen upset at the loss.
---
Earlier today, we see a footage of Dana Brooke and Reggie backstage, preparing for Dana's match against Tamina. She asks for a good luck kiss. We then cut to a footage between Tamina and Akira Tozawa. Something leads to Tamina kissing Tozawa.
Dana Brooke(c) vs Tamina – WWE 24/7 Champion
Tamina throws around Dana for a while before she misses in the corner. Dana hits a handspring splash before Tamina cuts her off. Tamina puts her in a Boston Crab in the middle of the ring. Dana struggles but Reggie motivates her. Dana struggles for a while before rolling up Tamina in a rana pin to get the win.
Winner- Dana Brooke
After the match, Dana celebrates with Reggie on the floor. Tozawa gets on the mic and says Dana has cheated and real winner is the love of his life, Tamina. He gets his hand up for hugging Tamina. Tamina puts his hands down and leaves.
---
We cut to backstage where Kevin Patrick interviews Seth Rollins and asks him about the loss earlier tonight. Rollins is just sulking and not replying.
Miz TV
Miz is the ring and there are some cheers from the crowd. Miz takes us to footage of Dominik calling Logan Paul a Jackass. Miz brings out Paul. Paul takes the mic and talks about Cleveland being his city. He says whatever he is today, this city has made him. Miz cuts him off saying that he is everything because of himself. Cleveland did not make him a Youtube channel, he himself did. Miz questions whether the fans should be cheering Dominik who is just handed things by his father or two hunks like them who made it on his own.
Miz then brings out Jerry the King Lawler. Lawler talks about his history living in Ohio. He then says we should have a WrestleMania in Cleveland. Miz is apprehensive whether Cleveland could even handle pyro from WrestleMania, inviting heavy boos. He says everyone who gets successful in Ohio leaves the city.
---
We get a recap of the Dirty Dawgs' appearance on NXT 2.0 last week where they lost to Bron Breakker and Tommaso Ciampa. The winners are interviewed backstage. Bron says he is excited to be on Raw and not worried about his opponents having a home-field advantage. He is proud to represent NXT and put hands on Dolph Ziggler.
---
Street Profits are interviewed backstage. Sarah Schreiber says it appears there is no room for them at WrestleMania 38. The Profits say they have 4 more weeks to sprinkle their magic, and they remind everyone how they pinned RK-Bro last week only. So, they should be next in line for the title shot. They want the smoke.
Bron Breakker & Tomasso Ciampa vs The Dirty Dawgs(Dolph Ziggler & Robert Roode)
Breaker starts with Roode. Some running the ropes before Breakker hits a delayed vertical suplex. Ciampa tags in and drops Roode with a clothesline. Ciampa with a side headlock. Roode takes him to his corner. Ciampa fights both men until Roode hits a spinebuster.
Ciampa is down in the ring as the Dirty Dawgs are keepin him under control with quick tags. Ciampa hits a knee strike to drop Roode. Breakker gets a hot tag as Ziggler tags in from the other side. Breakker hits shoulder tackles on both opponents. He hits belly to belly suplex on Ziggler and then hits clothesline on Roode to send him to the floor. Breakker hits a spinebuster.
Ziggler cuts off spear with a knee. Breakker recovers quickly to drop Ziggler again. Roode runs an interference before Breakker misses a shoulder tackle and crashes into the corner. Ciampa comes in and so does Roode. Some back and forth action until Ziggler and Breakker are the only ones left in the ring again. Breakker hits the bench press powerslam on Ziggler to get the pin.
Winner- Bron Breakker & Tomasso Ciampa
After the match, Ziggler fires them a warning for the triple threat NXT title match tomorrow, saying he will need just moment to strike behind their back and win another trophy for his case.
Omos is interviewed at the Gorilla Position. He is asked about making his debut at WrestleMania 37, but does not look like getting on the card this year. Omos gets angry and asks how many more giants he has to take down to get a match at WrestleMania.
Omos vs Apollo Crews
Before the match starts, Omos fires a warning for Commander Azeez that he is next. Crews tries to catch Omos off guard but Omos drops him immediately. Omos puts knees to the back and stretches Crews by his arms. He lets Crews go and then drops him off the apron and to the floor. Omos brings Crews back to the ring and throws him to the corner. Omos misses a corner splash. Crews hits an enziguiri. Omos catches his dive and slams him to the mat with double-handed chokeslam powerbomb.
Winner- Omos
After the match, Omos and Commander Azeez have a face-off in the ring after Azeez comes in to check on Crews.
Edge Explains
We get the recap of how Edge turned on AJ Styles last week after he accepted the WrestleMania challenge.
Edge's music hits before the arena goes dark. Edge comes out in a black suit. Lots of boos from the crowd. No lights yet as Edge moves to the ring. The ring is lighted in blue with a focus light on Edge. Edge addresses AJ saying that he needs the best version of AJ at WrestleMania. He says he struck something in his mind and he is in love with new side of himself. He wants to be in control of everything that is happening with him. Edge says he stands on the top of this mountain of omnipotence and AJ is phenomenal.
---
Kevin Owens is interviewed backstage. Owens says he was not as distraught as Rollins after losing the tag title match since he realized it might be the end of his WrestleMania future. He did not want to feel like that any more second. Owens says he has an epiphany that will change his entire WrestleMania future. He refuses to share the plans just yet as he has some things to iron out. But, he will share those plans later tonight.
---
We see the MSG recap once again after a break.
Liv Morgan & Rhea Ripley vs Queen Zelina & Carmella
Liv Morgan and Carmella start. A bit of back and forth before Liv drops Carmella and tags in Rhea. Rhea with more strikes on Carmella. Zelina tags in, ducks Rhea and knocks off Liv off the apron. Rhea goes for a delayed vertical suplex. Carmella comes in for a distraction. Rhea kicks her away but Zelina counters the suplex into a DDT. Rhea is sent to the floor where Carmella kicks her against the steel steps to take us to a break.
Zelina has Rhea in submission move. She lets go after a while and brings in Carmella who kicks at Rhea. Liv breaks the pin attempt. Carmella slams Rhea's face to the mat before putting on a chinlock. Rhea hits punches to the ribs before Carmella drops her with a bulldog. Rhea knocks her down with a roundhouse kick from the mat.
Hot tag to Liv and Zelina misses a big boot. Liv hits dropkicks. She slams Zelina in the corner before a missile dropkick. Zena hits a jawbreaker. Liv ducks a clothesline and rolls up for a two-count. Zelina goes for the tag but Carmella is busy talking to Corey Graves. Rhea tags in and hits Riptide to get the win.
Winner – Rhea Ripley & Liv Morgan
Ripley & Morgan are added to the WrestleMania Women's Tag Team title match courtesy of defeating the champions.
Finn Balor(c) vs Austin Theory – United States Championship Match
Balor starts with taking Austin to the corner. Austin turns it around. Theory with a double stomp and gets a two-count. Theory hits a knee strike and forearm shots. Balor counters a sunset flip with a dropkick. Theory goes to the floor and slams Balor's face on the apron. Balor avoids ATL and hits a slingblade on the floor. We cut to a break.
Theory hits a dropkick after rolling from the ropes. Theory puts on another chinlock. Balor gets on his feet and Theory hits at his ribs. Balor drops him with quick moves. Theory tries to counter but Balor springboards into a stomp. Austin goes to the apron and stops a suplex. He knocks Balor with punches and hits a stomp, followed by a suplex.
A knee to the face and a brainbuster from Austin to get a two-count. Balor counters ATL with an inverted DDT. Balor hits shotgun dropkick. He goes to the top but Damian Priest comes out of nowhere to grab him and throw him on the ropes. The referee calls for a bell.
Winner – Finn Balor(by DQ)
After the bell, Priest hits Razor's Edge on Balor before leaving. Austin Theory comes into the ring and hits Balor with ATL. He then takes a selfie with Balor.
A replay of Bianca Belair whipping RAW Women's Champion Becky Lynch last week with her braid. Kevin Patrick is backstage to interview Belair. Belair says she has one simple rule and it is – don't touch her hair. She says she doesn't need her hair to win, but Becky asked for it. Belair claims she will leave WrestleMania as the RAW Women's Champion.
---
Kevin Owens' WrestleMania Plan
Owens says he does not have a match at WrestleMania. But, that could change after the challenge he is about to make. He wants to host the most stupendous KO Show at WrestleMania. He want some lowlife from Texas to be his guest. He takes shots at JBL and denies having him as the guest. He then shots down Booker T, recalling his several gimmicks. He then talks about Shawn Michaels being a great wrestler and Hall of Famer. But, he is a Canadian and respects Bret Hart, so, Michaels is not invited.
Owens then starts throwing hints about Stone Cold being his guest. Owens says this guy is off drinking beer like the redneck he is and wonders how bad this guy's knees are. Owens says nothing would make him happier than to beat the hell out of this guy in his home state, and give him a Stunner and then pour a glass of milk over his body. Owens knows this person is watching and he doesn't have the guts to show up.
Owens says the name "Stone Cold" Steve Austin. The crowd pops at the mention on Stone Cold's name. The commentators announce The KO Show for WrestleMania Saturday and shows a question mark next to Austin's name. The show goes off the air.
---
Tickets
The tickets for the Monday Night RAW episode of March 7, 2022 are available at the below link. The prices range for tickets at Rocket Mortgage Fieldhouse is from $84 to $287 plus charges.
Preview
Three-Way for Tag Titles: A triple threat match is announced for WWE RAW Tag Team titles for this show. Alpha Academy won the titles from RK-Bro in January. RK-Bro earned the rematch after winning the "Who is Smarter competition!" Seth Rollins & Kevin Owens defeated RK-Bro to earn a place in title match two weeks back. They have also defeated Alpha Academy last week on RAW. A big angle is expected to be played out during this match, which might start a storyline for either of the four challengers in Randy Orton, Riddle, Rollins & Owens. What will it be and who walks out as the champions?
Edge Explains His Actions: After AJ Styles accepted Edge's WrestleMania challenge last week, Edge turned on him with a low blow and proceeded to lay it on him with a con-chair-to. He will explain his action this week on RAW. What does Edge has to say for himself? And more importantly, how will AJ respond to Edge now?
Logan Paul on MizTV: Logan Paul will return to WWE RAW this week and will be the guest on The MizTV segment, which will also mark homecoming for both Miz and Paul. Their match with The Mysterios is set up for WrestleMania already. How will their feud proceed with this segment?
Jerry Lawler Appears: Former RAW Commentator and Hall of Famer Jerry "The King" Lawler is returning to the red brand. He returns to RAW a few months after his surprise appearance. What does he have in store for us?