WWE RAW June 5, 2023 Live Results & Updates- Rollins vs Priest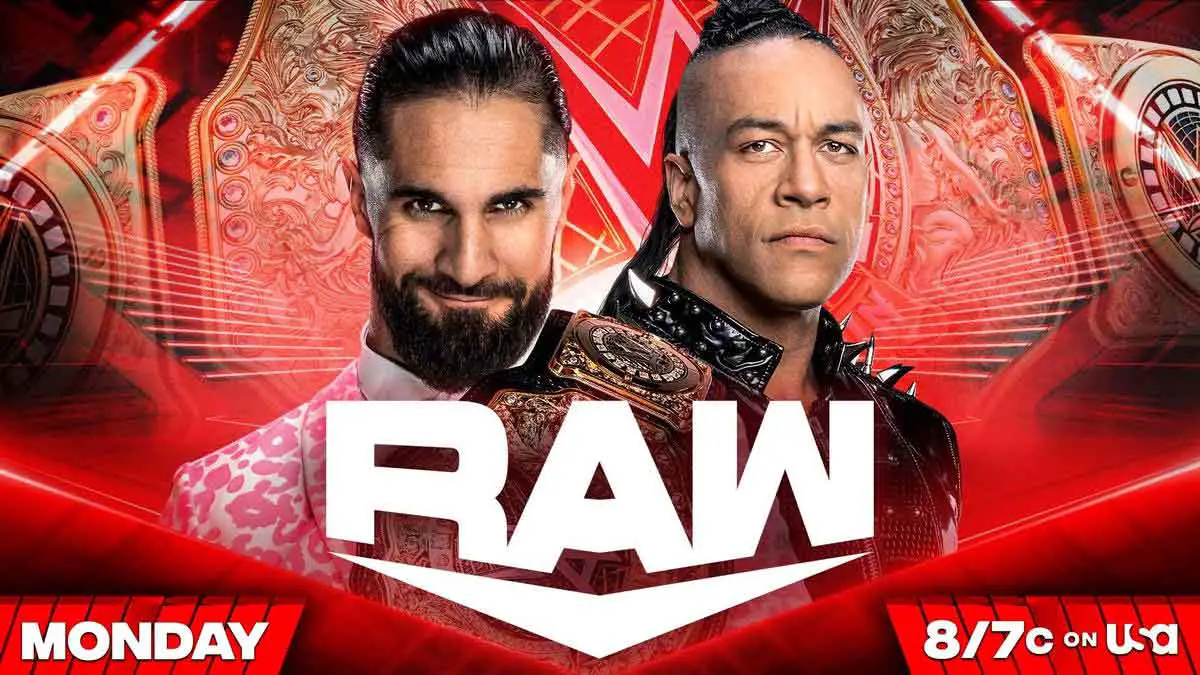 Welcome to the live results page for WWE RAW June 5, 2023 episode which was be live from XL Center in Hartford, CT, on the road to Money in the Bank 2023 PPV.
Seth Rollins' first defense of World Heavyweight Championship was the focal point of the show. He put out an open challenge on Friday, which was quickly accepted by Damian Priest minutes later.
Two qualifiers for women's Money in the Bank Ladder match were also set for the show. Natalya clashed with Zoey Stark while Becky Lynch took on Sonya Deville. Cody Rhodes was the special guest on The Miz TV to talk more about Brock Lesnar.
Kevin Owens and Sami Zayn were once again at odds with Imperium last week. How did that storyline continue? Did we see JD McDonagh and Dolph Ziggler clashing once again after their match ended in a double count-out? How did Ronda Rousey and Shayna Baszler's title reign start?
Check below for live results from WWE Monday Night RAW June 5, 2023 episode with complete updates, highlights and winners.
RESULTS
Becky Lynch defeated Sonya Deville in Women's Money in the Bank Ladder Match Qualifier via pinfall.
Gunther defeated Kevin Owens in a singles match via pinfall.
Ronda Rousey & Shanya Baszler defeated Katana Chance & Kayden Carter in a tag team match via submission.
Ricochet vs Shinsuke Nakamura ended in a double disqualification.
Zoey Stark defeated Natalya inn Women's Money in the Bank Ladder Match Qualifier via pinfall.
Seth Rollins(c) defeated Damian Priest in a singles match to retain World Heavyweight Championship.
LIVE UPDATES
When was the Last World Title Match at RAW?
World Heavyweight Champion Seth Rollins comes out to open the show. The crowd keeps singing for him until he interrupts. Rollins says being the champion has been a week long party but then he thought when was the last time world championship was defended on RAW. He had to go back almost two years to find the last title match on RAW. So, he put out an open challenge and it got quickly accepted by Damian Priest. He is glad that Priest accepted it as he welcomes good competition. He praises how good Judgment Day members are.
Damian Priest and Finn Balor come out to interrupt him. Priest says Dominik and Rhea Ripley have their own things to handle. Rollins then insinuates of Balor and Priest are also couples like Dominik and Rhea. Balor retorts and insults Rollins. Priest says Rollins is a deserving champion as his resume speaks for itself and he has beaten several great competitors. But, so has Damian himself. Damian claims that he does not need the help from Judgment Day to beat Rollins.
Rollins then pokes him and asks him to ensure that Judgment Day remains backstage during their match. Rollins also pokes Balor saying Balor does not fare well when he comes against him. Balor says Rollins does not decide what Judgment Day would do. Priest cuts him off and says he is ok with it, and claims that his title reign will be one of the shortest as he will win it tonight. Rollins retorts by saying that his title reign is already longer than Balor's.
Becky Lynch vs Sonya Deville – Women's Money in the Bank Ladder Match Qualifier
Chelsea distracts Becky as the bell rings, but Becky is alert and dodges Sonya's sneak attack. Becky goes for Manhandle Slam but Sonya blocks it by hitting back elbows. Becky lands some punches back and a kick. Chelsea once again distracts her and Sonya attacks her from behind. Sonya puts Becky in the corner for some punches and kicks. Sonya puts on a headlock and slams her to the mat when she tries to break free.
Some forearms from Sonya before Becky hits a couple of big boots, clotheslines and a single leg dropkick. She hits bexploder next before a back elbow after jumping from the second rope to get a two-count. Trish Stratus' music hits and she comes out to the stage with Zoey Stark. Becky gets distracted a bit but she hits an inverted DDT for another two-count. We cut to a break.
Becky is trying to fight back on the top rope. Sonya manages to hit her with a superplex for a two-count. Chelsea hypes Sonya from the ringside. They get up and start to trade forearm shots. Becky gets better of the exchange. Becky hits a flying shoulder tackle. Sonya rolls to the floor. Becky goes for a suicide dive but has to stop when Chelsea pulls Sonya away. Becky throws Sonya back into the ring but Chelsea hits her with a pump kick. Sonya covers Becky but she kicks out at two-count.
Becky hits an enzuigiri next. Sonya puts her on the apron. Green tries to attack her once again but Becky kicks her off the apron. She throws Chelsea into the barricade a few times and does the same thing to Sonya when she comes out to attack Becky. Sonya rolls up Becky for a two-count when they get into the ring. Sonya blocks it and throws Becky into the ropes. She even tries to use the ropes for a pin but Becky still kicks out. Sonya hits more forearm shots. Sonya goes for a jumping knee from the second rope but Becky catches her with manhandle slam to get the pinfall.
Winner – Becky Lynch
Becky celebrates her win as Trish and Zoey stare from the stage.
---
We get a recap of Triple H handing a new WWE Universal Championship belt to Roman and how the Bloodline imploded.
---
Sami Zayn and Kevin Owens are caught backstage for their comments on the Bloodline. Sami says he is not the type of person to say he told us so, but he predicted this turn from The Usos months ago. Sami then says The Bloodline are not their problem now. Ludwig Kaiser and Giovanni Vinci of Imperium interrupt them. Kaiser says they are their problems now, and not the Bloodline, until they have the tag team titles. Owens snaps again and tells Kaiser that he told him last week that he can't come in until someone calls his name and that is an unwritten rule. Gunther walks in and says Owens needs to be disciplined despite being a great wrestler. Owens says it sounded like a challenge and he has a great way to resolve issues. He calls Gunther to face him in the ring right away. Owens makes his way out to the ring and Sami runs behind him.
---
We get a video package for Kayden Carter & Katana Chance highlighting their accomplishments before their NXT days and in NXT. They want a party where everyone is included.
Kevin Owens vs Gunther
The commentary team says this match is made official during the break. Gunther makes his entrance with Vinci and Kaiser. They lock up and Gunther puts Owens in the corner before the referee calls for a break. Gunther puts on a side headlock to take Owens to the mat. Owens tries to break free but Gunther holds onto it. Owens throws him to the ropes but Gunther hits a shoulder tackle on his way back. Gunther goes for a shoulder stretch but Owens gets to the ropes and nails Gunther with a big shot.
Gunther no-sells a tackle but Owens nails him with quick shots. Owens ducks a chop in the corner and hits one of his own. Gunther hits a big boot and a German suplex to take over control. Owens rolls to the floor and hits a kick when Gunther follows him. Gunther slams his neck into the barricade. Gunther drops Owens on the apron as we cut to a break.
Gunther avoided a Swanton bomb just as we returned. Owens hits calf kicks before Gunther drops him with a big shot. Gunther twists his neck with his leg. Gunther controls his arm and cranks his neck. Owens gets to his feet and fires punches but Gunther drops him with a big boot and follows up with a couple of more boots to get a two-count. Gunther hits some chops to drop Owens once again. Gunther then puts on a Boston Crab. He then transitions into a crossface after some elbow shots to his neck.
Owens gets back to his feet and hits some blows. Gunther drops him again with a big chop. Owens blocks a suplex, hits body shots and goes for fisherman's suplex but Gunther hits him with a lariat. He hit a short-arm lariat next. Owens gets back up and they start to trade shots. Gunther hits a German suplex. Owens gets up and hits a German suplex himself. They get up and trade forearms. Gunther resorts to a chop and then a chop at the back of the head. Owens hits a series of superkicks to set up and hit a cannonball for a close two-count.
Owens puts on a sleeper but Gunther breaks free quickly and hits a dropkick. Owens hits him with a fisherman's brainbuster for another close two-count. Owens heads to the top rope. Gunther hits a superplex to bring him down and gets a near fall. Owens gets his feet up as Gunther hits a splash from the top. Owens hits a Swanton bomb but Gunther kicks out. Vinci comes up to the apron. Sami brings him down. Owens goes to deal with Kaiser when he also gets involved. Owens hits Kaiser with a stunner in the ring. Gunther rolls up Owens and holds on to get the pinfall.
Winner – Gunther
Gunther leaves to the stage quickly with other Imperium members. He asks for respect for him.
---
We hear from Matt Riddle backstage where he says he is tired of Gunther cheating his way to wins ever week. Kaiser and Vinci come in and ask Riddle to respect Gunther. They get into an argument which leads to a brawl breaking out. Riddle sends Kaiser away before putting a vicious ankle lock on Vinci. Crew members break them apart to end the segment.
---
Shayna Baszler and Ronda Rousey are backstage for an interview with Byron Saxton. Baszler says they dominated last week when they won the title, and will continue to dominate. Ronda says they will welcome competition when they are interrupted by Katana Chance and Kayden Carter who say they came to RAW to make a statement. They argue back and forth before Ronda tells them that they will see them in the ring.
Ronda Rousey & Shanya Baszler vs Katana Chance & Kayden Carter
Shayna pushes Carter into the corner. Carter uses a leg sweep to trip Baszler. She hits a springboard dropkick. Chance comes in and hits dropkick herself. Ronda tags in and calls for both of them to attack her. Ronda throws them away with Judo throws. Ronda gets Chance in fireman's carry but Carter kicks her. Ronda kicks her out of the ring. She puts Chance in an armbar on the ropes and hands upside down on the apron.
Carter hits a superkick on Ronda to drop her to the floor. Chance hits a crossbody on Shayna when he tries to interfere. Shayna provides a distraction to allow Ronda to attack Chance when they get back into the ring. Shayna and Ronda keep Chance under control for a while. Chance avoids a suplex and runs to tag in Carter. Carter comes in and hits quick moves. She hits a sunset flip for a two-count before a low superkick and a dropkick. Shayna hits her with an elbow before tagging in Ronda. Ronda gets Carter up on the shoulders.
Chance tags in before Carter slips away. Ronda crash into the turnbuckle when Carter avoids a corner tackle from her. Chance hits a senton while Carter holds Ronda bur Ronda kicks out. More attack from Chance but Ronda falls to her corner and tags in Shayna. Carter gets a blind tag before Shayna throws Chance out of the ring. Carter gets a two-count with a roll-up. Shayna puts her in kirifuda clutch to get the submission.
Winner – Ronda Rousey & Shayna Baszler
Ricochet is backstage when Bronson Reed comes in and asks how Ricochet is in MITB ladder match and he is not when he defeated Ricochet two weeks back. Ricochet says he earned the opportunity last week by beating Miz while Reed lost to Shinsuke Nakamura. Reed says he was dominated Nakamura. Nakamura comes in and says that was until he won. Reed says Nakamura caught him on a bad day before he walks out. Nakamura and Ricochet call for a friendly competition.
---
We get a video package for Johnny Gargano where he says people always took him as an underdog until they find out what he posses. Gargano tells us how he was rejected in NXT trials but went on to become the face of NXT 5 years later.
Ricochet vs Shinsuke Nakamura
Ricochet hits a sidekick but Nakamura puts him win in a side headlock. Nakamura throws him over before Ricochet hits a dropkick. Nakamura hits back with an armdrag. Quick back and forth as Ricochet hits two more dropkicks after fighting out of leg scissors. Nakamura hits a knee strike from the apron to block Ricochet's dive. He goes to the top but Ricochet hits him with another dropkick on the top to knock him to the floor. Ricochet hits a suicide dive to take us to a break.
Ricochet avoids an inverted suplex and goes on to hit handspring back elbow. Ricochet slams Nakamura's face into the turnbuckle before a kick. Ricochet hits a springboard tackle before hitting a standing shooting star press for a two-count. Shinsuke ducks a crossbody in the corner after running forearms from Ricochet. Nakamura hits quick strikes before setting up and hitting a sliding German suplex.
Nakamura hits a kick after a block from Ricochet. He hits an exploder. Ricochet blocks a running knee before hitting Recoil. Ricochet goes to the top now. Nakamura meets him at the top. Bronson Reed runs in and attacks both men. The referee calls for the bell.
Result- Double Disqualification
Reed hits a corner splash on Nakamura before slamming Ricochet to the mat. He hits a Thesz press and then hits Tsunami.
---
We see a recap of Valhalla targeting Maxinne Dupri last week. We cut to backstage with Chad Gable, Otis and Maxxine. Gable and Maxinne argue over Otis' name before they discuss why The Viking Raiders are targeting them. Gable says he provided Otis with The Viking literature to find out ways to counter them. Otis says they should take out The Viking Raiders with deodorants and Master Gable should teach Maxinne to take on Valhalla. Gable asks Maxinne to change her costume for her training. Maxxine says she has the perfect costume for it in the locker room.
MizTV with Cody Rhodes
Miz brings out Cody Rhodes as his guest. Cody makes his long and grand entrance, and he has his cast still on. Miz asks Cody about his challenge to Brock Lesnar, who broke his arm and defeated him at Night of Champions, and he still wants to fight him. Cody calls Miz by his original name Mike, which leads to "Mike" chants from the crowd. Cody says people called it gutsy and that he has balls, but this is the first time he is hearing someone call it stupid.
Miz says he thought he should invite another generational talent who also goes through pressure like Cody. He calls out Dominik Mysterio. Dominik comes out with SmackDown Women's Champion Rhea Ripley. Dominik sits down at the other seat as the Miz stands up. Miz goes to ask him something but Rhea stops her. Heavy boos as Dominik takes the mic. Miz asks the crowd to let him speak. Cody also joins in but it only increases the boos. Dominik says he listened to Cody speak last week like he is the dog in the yard while Dominik is the one who did hard time in jail.
Dominik brings up his promo from last week and says he listed some crappy towns for Brock to come and see him, but then it hit him that he is a bad father. Dominik says Cody has a young daughter at home and instead of taking care of her but Cody is here in this pathetic town. Cody says he has empathy for Dominik, brings up having a worse tattoo than him, and Dominik has had a WrestleMania match after coming out of jail. Cody calls it more of a public spanking than match. Cody says he respects Rey Mysterio, but he can say that Rey has definitely made mistakes as he is seeing one in front of him.
Dominik teases leaving the ring. Cody turns back to put his mic down. Dominik catches him with a slap when he turns around. Rhea stands in front of Dominik to not allow Cody to hit back. They leave the ring. Cody then drops Miz with a shot with his cast.
Natalya vs Zoey Stark – Women's Money in the Bank Ladder Match Qualifier
Some back-and-forth counters to start the match. Zoey eventually takes control of the match. Natalya hits a German suplex for a two-count. She puts on a sharpshooter. Zoey is in pain but manages to get to the ropes. She gets to the floor and Natalya kicks her. Natalya throws Zoey back into the ring. Trish trips Natalya on the apron when Zoey distracts the referee. Zoey hits Z-360 to get the pinfall.
Winner – Zoey Stark
Paul Heyman is backstage and informs us that Jey Uso has to make a choice this week at SmackDown whether to stand with Jimmy Uso or The Tribal Chief and Solo Sikoa.
Indus Sher(Veer & Sanga) vs Cedric Alexander & Shelton Benjamin
Indus Sher attacks the former Hurt Business duo after completing their entrance. Sanga hits a big boot on Cedric while Veer drops Shelton with a Million Dollar Arm Clothesline. Indus Sher hits double team elbow drop/sidewalk slam combo on Cedric. The match never started. They hit another elbow drop and sidewalk slam combo on Cedric to end the segment.
Seth Rollins(c) vs Damian Priest – World Heavyweight Championship
No Judgment Day with Priest as promised. The bell rings and Priest pushes him into the corner. Rollins rakes his face and pushes him away. Priest corners him again but Rollins evades and hits chops and kicks. Priest whips him from corner to corner but Rollins evades from the corner once again by getting to the apron. Rollins manages to take Priest to the floor and hits a knee dive to take us to a break.
Rollins hits a kick to the face as we return. He invites and ducks Priest. Priest lands on the floor and Rollins sends him into the ring post. A back body drop sends Rollins into the timekeeper's area but he lands on his feet. Rollins jumps at Priest but Priest catches him mid-air with a knee strike. Priest is in control now as he takes Rollins back into the ring. Priest works on Rollins on the ropes until the referee calls for the break. Priest corners Rollins to hit some shots before he hits a running boot. Priest puts on a headlock to ground Rollins.
Rollins gets back to his feet but Priest hits a back elbow to keep control. More shots from Priest before he puts on an arm stretch. Priest shuts down another comeback with a shot at his back. Rollins hits back elbows but Priest hits another shot at the back. Rollins hits an enzuigiri to drop Priest. Rollins nails punches and chops. He hits a short-arm clothesline and another clothesline before hitting a kick to the midsection and another clothesline to knock Priest off his feet.
Rollins hits a backbreaker next before he gets to the top. Priest avoids a splash and hits a jumping sidekick. He hits a corner splash. Rollins hits a kick to midsection but Priest blocks a pedigree with a back body drop. Rollins hits slingblade. Priest moves to the floor and catches Rollins' dive to send him into the announce table. We cut to another break.
Priest is in control as we return. The crowd gets behind Rollins and starts to sing for him. Priest gets to the top and Rollins joins him to hits a superplex but Priest blocks the falcon arrow. Rollins counters again and hits falcon arrow. Priest rolls to the floor and Rollins hits him with a suicide dive. He hits suicide dive two more times which pushes Priest over the announce table. Back to the ring, Rollins hits a superkick and a frog splash for a near fall. Priest hits him with a punch, a calf kick and a body shot.
Rollins hits a rolling elbow before Priest hits a headlock driver to get a two-count. Rollins avoids a chokeslam before they trade punches. Rollins gets his boot up in the corner. He gets to the top and Priest hits him with a roundhouse kick. Priest hits an avalanche hurricanrana to get a two-count. Priest says he can give Rollins more pain if he wants it. He hits short-arm clotheslines. Rollins counters and hits a pedigree. Rollins lands a bit away from Priest and Priest is able to kick out when Rollins finally covers him.
Priest gets to the apron and hits a bell ringer on Rollins when he follows him. Rollins slips to the floor and picks up Priest to hit a barricade bomb. Rollins sends Priest into the ring. Balor tries to attack him from behind but Rollins nails him with a superkick. Rollins gets into the ring to get into a lariat from Priest. Priest hits South of Heaven chokeslam for a near fall. Priest notices Balor on the floor and asks him why he is out there. Rollins slips out of Razor's Edge and hits a superkick. Rollins hits The Stomp to get the pinfall.
Winner – Seth Rollins
After the match, Balor gets into the ring and has a face-off with Rollins. Rollins leaves the ring and poses on the ramp to close the show.