WWE RAW July 31, 2023 Results, Live Updates- SummerSlam Go Home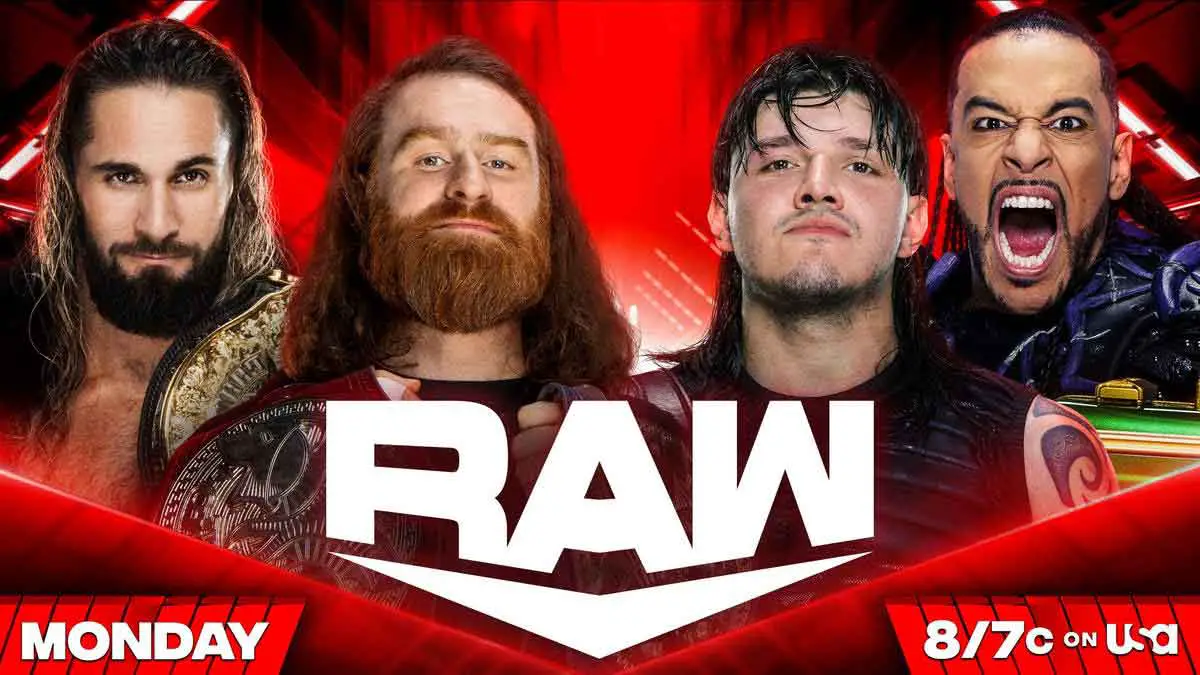 WWE RAW was live on July 31, 2023, from Toyota Center in Houston, TX, for the go-home edition of SummerSlam 2023 and we were here to post results from the show.
World Heavyweight Champion Seth Rollins and one-half of Tag Team Champions Sami Zayn faced Judgment Day's Dominik Mysterio and Damain Priest in a tag team match in the main event. Finn Balor, who faces Rollins at SummerSlam, was lurking around.
Cody Rhodes and Brock Lesnar came face-to-face ahead of their showdown at SummerSlam, and sparks flew. Logan Paul also appeared on July 31 RAW episode to continue the build-up for the match against Ricochet.
Maxxine Dupri was set to be in his first singles match against Valhalla. Tommaso Ciampa and Shinsuke Nakamura clashed in a singles match while Chad Gable faces Gunther in 5-minute challenge match.
Tune in below as we post results from WWE Monday Night RAW July 31, 2023 episode with live updates, winners, and highlights.
RESULTS
Ludwig Kaiser defeated Matt Riddle in a singles match via pinfall.
Maxxine Dupri defeated Valhalla in a singles match via pinfall.
Shinsuke Nakamura defeated Tommaso Ciampa in a singles match via pinfall.
Gunther defeated Chad Gable in a singles match via pinfall.
Becky Lynch defeated Trish Stratus in a singles match via disqualification.
Seth Rollins & Sami Zayn defeated Judgment Day(Dominik Mysterio & Damian Priest) in a tag team match via pinfall.
LIVE UPDATES
Logan and Ricochet!
Logan is out in the ring. Logan takes the mic and says all he wanted to do last week was showcase Ricochet's athleticism to build hype around their match for Summerslam. But, he was a victim of a sneak attack, victimized, and abused, and when he was down, Ricochet decided to make a spectacle out of the whole thing. So we can forget about a fight, because he's gonna beat Ricochet in the most viral match in WWE history. Ricochet comes out and says he was in his live stream, but he is in Logan's head this week because we have seen this again that he tries to spin the story to make himself look like the good guy.
Ricochet says that one thing is right that their match will be blockbuster. He respects Logan's athleticism and always have. Logan says Ricochet was one of the greatest until he showed up. Logan says they even think alike as he shows us their spot at Royal Rumble match. Logan puts his hand forward for a fist bump. Ricochet gives him a fist bump. Ricochet starts to leave when Logan says there should not be any hard feelings when his fiance Samantha Irvin says Logan's name. Ricochet takes him down with double leg to start a brawl. Ricochet dodges Logan's attack with his quickness and hits a drink. He springboards but Logan catches him with a punch.
---
We get a recap of Gunther accepting Drew McIntyre's challenge for SummerSlam last week and how Drew defeated Ludwig Kaiser, followed by him standing tall on. Imperium are backstage. Gunther says he doesn't live in the past, but he is concerned and disappointed with Ludwig Kaiser and Giovanni Vinci. He expects more from them. He would take care of Drew McIntyre himself, but Ludwig has to take care of Matt Riddle tonight.
Matt Riddle vs Ludwig Kaiser
Back and forth start. Riddle gets a waistlock takedown and hits him with Karelin lifts. Riddle hits a suplex next. Kaiser slips out of fireman's carry and sends Riddle into the turnbuckle. He hits a dropkick on his back against the turnbuckle. Kaiser hits an uppercut on the floor. Riddle catches him with an uppercut on his way back to the ring. Riddle hits a hurricanrana to send Kaiser to the floor and hits a floating bro to take us to a break.
Riddle is fightinng back as we return. He hits running forearms and German suplex. He hits a senton before Kaiser gets his knees up on the second senton. Riddle fires back with a roundhouse kick. Kaiser hits a rolling senton and a kick to the chest to get a two-count. Riddle hits a ripcord knee and a fisherman suplex. Giovanni Vinci gets up on the ramp, but gets decked with a punch. Riddle hits a ripcord knee to get a near fall. Kaiser fires a shot but Riddle hits back with a knee. Riddle misses a floating bro and Kaiser hits a running kick. Kaiser finishes off with a modified DDT to get the pinfall.
Winner – Ludwig Kaiser
Byron Saxton catches up with Logan Paul backstage. Logan says what happened tonight was just a preview for Ricochet. He promises that this will be the most-viral match of WWE ever.
---
We see a video package for the encounters between Cody Rhodes and Brock Lesnar so far.
Maxxine Dupri vs Valhalla
Chad Gable & Otis are in Maxxine's corner. Erik and Ivar are in Valhalla's corner. Valhalla hits a shotgun knee as the bell rings. Maxxine is staggered but manages to hit back-to-back arm drags. Valhalla reverses a whip to send Maxxine down. She hits a knee strike to get a two-count. Valhalla puts on a shoulder and chin lock. Valhalla throws her over before an armdrag, a roundhouse kick and a fisherman suplex. She hits caterpillar elbow drop next after being hyped by Otis.
Maxxine goes to the top and hits a crossbody. Erik distracts the referee to stop the pinfall. Alpha Academy and The Viking Raiders start brawling on the floor. Valhalla nails her with a shot on the top rope. Valhalla tries to hit a superplex but Maxxine slips out to pick her up to hit a powerbomb to get the pinfall.
Winner – Maxxine Dupri
We see a recap of Judgment Day's recap from last week outclassing their opponents in the ring before beating up Seth Rollins and Sami Zayn.
---
Tommaso Ciampa comes to Shinsuke Nakamura backstage and brings up how he asked Nakamura to stay out of his business last week but Nakamura did not listen. Ciampa says he will create momentum by beating Nakamura tonight and then win SummerSlam Battle Royal. Nakamura claims he will win both matches.
Judgment Day
Judgment Day are out in the ring. They talk about taking down Kevin Owens, Liv Morgan, Sami Zayn and Seth Rolins who have all been taken down. They claim that nobody can stop the Judgment Day. If Sami and Seth decide to show up tonight, Dom and him will make sure that they do not leave whole. Balor says Rollins acts insane and his idea of insanity is wearning wacky clothes and laughing maniacally. But, insanity is waking up everyday for seven years and seeing the scars in the mirror.
Dominik Mysterio takes the mic and booing starts. He says all the Judgment Day will have goodies. Mysterio says he will bring back the pride to Mysterio name. Rhea takes over and says anyone trying to take on Judgment Day should take a page from Raquel Rodriguez's book and go into hiding, otherwise they will fall like Kevin Owens and Liv Morgan. Raquel's music hits and she comes out. Judgment Day leave the ring apart from Rhea. Rhea is sent into the corner and Raquel beat her up. Rhea is clotheslined to the floor and is sent into the barricade. Raquel drives her into the ring post. Dominik runs a distraction to allow Rhea to hit a chop block from behind. Rhea stomps on Raquel for a while until the crew members separate them.
---
We get a video package for Ronda Rousey and Shayna Baszler's rivalry. They talk about Ronda being a coach in the Ultimate Fighter and Shayna joined the show as her protege while being a more experienced fighter. They announce that Shayna vs Ronda will be a MMA Rules match.
---
Alpha Academy are backstage where Chad Gable informs us that one of them wil be in SummerSlam. Imperium comes in and says they turned the show into a joke after Kaiser's showing in the first match. Alpha Academy praises Maxxine's performance. Gunther tells Chad Gable to shup ott as he isn't worth his time and Kaiser says he wouldn't even make it five minutes. Chad says he will last five hours if he has to if Gunther leaves Imperium behind while he does the same with Alpha Academu. Gunther accepts the challenge.
Shinsuke Nakamura vs Tommaso Ciampa
They lock up to start before Nakamura hits a shoulder tackle. Nakamura misses a roundhouse kick. Nakamura corners Ciampa and boots him. Ciampa hits a chop and a backbreaker. Ciampa keeps control with chops and kicks to the chest. Nakamura counters in the corner and hits a kick to chest. Ciampa hits a chop on the apron but Nakamura fires back with kicks to the chest. Ciampa drops him on the floor. He hits a ripcord knee on the barricade to take us to a break.
Nakamura hits a sidekick before an enzuigiri. He hits a sliding German suplex. Ciampa hits a back elbow. He hits a rope-hang DDT to get a two-count. Ciampa hits some chops before setting up Nakamura on the top rope. Nakamura back with punches to send him back to the floor. Ciampa ducks a leg lariat. He hits a knee strike to midsection. Ciampa hits back with a knee himself. Nakamura blocks fairytale ending and hits a kick. Nakamura rolls through using a leg sweep and holds onto Ciampa's trunk to get the pinfall.
Winner – Shinsuke Nakamura
Adam Pearce visits Raquel Rodriguez in the trainer's room and says she can't have her match tonight as she is not cleared. He promises her a match against Rhea as soon as she is cleared.
Beast & Nightmare!
Brock Lesnar comes out to the ring. He says he is an NCAA Wrestling Champion, an UFC Champion and WWE Champion. And if he knows anything about the sports is that this is Fight Week, and he gets paid to kick a## of Cody Rhodes while Cody gets paid to get his a## kicked. If Cody want to comes out and claim otherwise, be his guest. He will shake his hands and then see him Saturday. But if he does not come out, he will go and find him backstage. He counts down to 5.
Cody's music hits and he comes out. He circles the ring once before getting into the ring. They shake hands but Cody blocks Lesnar as he tries to leave. Lesnar pushes him away and gets out of the ring. Cody hits him with a suicide dive. Lesnar tackles Cody into the ring post and throws him around before hitting him with steel steps. He starts to walk back but get back and tackles Code once again. He takes Cody into the ring and hits an F5.
Gunther vs Chad Gable – 5 Minutes Challenge
The match starts as a 5-minute challenge. Gunther throws Gable away after they lock up. The same thing happens the second time. Gunther puts on a single leg crab but Gable gets to the ropes quickly. They lock up and Gunther blocks Gable's attempt to push him back. Gunther pins Gable's shoulders to the mat but Gable bridges up to break the pinfall. Gunther stomps on his chest before twisting his neck with his legs. Gable hits a body slam with half of the time over. Gable hits a couple of chops but Gunther hits back with chops and uppercuts. Gable fires back with punches.
Gunther blocks a German suplex with 90 seconds left on the clock. Gunther hits a big chop. Gable blocks the powerbomb and transitions into a ankle lock. Gunther breaks the grip with one minute left. Gunther puts on a sleeper hold. He softens up Gable with punches to the face before putting on the sleeper once again. Gunther goes for a powerbomb with 12 seconds left on the clock. Gable counters and sends Gunther to the floor with a hurricanrana. The time gets over and Gable is announced the winner. Gunther is livid and asks time to be added. The referee confers with the timekeeper before it is announced that the match will continue.
Gunther is beating up Gable as we return from the break. Gable puts on an armbar using the ropes. After the referee breaks it, Gable stomps on the arm from the ropes. Gable hits more running kicks on the arm before putting on a fujiwara armbar. Gunther breaks it and hits a German suplex. Gunther gets to the top and Gable hits him with a superplex. Gable hits more punches and a rolling elbow. Gunther catches him with a big chop. Gable hits a deadlift bridging suplex to get a two-count. Gunther hits him with a big boot and a lariat to get a near fall. Gable escapes the powerbomb but Gunther hits more chops and hits the powerbomb to get the pinfall.
Winner – Gunther
After the match, Gunther takes the mic and tells the crowd to celebrate his success and claims that he is not losing to Drew McIntyre at SummerSlam.
---
Cody Rhodes gets interviewed backstage on whether if he can compete at Summerslam. Cody says Brock can break his arm again but he is beating Lesnar at SummerSlam.
Becky Demands Her Match!
Becky Lynch is out in the ring. She says she has done everything needed to be done to get her match against Trish Stratus. She says there is no better time to have that match than right now. She calls out Trish. Trish comes out to the stage with Zoey Stark. Trish says Becky does not get to tell her when to fight. She claims Becky beat Zoey with a fluke, but she will decide when their match will be. Trish assures that she will not cheat Becky out of the rematch and takes shot at Houston's Baseball team. Adam Pearce comes out and says the match will happen as Trish promised it. Pearce make the match official and brings out a referee. Trish is not happy and says Becky will break her nose once again.
Trish Stratus vs Becky Lynch
Trish enters the ring with caution. The bell rings and Becky hits a flying shoulder tackle. Zoey attacks Becky right away to cause a DQ.
Winner – Becky Lynch(via DQ)
The brawling continues after the match and Becky saves her face being slammed on a couple of occasions and keeps the upper hand despite the numbers against her. Becky goes to hit a manhandle slam on Trish but Zoey saves Trish and drops Becky.
---
Backstage, Adam Pearce confronts Trish Stratus and Zoey Stark over how they forced a disqualification and failed to deliver the match. Trish says she did not have time to prepate. Pearce gives her time to prepare and home advantage and books it again after two weeks in Winnipeg.
---
We get another video package for Ronda Rousey and Shayna Baszler.
Seth Rollins & Sami Zayn vs Judgment Day(Dominik Mysterio & Damian Priest)
Rollins and Sami attack Dominik and Priest on the ramp. The brawling continues for a while. Finn Balor also joins in. Rollins chases him off to back, but return to be with Sami in the ring. We cut to a break.
The bell rings as we return from the break. Dominik runs out of the ring and catches Rollins with a kick on his way back. Dominik unloads from the second rope in the corner but Rollins gets him up and drops him on turnbuckle. A running kick follows. Sami hits a double ax handle as he tags in. Dominik runs to tag in Priest. Sami hits punches and chops on Priest before an elbow from the second rope. Rollins hits chops on Priest after the tag. Priest whips him to the corner but runs into a big boot. Priest hits a big uppercut to take control over.
Dominik tags in and stomps on Rollins in the corner. Rollins comes back with kicks after Dominik showboats. Dominik tags in Priest who takes back the control. Quick tags from Judgment Day before Rollins hits Priest with a kick. Rollins hits a forearm from the apron. Priest distracts the referee to allow Balor to pull Rollins off the apron and slam him into the ring post. We cut to a break.
Rollins blocks Dominik from Three Amigos and nails him with a rolling elbow. Priest tags in. Rollins ducks him and tags in Sami. Sami fires shots before sending Priest to the floor. He hits a suicide dive next. Sami hits chops back in the ring before a tornado DDT off the ropes. Dominik has to break the pinfall. Dominik tags in and sets up 619. Sami cuts him off with a clothesline. Rollins and Priest tag in. Rollins hits a slingblade and 3 back-to-back suicide dives to send Priest over the announce table.
Back to the ring, Rollins gets caught when he goes for a springboard knee dive. Rollins hits a superkick and a low superkick. Dominik drops Rollins' face on the ropes while Priest keeps the referee distracted. Sami hits Dominik with a clothesline on the floor. Rhea engages Sami in trash talk and Balor hits him with a shotgun dropkick. Rollins gets to the top to save Sami but Priest picks him up and hits Razor's Edge. Priest gets his eyes on the MITB briefcase. He asks Balor to hand it over. Balor hesitates but ultimately gives the briefcase to Priest.
Rollins recovers and hits a superkick on Priest. Balor grabs Rollins but he ducks to allow Sami to hit him with a Helluva kick. Dominik is hit with the briefcase while the referee is confused with all the chaos. Rollins finishes off Priest with the stomp to get the pinfall.
Winners – Seth Rollins & Sami Zayn