WWE RAW July 3, 2023 Results & Live Updates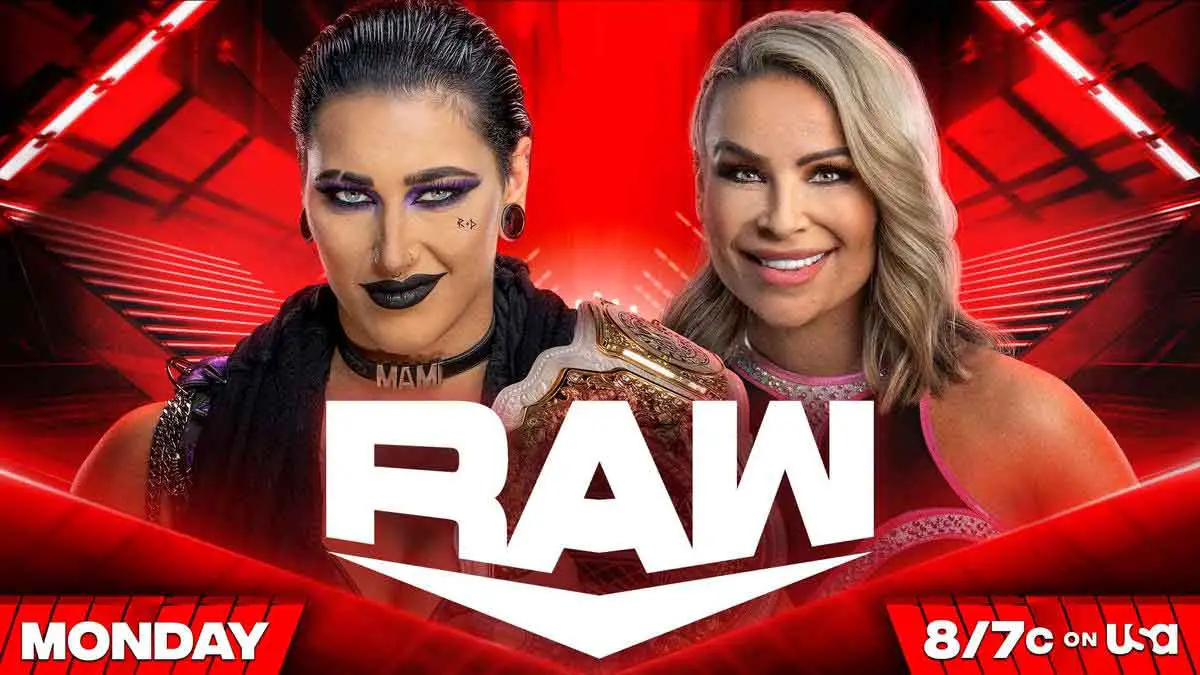 Welcome to the live results blog for WWE RAW July 3, 2023 episode which was live from Baltimore, MD.
This was the fallout show from Money in the Bank event along with start of the build-up towards SummerSlam 2023 PLE. Only one match is announced for the show in Women's World Championship rematch between Rhea Ripley and Natalya.
Apart from this, we to know what is next for the likes of Cody Rhodes, Becky Lynch, Trish Stratus and other stars. World Heavyweight Champion Seth Rollins had a new threat to deal in the form of Senor Money in the Bank Damian Priest. How did he deal with Priest. Shayna Baszler turned on Ronda Rousey at MITB event, and we are expecting to hear from Shayna Baszler on this.
Check below as we post results from WWE Monday Night RAW July 3, 2023 episode with live updates, winners, highlights and complete action.
QUICK RESULTS
Damian Priest defeated Shinsuke Nakamura in a singles match via pinfall.
Sonya Deville & Chelsea Green won the Tag Team Turmoil Match for #1 Contender for WWE Women's Tag Team Championship.

Sonya Deville & Chelsea Green eliminated Indi Hartwell & Candice Le Rae via pinfall.
Sonya Deville & Chelsea Green eliminated Emma & Nikki Cross via pinfall.
Sonya Deville & Chelsea Green eliminated Tegan Nox & Dana Brooke via pinfall.
Sonya Deville & Chelsea Green eliminated Kayden Carter & Katana Chance via pinfall.

Alpha Academy(Chad Gable, Otis & Maxxine Dupri) defeated The Viking Raiders(Erik, Ivar & Valhalla) in a Mixed Tag Team match via pinfall.
Rhea Ripley(c) defeated Natalya in a singles match via pinfall to retain Women's World Championship.
Matt Riddle defeated Giovanni Vinci in a singles match via pinfall.
Seth Rollins(c) defeated Dominik Mysterio in a singles match via disqualification to retain World Heavyweight Championship.
LIVE RESULTS
The show starts with a recap of Money in the Bank.
Rollins & Craziness
Seth Rollins comes out and welcomes us to the show after the crowd is done singing for him. He also recaps Money in the Bank results bringing up Jey Uso, Iyo Sky, Damian Priest and his own win over Finn Balor. Seth then says SummerSlam is only 5 weeks away and there is only one thing on his… Cody Rhodes' music hits and he comes out in his ring gear. They face off in the ring. But before Cody can speak, Brock Lesnar's music hits and he comes out. Cody meets him on the stage and starts to fight. They brawl down the ramp and Brock sends Cody into the ring. Cody slips out of F5 and hits Cody Cutter. Lesnar slips to the floor and retreats.
Seth Rollins is back in the ring after the break. He says he is ready to see who is the next person in line for him. Judgment Day music hits and Damian Priest, Rhea Ripley and Dominik Mysterio come out. Rhea tells Seth to stop talking as everyone is ready for a Judgment Day takeover. Rollins mocks them by asking about Finn Balor. Rhea says Finn is flying and it's none of his concern. Priest says it's their business, and Rollins needs to concern with Money in the Bank. Priest says cash-in at Summerslam, Royal Rumble or even tonight.
Rollins says it sounds good, but he is fresh as daisy tonight and he is going out to party after the match. Priest calls for Rollins to giving out opportunities and asks him to face Dominik. Dominik is about to speak but the crowd does not let him. Rhea has to speak for him and says Dominik wants to face him for the title. Seth says this reeks of a set up from MITB cash in but he would love to smack Dominik's face. He asks the crowd if they want to see him face Dominik, and they reply with a loud cheer. Rollins says the match is on. He leaves the ring.
Shinsuke Nakamura vs Damian Priest
Nakamura starts with a calf kick before Priest hits back with a stomp on the foot. Priest puts on an arm wringer. Nakamura hits a punch before countering the arm wringer. Priest nails a big right after the break. Nakamura counters with a knee strikes and a running knee to midsection. Priest cuts him off the ropes with a left forearm. Priest sends Nakamura into the turnbuckle and kicks at his face a few times.
Priest hits a jumping back elbow in the corner. Nakamura blocks a suplex and Priest then misses a corner splash. Nakamura sets him up on the turnbuckle and hits a knee to midsection. Nakamura meets Priest on the floor as he slips out. Priest drops him on the barricade with a broken arrow to take us to a break.
They trade sidekicks before Nakamura hits a Russian Leg Sweep. He hits a slinding German suplex and a running boot to get a two-count. Nakamura jumps off the top but Priest cuts him off with an uppercut. Nakamura counters an Urinage with a roll up before putting on an armbar. Priest does not let him lock it up and boots his face. Priest hits roundhouse kick to drop Nakamura but only gets a two-count. Priest goes for Razor's Edge but Nakamura slips out and hits a leg lariat for a two-count. Nakamura gets to the second rope and hits a knee. Priest ducks Kinshasa and rolls up Nakamura for a two-count. Priest hits a big shot before hitting South of Heaven Chokeslam to get the pinfall.
Winner – Damian Priest
Ronda Wants an Explanation!
Ronda Rousey comes out and Shayna Baszler interrupts her immediately. Ronda asks her why 10 years of loyalty not mean anything. Baszler is on the apron now and asks why does she owe an explanation. She says she is the reason behind bring Ronda to WWE and calls her narcissistic. Baszler says Ronda did not pay her dues and straight up walked into WrestleMania. She says she wants to show Ronda the reality and that there is someone to take her down. Ronda kicks Baszler off the apron. She brings her into the ring and puts on a choke. Shayna counters to put her in an ankle lock. Shayna then hits a running knee. Shayna leaves while Ronda screams at her to get back to the ring as they are not done.
---
Maxxine Dupri has Otis in a headlock as we cut to segment backstage. Chad Gable asks her if she is ready. Maxxine says 4th of July is coming early as she is going to prove the Viking Raiders wrong who doubts on Gable's coaching abilities.
Tag Team Turmoil
The new Women's Tag Team Champions are brought out. They get on the commentary table. Sonya Deville and Chelsea Green make their entrance for the match.
After the break, Nikki Cross comes out with Emma. We see Nikki Cross going to Candice Le Rae for teaming up, but Candice said she has already promised Indi Hartwell.
Sonya Deville & Chelsea Green vs Indi Hartwell & Candice Le Rae
Indi starts with quick moves and double teams with Candice to hit an Urinage. Chelsea comes in but is sent to the floor quickly. Candice hits Chelsea with a senton. She misses a sprinboard moonsault on Chelsea, and Sonya tags in and hits a running knee to get the pinfall.
Sonya Deville & Chelsea Green vs Nikki Cross & Emma
Nikki jumps on Chelsea for some ground and pound. Nikki then sees Candice on the floor and gets distracted. She tags out to Emma and checks on Candice. Chelsea hits Emma with a knee. Emma comes back with some shots before she takes Chelsea to the corner. She hits a crossbody in the corner. Sonya comes into the ring for some distraction but Emma keeps control. Chelsea hits a jawbreaker. Emma looks for a tag out but Nikki is still on the floor distraught over Candice. Chelsea hits Unprettier to get the pinfall.
Sonya Deville & Chelsea Green vs Dana Brooke & Tegan Nox
Tagan Nox and Dana Brooke jump on Chelsea and Sonya. They are in control as we cut to a break.
We return from the break to see Sonya hitting running knee and getting a pin on Tegan to eliminate Dana and Tegan.
Sonya Deville & Chelsea Green vs Katana Chance & Kayden Carter
Carter starts against Sonya and hits a kick to drop her. Chance tags in and they hit springboard moves in quick succession. Sonya sends Chance into the ropes to take over control. Quick tags from Chelsea and Sonya. Carter tags in after a big boot from Chance. She hits a big boot. Green takes her to the top. Chance gets a tag and hits hurricanrana off the top. Sonya breaks the pin. Carter tags in. Sonya pushes Chance off the top to stop a double team. Carter blocks Unprettier but Sonya hits a cheap shot on Carter from the floor. Chelsea hits Unprettier to get the pinfall.
Winners – Sonya Deville & Chelsea Green
Bronson Reed gets a video package saying that he got here by fear. He says if someone disrespects him, he breaks them. He claims that he is a nice guy despite all of this.
Becky Asks for a Fight!
Becky Lynch comes out. She says she did not win Money in the Bank, but she can move on from that. But, she can't move on from high pitched ringing in her ears in Trish Stratus. She calls out Trish to come out right here right now. Trish's music hits and she comes out with a face brace on. Becky laughs at her. Trish says it's very funny but she is still more beautiful than anyone in the arena. Trish says she would have indulged her request but she is not cleared. Becky asks her why not send Zoey Stark to fight her. Trish asks her if she wants to face Zoey after seeing her performance at MITB.
Becky says she is better than atleast Trish's broken a##. Trish says no one is better than her, but Zoey may become better one day due to her tutelage. Becky asks her why did Trish need Zoey to beat her then. Becky says Trish will not be around for long and what will Zoey do after that. Becky asks her why is she still around if she does not want to fight her. Trish says she is here because she is the face of women's division. Trish teases attacking Becky, but returns from the ramp giving an excuse of a medical appointment.
Jackie Redmond is on the stage and she brings out Cody Rhodes. Cody says Brock broke his arm and he broke Brock's face. There is no way he and Brock co-exist on Monday Night RAW. He can fight Brock every night.
Alpha Academy(Chad Gable, Otis & Maxxine Dupri) vs The Viking Raiders(Erik, Ivar & Valhalla) – Mixed Tag Team match
Gable and Erik start the match. Gable counters an arm wringer and hits a German suplex. Erik hits a big forearm shot. Gable lands on his feet on a side suplex. Otis tags in and hits a spinning back elbow on Erik before a tackle and a powerslam on Ivar. Otis whips Erik in the corner and hits a caterpillar elbow drop. We cut to a break.
Otis and Erik are brawling as we return. Erik hits a big shot. Ivar tags in but Otis hits a big shoulder tackle to drop both opponents. Gable tags in and hits a blockbuster on Ivar and an exploder suplex on Erik. Ivar decks him as he gets to the top. Gable manages to get him down from the second rope. Erik is taken to the floor with a crossbody. Gable hits a diving headbutt on Ivar in the ring. Erik breaks the pin. Ivar hits back to drop Gable.
Tags to Maxxine and Valhalla. Maxxine hits a couple of armdrags before a suplex. She hits a corner splash to set up a catterpillar. Maxxine goes for it but Valhalla cuts her off with a running knee. Otis is pulled off the apron by The Vikings. Gable hit them with a moonsault. Maxxine counters in the ring with the roll-up to get the pinfall.
Winners – Alpha Academy
We see Logan Paul and Ricochet brawling backstage after MITB match on Saturday. Ricochet is backstage for an interview. Ricochet says a lot of people believe that Logan did not belong in MITB match but he has earned it. But, Logan got into his face after the match. Ricochet says he wants to issue a challenge but he will not do it on social media. He calls out Logan Paul to meet him face-to-face in the ring next week.
Rhea Ripley(c) vs Natalya – Women's World Championship
Rhea Ripley comes out for the match. She is on the ramp when Natalya attacks her from behind. Natalya sends her into the barricade and then into the steel steps. She slams Rhea's face into the apron before throwing her into the ring. The referee checks with both women before starting the match. Natalya rushes Rhea as she is removing her jacket. The referee pulls her away. Rhea slips to the floor. Natalya charges but runs into an uppercut from Rhea. Rhea slams Nattie's face into the announce table. Natalya hits a German suplex as they return to the ring.
Rhea slips out of a powerslam and hits an elbow to her back. More elbow shots to the back. Natalya fires back with punches until Rhea blocks her with her legs and hits a headbutt to drop her to get a two-count. Rhea hits a powerful slap and jumps on her a few times. Rhea hits a kick to midsection before a thrust kick. Natalya fires quick punches but Rhea kicks her again and puts her on the top rope. Natalya fights back to drop her back to the mat with a headbutt and hits a crossbody quickly. Natalya gets up first and hits punches. Rhea fires back with her own shots and gets a two-count as we cut to a break.
Natalya is looking for a sharpshooter as we return. Rhea blocks it and hits a roundhouse kick from the floor to drop Natalya. Natalya counters Riptide with a hurricanrana and quickly hits a discuss lariat. Rhea blocks the sharpshooter again. Rhea hits a crossbody off the top to get a two-count. A roundhouse kick drops Natalya before Rhea puts on the cloverleaf. Natalya hits another hurricanrana to break it and send Rhea into the turnbuckle. Rhea also blocks a sharpshooter by sending her into turnbuckle.
Rhea goes to the top and gives a tribute to Dominik with a frog splash which gets countered by Natalya by getting her boots up. Natalya hits a running powerslam and puts on the sharpshooter. Rhea drags to the ropes to break it. Rhea slips to the floor but quickly gets back when Natalya gets to the floor. Rhea catches Natalya with a kick to midsection and Riptide to get the pinfall.
Winner – Rhea Ripley
Rhea continues to beat up Natalya. Raquel Rodriguez and Liv Morgan run out to make the save.
---
Earlier today, Tommaso Ciampa addressed Miz attacking him before their match last week. Miz replies to his promo and says everyone he took under his wings have gone and anyone who has called him a coward is no more in WWE. He challenges Ciampa for a No Disqualification match next week.
---
We see a recap of The Bloodline Civil War match at MITB where Jey Uso pinned Roman Reigns.
---
Rhea Ripley is walking backstage when Ms. Money in the Bank Iyo Sky crosses her path and shows off her MITB case. Rhea dares her to try her. Damian Priest and Dominik Mysterio come in. Rhea is angry at Raquel Rodriguez and Liv Morgan for coming to Natalya's aid. She says she warned Raquel earlier, but things might not have gone through her thick head. Rhea claims that she will make Raquel regret it. Dominik agrees and says it will be same as Rollins underestimating him as he will be the last man standing.
Giovanni Vinci vs Matt Riddle
Vinci has Ludwig Kaiser and Intercontinental Champion Gunther in his corner. Kaiser runs a distraction to allow Vinci to attack Riddle in the corner. Vinci hits a body slam. Riddle hits back with sidekicks before Vinci hits a springboard crossbody. Riddle blocks an ankle lock with some kicks before hitting an overhead kick. Vinci scoops Rhea for a rolling senton and follows up with a moonsault for a two-count. Riddle hits flash knee. Vinci counters Bro-Derek but Riddle counters with a roll-up to get the pinfall.
Winner – Matt Riddle
Kaiser jumps on Riddle immediately after the match to attack him. Drew McIntyre's music hits and he comes out. He kicks Vinci on the ramp before Riddle counters Kaiser in the ring. Drew hits Claymore kick on Kaiser. He dares Gunther to come in, but Gunther walks to the back.
---
Drew McIntyre is backstage with Matt Riddle. Byron Saxton comes in to interview but Riddle asks Drew if they can team up against Imperium next week. McIntyre agrees but says they should get out for pints tonight.
Seth Rollins(c) vs Dominik Mysterio – World Heavyweight Championship
Rhea Ripley and Damian Priest come out with Dominik. Rollins ducks the lock up with ease and poses for the crowd. Rollins gets a headlock on. Dominik comes out of it and hits an armdrag and knee to midsection before taking Rollins down on the mat with chinlock. Rollins comes back with clothesline. He throws Dominik to the floor. His suicide dive is blocked by Rhea. Rollins hits a back body drop to send Dominik to the floor. He hits a knee dive on the floor. Rollins and Priest face-off to take us to a break.
Rollins hits three amigos to mock Dominik as the show returns from the break. He gets to the top but Rhea distracts the referee and allows Priest to push Rollins off the top. Dominik hits a frog splash himself. He hits another frog splash but does not go for the pinfall again. He stomps on Rollins for a while but his frog splash is countered by double knees from Rollins. Rollins hits some kicks before a superkick. Rollins hits running elbow shots before a backbreaker and running knee. Rollins clotheslines him to the floor and takes him and Priest out with a suicide dive. Rollins hits a rolling elbow after getting back in the ring. Priest hits a chokeslam to cause a disqualification.
Winner – Seth Rollins
Priest hits big punches and then throws Rollins to the floor. Priest beats him up before throwing him around the ring into the steel steps, barricade and announce table. He hits a flatliner on the announce table. Priest clears the announce table, but Rollins slips off the Razor's Edge and hits a superkick. Dominik hits Rollins with MITB briefcase and throws him into the ring. Dominik hands Priest the briefcase to cash in.
Balor attacks Rollins in the ring and Rollins ends up hitting Priest to drop him off the apron. Balor takes Rollins down to the mat for ground and pound punches. Balor goes to the top, but Priest gets up and starts arguing with him. Dominik tries to tell them that Rollins is going. Dominik goes to stop Rollins, but Rollins hits him with a pedigree and leaves for the stage to close the show.