WWE RAW July 24, 2023 Results, Live Updates, Winners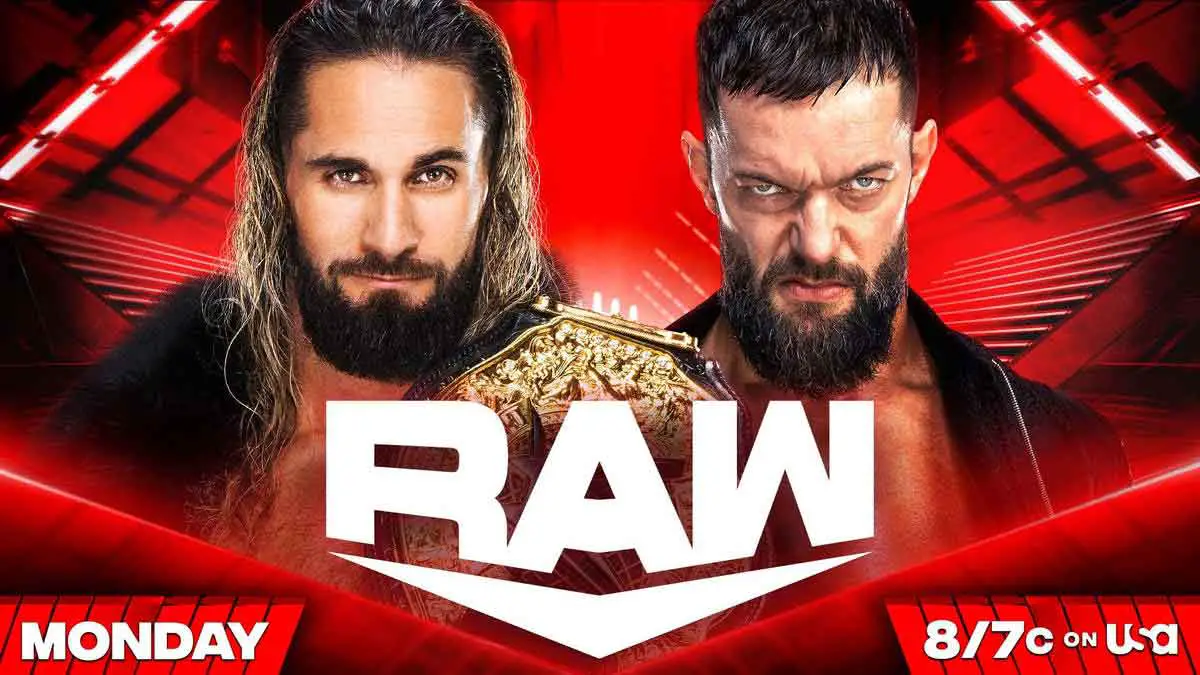 Welcome to the live results blog for WWE RAW July 24, 2023 episode, which was live from Amalie Arena in Tampa, FL.
World Heavyweight Champion Seth Rollins and Finn Balor were set for a contract signing segment for their match at SummerSlam 2023 event. Cody Rhodes responded to attack from Brock Lesnar as the build for their showdown continued. Gunther and Drew McIntyre also came to the ring for a face-off segment.
Two matches were announced in advance. Becky Lynch looked to get a match against Trish Stratus as she clashed with Zoey Stark. Tommaso Ciampa and Bronson Reed clashed in a singles match. Logan Paul returns for a segment with Ricochet.
Tune in below as we post results from WWE Monday Night RAW July 24, 2023, with live updates, winners and highlights.
RESULTS
Becky Lynch defeated Zoey Stark in a singles match via pinfall(Becky gets match against Trish Stratus if she wins).
Dominik Mysterio(c) defeated Sami Zayn in a singles match via pinfall to retain NXT North American Championship.
Bronson Reed defeated Tommaso Ciampa in a singles match via pinfall.
Damian Priest defeated Apollo Crews in a singles match via pinfall.
Drew McIntyre defeated Ludwig Kaiser in a singles match via pinfall.
LIVE UPDATES
Dirty Dom – Your New Champion!
Judgment Day are in the ring. We see a recap of Dominik Mysterio winning NXT North American Championship. Dominik makes his entrance with heavy boos. Dominik says he is our new fighting champion. He also sends us to a video package. More boos as Dominik tries to speak again. Tag Team Champions Kevin Owens and Sami Zayn come out to the stage. Owens, very calmly, says they interrupted Judgment Day last week also where the crowd was booing Dominik heavily.
Owens says he gets upset when people don't learn. Owens gets enraged now and says Dominik should just shut his mouth forever for the good of this business. Dominik says he needs to be respected as he is a champion now. Owens screams at him to shut up. Sami calms him down. Sami says Dominik is being disrespected because nobody respects him here. Sami adds that Dominik should face him tonight and he should defend his title to show us that he is a fighting champion. Rhea accepts the challenge on Dominik's behalf.
Becky Lynch vs Zoey Stark – Becky gets match against Trish Stratus if she wins
Becky corners Zoey and unloads on her with punches and kicks. She hits a flying shoulder tackle. Zoey moves to the floor after avoiding a disarmher. Becky hits her with a basement slide dropkick. She also slams Zoey's face into the apron once. Zoey hits a springboard dropkick as they return to the ring. Zoey gets to the top but Becky is quick to recover and tries to powerbomb her. Zoey fights her off. Some more back and forth action sends us to a break.
Becky throws Zoey into the barricade a few times as we return. Becky gets to the top and hits a leg drop for a two-count. Becky hits a big boot after Zoey reverses a whip. Zoey pushes Becky to the floor and distracts the referee. Trish hits a headbutt with the mask on her face. Trish throws Becky back into the ring and Zoey hits her with a superkick. Becky kicks out of the pin. Becky blocks Z-360 and hits an exploder. She gets to the top. Zoey follows her and hits a superplex. Becky turns it into a disarmher. Zoey gets to the ropes.
More back-and-forth action before Becky puts on disarmher again. Trish throws her mask in the ring, but the referee catches it. She gets to the apron now. Becky drops her off the apron with a big shot. Zoey rolls her from behind for a near fall. Zoey comes off the top but Becky catches her and hits Manhandle Slam to get the pinfall.
Winner – Becky Lynch
Cody's Message to Brock!
Cody comes out to the ring. He says we have seen the clip of Brock Lesnar beating him up last week in front of his mother. He says it was not in his list of things in 2023, but he is impressed. Cody discusses some of Lesnar's achievements and says he is synonymous and is rightly called Mr. SummerSlam. But, one person was not impressed and that was his mother.
Cody says his mother has seen people throwing fireballs at his dad. His mother told him that Lesnar made a mistake, which was to left Cody still breathing. Now, he will got SummerSlam just to win, but to embrace Lesnar. He is not poking the bear, but slapping him and asking him to come get it. He does not just want to beat Lesnar just because he made it personal by breaking his arm but because it is what Lesnar deserves. It will be written that he close this chapter.
---
Ricochet is backstage and expresses his disgust on Logan Paul being late, and being allowed to come and go on his will. He vows to teach him a lesson.
Dominik Mysterio(c) vs Sami Zayn – NXT North American Championship
Rhea Ripley and Damian Priest are out with Dom. Kevin Owens is with Sami. Dom starts with a side headlock. Sami pushes him to the ropes and hits an armdrag. He hits a clothesline to send Dom to the floor and then hits him with a suicide dive. We cut to a break.
Sami is unloading with punches from the second rope in the corner as we return. Sami gets to the top but Rhea distracts the referee and Priest pushes him off the top. Owens comes to the apron to attack Priest. The referee boots Owens from ringside. He does the same for Rhea and Priest also. Sami hits Michinoku Driver to get a near fall. Dom rolls to the floor to avoid Helluva kick. He hits a dropkick to set up 619. Sami comes back with a clothesline to get a two-count.
Sami gets to the top again and Dom meets him there and trade blows. Sami pushes him off the top. Dom catches him with a dropkick midair as he jumps off the top. Dom hits a springboard senton and a dropkick. Sami goes for a blue thunderbomb but Dom counters with a bulldog. Sami hits blue thunderbomb in the second attempt to get a near fall. Dom hits upkicks to set up 619 and hits it. But, Sami kicks out of the pin. Sami fires back with punches. Dom hits a three amigos. Sami gets his knees up from a frog splash. He hits an exploder suplex. Sami gets distracted as Priest and Rhea bring out a beaten up Owens on the stage. Dom rolls him up to get the pinfall.
Winner – Sami Zayn
After the match, Sami runs out to check on Owens. Dom runs out through the crowd.
After the break. Owens is checked by the medical team backstage. He says he has broken ribs.
---
We see a recap of Roman Reigns vs Jey Uso match being set up for Summerslam.
---
Ricochet meets Shinsuke Nakamura backstage and asks him if he has seen Logan Paul. Tommaso Ciampa comes in and says his loss last week was on him, but he has things to settle with Bronson Reed and he does not expect Nakamura to be out there, or otherwise he will have to deal with him.
---
The Judgment Day is backstage and Dominik continues to brag. He meets Apollo Crews and Akira Tozawa and tells them to respect the North American Champion. They get into an argument leading to Priest challenging him for a match tonight.
Bronson Reed vs Tommaso Ciampa
Ciampa throws his jacket at Reed to enrage him. They trade shots. Reed goes for a suplex but Ciampa blocks it with knee strikes. Reed throws him to the floor. Ciampa hits back with chops as Reed comes out to the apron. Ciampa tries to get Reed up on his shoulders but Reed is too big for him. Ciampa catches him with a knee strike as he is getting back to the ring. Ciampa continues to beat him up in the corner.
Reed picks him up and hits an Okalahoma-style powerslam to get a two-count. Reed stands on top of him for a while. Ciampa puts on a sleeper choke to get Reed down to his knees and turns it into a chinlock. Reed gets up and drops Ciampa on his back with a senton. Reed hits a Thesz Press and a senton. Ciampa is thrown to the floor. Reed goes for a running tackle off the apron but Ciampa catches him with a superkick. We cut to a break with Reed and Ciampa down on the floor.
Reed is control as we return. He hits snap powerslam to get a two-count. Ciampa hits a big boot and an inverted DDT. Ciampa fires some punches. He hits some punches by running off the ropes before some rolling elbows and a fameasser to get a two-count. Ciampa goes for Fairytale ending but Reed gets him up, and hits him with a senton to block a roll-up. Ciampa hits some upkicks but Reed hits him with another senton.
Ciampa ducks his swings and nails some shots himself. Reed hits a clothesline but Ciampa gets up immediately. They trade punches before Reed hits a headbutt. Ciampa hits step up knee strike. Ciampa hits an Air Raid Crash to get a near fall. Shinsuke Nakamura comes out to ringside now. Ciampa gets distracted by him and gets into an argument with him. Reed hits a shoulder tackle off the apron and hits a Tsunami to get the pinfall.
Winner – Bronson Reed
Nakamura is all smiles on the floor.
Rhea Ripley & Liv Morgan
We see a recap of how Rhea Ripley's attack on Raquel Rodriguez led to Liv and Raquel losing Women's Tag Team titles. Liv is interviewed backstage and says Raquel has a knee injury but tonight is the night she takes down Rhea. She reminds us how she is the last person to beat Rhea.
Liv leaves and Women's Tag Team Champions Sonya Deville & Chelsea Green come in to rant against Byron Saxton for interviewing Liv and ignoring them. Chelsea starts to complain that it is either about Liv or Rhea.. Rhea walks in and Sonya changes the tune immediately. Sonya and Chelsea go away to attend to the champs' duties. Rhea gets on the mic and says she warned Liv and Raquel against getting in her business. She says she will take out Liv tonight.
After the break, Liv is making her entrance when Rhea runs her over from behind. She sends Liv into the barricade a few times. Rhea brings in a chair and wraps it around Liv's arm before stomping on it. Rhea screams at Liv that she warned her about not getting in her business. A crew member and a referee are in the ring to check on Liv now. Rhea scares them off and hits another stomp on the arm with the chair. Rhea finally leaves with Liv still screaming in pain.
---
Alpha Academy are backstage. Chad Gable says The Viking Raiders won the Viking Rules match, but nobody knows and cares about The Viking Rules match, and he challenges them for an Academy Rules match. Maxxine Dupri takes over the promo and challenges Valhalla for her first singles match next week.
Ricochet Challenges Logan Paul!
Ricochet comes out to the ring and calls out Logan Paul. He says Logan could not be hiding behind as there is a locker room full of people who think Logan does not deserve to be here. Ricochet says Logan has put in the work but does not belong here because Logan is a prick who does not respect things they do in the ring. Ricochet says wherever Logan is, he is here to challenge Logan for a match at Summerslam.
Logan Paul attacks Ricochet from behind. He picks up his phone and opens the camera. Logan accepts the challenge and says he will prove that he is the best in WWE. Ricochet gets up meanwhile and nails Logan with a superkick. He hits a shooting star press. Ricochet picks up the camera and takes a selfie.
---
Shayna Baszler is interviewed backstage about Ronda Rousey. Shayna says she is tired of Ronda's name being brought up at everything she does. So, she is gonna settle this at SummerSlam where she will "fight" Ronda Rousey.
---
Logan Paul is walking backstage, selling Ricochet's attack, when Byron Saxton comes in for an interview. Logan says he will smash Ricochet's head when he comes to RAW next week.
Damian Priest vs Apollo Crews
Priest hits a big boot to start the match. Priest throws him to the corner and hits an uppercut. They run the ropes ducking each other several times before Crews hits a dropkick. Priest rolls to the floor and Crews hits a moonsault. He hits a crossbody in the ring to get a two-count. Priest comes back with an uppercut. He hits more shots before Crews hits a jumping knee. Priest cuts him off before hitting a clothesline with Crews' arms trapped behind. Priest hits South of Heaven to get the pinfall.
Winner – Damian Priest
Becky Lynch is interviewed backstage next and is over the moon over getting her match against Trish Stratus.
Gunther & Drew McIntyre
Gunther comes out with his Imperium buddies before the break. Drew McIntyre comes out after the break. Drew says Gunther challenged him last week when he was not here, and he should defend his title against him now. Gunther asks him if he wants a title match tonight. Gunther says defending his title in front of these degenerates is a disrespect. Gunther adds that Drew is just like these guys as he has never achieved anything in his career.
Drew failed at Clash at the Castle and he humiliated Drew at WrestleMania. Gunther continues to insult him, but agrees to face him at SummerSlam. Drew takes over and says he and Sheamus had a dream to clash at WrestleMania, which got completed at WrestleMania 39 where they beat each other up for 10 minutes before Gunther swooped in to pick up the bones. Now, they will do it one-on-one and he will kick Gunther's a## and become the new Intercontinental Champion.
Ludwig Kaiser steps up and asks McIntyre how does he dare to disrespect the Ring General like that. Drew says he actually likes Ludwig as he has got charisma where watching Gunther is like watching paint dry. Drew says he thinks Ludwig should be leader of Imperium. Drew says since Gunther is not interested in a match tonight, why not they go at each other. Ludwig agrees and Drew calls for a referee.
Drew McIntyre vs Ludwig Kaiser
Drew corners Kaiser before Kaiser jabs at his throat. Kaiser puts on a side headlock but Drew comes out of it. Drew hits a shoulder tackle and a body slam before clotheslining him out of the ring. Drew hits a big chop before sending Kaiser face-first into the ring post. Drew hits a big chop and Kaiser fires back with punches in anger. Drew drops him with a big chop. He hits another chop in front of Gunther. Kaiser is thrown into the ring and catches Drew with an enzuigiri after Giovanni Vinci distracts him. Kaiser sends Drew's shoulder into the ring post. Imperium stands on top of Drew on the floor as we cut to a break.
Drew hits Kaiser with an avalanche Air Raid Crash as we return from the break. Drew hits more clotheslines before a couple of overhead suplexes and a neckbreaker. Kaiser blocks a DDT but Drew hits Glasgow kiss. Kaiser blocks Claymore kick by hitting an enzuigiri. Kaiser hits punches and an uppercut. Drew cuts him off with a Claymore kick as he runs off the ropes to get the pinfall.
Winner – Drew McIntyre
Vinci distracts Drew after the match and Gunther hits him with a German suplex from behind. Riddle runs out and Gunther drops him also. Gunther runs over Drew on the floor. He clears the announce table. Drew counters a powerbomb with a back body drop and puts Gunther through the table with a powerbomb.
---
Ronda Rousey is asked about Shayna Baszler's challenge for "a fight". Ronda says when she fights, it is "the fight". Challenge Accepted!
Rollins & Balor Contract Signing
Finn Balor comes out as we go to a break. After the break, Balor says Adam Pearce was supposed to be out here to oversee this contract signing. The crowd starts singing for Rollins. Balor says he is a professional and so is Seth Rollins. So, why not Rollins comes out and signs the contract to make this match official. Rollins' music hits and he comes out. Rollins sits across Balor on the table. Balor is about to sign the contract when Rollins interrupts him.
Rollins says Balor now knows that Balor has 0% chance to becoming the champion at SummerSlam. But miracles happen and he can come out on top some day. And even if Balor wins the title, his reign as World Heavyweight Champion will be even shorted than his Universal title reign as Damian Priest will cash-in MITB right away on Balor because that is something Balor himself would do.
Balor says Rollins think he has it all figured out and that he runs this place. Balor claims that Judgment Day runs this place. Damian Priest, Dominik Mysterio and Rhea Ripley surround the ring now. Balor says he is losing for 7 years now, and losing again and agian feels like an itch. But, at Summerslam, he will make Rollins his 7 years bitch. Rollins tips over the table to start the brawl.
Rollins fires shots but Judgment Day takes over as Priest runs over Rollins with his MITB briefcase. Sami Zayn runs out with a steel chair and hits all the opponents with it. Rhea proves to be the difference as Judgment Day takes over once again. They clear the ring and start unloading on Rollins. They hit him with big moves one by one and stand tall to close the show.