WWE RAW July 10, 2023 Results & Live Updates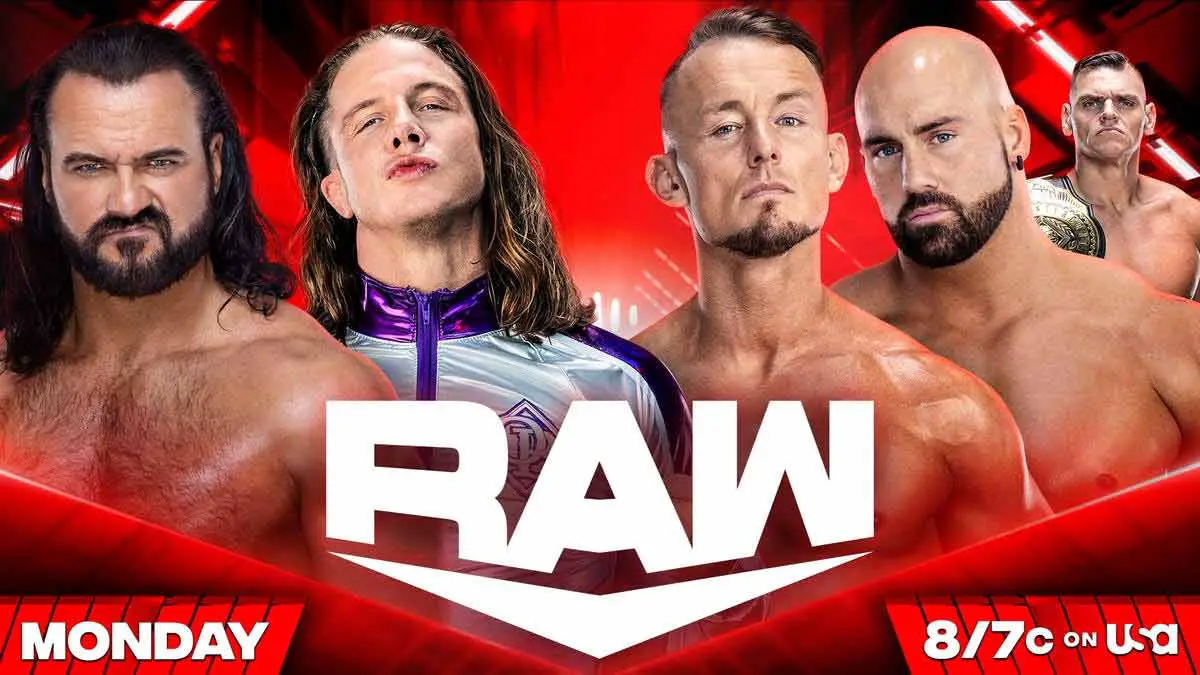 Welcome to the live results blog for WWE RAW July 10, 2023 episode which was live from Keybank Center in Buffalo, NY.
Several things were announced for the show starting with Cody Rhodes sending a message for Brock Lesnar. Ricochet and Logan Paul met face-to-face in anticipation of their match at SummerSlam 2023.
Drew McIntyre and Matt Riddle took on Ludwig Kaiser and Giovanni Vinci from Imperium in a tag team match. Becky Lynch faced Zoey Stark in a singles match. Tommaso Ciampa and the Miz were set to clash in a No Disqualification match to close their rivalry.
We also saw more of tension between Judgment Day members Damian Priest and Finn Balor. Alpha Academy hosted a graduation ceremony for Maxxine Dupri. Tune in below as we post results from WWE Monday Night RAW July 10, 2023 episode with live updates, winners and complete action.
RESULTS
Drew McIntyre & Matt Riddle defeated Imperium(Ludwig Kaiser & Giovanni Vinci) in a tag team match via pinfall
Zoey Stark defeated Becky Lynch in a singles match via pinfall.
Shayna Baszler defeated Emma in a singles match via pinfall.
The Miz defeated Tommaso Ciampa in a No Disqualification match via pinfall.
Sonya Deville & Chelsea Green defeated Katana Chance & Kayden Carter in a tag team match vai pinfall.
Dominik Mysterio, Finn Balor & Damian Priest defeated Seth Rollins, Kevin Owens & Sami Zayn in a tag team match via pinfall.
LIVE UPDATES
Judgment Day & Seth Rollins
Finn Balor comes out to open the show. We cut to a recap of last week about what happened between Judgment Day and Seth Rollins, and how Balor attacked Rollins just before Priest's MITB cash-in attempt. Balor takes the mic and says how things went down at MITB have not gone down well. And it's because of Damian Priest. Rhea Ripley and Dominik Mysterio come out. Rhea asks Balor what is going on with him, and they should not discuss it in front of everyone.
Balor says Priest cost him the World title when he tried to hijack his match. Rhea shuts down his mic and argues with him for a while. Balor gets out of the ring and goes to the back. Rhea takes the mic and says what we saw was Judgment Day business, but they still run RAW. She dares anyone to dispute her as she is still the most dominant woman in the division. She also says Dominik will finish his business with Seth Rollins tonight.
Dominik takes the mic and heavy booing starts. To make matters worse, Seth Rollins' music hits, and he comes out on the stage with a buffalo wings plate in his hands. Dominik get mad and says he won't be disrespected like this. Rollins tells him to shut up and says we came here to party, have some buffalo wings, and watch Judgment Day implode before our eyes. Dominik says the only thing imploding will be his title reign. Rollins laughs hard at this and tells Rhea that he is going to be the one whipping Dominik's a##.
---
Damian Priest is backstage when Rhea Ripley and Dominik Mysterio comes in. Priest says things went down exactly as he said they would. Rhea tells him to act like men and work it out with Balor. Priest says he already talked to Balor but he did not listen, but he will talk to him once for Rhea.
Imperium(Ludwig Kaiser & Giovanni Vinci) vs Drew McIntyre & Matt Riddle
Riddle and Kaiser start. Kaiser gets a takedown with side headlock takeover. Kaiser refuses to let it go for a while. Kaiser turns it into a bear hug but Riddle turns it into an armbar. Kaiser nails a big punch to break free. Riddle hits him with a body slam. Riddle tags to McIntyre. Kaiser quickly tags to Vinci, who runs into McIntyre's tackle. McIntyre hits a hip toss after blocking one form Vinci. McIntyre throws Riddle on Vinci. Imperium try to cut the ring in half. Riddle gets Kaiser in arm triangle on the ropes while the referee is talking to McIntyre. Vinci hits a driveby dropkick on the apron. Kaiser hits a dropkick to knock Riddle off the apron. We cut to a break.
Vinci is in control against Riddle as we return. Riddle gets him in a crucifix for a near fall. Vinci hits a big boot to drop Riddle and gets things under control. Kaiser tags in and starts to trade blows with Riddle. Riddle hits a flurry before Kaiser replies with an uppercut and another big shot. Kaiser hits a dropkick on McIntyre. Riddle hits an overhead kick. Kaiser tags in Vinci who hits a delayed vertical suplex. Riddle escapes Imperium bomb and nails knee on Kaiser.
Drew hits clotheslines, belly-to-belly suplexes and neckbreakers on both men. He hits a powerbomb on Vinci. Kaiser interrupts McIntyre's Claymore. Gunther pulls him out of the ring. Riddle hits a dive on Gunther. McIntyre gets into the ring to hit Claymore kick on Vinci. Riddle gets into the ring to put an ankle lock on Kaiser while McIntyre gets the pinfall on Vinci.
Winners – Drew McIntyre & Matt Riddle
Gunther is not happy with Vinci and stares him down on the stage as Imperium regroup on the stage.
---
Priest and Balor are arguing backstage now, and Rhea Ripley tells them to stop acting like child and talk. Priest says he did not went out to cost Balor at MITB, but to distract Balor. Priest says he would have never cashed MITB on Balor. Priest also says they can go back to be Judgment Day and run the business. Balor says they can start fresh but on one condition that he gets Balor first. Priest says he is cool, but even if things do not go their way, he got them covered. Priest shows of his MITB briefcase. Balor was amused as everyone leaves.
---
We get a recap fo The Bloodline storyline from SmcakDown last week.
---
WWE Tag Team Champions Kevin Owens and Sami Zayn are backstage and asked what's next. Sami says they will keep taking on anyone that gets in their way and will take challenges from anyone be it The Street Profits, Alpha Academy or anyone else.. Rhea Ripley and Dominik comes in and Owens starts to snap on them for walking in just like that, and asks them about their problem. Rhea says they did not take Judgment Day's name in their challengers list, and any team from the Judgment Day can dethrone them. She also says Dominik will slam Seth Rollins.
---
We get a video package from Indus Sher. Jinder Mahal says victory is an illusion of rules. Sanga says no one can face them. Veer says they are the start and they are the end. They are Indus Sher.
Seth Rollins vs Dominik Mysterio
Dominik and Rhea come out before the break. Rollins makes his entrance but is attacked by Dominik on the steps. Rollins recovers and forces Dominik to run away into the crowd. Balor and Priest attack Rollins in the crowd. Judgment Day beat up Rollins. Owens and Sami run out start to brawl with Judgment Day who still hold on a 3-on-2 advantage until Rollins comes into the ring with a steel chair. Judgment Day retreat but not until Rollins nails Dominik with a chair shot.
Ricochet & Logan Paul Face-to-Face
Ricochet takes the mic and wants to talk about something first. Ricochet says if we know him, he takes every step and work so that we can go home satisfied with his work. But tonight, he is here just for Logan Paul. He calls out for Logan to come out. Ricochet says Logan has accomplished so much, and has also come across him multiple times. Ricochet says he did not have a problem with Logan attacking him from behind, but his problem is that Logan ran his mouth against him on his podcast.
Logan comes out and stands on the ramp. He credits Ricochet for being one of the most spectacular stars, but he stands on what he said on his podcast. He says everyone was more interested in him losing than Ricochet winning, and so, Ricochet took him out. Ricochet says Logan should not disrespect him like this again because no one can call him unprofessional in his 20 years in business. Logan asks him what if he does. Logan says he is a superstar while Ricochet is about highlight reels and replays.
Ricochet jumps to the ramp with a tope suicida and stands in front of Logan. Logan says it was good for a tik tok but not good enough to take him down. Logan tries to sucker punch Ricochet, but he ducks and hits him with an inverted DDT.
Becky Lynch vs Zoey Stark
They lock up and Stark breaks free to hit a shoulder tackle. Becky hits back with a waistlock takedown. Becky puts on a side headlock. Zoey breaks free but Becky drops her with a clothesline. A couple of deep armdrags from Becky before Zoey gets her in an inside cradle to get a two-count. Becky hits a DDT. Trish picks Becky's leg as Zoey distracts the referee. Zoey unloads with quick shots and kicks. She hits a missile dropkick to send Becky to the floor. We cut to a break.
Stark rolls through from a crossbody but Becky hits her back with kicks to midsection on the ropes. Zoey falls to the floor and Becky hits a basement slide dropkick. She throws Zoey into the barricade a few times. Becky hits a pumphandle slam to get a two-count. Becky sets up Zoey in the drop zone but Zoey gets away and hits a dropkick. Zoey drops her face on the ropes before a springboard moonsault senton in the corner to get a two-count.
Becky blocks Z-360 and hits an inverted DDT to get a two-count. Stark counters disarmher with a roll-up. She hits a superkick to get a near fall. She is frustrated at the kick out. Zoey hits more blows to her back. Becky rolls her up near the ropes. Zoey rolls her up and holds the ropes but the referee catches her. Becky blocks Z-360 and hits a dropkick on Trish on the apron. Zoey rolls her up and holds onto the trunks to get the pinfall.
Winner – Zoey Stark
Zoey rolls out of the ring quickly and celebrates with Trish on the ramp.
---
Seth Rollins is backstage with Kevin Owens and Sami Zayn, and they are all hyped up. Seth asks them what is the plan for Judgment Day now that they are together. Sami says they are the three champions and should come up with a plan. Owens says the plan is to punch and kick and smash them.
Graduation Ceremony
Chad Gable & Otis are in the ring. Gable says tonight they will present the first female graduate from Alpha Academy. He says his own list of achievements is very long but this is special from Maxxine Dupri. Dupri comes out and Gable hands him a diploma. Dupri gives a speech thanking Master Gable for all training, Otis for catching her eyes to start all this, and WWE Universe for accepting her.
Gable and Otis get on their Alpha Academy jackets. Gable asks her remove her gown as he is about to give her the last jacket she will ever wear. Gable is about to hand Dupri a jacket when The Viking Raiders' music hits and they come out. Valhalla comes from behind and drops Maxxine. She runs away with Dupri's jacket.
---
We get a recap of Shayna Baszler turning on Ronda Rousey at Money in the Bank and their brawl last week.
Shayna Baszler vs Emma
We see Emma talking to Baszler earlier tonight and asking her to finish Ronda Rousey and claims she started Ronda's falldown last year during her debut.
Shayna hits a calf kick to start before some punches. A whip from corner to corner before Emma hits a big boot and a dropkick. She hits more kicks before Baszler runs down rights and lefts. Baszler sets up and hits a stomp on her arm. Baszler puts on a Kirifuda Clutch. Emma tries to get out of it, but to no avail.
Winner – Shayna Baszler
Ronda Rousey's music hits and she walks out. Baszler is waiting for her in the ring. Ronda nails her with a straight right before a judo throw. Baszler puts her in a kirifuda clutch. Ronda breaks free and puts on an armbar. Baszler gets to the ropes and slips out to the floor to escape that.
Cody Rhodes: A Brock Lesnar in Every Life!
Cody Rhodes comes out to the ring with huge avation. He says he feels that there is an invisible wall between the crowd and the ring. He says it does not feel performative because what ever he is talking so far has been true. Cody says he was asked about momentum a few days back. He replied that every city is sold out, every crowd is louder and louder. But his momentum in the ring is shaky because of a mountain in front of him because you either go through him or go around him.
Cody says he is talking about Lesnar, who he is told will be here next week. Cody says there is one Brock Lesnar in every one's life. But what he needs with his Brock is a rubber match at SummerSlam. Nothing will make him happier than Brock coming into the ring next week and shake his hand, or even if he punches him and they brawl. Cody says why would want another match against Brock, because of what emerges from that fire. Cody says Prince will not be the Prince for long, and he wants to be next in line.
The Miz vs Tommaso Ciampa – No Disqualification Match
Ciampa pulls out Miz and starts throwing him into the barricades. He unloads with punches before throwing Miz into the ring. The bell rings and Ciampa ducks a chair shot. Miz takes him down and unloads with punches him. They roll to the floor and Ciampa slams Miz's face on the announce table. Ciampa sets Miz on a chair and hits a running knee. Back to the ring, Ciampa sets up a chair but Miz stops Fairytale ending. Miz hits a big boot to cut off Ciampa coming off the ropes.
Miz rakes Ciampa's face. Ciampa hits a punch to midsection to stop a chair shot. Miz throws him to the corner and hits a boot. Miz jumps off the top rope, only to run into a chair shot from Ciampa. Ciampa throws Miz into the ring post to take us to a break.
Ciampa is still in control. He is searching for something under the ring when Miz hits him with a dropkick. Miz teases bringing out a table but puts it back quickly. Ciampa hits him with a dropkick through the ropes. He slams Miz's face into the announce table and then thrown into the barricade. Ciampa throws chairs, trash lids and a table into the ring. Miz catches him with a kick as he is getting into the ring. Miz drops his groin on the ropes. Miz slams his face into the turnbuckle.
Ciampa catches him midair with a jumping knee when he goes for a dive from the second rope. Ciampa hits running knee strikes in the corner using a trash lid. Ciampa sets up the table in the ring. He hits Air Raid Crash through the table. Bronson Reed pulls out Ciampa from the ring and runs him over. He hits a Thesz press and a senton on the floor. Reed throws Ciampa into the ring and hits Tsunami. Reed goes away. Miz smiles and slides over Ciampa to get the pinfall.
Winner – The Miz
We see how Sonya Deville & Chelsea Green became the #1 contenders for Women's Tag Team titles by winning a tag team turmoil match last week. They confront the champions Liv Morgan and Raquel Rodriguez for coming to ringside for their match tonight. Women's World Champion Rhea Ripley comes in and warns them again for staying out of it. Chelsea tries to get on Rhea bandwagon and say they will run the division when they become tag champs. Rhea gets mad at Chelsea but Sonya intervenes and takes Chelsea away. Liv and Raquel tell Rhea that they will stop her if she continue to be the bully.
Sonya Deville & Chelsea Green vs Katana Chance & Kayden Carter
Carter starts with a dorpkick on Sonya. Chance blocks Sonya in the corner for Carter to hit another dropkick. Chance hits another kick before Carter tags back. Chelsea gets a blind tag and hits Carter with a sunset flip. Sonya hits a running knee after a blind tag. Carter comes back with a running knee on Chelsea. She goes to the top. Chance pulls Sonya off the apron. Carter pushes Chelsea off the top. Chance hits a splash from the top of Carter's shoulders. Sonya takes Chance to the floor to brawl with her. Chelsea gets Chance in a crucifix and Sonya holds her legs on the ropes for assistance to get the pinfall.
Winners – Sonya Deville & Chelsea Green
Drew McIntyre and Matt Riddle are backstage talking about their win over Imperium earlier today. Byron Saxton comes in for an interview. Riddle says he will take on Gunther next week. McIntyre advises not to as he is away from RAW next week. Riddle says he got Kaiser and Vinci banned from ringside.
Seth Rollins, Kevin Owens & Sami Zayn vs Dominik Mysterio, Finn Balor & Damian Priest
Rollins starts against Dominik who runs out. Balor takes a blind tag as Dominik runs back. Rollins hits Dominik and Balor with punches. Priest takes a blind tag but Rollins is still in control. Rollins hits chops in the corner. He sends Priest face-first into the turnbuckle. Owens tags in and Sami Zayn comes in for some double team action. Priest counters against Owens. Balor takes a cheap shot at Owens. This makes Sami and Rollins getting involved to start a brawl on the floor. Owens ends up taking out all the opponents with a senton. Owens screams at Rhea to take us to a break.
Priest is in control against Owens as we return. Owens fires punches. Priest hits a big uppercut. He also drops Sami off the apron. Balor tags in to hit a stomp. Dominik also jumps with a stomp. More quick tags from Judgment Day. Balor hits kicks at Owens' face. Owens comes back with a DDT. Domink tries to block a tag but Rollins gets his tag. Rollins hits quick shots before a clothesline. Priest comes in and is thrown out quickly.
Rollins avoids a roll up and hits a superkick on Dominik. Dominik rakes his eyes to stop a powerbomb. Priest tags in to hit a clothesline after trapping Rollins' arm behind his back. Rollins blocks a chokeslam. Priest avoids running into Balor but Rollins pushes him into Balor on the second attempt. Balor goes for slingblade but Rollins blocks it. Rollins hits a twisting neckbreaker. Dominik gets a blind tag. Balor hits an inverted DDT. Dominik hits a splash from the top but Rollins kicks out. Balor comems in to hit a slingblade. Rollins hits a superkick to block shotgun dropkick. Sami tags in and hits a crossbody on Balor from the top. Sami hits a blue thunderbomb. Balor comes back with a slingblade and shotgun dropkick.
Sami hits another blue thunderbomb. Dominik breaks the pin. Owens hits a Stunner on Dominik. Priest clotheslines Rollins to the floor. Owens hits an exploder on Priest but Balor sends him to the floor. Sami sets up Helluva kick but Rhea picks his leg and starts to argue with him. The referee gets engaged with Rhea. Priest hits Sami with a chokeslam. Balor hits Coupe De Grace on Sami to get the pinfall.
Winners – Judgment Day