WWE Payback 2023 Live Results, Winners, Updates, Highlights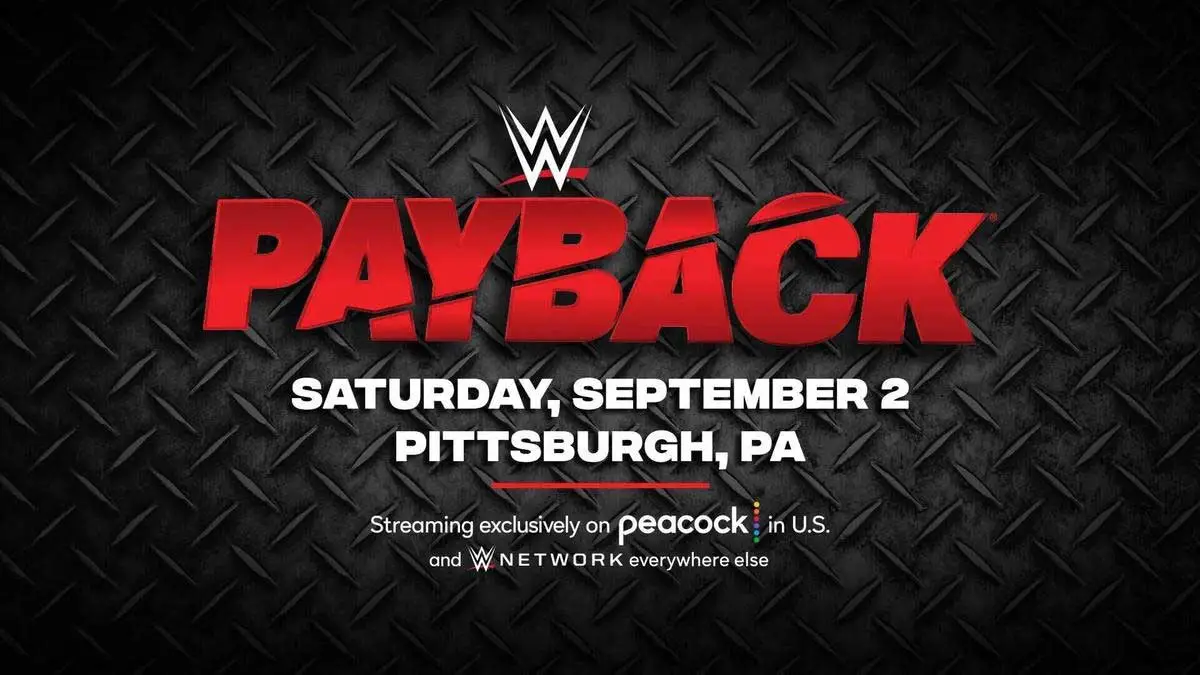 Welcome to the live results blog for WWE Payback 2023 event which was live from Pittsburgh, PA.
John Cena was announced as the host of Payback. Seth Rollins was set for a new challenge in Shinsuke Nakamura as he defended the World Heavyweight Championship in the main event. Becky Lynch and Trish Stratus concluded their rivalry with a steel cage match.
Kevin Owens and Sami Zayn defended WWE Tag Team titles against Judgment Day's Damian Priest and Finn Balor. Rhea Ripley clashed with former tag team partner Raquel Rodriguez to defend Women's World Championship. Cody Rhodes featured in Grayson Waller Effect segment as a special guest.
Rey Mysterio defended WWE United States Championship against Austin Theory. LA Knight clashed with The Miz in a singles match. Tune in below as we post results from WWE Payback 2023 PLE with live updates, winners, highlights, and complete action.
Quick Results
Becky Lynch defeated Trish Stratus in a Steel Cage match via pinfall.
LA Knight defeated The Miz in a singles match via pinfall.
Rey Mysterio(c) defeated Austin Theory in a singles match via pinfall to retain WWE United States Championship.
Judgment Day(Finn Balor & Damian Priest) defeated Kevin Owens & Sami Zayn(c) in a Steel City Street Fight to via pinfall to win WWE Tag Team Championship.
Rhea Ripley(c) defeated Raquel Rodriguez in a singles match via pinfall to retain Women's World Championship.
Seth Rollins(c) defeated Shinsuke Nakamura in a singles match via pinfall to retain World Heavyweight Championship
Live updates
The pre-show is live with Eddie Redmond, Kayla Braxton, Wade Barrett, Booker T and Peter Rosenberg. Grayson Waller joins the panel for an interview where he talks about his segment with Cody Rhodes tonight, taking several shots at him. The steel cage match is confirmed to open the card.
---
The main show starts with a piracy warning. A video package follows highlighting tonight's matches. The steel cage comes down before we cut to a hype package for the match.
Trish Stratus vs Becky Lynch – Steel Cage match
They stare down from the opposite ends. Becky is dead serious. Trish less so. Trish tries to run out immediately but Becky pulls her back. Becky goes for Manhandle slam but Trish sends her face into turnbuckle. Becky bounces off her head around on all 4 turnbuckles. Becky hits a trio of Bexploder suplexes. Trish blocks the 4th suplex and shoves her down to the mat. Trish gets to the top rope as she tries to climb out. Becky joins her and they fight on the top for a while. Trish slams Becky's face into the steel cage wall. Trish pulls her hair before kicking her spine against the cage.
Trish hits a spinebuster to get a two-count. Trish tries to leave via door but Becky rolls her up again. Trish rakes her face on the cage door before putting on fish hook. Trish slams her face into the mat next. Becky counters by sending Trish into the steel wall several times. Becky gets her on her shoulders and drives her head into the wall. Becky hits a running tackle to get a two-count. Trish also drives her head. Trish ducks a clothesline with some athleticism but Becky hits a big blow to midsection.
They continue to slam each other on the cage. Becky takes over momentum as she slams Trish's face into the cage a dozen times in quick succession. Lunch hits a leg drop after setting her up on the ropes. Trish trips Becky on the top rope and Becky's knee drops on it. Trish tries to escape from the top now, but Becky recovers in time to bring her back. Becky picks her up to hit a powerbomb to get a two-count.
Trish hits a kick to midsection and hits Widow's Peak to get a near fall. Becky counters Stratusfaction into Twist of Fate for a near fall herself. Becky hurts her knee after coming off the top. Trish hits Stratusfaction but Becky kicks out of the pin. They fight on the top rope once again. Trish blocks a mandhandle slam from the top rope. Trish hits a bull dog from the top rope to get a near fall. Trish gets to the top of the face. Becky follows her up. Trish pushes Becky back down. Trish gets on the outside wall but Becky gets up quickly to block her exit.
Trish's leg gets caught on the top of the cage. Becky pulls her into a superplex to get near fall. Becky climbs the cage now. Trish tries to leave via door, so, Becky comes down. Zoey Stark tries to pull Trish out and they play tug of war with Trish. Zoey slams the cage door on Becky's face. Trish gets a two-count. Becky stops Chick kick and hits Manhandle slam but Zoey breaks the pin. Becky slams Zoey with mandhandle slam. Trish tries to climb up again but Becky hits manhandle slam from the top rope to get the pinfall.
Winner – Becky Lynch
Some boos after the match as Zoey helps Trish get up but Trish is not happy with her. Trish slaps Trish and tells her to get out. Zoey closes the cage door instead. Zoey hits Z-360 on Trish and removes her shirt and puts on Trish.
John Cena is the Host!
John Cena comes out and credits the steel cage match for being awesome. He points out how he has never been a host in WWE so far. His job as host is to make something special. Cena says that special thing will be that he will the special gues referee in LA Knight vs The Miz match. The Miz comes out in anger.
Miz takes shot at Cena for trying to pander to this audience and says he sucks as the host. Cena asks him for suggestions as this is his first time as the host. The Miz takes more shots at Cena. Cena asks him to give more suggestions. Miz says he wore a $10,000 suit when he was the host of WrestleMania. Miz tells him to get more involved. Cena says like becoming the special guest referee. They argue a bit before Cena shows off his referee shirt. LA Knight's music hits and he comes out.
LA Knight vs The Miz
Miz remains outside and takes his time to come back into the ring. The bell ring but Miz slips out again. The Miz starts to leave as he tries to sucker Knight into an attack. Knight ducks a clothesline and unloads on Miz to take him back to the ring. They start a slugfest in the ring. Knight hits another clothesline before Miz runs him over. He hits a shot after jumping from the top rope.
Knight comes back with a powerslam. Miz blocks a skull crushing finale. Miz slips to the floor and Knight slams her face into the announce table. Knight goes to reset the countdown and Miz sends trips him into the announce table and sends him into the announce table. Knight throws Miz over the timekeeper's area before throwing him over the barricade. He jumps off the the barricade to hit a clothesline.
Back to the ring, Miz chokes Knight. Cena separates them. Knight hits a clothesline. Knight boots Miz in the corner. Knight argues with the referee and allows Miz to hit him from behind. Miz puts on a chinlock and keeps Knight in it for a while. Miz sends Knight to the apron and slips to the floor to trip him on the apron. Miz hits some kicks on the back and front, slowly turn them in It Kicks. Knight hits side slam and both men are down.
Knight hits a bulldog from the second rope and then kicks at her face. Miz gets on his back. Knight pushes him to the corner. Miz kicks at his knee and hits a couple of DDTs to get a two-count. Miz misses a corner clothesline. Knight hits a spinning neckbreaker to get a two-count. Miz hits a jawbreaker and tries to use the ropes as leverage for the pin. Cena catches him and kicks at his arm.
A sequence leads to both men almost hitting Cena. Miz hits Skull Crushing finale, but Knights kicks out. The Miz is angry at Cena now. Knight hits a powerslam and a clothesline before hitting Blunt Force Trauma to get the pinfall.
Winner – LA Knight
After the match, Cena and Knight stand together on the stage. Cena raises Knight's hand to close the segment.
Rey Mysterio(c) vs Austin Theory – WWE United States Championship
Theory corner Rey to unload. Rey slips out and hits a boot. Rey avoids him in the corner again and unloads with punches. Theory gets on his shoulder but Rey slips out. Theory runs him over quickly with a clothesline. Theory hits a suplex to get a two-count. Theory hits a fisherman suplex next to get a two-count.
Theory manhandles Rey to slam him to the mat and puts on a chinlock. Rey hits elbows to the ribs but Theory shoves him to the ropes. Theory keeps control and whips Rey hard into the turnbuckle. Some punches from Theory follow. Theory puts Rey on the top rope and hits some shots to the back of his head. Theory tries to rip off his mask but Rey fights back. He downs Theory back to the mat and hits moonsault to get a two-count.
Rey hits a hurricanrana to send Theory to the floor. He goes for basement slide but Theory tries to counter, but Rey counters it to hit a tornado DDT on the floor. Rey hits a seated senton to get a two-count. Rey hits a springboard hurricanrana next. Theory comes back with a spinout powerbomb to get a two-count. Theory goes for A-Town Down but Rey slips out. Theory hits a shoulder tackle and a dropkick. Rey bounces off the ropes to hit a dropkick himself.
Theory hits a couple of knees to midsection. Rey puts him on the ropes with a hurricanrana and hits 619. Theory gets his knees up to block a springboard splash. Theory gets him up on the shoulder and goes for A-Town Down. Rey counters it with a sunset flip to get the pinfall.
Winner – Rey Mysterio
LWO runs out to celebrate with Rey Mysterio.
---
Becky Lynch is interviewed backstage when NXT Women's Champion Tiffany Stratton interrupts her. Tiffany apologizes to her to call her one of the greatest NXT Women's Champion when she has not won the title. Becky tells her to focus on her title defense, and she will see her soon.
Kevin Owens & Sami Zayn(c) vs Judgment Day(Finn Balor & Damian Priest) – Steel City Street Fight for WWE Tag Team Championship
They start to throw down as the bell rings. Owens fights Priest on the ramp while Sami fights Balor ringside. Sami takes Balor back to the ring after slamming his face into the barricade. Sami throws in some chairs into the ring. Balor catches him with a kendo stick shot. Balor brings out a trash can which also had Pittsburgh Steeler flag. Balor boots the flag. Owens runs over Balor on the floor. Priest comes in to attack Owens from behind. Balor and Priest unload on Owens. Sami hits a suicide dive on them.
Sami & KO slam a trash can on Priest. They take Balor to the ring. Owens reveals a Terry Funk shirt. They put the trash can Balor's head and hit him with kendo sticks. They bring out a table to the crowd's amazement. Priest is hit with a trash can again but Priest hits back with big rights and trash can. Balor hits Sami with a chair to gut. Owens is double teamed in the ring with chairs to midsection. Owens' head is slammed with a trash can. Sami comes in but he gets cornered and is hit with stomps from Balor.
Priest throws in some chairs into the ring as Balor unloads on Sami on the announce table. Owens fights back against Priest in the ring. He hits some chair shots. Balor hits a chair shot on Owens. Sami comes from behind for chair shots on Balor. The fight spills in the crowd. Dominik Mysterio comes in to help Judgment Day and take their opponents down. They waste time in talking strategy, allowing Sami and Owens to put on Pittsburgh Steelers Jersey and fight back with hockey sticks.
They get back to the stage where they beat up Dominik and force him to run. Sami fights off Priest and hits Balor with Blue Thunderbomb on the chairs to get a near fall. Priest comes in and drops Sami on the chairs with a suplex. Owens breaks the pinfall. Owens fights back a double team but Priest throws him over the announce table. They slam a trash can on Owens' head before taking him into the crowd again. Owens unloads with punches before Sami joins him. They reach near the kick-off show desk. Sami hits a senton on Balor and Priest.
Dominik comes back to fight Sami. Owens beats him up and set up on table. Owens climbs up to a level above in the arena and hits a Swanton bomb to crash Dominik through the table. Back in the ring, Sami hits an exploder suplex on Balor. Priest throws a trash can to Sami's face to block Helluva kick. Sami slips out of Rack bomb and trips Balor off the top turnbuckle. Sami pushes Balor off the apron to put Balor through the table at ringside.
Owens hits a stunner and Sami hits a Helluva kick on Priest. JD McDonagh pulls out Sami to break the pinfall. Owens fights JD and slams him to the floor with a powerbomb. Rhea Ripley hits a spear on Owens to put him through the barricade. Balor hits Sami with a slingblade. Sami counters and hits hits an exploder suplex. Sami hits Helluva kick on Balor. Dominik breaks the pinfall with MITB briefcase. Dominik puts Balor over Sami to get the pinfall.
Winner – Judgment Day
Judgment Day regroup in the ring to start their celebration. They get to the stage where pyro goes off.
Grayson Waller Effect with Cody Rhodes
Grayson Waller is out in the ring and calls tonight's segment of his show as the biggest ever. He compares about Pittsburgh's reading level with Cody as they both can't finish the story. Cody makes his entrance. Waller stops him from asking what does the fans wants to talk about. Waller asks him about the rumbling he has heard about a big announcement. Waller says he has begged him to come to his show since Cody needed the Grayson Waller rub.
Cody says Waller is a newly minted graduate from the hiptoss class, and he is aware of all these talkshows where they end up fighting eventually. Waller says he will not fight in front of these beautiful trees. Cody sarcastically thanks Waller for the rub that he desperately needed. Cody says he has a big scoop. He says he saw a big wrong happening on Smackdown a few weeks ago. So, he used all of his backstage political backing to right it. Cody announces the newest member of RAW roster – Main Event Jey Uso. Jey makes his entrance. Cody leaves the ring. Jey gets into the ring and poses in the corner.
Waller welcomes Jey but asks if Jey will be able to survive as he has been a twin and despite being successful in tag team, he has not achieved much in singles matches. Waller claims Jey is the one who needs his rub the most. Jey hits Waller with a superkick. Jey hits the corner to pose once again.
Rhea Ripley(c) vs Raquel Rodriguez – Women's World Championship
They stare down for a while after the bell. Rhea with a smirk on her face. Raquel pushes her as they lock up. Rhea turns the momentum in the corner. Raquel continue to push Rhea back. Rhea puts on a side headlock. Raquel lifts her up but Rhea hits punches to block a suplex. Raquel no-sells a shoulder tackle. Rhea dares her to tackle her. Rhea staggers a bit but remains on her feet. Raquel grabs her arm as she tried to grab Raquel's hair. Raquel hits a big tackle after some misdirection off the ropes.
Rhea slips to the floor. She drops Raquel's arm on the rope. Raquel tackles her to the corner and hits some punches. Rhea fires back with shots but fails to whip Raquel. They trade short arm clotheslines before Raquel drops her with a big lariat. Raquel hits a body slam. Rhea comes back with a leg sweep and a dropkick. Rhea hits some punches on the mat. She boots Raquel's face into the turnbuckle before some short tackles in the corner. A big blow to the back before some jumps on Raquel's back before she gets a two-count. Rhea puts on an abdominal stretch and puts somes shots on the exposed midsection.
Raquel tries for a hip toss but Rhea hits some knee strikes. Raquel tosses Rhea away. Rhea drops Raquel on the ropes. Raquel fires some punches but Rhea shuts her down quickly with a dropkick. Raquel comes back with a couple of clothesline. Rhea ducks some blows but Raquel catches her on the follow up. Raquel hits a fallaway slam and a corner splash. Rhea trips her on the turnbuckle as she goes for corkscrew elbow. Rhea stomps on her face in the corner. Rhea hits some headbutts after getting to the top rope. Raquel kicks her off the top rope.
Raquel picks her up from the top rope and hits a delayed vertical suplex. Raquel hits a spinning corkscew elbow drop to get a two-count. Rhea blocks Tihana bomb and htis a headbutt. Rhea slams Raquel face first into the mat and hits a running knee to get another two-count. Raquel blocks Riptide. Rhea blocks Tihana bomb. Raquel hits a clothesline for a two-count. She hits some corner tackles before setting her up on the top rope. Rhea slips to the floor and hits a chop block on Raquel's knee. Rhea puts on the Prism lock(Inverted Cloverleaf). Raquel is able to use her hands and rolls up Rhea to counter. Raquel hits a body slam.
They trade slaps and blows. Raquel kicks Rhea out of the ring. Raquel picks up Rhea in a powerbomb position and slams her into the ring post and the barricade. Raquel then drives her shoulder into the ringpost. Dominik comes out as they get back to the ring. Dominik is pulled into the ring as he tries to hold onto Rhea. Raquel hits a powerslam on Dominik. Rhea hits a kick to her injured knee and hits Riptide to get the pinfall.
Winner – Rhea Ripley
John Cena is backstage with a mic as the backstage correspondence. He welcomes new tag team champions Finn Balor and Damian Priest. Cena asks there were some issues within Judgment Day. Priest says families fight but they were on the same page tonight.
Seth Rollins(c) vs Shinsuke Nakamura – World Heavyweight Championship
Seth Rollins makes his entrance. An anime video package airs on the big screen where Shinsuke Nakamura says Rollins' injury has made his like a horse on its last legs, and he will put him out of misery and remove his burden. Nakamura makes a rather quick entrance. The Great Muta is ringside for this match. The commentary tells us that this is Nakamura's first PLE main event.
They hesitate in engaging after the bell. Rollins gets a hammer lock on and turn it into an arm wringer. Nakamura turns it into a hammer lock and into side headlock. Rollins breaks free quickly. Rollins uses a leg sweep to trip Nakamura and puts on a headlock. Nakamura pushes him to the ropes and hits a kick to his back. Rollins ups the ante after this and hits a slingblade. Nakamura rolls to the floor and Rollins hits a suicide dive.
Nakamura counters pedigree with a back body drop. He hits more kicks to Rollins' back. Nakamura boots Rollins in the corner before setting him up on the top rope. Rollins slips away from the corner and Nakamura's knee strikes lands on the turnbuckle. Rollins hits springboard senton and a dropkick before a suicide dive as Nakamura rolls to the floor. Rollins sets up Nakamura on the announce table. Nakamura picks him up from the barricade and throws him onto the announce table. Nakamura throws him into the barricade before taking him back to the ring.
More kicks from Nakamura on the back before he sets up Rollins again on the top rope and hits rising knee strikes this time to get a two-count. Nakamura hits kicks to the chest before putting on a camel clutch, putting more pressure on the lower back. Nakamura hits more kicks to the back. Rollins gets upset after kicks to the face. Rollins fires punches before Nakamura hits a backbreaker. Nakamura hits a running knee on the apron before diving knee. He gets a two-count when they get back to the ring.
Rollins catches his leg but Nakamura hits an enzuigiri. Nakamura puts on a half crab and keep him away from the ropes. Rollins twists around and kicks at Nakamura's face to break it. Nakamura tackles him to the corner. Rollins hits some chops as Nakamura waits on the top rope. Rollins hits a top rope hurricanrana after Nakamura blocks a superplex.
They trade shots in the middle now. Rollins hits a clothesline, a superkick and a slingblade. He hits a frog splash gets to a two-count. Nakamura blocks a powerbomb after Rollins' back gives out. Rollins hits a clothesline though to get another two-count. Rollins now tells Nakamura that he knows his back is injured, but Nakamura does not need to worry. Rollins keeps slapping Nakamura. Nakamura avoids a stomp. Nakamura goes for a sleeper. Rollins hits back elbows but Nakamura hits a flying knee from the second rope for a two-count.
Nakamura hits a body slam next. Nakamura hits a suplex. He hits a snap suplex next to get another two-count. An inverted exploder follows. Nakamura gets ready for kinshasa but Rollins intercepts it with a superkick to get a two-count. Rollins hits rolling elbows. Nakamura counters it with an armbar. He turns it into an arm triangle. Rollins tries to overpower but his back gives up. Rollins fades away. He gets the second wind and hits a sitout powerbomb to get a two-count.
They trade strikes. Nakamura ducks a rolling elbow and hits an enzuigiri. Rollins also hits an enzuigiri seconds later. Nakamura trips him on the top rope. Nakamura gets him up on the shoulder and hits a landslide from the top rope, but Rollins kicks out. Nakamura hits a kinshasa. He waits for Rollins to get up again, but Rollins is down. Nakamura picks him up. Rollins hits him punches. Nakamura hits knee strikes to midsection. Rollins counters with a pedigree. He gets ready for the stomp. Nakamura hits back with a kick. Nakamura shifts his wait for a pin attempt. Rollins comes out of it and hits the stomp to get the pinfall.
Winner – Seth Rollins
The show goes off the air with Rollins recovering in the ring. Not much celebration though.