WWE NXT September 12, 2023 Results, Live Updates, Highlights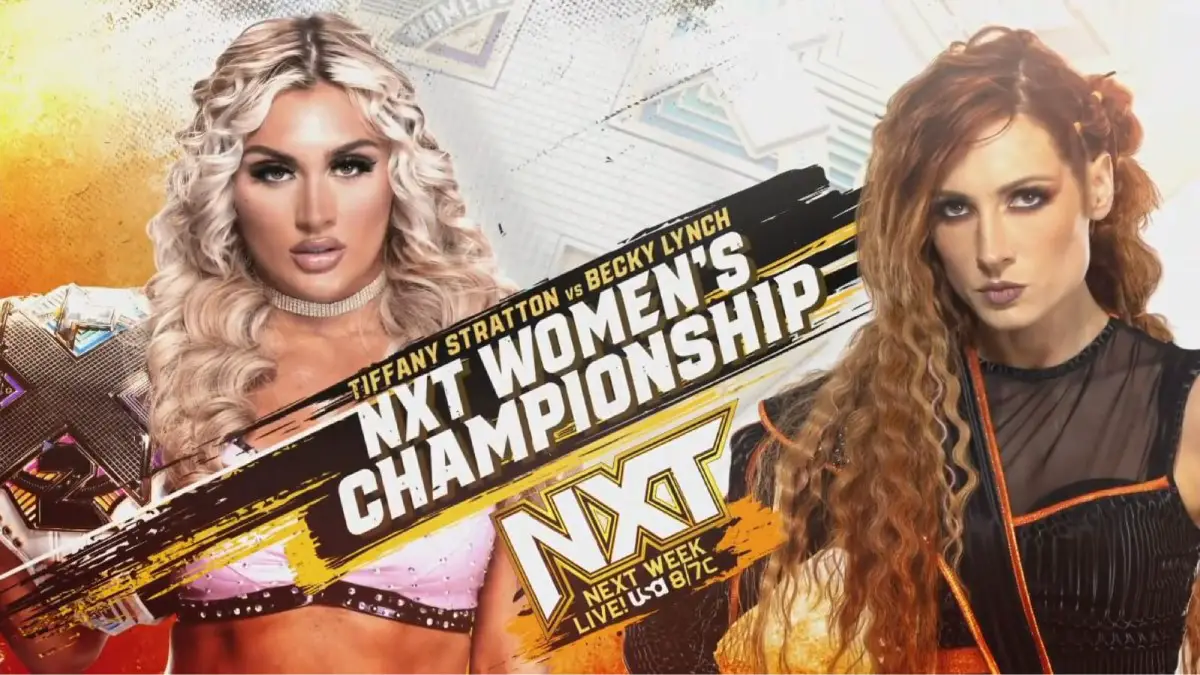 Welcome to the live results blog for WWE NXT September 11, 2023 episode, which featured the return of Becky Lynch to the brand.
Becky Lynch challenged NXT Women's Champion Tiffany Stratton for the title. While Becky has won RAW, Smackdown & Women's Tag Team titles, she did not win NXT title during her time in the brand. Did she add the title to the list that eluded her so far?
Wes Lee and Ilja Dragunov clashed in the #1 contender match for NXT Championship. The Creed Brothers were in action for the first time since getting reinstated to the brand as they faced Edris Enofe & Malik Blade. Tyler Bate vs Axiom from Group A of Global Heritage Invitational, and Nathan Frazer vs Akira Tozawa match from Group B were also announced.
We also saw the fallout of Bron Breakker smashing Von Wagner's head with the steel steps. More build-up for No Mercy 2023 also continued. Tune in below as we post results live from WWE NXT September 12, 2023, with live updates, winners, and highlights.
QUICK RESULTS
Ilja Dragunov defeated Wes Lee in a singles match via pinfall to become #1 Contender for NXT Championship.
Drew Gulak, Charlie Dempsey & Damon Kemp defeated Brooks Jensen, Josh Briggs & Myles Borne in a tag team match via pinfall.
Lyra Valkyrie defeated Dana Brooke in singles match via pinfall.
Tyler Bate defeated Axiom in Group A Match of Global Heritage Invitational via pinfall.
The Creed Brothers(Julius Creed & Brutus Creed) defeated Edris Enofe & Malik Blade in a tag team match via pinfall.
Nathan Frazer defeated Akira Tozawa in Group B Match of Global Heritage Invitational match via pinfall.
Becky Lynch defeated Tiffany Stratton(c) in a singles match via pinfall to win NXT Women's Championship.
LIVE UPDATES
Wes Lee vs Ilja Dragunov – #1 Contender for NXT Championship
Lee rushes Ilja with a big strikes and takes him to the corner to unload. Ilja tries to counter in the corner but Lee ducks the swing and hits more shots. Ilja catches a kick and hits his shots. Lee ducks an enzuigiri and hits a dropkick to Ilja's back. Lee ducks clotheslines from Ilja a couple of times before Ilja hits a chop. He hits a couple of German suplexes. Lee lands on his feet on the third one and hits a handspring kick to knock Ilja to the floor. He hits two suicide dives. Ilja cuts it the third one with a dropkick and drops Lee with a German suplex on the announce table.
Ilja hits big chops as we return. Lee counters a powerbomb with a sunset flip to get a two-count. They trade more punches. Lee has to hit a superkick, a big boot and a double stomp to get Dragunov down. Lee hits chops and forearms in quick succession in the corner. Ilja drops him with a one big chop in response. Lee hits a standing Spanish fly to get a near fall. Lee hits a back elbow to stop a German suplex. Ilja blocks a tijeras and hits a big clothesline to get a near fall. Lee fails to hit Kardiak kick but he manages to counter a body slam into a DDT.
Ilja rolls to the floor. Lee hits a suicide dive after jumping over the ring post. Dragunov hits an uppercut as Lee gets to the top rope. He hits a superplex and a running punch to get a near fall. Lee counters torpedo with a dropkick. Dragunov hits it in the second attempt to get the pinfall.
Winner – Ilja Dragunov
We see the recap of Bron Breakker smashing steel step on Von Wagner last week.
---
Baron Corbin is in the ring and says what Breakker did last week was henious, especially since Breakker knew about Wagner's brain surgeries. He asks Breakker to come out. When Breakker comes out, he asks him to stay on the ramp itself, but then changes his tone to complement him. Breakker calls him an idiot to think that he did all that to get his approval. He did it becasue Wagner put him through a table, so instead, he ended his career. Corbin lists his accomplishments- retiring Kurt Angle, ending Gable Steveson's career even before it started. Breakker disregards it and challenges Corbin for a match at No Mercy. Corbin accepts but then slaps Breakker to start a brawl.
Brooks Jensen, Josh Briggs & Myles Borne vs Drew Gulak, Charlie Dempsey & Damon Kemp
Briggs starts with a body slam on Kemp before a double team drop on him. Gulak and Dempsey are also hit with double team moves. Kemp turns it around in the corner and tags in Gulak. Gulak is hit with a back body drop. Frentic action continues as Borne comes in. Tags to Kemp and Jensen. Jensen hits a spinning back heel kick to take down Kemp. The match breaks down as all 6 men fight on the floor. Kemp slams Jensen into the ring post as he returns to the ring. Kemp hits a bridging German suplex to get the pinfall. Fallon Henley is in shock over the turn of events.
Winners – Drew Gulak, Charlie Dempsey & Damon Kemp
Andre Chase asks Duke Hudson if he has checked on Thea Hail after her outburst last week. Duke tries to get her location via some feature on his phone, but Thea has turned off that feature. Thea is with Jacy Jayne at some cafe. A couple of boys come in to hit on them but they mock Thea. Jacy gets angry and attacks them. Thea also joins the attack. After the guys run away, Thea says she wants to go shopping for new clothes.
Dana Brooke vs Lyra Valkyrie
They start with waistlock switches. Dana hits a back elbow. Lyra comes back with an enzuigiri to send her to the floor. Lyra hits a dropkick through the ropes. Dana trips her off the top rope and onto the mat. Dana puts on a neck crank and fails to let it go even as Lyra throws her over. Lyra hits a couple of body slams before a series of kicks. Dana blocks a Northern Lights suplex. Lyra avoids a handspring kick. She hits a frog splash from the top rope to get the pinfall.
Winner – Lyra Valkyrie
Dominik Mysterio meets Carmelo Hayes backstage and they take shots at each other's tactics. Hayes says Dominik is not cut like that. Dominik retorts by saying that he is holding the same title that Hayes used to call the "A" Championship. Hayes then challenges him for a match. Dominik says he will talk to Mami about it.
---
Becky Lynch is backstage for an interview and says she has been thinking about her time in NXT when it was all about survival and working harder than anybody else. But nobody thought that she was championship material, but here she is. And she is here to right those wrongs and become the NXT Women's Champion. Kiana James comes in and says she would have sent Becky back to RAW if she would be facing her. Becky tells her to get used to her as The Man is going to be in NXT a lot more.
Tyler Bate vs Axiom – Group A Match of Global Heritage Invitational
Meta-Phor's sky box is designed like a Jungle Safari as they watch the match. Quick pin attempt to start the match after takedowns. Axiom puts on a side headlock after tripping Bate with a double leg. Bate dodges him in the corner as the counter each other in quick sequence. Bate dodges a couple of kicks and hits an uppercut to send Axiom to the floor. Axiom hits an overhead chop and a dropkick to send Bate to the floor. Axiom hits a moonsault on the floor. He hits a crossbody in the ring. Bate puts him in an airplane spin before slamming him to the mat. We cut to a break.
Bate hits a Northern Lights suplex. Axiom counters standing shooting star press with an arm triangle. Bate hits handspring kick but Axiom hits back with a knee. Axiom turns a springboard tackle into a Spanish Fly. Axiom puts on sleeper choke to counter a back splash. Bate overpowers and picks him up for Airplane Spin. Axiom hits a poison rana. Bate comes back with a brainbuster. Axiom hits an enzuigiri on the top rope and hits a Spanish Fly from the top for a near fall. Axiom tries to put on an armbar. Axiom counters a Tiger Driver into a sunset flip bomb. Bate hits a springboard tackle and Tiger Driver 97 to get the pinfall.
Winner – Tyler Bate
Butch is interviewed backstage for comments on his match against Tyler Bate. Butch remembers the final of UK Championship Tournament and how he came out victorious. He is not here to reminisce, but to prove that he is the baddest man, and nobody knows this better than Tyler Bate.
---
Joe Gacy tells Ava that Schism Tree's roots have withered away and they are alone and need to build it again.
---
Trick Williams is backstage watching the previous segment. Carmelo Hayes comes in and tells Trick that he always got his back. Trick offers to corner him next week against Dominik. We see Wes Lee picking his stuff in the background. He pick up his case and leaves.
The Creed Brothers(Julius Creed & Brutus Creed) vs Edris Enofe & Malik Blade
Blade starts with a dropkick on Brutus to send him to the floor. Enofe tags in and hits a splash on Julius. Julius hits a clothesline to drop Enofe. Brutus hits a Death Valley Driver after the tag. He hits a Samoan drive and a standing moonsault and a senton. Blade breaks the pin. Garza and Humberto are watching this match, and so are Tony D'Angelo and Stacks. Enofe catches Brutus with a knee strik and Blade hits a crossbody. Enofe tags in and hits blows to his back. Enofe hits a Fameasser. Brutus hits a big running tackle. Tags to Blade and Julius. Julius hits belly to belly suplexes on both opponents. The Creed Brothers hit the Powerbomb & Clothesline combo to get the pinfall.
Winners – The Creed Brothers
Hank Walker and Tank Ledger are out on the ramp. Price and Lima hit them from behind.
---
Lyra Valkyrie comes in and hugs Becky Lynch. She tells Becky to win the women's title at any cost tonight. Becky tells her to keep killing the game.
---
Roxxane Perez is backstage motivating participants for Women's Breakout Tournament. Lola Vice and Elektra Lopez come and start arguing with Roxxane claiming that she is creating rift in the locker room.
Nathan Frazer vs Akira Tozawa – Group B Match of Global Heritage Invitational
Tozawa starts with an arm wringer. Frazer counters but Tozawa hits an upkick to send him away. Frazer gets a side headlock takedown. Frazer hits a dropkick after running start. Tozawa ducks a springboard. He hits a German suplex before hitting a missile dropkick to send Frazer to the floor. Tozawa hits a suicide dive next. Frazer jumps up to the top rope to hit a superplex and a twisting neckbreaker combo to get the pinfall.
Winner – Nathan Frazer
Mustafa Ali is interviewed backstage and says he can't do anything about Dominik's referee work, but he is still the #1 contender and it will be him who will reclaim the North American title for NXT. Dragon Lee comes in and brings up the fast count. Ali tells Lee that he will get the first shot at the title when he wins at No Mercy.
---
Wes Lee is seen leaving the arena. He says Ilja Dragunov was the better man tonight. He has cleared the locker room and is going home.
---
A hooded woman has attacked Blair Davenport and is slamming her against the iron shutter. It turns out to be Gigi Dolin.
Tiffany Stratton(c) vs Becky Lynch – NXT Women's Championship
Tiffany pushes Becky to the corner after the lock up. They reset and Tiffany hits a kick to midsection and a shoulder tackle. Tiffany trips Becky but she uses some athleticisim to come out of pinning combinations. Becky goes for disarmher but Tiffany gets to the ropes quickly. Tiffany hits her face into the turnbuckle. Tiffany keeps control for a while. She hits a hip attack to knock Becky off the arpon to take us to a break.
Becky is hyping up as we return. She hits a corner splash, a bexploder, slams Tiffany's face into the turnbuckle and then hits a missile dropkick to get a two-count. Tiffany rolls up Becky for a two-count. She hits a sitdown powerbomb to get a two-count. Tiffany drops Becky's face on the ropes. Becky meets her at the top rope. Becky hits punches before Tiffany counters to drop her back to mat. Tiffany hits a Swanton bomb but Becky kicks out of the pinfall. Becky hits a hiptoss and puts on an armbar. Tiffany gets her feet to the ropes.
Tiffany picks her up but Becky counters with sunset flip. Tiffany sends her to the ropes to hit a hip attack and a double stomp. Becky blocks The Manhandle Slam. She gets Tiffany down from the second rope with a Russian Leg Sweep for a near fall. Tiffany rolls to the floor and slams Becky's face into the steel steps when she comes out. Tiffany clears the announce table. Becky blocks a powerbomb and kicks Tiffany away. She hits a leg drop on the announce table. Becky tackes Tiffany to the ring and hits another leg drop but Tiffany kicks out. Becky puts on disarmher. Tiffany reaches out to the ropes.
Tiffany dumps Becky on the ropes. Tiffany ends up hitting a powerbomb but Becky kicks out again. Tiffany slaps Becky a couple of times. She counters the Manhandle Slam. Becky dodgest the prettiest moonsault ever and hits Manhandle Slam to get the pinfall.
Winner – Becky Lynch