WWE NXT Results & Live Updates November 15, 2022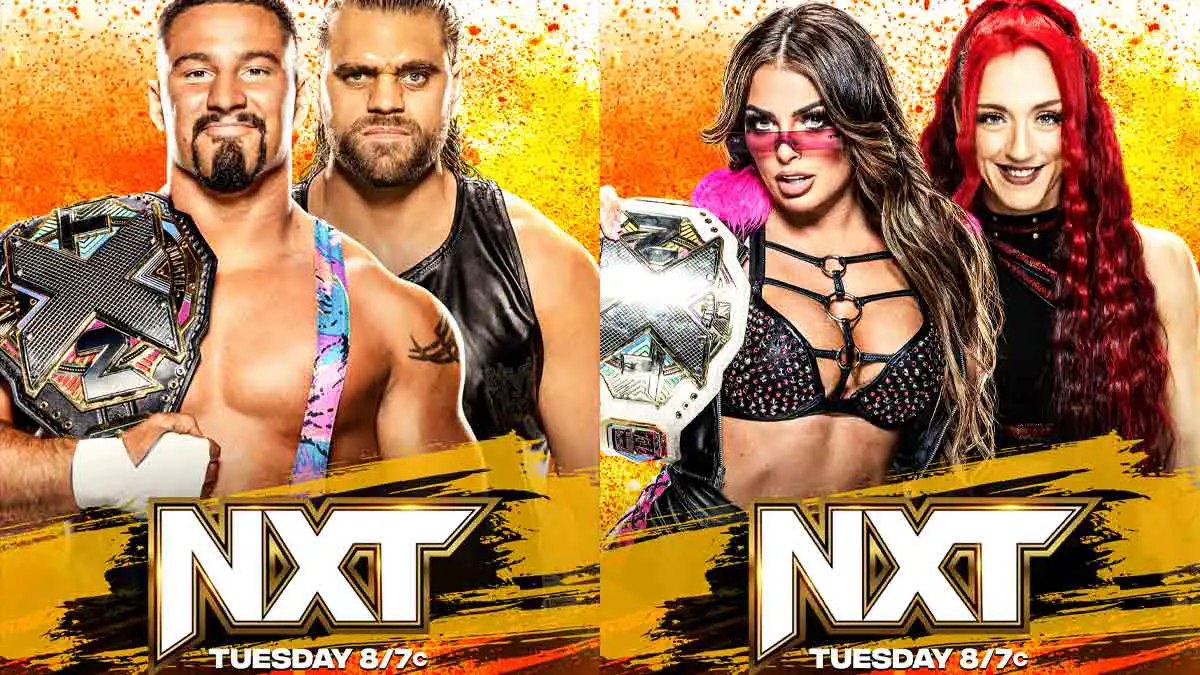 Welcome to the live results blog for WWE NXT November 15, 2022 episode which will feature both NXT Championship and NXT Women's Championship match.
Bron Breakker will defend NXT title against Von Wagner. Mandy Rose will defend NXT Women's title against Alba Fyre in a Last Woman Standing match. The show will also start the build-up towards NXT Deadline event as Shawn Michaels will make a big announcement for the show.
JD McDonagh and Apollo Crews will clash in a singles match and the winner might be next in line to challenge for NXT Championship. Wes Lee and Carmelo Hayes will sign a contract for North American Championship match next week with Booker-T presiding over the ceremony. Indi Hartwell will take on Tatum Paxley. Indus Sher will return to in-ring action with a tag team match.
Tune in below to get results from WWE NXT November 15, 2022 episode with live updates, winners, highlights and complete action.
Results
Bron Breakker(c) defeated Von Wagner in a singles match via pinfall to retain NXT Championship
Indus Sher(Sanga & Veer) defeated enhancement talents in a tag team match via pinfall.
Apollo Crews defeated JD McDonagh in a singles match via pinfall.
The Dyad(Rip Fowler & Jagger Reid) defeated Josh Briggs & Brooks Jensen in a tag team match via pinfall.
Indi Hartwell defeated Tatum Paxley in a singles match via pinfall.
Mandy Rose(c) defeated Alba Fyre in Last Woman Standing Match to retain NXT Women's Championship.
Live Updates
Bron Breakker(c) vs Von Wagner – NXT Championship
Wagner throws Mr. Stone into Breakker to distract him and hits him with a big boot to take early advantage. He tackles Breakker into the corner and continues to beat him up. Breakker comes back with a running shoulder tackle. He hits a suplex and frankestiener. Breakker puts on a chin lock and Wagner takes him to the apron to drop his arm on the ropes. Wagner works on the arm for a while. Breakker comes back with a clothesline and drops Breakker with a vertical suplex. We cut to a break.
Breakker has Wagner in a chinlock as we return. Wagner hits a back suplex to break free. Wagner sends Breakker into the steel steps. He then hits a chokeslam on the steel steps. Back to the ring, Breakker kicks out of the pin. Wagner hits body slams and a sidewalk slam to get a close two-count. Wagner puts on a cobra clutch but lets it go after a while.
Breakker fights back on the top turnbuckle and hits a flying clothesline. Quick tackles from Breakker are followed by a spinebuster and a bulldog from the second rope. Wagner hits F5 to counter a spear, but Breakker kicks out of the pin. Wagner argues with the referee over the count. Breakker recovers and picks up Wagner in a military press. Wagner slips out but Breakker hits a spear to get the pin.
Winner – Bron Breakker
Alba Fyre gets a video package where she says that the only reason Rose retained the title at Halloween havoc due to Jacy Jayne and Gigi Dolin, but now she has taken them both out.
---
We see Bron Breakker backstage recovering from the match. JD McDonagh comes in and congratulates him. But, he also tells Breakker that he will not get him off his back.
---
Zoey Stark comes out to the ring and says her back is soo relieved for not carrying Nikkita Lyons. Stark says she returned from the injury hot and passed through 19 other women to get a title shot. She was not able to win the title though. Then, she was told in a meeting about teaming up with Nikkita to take part in Women's Tag Team title tournament. She says she had to carry Nikkita from that point onwards. She continues on and on, but hardly gets any reaction from the crowd. Stark adds that going forward NXT is not going to be about new talent, and it is only going to be about Zoey Stark.
---
Apollo Crews comes to Bron Breakker and tells Breakker that he returned to NXT only for NXT Championship. He tells Breakker to watch his match later tonight.
Indus Sher(Sanga & Veer) vs Enhancement Talents
Sanga slams his opponent's face to the mat a couple of time. He hits a body slam and then with a Full Nelson Slam. Veer tags in and Indus Sher hit double splash on him. Veer throws the enhancement talent in his corner and asks his partner to tag in. The other guy tags in and gets thrown across the ring. Sanga and Veer hit double splash again. Sanga hits a couple of body slams before tagging in Veer once again. Veer hits a standing leg drop. Sanga tags in and hits a big boot on one of the opponents. Indus Sher hit sideslam/elbow drop to get the win.
Winner – Indus Sher
Indus Sher take the mic and say even though they are treated like celebrities in India NXT Universe does not respect them. But, they respect Creed Brothers and to get their respect, they need to beat Creed Brothers.
The Creed Brothers are looking at this from backstage. They say they should take care of Indus Sher. Ivy Nile and Tatum Paxley come in. Nile tells Creeds that they are going after the wrong team, and should instead focus on tag team titles.
---
Wendy Choo says Cora Jade is always going to run her mouth, but she has said some things that she has not heard since high school and it has opened old wounds. She would give Jade a week, because she would like to see herself with two black eyes.
JD McDonagh vs Apollo Crews
A bit of back and forth grappling after the bell. JD hits a kick to midsection and sends Crews to the corner. Crews comes out of the corner and hits an armdrag. They continue to go back and forth with quick moves and armdrags. McDonagh avoids an armdrag and hits an elbow drop. McDonagh kicks at Crews in the corner. Crews fights back with punches and chops. He hits suplex on McDonagh. McDonagh runs out to the floor. Crews catches him on the apron and throws him on the announce table. We cut to a break.
McDonagh has Crews in a sleeper. Crews gets to the second rope and drops on his back to break it. McDonagh tries to put another sleeper. Apollo turns it around to put sleeper hold himself. McDonagh counters with a back suplex. Apollo sends him to the floor and hits a moonsault. A clothesline and a big boot on Crews. Crews hits a powerbomb to get a close two-count. McDonagh hits chops in the corner. He sends Crews to the floor, hits a penalty kick and hits a moonsault.
They return to the ring and trade small package a few times. McDonagh hits a Spanish fly next. He goes for a boot but Apollo hits a headbutt. McDonagh counters a powerbomb with a powerbomb himself to get a two-count. Crews goes for a big boot in the corner but McDonagh sidesteps. McDonagh goes for a moonsault but Crews avoids it and hits a spinebuster to get the pin.
Winner – Apollo Crews
After Apollo wins. Bron Breakker comes out to the ramp and shows off his title.
---
Mandy Rose is interviewed backstage and says she has taken up challenge after challenge in last one year since winning the title. She is one in a million star, and she would get past Alba Fyre even without Gigi Dolin and Jacy Jayne.
---
Booker-T presides the contract signing between Carmelo Hayes and North American Champion Wes Lee. Hayes starts by buttering Booker T. Lee says Hayes need to understand that he is an ex-champion. Booker T asks Hayes about his thoughts on a possibility of becoming a 3-times North American Champion. Hayes says next week, worst time of his career and best of Lee will get over next week. Williams says next week it will be Lee's first and last title defense. Booker T asks Lee how will he make sure that he retains the title next week. Lee says he will go to his limits to hold on to the title.
Josh Briggs & Brooks Jensen vs The Dyad(Rip Fowler & Jagger Reid)
Fowler and Jensen start the match with back-and-forth action. Jensen hits a single leg dropkick to get a two-count. Reid tags in and Briggs also comes in for some double team against him. Jensen hits a shoulder tackle on Reid and once again brings in Briggs for double team. Fowler gets a blind tag and trips Jensen from the floor. He pulls out Jensen. Jensen pushes him but Ava Raine interrupts Jensen. Jensen hits a suicide dive on Jensen to take control. Jensen fights back as they get back to the ring. Briggs tags in and runs riot with quick moves against the opponents. He hits a flying clothesline and backbreaker on Fowler. Kiana James comes out to distract Jensen and Henley on the floor. Fowler gets a tag to hit their double team finisher move on Briggs to get the pin.
Winner – The Dyad
Shawn Michaels announces a new match – Iron Survivor Challenge- for men and women at NXT Deadline. 5 wrestlers will take part in each match and whoever gets more falls will be the winner.
Indi Hartwell vs Tatum Paxley
Match description to be added soon.
Winner – Indi Hartwell
Mandy Rose(c) vs Alba Fyre – Last Woman Standing Match for NXT Women's Championship
Rose runs out of the ring. Fyre brings her back but Rose escapes again. Fyre hits her with a suicide dive. Fyre clears the announce table but Rose counters to slam her face into it. Fyre sends Rose into the barricade. Fyre brings out a steel chair before Rose counters to slam her on it. Rose hits kicks to midsection as they return to the ring. Fyre counters running knee with a chair. Fyre uses the chair's leg to put on a single-leg Boston crab. We cut to a break.
Fyre is hitting clotheslines as we return. She hits a suplex next. She hits knee strikes to her face before hitting a DDT. Rose slips to the floor and Fyre hits her with a moonsault. Fyre gets up at 5 and Rose gets up at 7. Fyre brings out a ladder and slams it into Rose. Rose kicks at Fyre and slams her face into the ladder. Rose drops the ladder on Fyre but she gets away. Rose then Fyre with the ladder a few times. Fyre beats the countdown at 9. Rose takes Fyre back to the ring where Fyre drops her on a trash can. Rose breaks the countdown at 8.
Rose sends Fyre to the floor with a back body drop. Rose throws her over the barricade and they start to fight in front of the crowd. Fyre tries to hit a suplex off the barricade but Rose pushes her into the steel steps. Fyre breaks the count at 7. Rose jumps on her but Fyre nails her with a superkick. Fyre hits her finisher on the apron. Fyre hits Rose with a baseball bat next. She sets up a ladder after putting Rose on the announce table. Fyre gets up on the ladder where Isla Dawn spits mist on her. Isla pushes Fyre from the ladder and through the announce table. Rose gets up on the apron while the referee counts Fyre down to 10.
Winner – Mandy Rose