WWE NXT Live Results and Updates- 11 December 2019
Welcome to ITN's Live Results and Updates Blog for WWE NXT episode of 11 December 2019 (12/11/2019).
Date- 11 December 2019
Location- Full Sail Live, Winter Park, FL, US
Time- 8 PM EST(12 December 2019 1 AM GMT/6:30 AM IST)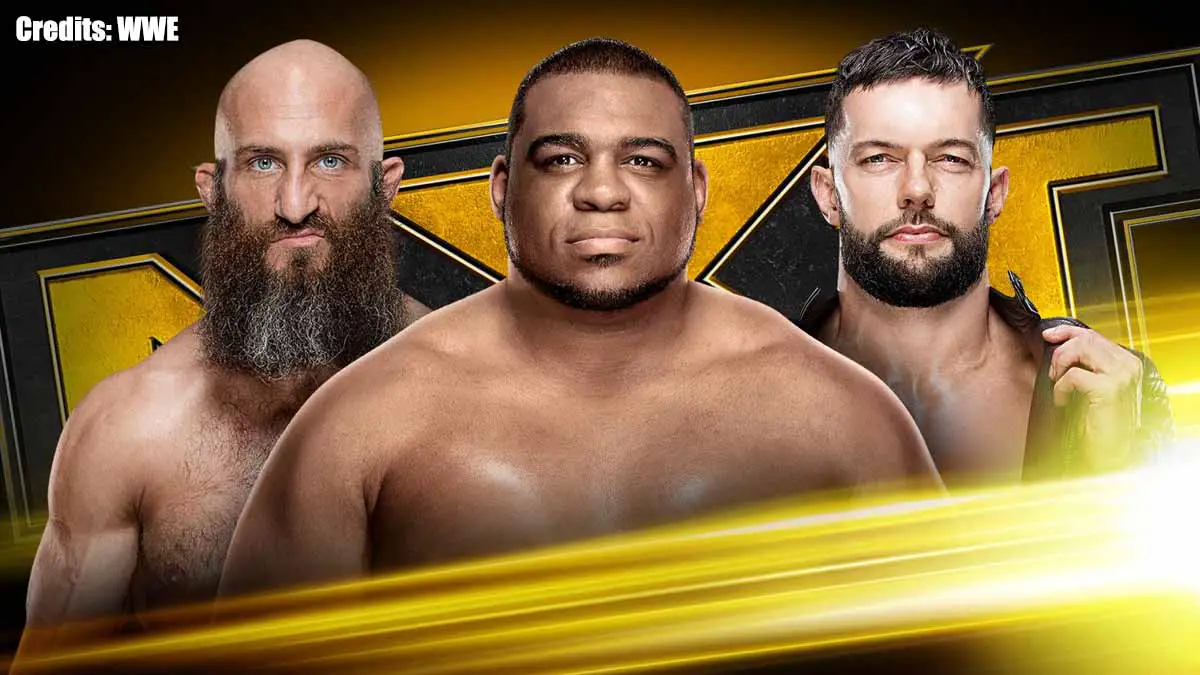 Another exciting episode of NXT as we have so much to look forward to. Finn Balor, Keith Lee and Tommaso Ciampa will face-off in a number #1 contenders match for the NXT Championship. We also have a Cruiserweight Championship match between Lio Rush and Angel Garza, and the feeling that Angel Garza will be bestowed with the title is getting stronger. Mia Yim will get her hands on Dakota Kai and Rhea Ripley will also like to make a strong statement before her Women's title match next week.
The show opens up with highlights from last week. NXT Champion Adam Cole is in the production area and cuts a promo calling tonight's Triple Threat the stupidest thing he has ever heard of. He is on the run of a lifetime and that run is nowhere near finished.
Lio Rush vs Angel Garza – NXT Cruiserweight Championship
Rush attacks Garza during the introductions and they continue to brawl for some time. Both men try quick roll-ups before the brawl spilled out to the floor. Rush sends Garza into the steel ring steps. They fight at the apron and Garza sends Rush face-first into the edge of the apron. Rush tackles Garza and keeps with his kicks. Garza dodges the Come Up and nails a basement dropkick for a two-count.
Garza traps Rush in the corner and slaps him around as fans do dueling chants. Garza with a big superkick to the face for a close 2 count. They trade aggressive strikes now. Garza tells Rush to hit him harder. The brawl continues. Rush goes to leapfrog but Garza launches him throat-first into the top rope. Rush lands on the outside and Garza stands tall in the ring as we go to commercial.
Garza has Rush in a Full Nelson after the break. Rush makes it to the ropes. More back and forth. Garza catches Rush and they go to tumble over the top rope but Rush hangs on and stays in the ring. Rush with a springboard moonsault to Garza on the floor. Back in the ring, Rush kicks Garza in the head for a two-count.
Garza counters and hits the Come Up for two-count. Garza nails an enziguri and climbs up. But Rush shoves him off. Garza lands on his feet and hits a Spanish Fly for a near fall. They trade strikes punches before Rush kicks him. Garza comes back with a superkick and both men fall down. Rush counters and hits a Wing Clipper for a near fall.
Rush slides out of the Electric Chair and nails a Come Up for a close 2 count. Rush goes back to the top and hits the Final Hour. Garza crawls for the floor but Rush grabs him. Rush goes to the top for a Final Hour to the floor but Garza gets his knees up. Garza brings it back into the ring for a Wing Clipper but Rush kicks out again. Garza goes right into submission with a reverse Full Nelson. The referee calls the match as Rush goes out.
Winner- Angel Garza
The announcers lead us to a promo for the title match between NXT Women's Champion Shayna Baszler and Rhea Ripley. Back from the break and we get a vignette with Finn Balor complaining about having to compete with Tommaso Ciampa and Keith Lee. In the ring, Angel Garza brought his girlfriend into the ring and proposed to her.