WWE NXT Heatwave Results, August 16, 2022, Live Updates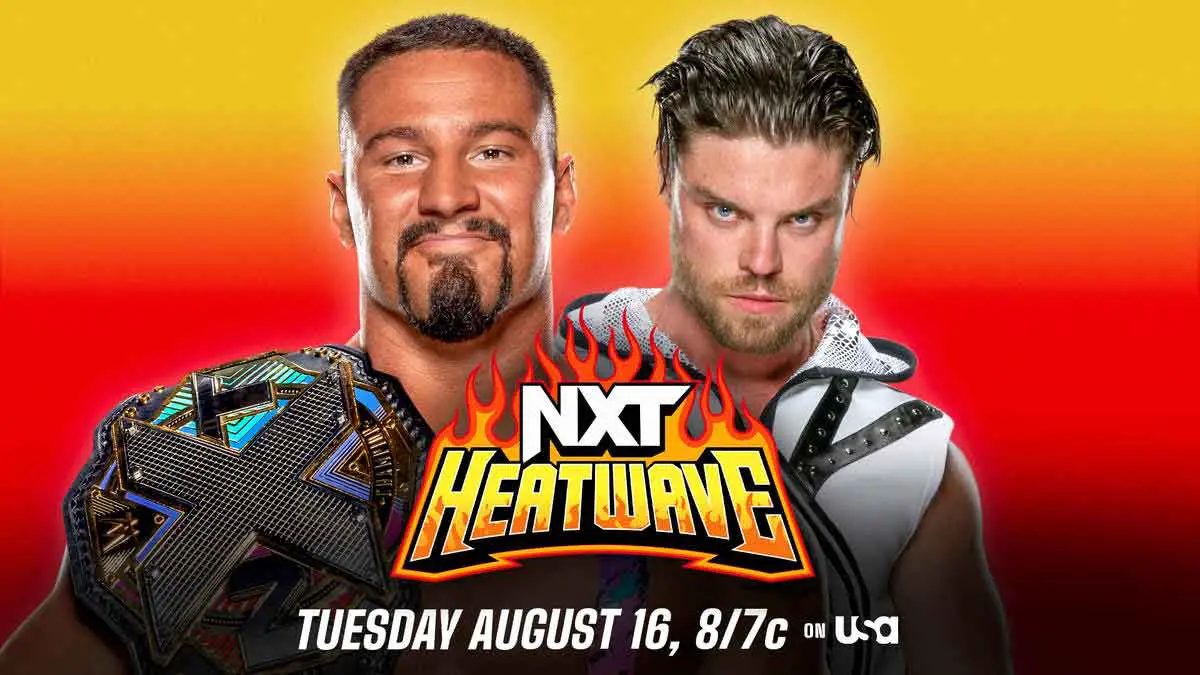 Welcome to WWE NXT Heatwave Results Live Blog on August 16, 2022. The Heatwave special will feature three title matches, a grudge match and a street fight.
Bron Breakker is going to defend NXT Championship against JD McDonagh. Mandy Rose will defend the NXT Women's title against the new #1 contender Zoey Stark. Carmelo Hayes has accepted a challenge from Giovanni Vinci for the North American title.
Roxanne Perez will finally get her hands on Cora Jade one month after Jade turned on her. Tony D'Angelo and Santos Escobar will clash in a Street Fight which has Legado Del Fantasma and Escobar's future at stake.
Tune in as we post results from WWE NXT Heatwave August 16, 2022 episode with all live action, updates, videos and highlights.
Live Updates
Paul Heyman narrates the opening video package for the show which previews all 5 matches of the evening.
Carmelo Hayes(c) vs Giovanni Vinci – NXT North American Championship
They lock up and Vinci throws Hayes from the waist lock. Hayes goes low to trip Vinci. They run the ropes and Vinci hits a shoulder tackle. Hayes hits a chop in the corner. Vinci reverses a whip but Hayes avoids a power slam. Hayes hits a springboard tackle. Vinci slams a big slap on his chest before hitting a springboard crossbody. More chops in the corner by Vinci to drop Hayes. They drop each other with clotheslines at the same time.
Vinci drops Hayes as we return before hitting a tilt-a-whirl backbreaker. He catches Hayes' crossbody to slam him to the mat. Hayes trips him on the ropes and hits a springboard leg drop to get a two-count. A roll-up gets him another two-count followed by a superkick. Vinci counters with a brainbuster. Hayes avoids a powerbomb and hits a cutter. Vinci sends him to the floor and takes out both Williams and Hayes with a crossbody. He then hits a double jump moonsault, but the pin is broken when Williams puts Hayes' leg on the ropes.
Vinci avoids a leg drop and drops him with a lariat. Vinci hits a powerbomb on Hayes, dropping him on Williams as he enters the ring. Vinci hits a powerbomb on Williams. Vinci goes for another powerbomb on Hayes but Hayes counters with a sunset flip and get the three count with a rana pin.
Winner – Carmelo Hayes
NXT Women's Champion Mandy Rose and Toxic Attraction arrive at Capitol Wrestling Center earlier today and meet NXT Champion Bron Breakker. Rose says Breakker has an uphill battle. Breakker replies that Rose also has a tough match. Rose says let's see who comes out of event as the champion.
---
Julius Creed posted that he found the person responsible for the loss in their tag team match two weeks back, and he will address that person in the ring. Diamond Mine are walking out as we cut to a break.
---
Robert Stone is with Von Wagner backstage and says Wagner lost to Solo Sikoa, but he is still standing while Sikoa is out injured. Stone says Wagner is a freak of nature. Wagner says it does not matter who is popular on internet and nobody will survive in his jungle.
---
Diamond Mine make their entrance Julius takes the mic and says he and his brother gave their everything to Diamond Mine in the last year, whether it is in Dusty cup, winning tag titles, getting stitched, taped… But someone is trying to destroy what they built in Diamond Mine. And that person is Roderick Strong.
Strong goes on a rampage addressing how much he believes in The Creed Brothers. Julius replies that Strong can say anything to their face, but he will stab them in back as soon as he gets a chance. Julius shows a video from the tag team match two weeks back where Tony D'Angelo was seen calling a shot which led to Strong hitting Julius with a knee. Strong tries to justify but gets cornered. The stable gets attacked from behind by Gallus. They lay out everyone in the ring and stand tall.
---
Roxanne Perez is interviewed backstage where she says she never thought she had to face her best friend in the ring, but Cora Jade wanted this.
Roxanne Perez vs Cora Jade
Perez goes after Jade right away. Jade runs to the floor and Perez hits her with a suicide dive. Jade hangs on the ropes and hits back with an elbow. She hits a big shot on Perez's back. More shots follow in the corner. Perez hits back elbows and a back body drop. A dropkick follows. Jade lands on the apron and is knocked off to the floor. Jade cuts off Perez's dive on the ropes. She hits a suplex on the floor. We cut to a break.
Jade has Perez in a stretch as we return. We see Jade dropped Perez with a lariat during the commercials. Perez tries to fight out of the stretch but Jade puts more pressure. Perez drops down and kicks Jade away. Both women get pin attempts for several two-count. Perez bridges up to avoid a pin attempt. They knock each other with a pump kick at the same time.
Perez nails Jade with forearms. Jade hits a knee to midsection. Perez follows with quick attacks and dropping Jade with a side Russian Leg Sweep to get a two-count. She hits another Leg Sweep to get another two-count. Perez is frustrated now. Jade avoids Pop-Rox and hits a step-up knee strike to get a two-count. Jade picks up her stick from the steps. Perez ducks it and kicks Jade. Perez picks up the stick now but decides against using it. Jade pushes her into the stick and hits a DDT on it to get the pin.
Winner – Cora Jade
Josh Briggs, Brooks Jensen and Fallon Henley are interviewed backstage when they get interrupted by Gallus. The argument leads to a challenge for NXT UK Tag Team title match, which will take place next week.
---
We get a video package for complete history between The D'Agnelo Family and Legado Del Fantasma.
---
Bron Breakker is warming up backstage. Apollo Crews comes in, takes a look towards the NXT title and leaves.
Tony D'Angelo vs Santos Escobar – Street Fight(Escobar's Career & Legado Del Fantasma's future on the line)
We get the announcement for the street fight. Escobar is outside the arena with his mask on. Other Legado members join him in his entrance to the ring. Tony comes out and poses on the ropes. Escobar trips him from the ropes. The referee checks on him before calling for the bell. Escobar starts with some quick attack. A chair is brought in quickly and Tony is dropped onto it for a two-count.
Escobar hits a couple of dropkicks on his injured knee. Tony hits back with punches but Escobar nails him with a knee to the face to get another two-count. Escobar hits a crossbody from the top. Stacks takes out Del Toro and Wilde on the floor as they were about to hand Escobar something. Escobar hits another dropkick in the ring now. Wilde takes out Stacks on the floor now. Tony cuts off Escobar with a lid cover. We cut to a break.
Tony is in control as we return. He drops Escobar on the chairs on the floor with a suplex. Back to the ring, Tony gets a two-count. He hits a falcon arrow now. Stacks gives Escobar a dustbin and Escobar slams it on Escobar to get a two-count. Escobar starts to fight back with punches and a clothesline. He hits a head scissors takedown, a gamengiri, and a hammer fist from the top. Lopez slaps Tony as he goes to the floor. Escobar hits a tope suicida on Tony. Tony counters by sending Escobar into the ring post.
Del Toro stops Stacks from handing Tony more things by hitting him with the crowbar. Tony kicks Del Toro from the ring. Escobar rolls up Tony in the ring to get a two-count. Escobar goes to pick Tony's crowbar from Lopez, but Tony ends up knocking out Lopez as he was going for Escobar. Tony takes Escobar to the ring with his crowbar intact where Escobar catches Tony with a knee. Both men are down now. Escobar's knuckles are also thrown into the ring. Escobar goes to pick them but get slammed by the crowbar by Tony. Tony gets a pin easily after that.
Winner – Tony D'Angelo
Escobar and Legado Del Fantasma are in shock as Tony celebrate his win and leaves. Escobar is barred from NXT and Tony keeps Legado Del Fantasma in The D'Angelo Family.
Mandy Rose(c) vs Zoey Stark – NXT Women's Championship
Stark starts with punches. She goes for her finisher early but Rose blocks it. Stark keeps up with the quick attack and Rose rolls to the floor. Stark hits a basement slide. Rose then sends her over the announce table. Rose drops Stark's injured knee on the announce table. We cut to a break.
We return to see Jacy Jayne and Gigi Dolin being booted from the ringside. Nikkita Lyons runs out to start a brawl with them. Rose hits a chop block on Stark's knee and continues to work on it. Rose puts on a single leg crab. Stark tries to go for the ropes but Rose brings her back to the middle. Stark rolls over and kicks Rose away. Stark hits her with a knee, a punch, and a couple of clotheslines. Stark hits elbows in the corner. She hits a kick to her head to get a two-count. Rose counters by dropping her on her head to get a two-count.
Stark hits her finisher but it does not connect clean and she lands on her injured knee. Stark is late in going for the cover and Rose rolls to the floor. Rose trips Stark on the ropes now. Stark counters and gets a two-count with a roll-up. Rose hits a running knee but Stark kicks out of the pin. Rose removes Stark's knee brace and puts it on her knees. Rose hits a running knee with the knee braces on to get the pin.
Winner – Mandy Rose
Bron Breakker(c) vs JD McDonagh – NXT Championship
Breakker pushes JD to the mat after the bell. JD takes him to the corner and works on the shoulder. JD goes for the monkey flip but Breakker holds on his arm. JD nails him with an elbow to break the grip. Breakker hits a delayed vertical suplex before whipping JD to the corner. He pushes JD off the apron. JD tries to catch him on the ropes but Breakker was ready for it. Breakker picks him up by his arm. Breakker then hits a belly-to-belly suplex and a moonsault to get a two-count. They run the ropes and Breakker takes JD down with a trip. Breakker throws him to the floor as we cut to a break.
Breakker has JD on the top but JD counters. JD unloads on Breakker on the mat. He puts on shoulder stretch and Breakker reaches the ropes to break it. JD puts on a chinlock now. Breakker hits a jawbreaker to break it. Breakker hits clotheslines, shoulder tackles and a spinebuster. JD avoids him in the corner and sends Breakker into the ring post. JD puts on STF now. Breakker reaches the ropes again.
Breakker hits an avalanche hurricanrana to get a close two-count. JD nails him with a kick to the chest when he was on the top. JD hits an avalanches Spanish Fly and a brainbuster to get near fall. Breakker avoids moonsault and hits a spear. JD rolls to the floor to avoid the pin. Breakker brings him back in and hits another spear. JD is smilling though and this pi**es off Breakker. He hits two more spears to get the pin.
Winner – Bron Breakker
Tyler Bate, the NXT UK Champion, comes out after the match. He have a face off with Breakker in the middle of the ring. They both raise their titles to close the show.