WWE Money in the Bank 2023 Results Live & Updates From London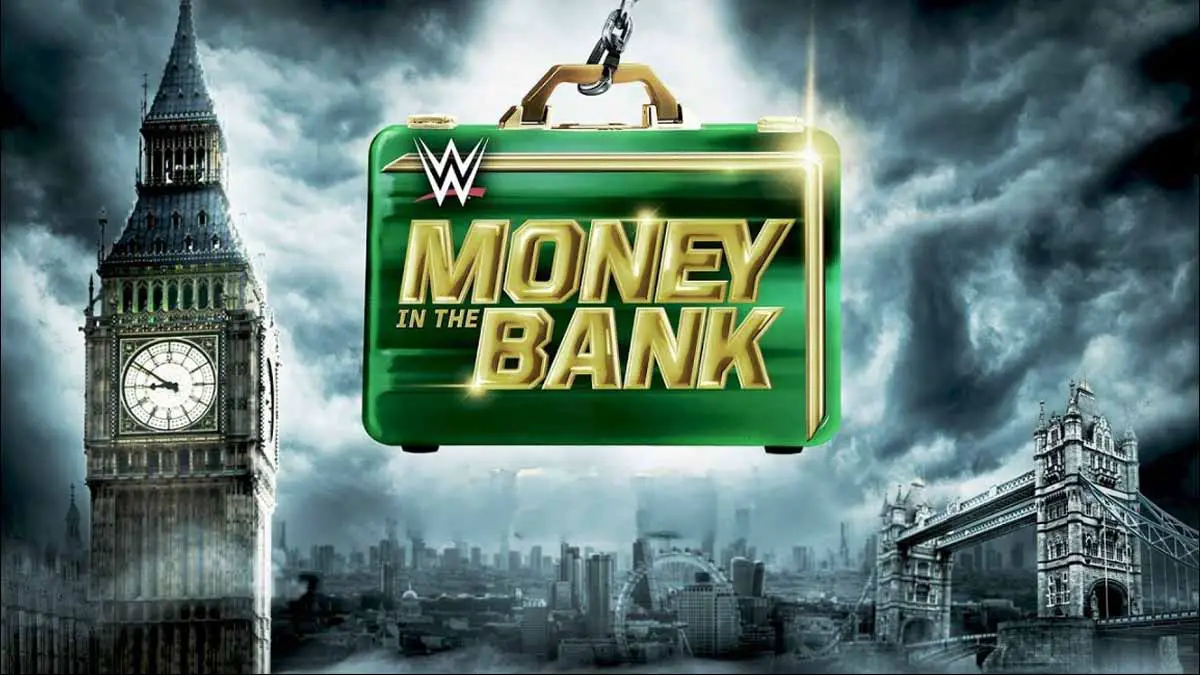 Welcome to the live results blog from WWE Money in the Bank 2023 event. This year's show was set to be the biggest Money in the Bank event so far as it aired live from London, UK.
Men and Women's Money in the Bank ladder matches were set to be the focal point of the show, as the name goes. Men's MITB lineup had Logan Paul, LA Knight, Ricochet, Butch, Shinsuke Nakamura, Damian Priest and Santos Escobar. Women's MITB lineup had Bayley, Iyo Sky, Becky Lynch, Trish Stratus, Zoey Stark and Zelina Vega.
The drama around the Bloodline was also set to continue as the civil war saw Roman Reigns and Solo Sikoa facing The Usos in the main event. Seth Rollins and Finn Balor clashed over a World title once again after a gap of 7 years with Seth's World Heavyweight Championship on the line. Cody Rhodes vs Dominik Mysterio was the third advertised main event.
Matt Riddle challenged WWE Intercontinental Champion Gunther. Liv Morgan and Raquel Rodriguez challenged for a title they never lost as they faced Ronda Rousey and Shayna Baszler for Undisputed Women's Tag Team Championship.
Check below for results from WWE Money in the Bank 2023 PLE with live updates, winners and highlights from the show.
RESULTS
Damian Priest defeated Ricochet, Shinsuke Nakamura, LA Knight, Santos Escobar, Butch & Logan Paul to win Men's Money in the Bank Ladder Match.
Liv Morgan & Raquel Rodriguez defeated Ronda Rousey & Shayna Baszler(c) in a tag team match via pinfall to win WWE Women's Tag Team Championship.
Gunther(c) defeated Matt Riddle in a singles match via submission to win WWE Intercontinental Championship.
Cody Rhodes defeated Dominik Mysterio in a singles match via pinfall.
Iyo Sky defeated Zelina Vega, Becky Lynch, Zoey Stark, Bayley & Trish Stratus to win Women's Money in the Bank Ladder Match.
Seth Rollins(c) defeated Finn Balor in a singles match via pinfall to retain World Heavyweight Championship.
The Usos(Jimmy Uso & Jey Uso) defeated Roman Reigns & Solo Sikoa in The Bloodline Civil War tag team match via pinfall.
LIVE UPDATES
The pre-show is live with Jackie Redmond, Matt Camp and Peter Rosenberg. Jackie Redmond is announced to be joining RAW Talk, backstage interviewer for RAW going forward, and will be on every PLE pre-show going forward. Men's Money in the Bank match is announced to open the show. We get "Money in the Bank By The Numbers" video after they take us through the match card for tonight.
They discuss the women's MITB match first. We get the hype package for Cody Rhodes vs Dominik Mysterio match. Imperium vs Matt Riddle is recapped next before they discuss that match. Next, we hear short promos from all the women in the MITB ladder match. Men's MITB match is discussed next. Seth Rollins vs Finn Balor hype video is aired after this. We get a short discussion on women's tag team title match before getting promos from the men's MITB match participants.
Kayla Braxton goes to Roman's locker room. Paul Heyman answers the door and is in a very damp mood. Heyman says he has never seen Roman like that. Heyman says Roman told him that he will let Solo have The Usos' scraps and will even throw some scraps to the wiseman also. Heyman says Roman will wipe The Usos off WWE, and it ain't gonna be PG. The Usos will be shifted out of WWE permanently. The panel discusses the Bloodline Civil War match to close the pre-show.
---
The main show opens with a James Bond style video package which later shows some vignettes of the storylines for tonight.
Ricochet vs Shinsuke Nakamura vs LA Knight vs Santos Escobar vs Butch vs Damian Priest vs Logan Paul – Men's Money in the Bank Ladder Match
UK's own Butch is the first one to come out. Sheamus and Ridge Holland accompany him until the stage. Shinsuke Nakamura gets a huge ovation as he makes his grand entrance. Escobar, Damian Priest and Ricochet follow them out. LA Knight also gets huge cheers as he walks out. Logan Paul is the last one to come out.
Everyone surrounds Logan as the match starts and beat him up. Butch clotheslines him out to the floor and a brawl breaks out. Escobar hits dropkick on Priest. Butch pulls him out. Logan get a ladder into the ring but Nakamura boots him to the corner. Priest nails Nakamura with a roundhouse kick. Priest hits Nakamura with a ladder to push him to the floor. Butch, Ricochet and Escobar trap Priest in the corner and beat him up. Knight hits a BTF on Butch after sending others to the floor. Nakamura hits a roundhouse kick on Knight.
Nakamura hits knee dive on Priest who is still trapped in the corner. Ricochet comes in but Butch works with Nakamura to send him to the floor. Butch and Nakamura trade shots. Escobar hits a crossbody on Nakamura before a hurricanrana on Butch. Logan sends Escobar into a ladder in the corner. He climbs a ladder but everyone brings him down again. Butch sets up a few tables on the floor. Butch brings out a cricket bat and slams others with it. Priest pulls Butch down from a ladder. Butch sends him to the floor but Priest pulls him out also and nails him with a big right.
Priest goes to punch Logan but Logan talks him into working together. Logan and Priest set up a couple of tables. Priest hits a shot at Butch on the floor. Priest nails Logan with an uppercut and throws him over the steel steps. Escobar hits a suicide dive on Priest. Knight and Ricochet are in the ring. Ricochet dives through a ladder to bring down Nakamura and others. Logan stops Knight from climbing. He uses a ladder to keep Butch out. Logan jumps on Priest but Priest counters wth an uppercut. Priest bridges a ladder between steel step and apron. Butch stops his move on Logan.
Nakamura sets up Priest on the ladder, but Logan trips him to send him face-first onto the steel steps. Logan hits splash on Priest on the ladder. Nakamura and Ricochet get a ladder into the ring before engaging in a fight. Nakamura hits a sliding German suplex off a ladder. Knight comes in and Nakamura hits him with a DDT. Nakamura gets to the top. Escobar also gets up to the top. Nakamura puts on an armbar on Escobar through the ladder. Escobar breaks it but Butch climbs up and puts on a chinlock to bring him back down on a ladder bridged on the second rope. Ricochet hits a springboard senton on Butch and Escobar on the ladder.
All 7 men are back in the ring to start a big brawl again. Priest hits a flatliner on Butch. Priest climbs to the top. Knight hits a back suplex to bring him down. Logan hits a blockbuster on Knight. Ricochet hits shooting star press on Logan. Escobar hits Death Valley Driver on Ricochet. Nakamura hits a diving knee on Escobar. Butch pulls Nakamura out to the floor. He climbs to the top of the ladder on the floor. He hits a moonsault to take out everyone. Logan hits a big punch on Butch to stop his climb. He also fights off Ricochet. Escobar tries to stop Logan and hits a single-leg dropkick. He hits a running knee next. Escobar climbs up to the top now.
Nakamura pulls him back before climbing to the top himself. Escobar climbs up from the other side. Knight brings in a ladder and uses it to hit Nakamura. He hits punches on Escobar after climbing a ladder in parallel. Escobar hits Knight with a hurricanrana off the ladder. Nakamura and Escobar climb up again. Logan and Ricochet jump on these ladders to make it 4 men fight. Escobar and Nakamura are sent down as their ladder is tripped. Knight is kicked away by Paul and Ricochet before he pushes their ladder. They land on the ropes and Ricochet hits a Spanish fly to take Logan through a couple of tables on the floor.
Butch and Knight fight on the top. Butch snaps Knight's arm to send him down tumbling. Priest climbs up and sends Butch falling down into a ladder. Knight pulls Priest down and throws him to the floor. Priest hits BTF on Escobar next. He also throws Nakamura to the floor. Priest comes back and stops Knight from winning. He hits Broken Arrow on Knight to send him down. Priest climbs and pulls down the briefcase for the win.
Winner – Damian Priest
Ronda Rousey & Shayna Baszler(c) vs Liv Morgan & Raquel Rodriguez – WWE Women's Tag Team Championship
The champions walk out first with rapid pace. Raquel walks out first for the challengers before Liv joins her at the stage. Liv is dressed as one of the spice girls. Liv starts against Baszler who puts on an arm wringer before starting to work on the shoulder. Liv avoids a stomp on the shoulder and hits a dropkick. She hits a hurricanrana next before knocking her off the apron with a springboard kick. Ronda comes in but Raquel clotheslines her to the floor. Raquel throws Liv on their opponents.
Liv brings in Shayna as she goes to the top. Ronda runs a slight distraction that allows Shayna to pull her down. Shayna hits a stomp on Liv's shoulder. Ronda comes in and hits judo throws by her shoulder. Shayna tags in to hit a running kick. Shayna puts on a shoulder lock now. Liv breaks free with an armdrag. Shayna blocks the tag out. Liv hits her with a kick. Liv kicks her away when she tries to stop her. But Ronda quickly tags in and puts on an ankle lock.
Liv rolls over and gets a two-count on Ronda before quickly tagging in Raquel. Raquel hits clotheslines on both opponents before hitting fallaway slams on them. Ronda meets Raquel at the top and puts on an armbar on the ropes. Raquel counters it with a powerbomb off the top rope. Shayna breaks the pinfall. Liv and Shayna get the tags, but Shayna is quick to bring her down in a kimura lock. Ronda kicks Raquel out of the ring and puts on an ankle lock on Liv. Raquel breaks the submission. Liv hits a step up enzuigiri on Shayna.
Ronda pulls Raquel down off the apron and sends her into the ring post. Shayna counters Oblivion with a German suplex. Shayna puts on a Kirifuda clutch. Liv is in peril but manages to break free. Ronda tags in. However, Shayna attacks Ronda from behind and puts her in Kirifuda clutch. Ronda is in shock and so is Liv. Shayna walks out on Ronda after hurting her. Raquel tags in and hits Tahana Bomb. Liv hits Oblivion to get the pinfall.
Winner – Liv Morgan & Raquel Rodriguez
We get a promo for Summerslam 2023.
---
Senor Money in the Bank Damian Priest is backstage for an interview. He says he is sure that he will be a champion whether it will be Intercontinental, US, World Heavyweight or Universal Champion.
Gunther(c) vs Matt Riddle – WWE Intercontinental Championship
Riddle walks out first. Kaiser introduces the champion as he comes out. The bell rings and Gunther takes Riddle to the corner quickly to hit a chop. Riddle goes for Kimura lock but Gunther hits him with a body slam. Riddle gets him in an armbar on the ropes and has to let it go before 5-count. Gunther drops him with a big chop. More chops follow. Riddle hits some quick punches before a jumping knee in the corner. He hits a running elbow in the corner. Gunther goes to chop him but Riddle drops down to attempt a knee bar.
Gunther hits him with punches to block that move. Riddle hits punches and sidekicks next. Gunther catches his leg and drops him with a dragon screw leg. Gunther unwraps the tape on Riddle's ankle and starts working on the ankle. Riddle hits the final flash knee, but Gunther is quick to come back. Riddle hits some kicks quickly to bring Gunther down. Riddle goes for Broton but Gunther counters with a sleeper choke. Gunther hits a German suplex. Riddle lands on his feet, but his knee gives out.
Gunther hits a clothesline, but Riddle kicks out of the pin. Riddle hits knee strikes before hitting broton. He hits a moonsault off the top to get a near fall. Riddle hits another knee strike, but Gunther hits him with a clothesline. Gunther jumps off the top, but Riddle turns it into an arm triangle. Gunther counters it with a powerbomb. Riddle kicks out, but Gunther turns it into a Boston Crab. Riddle kicks at his face. Gunther hits punches on Riddle's ankle and then puts on an Achilles lock to get a quick tapout from Riddle.
Winner – Gunther
Just as Gunther gets his belt and poses, Drew McIntyre's music hits and he makes his way out. Gunther invites him to the ring and they stand face-to-face. Gunther pushes him away. Drew hits a Glasgow Kiss and a Claymore kick. McIntyre poses with the Intercontinental title to close the segment.
---
We get a promo for NXT Great American Bash 2023.
Dominik Mysterio vs Cody Rhodes
Dominik comes out with Women's World Champion Rhea Ripley. Cody Rhodes walks out to Kingdom and the crowd is singing for him. Rhea tells Dominik something on the floor before Dominki gets into the ring. The crowd is truly behind Cody. Dominik poses in the corner to draw more heat.
Dominik catches Cody with a quick shot as he plays cat and mouse game. Dominik rolls out to the floor after missing a shot. Cody chases him and Dominik baits him back into the ring to hit a big slap. Cody rips out the cast on his arm. Dominik runs away but Cody chases him and brings him back into the ring to hit some quick kicks. Rhea talks trash from the floor. Cody hits a running powerslam. Dominik slips out of Crossrhodes and down to the floor. Dominik leaves into the crowd. Cody brings him back.
Dominik gets out of the ring again. Cody goes for a suplex but Dominik slips out. Rhea engages Cody in trash talk. Dominik tries to expose a turnbuckle and the referee gets engaged with it. Rhea sends Cody into the steel steps before Dominik hits a suicide dive on him. Dominik is in control of the match now. He slams Cody's face on the announce table a few times. Cody beats the countdown, but Dominik hits him with some punches. Dominik lands on his feet on a suplex. He hits a running shoulder tackle before putting on a chin lock.
The crowd is singing "Cody Rhodes". But Dominik hits three amigos suplexes. Cody blocks the third suplex and hits one of his own. Cody hits a clothesline and a snap powerslam. Cody screams out before hitting a disaster kick to get a two-count. Rhea gets on the apron to stop Cody Cutter. Dominik rolls up Cody for a two-count. Dominik hits a dropkick to set up 619, but Cody blocks it. Cody gets Dominik on his shoulder and swings him around before hitting an Alabama Slam. Cody hits Cody Cutter and Crossrhodes to get the pinfall.
Winner – Cody Rhodes
John Cena!
John Cena's music hits out of nowhere and he comes out ot the ring. Cena takes the mic and says, "surprise". He says he is the one who is surprised now as the crowd here used to sing "John Cena Sucks", but they are singing "My Time is Now" this time. Cena wonders what took WWE 20 years to host a PLE in London. He says it was not upto him and upto the decision makers who think this is a hostile environment and take over the show. Cena pumps them up and the fans are the show and are taking over.
Cena then asks why is here. The crowd chants, "One More Time". Cena says he is here for the fans in London. He says he wants the world to know that the fans are underappreciated. He is big on respect and the fans have earned his respect. "Thank You, Cena" chants from the fans. Cena says UK fans are the best, and he is here to try to bring WrestleMania to London. He is here not for one more match, but he is here to tell people backstage and let them hear and feel what WrestleMania is going to sound like in London.
Grayson Waller's music hits and he comes out. Heavy boos on this interruption. Waller says he loves Cena and names his movies. The crowd is booing him hard with "Shut the F##k up" chants. Waller says he loves Cena's Hustle, Loyalty and Respect part. So, he is disappointed that Cena is giving them false hope about WrestleMania. He trash-talks London and plays to the "this crowd is hostile" part. He says WrestleMania should go to somewhere with nice weather in Australia.
The crowd chants, "Fight Him". Waller starts to talk about Cena's last match losing to Austin Theory, and to The Fiend before that. Waller says all Cena needs is a viral moment. And for that, he asks him to be the superman this time and save his career. He pitches the greatest Grayson Waller Effect with John Cena in Australia. Cena says he will pass and starts to walk out. Waller stops him and tells him that nobody say no to Grayson Waller. Cena says he will take some time for his friend. He turns around and says WrestleMania needs to come to London. Waller attacks him from behind and brings him down. Waller showboats a bit. Cena picks him up and hits an F5. Cena makes his way back.
Zelina Vega vs Becky Lynch vs Zoey Stark vs Bayley vs Iyo Sky vs Trish Stratus – Women's Money in the Bank Ladder Match
Bayley and Iyo are the first two to come out. Zelina comes out followed by Zoey Stark and Trish Stratus. Becky is the last one to come out. Trish sends Zoey to attack Becky on the floor. Trish also joins her to attack Becky and send her into the ladder. Bayley and Iyo fight Zelina in the ring. Zelina hits Meteora on Bayley. Iyo drives a ladder to slam Zelina into the mat. Trish and Zoey start to fight Damage CTRL. Bayley is sent into the barricade. Iyo kicks them. Zoey gets her on her shoulders before dropping her on the ladder.
Becky comes in but is quickly dropped by Trish and Zoey. The pair goes to set up a ladder but Damage CTRL get into the ring to fight them. Zelina comes in and fights Iyo. Bayley brings in a big ladder meanwhile. Zelina fights out of Iyo in the corner and hits a dropkick on Bayley. She hits comes kicks to keep Iyo away from the ladder. Bayley and Iyo finally bring her down. Iyo and Bayley try to set up the ladder to their advantage, and that allows Becky to hit a dropkick on Bayley. She sends Iyo to the floor.
Zoey comes in and Becky uses the ladder to attack her. Becky puts on Disarmher on the ladder. Trish comes in and slams Becky into the ladder. Iyo and Trish climb. Trish hits Trish kick to drop Iyo off the ladder. Zelina has setup a ladder in parallel and starts to fight Trish. Zelina uses Trish as the bridge to get to the top but Zoey brings her down. Becky climbs to the top but Bayley pulls her down and hits an elbow drop. Iyo climbs to the top. Zelina and Zoey pull her ladder away from position. Iyo then decides to hit a moonsault to bring everyone down.
Trish gets back into the ring and climbs the ladder. Becky is also on the top of the ladder in no time and they exchange blows. Zoey also comes up but Becky kicks her off the ladder. Trish's face is slammed to the ladder. Becky hits a crossbody on Zoey. Zelina hits a crossbody on Becky. Zelina kicks Bayley and Iyo off the apron. Trish and Becky have to work together to hit a powerbomb on Zelina to stop her on the ladder. Becky punches Trish in quick succession before sending Trish into the turnbuckle.
Damage CTRL brings another ladder and bridges it with the rope and a ladder. Trish hits Stratusfaction on Bayley on the ladder. Zoey pulls Becky to the floor and hits a superkick. Trish and Zoey work on Becky. Zoey tries to handcuff Becky but Becky avoids the disaster with quick punches. Zoey slams her face onto the announce table. Zoey is sent face-first onto the ladder by Becky. Becky bridges a ladder between the announce table and the apron. Becky hits Manhandle Slam on Trish on the ladder. Zoey hits a blockbuster on Becky after jumping off the ladder.
Zelina and Zoey are on the top of the ladder now. Zelina hits Code Red from the top onto another ladder set up between the ropes and ladder. Iyo climbs to the top of the ladder but Bayley pushes the ladder off to knock her off. Bayley sets up the ladder for herself and climbs to the top. Becky also gets to the top and pulls her down. Iyo helps out Bayley to engage Becky. Iyo ends up handcuffing Becky and Bayley with their hands in between the ladder. Iyo climbs to the top and pulls down the briefcase to get the win.
Winner – Iyo Sky
Iyo sits at the top of the ladder while Becky and Bayley are still trapped in handcuffs below her with the same ladder.
Seth Rollins(c) vs Finn Balor – World Heavyweight Championship
Balor comes out first. No one from Judgment Day is with him. Seth Rollins comes out and the crowd keeps singing for him. The signing starts once again when Rollins' name is announced. Seth's ribs are tapped. Seth ducks Balor and gets him down with double leg for some ground and pound. Balor punches on his ribs to stop Rollins for a while but Rollins quickly clotheslines him to the floor and hits a suicide dive. Balor gets him down on the apron but Rollins hits back quickly. Seth sets up and hits a leg drop on the ropes. Quick back-and-forth blocks before Balor hits a double foot stomp on Rollins' ribs.
Balor targets the ribs with more punches before putting on a chinlock. Rollins gets to his feet but Balor puts him down once again. Balor ties him to the ropes and stretches his back. Balor hits a running boot to send Rollins to the floor. Balor stomps on Rollins on the floor. Balor backs Rollins into the corner after taking him back to the ring. Balor hits a spear after a hard whip to the other corner. Rollins hits a boot after another hard whip. Rollins hits a blockbuster on Balor, but it also hurts his own ribs.
They trade some shots before some Kawada kicks from Rollins before a kick to the spine and a running kick. Rollins looks for the stomp but Balor counters for a two-count. Balor hits inverted DDT to get a two-count. Rollins talks some trash and Balor trips him to hit some ground and pound punches. Rollins hits back with some quick shots and a rolling elbow. Rollins hits a buckle bomb. Balor gets his knee up on a frog splash to hurt Rollins' ribs some more.
More back-and-forth action. Rollins blocks a Pele kick and hits a pedigree to get a near fall. The crowd cheers as Damian Priest comes out with the MITB briefcase. Rollins gets distracted and Balor rolls him for a two-count. Rollins hits a superkick to send Balor to the floor. Rollins goes and faces off with Priest. Priest gets a chair and sits. Balor catches Rollins with a shotgun dropkick on the floor.
Balor hits a Coupe de Grace from the announce table before another Coupe de Grace from the steel step. Balor takes Rollins back to the ring to hit another shotgun dropkick. Balor goes to the top but gets distracted when Priest gets up. Rollins avoids a Coupe de Grace and hits the stomp quickly to get the pinfall.
Winner – Seth Rollins
After the match, Seth walks away while Balor and Priest argue with each other.
---
We get a video package for 25 years of Edge in WWE.
---
WWE Tag Team Champions Kevin Owens and Sami Zayn are in the sky box. Kayla Braxton goes to them for an interview. Owens says it is pretty great to be in London. He talks about MITB winners and new women's tag team champions. Kayla asks about the Bloodline Civil War. Sami says he has been wanting to see this match for a long time, and he hopes Roman gets exactly what's coming for him.
Roman Reigns & Solo Sikoa vs The Usos(Jimmy Uso & Jey Uso) – Bloodline Civil War
The Usos are out first. Roman Reigns makes his long entrance with Solo Sikoa and Paul Heyman. The referee is keeping Roman apart from the Usos as he poses with his title. Some trash talk from The Usos side. The crowd is chanting explicits for Roman. Solo and Jimmy start the match.
Solo keep staring at Jimmy for a while before they lock up. Solo pushes Jimmy back. They lock up again and Solo hits a powerslam quickly. Jimmy and Jey discuss something. Jimmy ducks Solo and hits some chops. Solo hits more chops now. Solo hits a big boot but Jey takes a cheap shot at him from the apron. Jey tags in for some quick double-team attacks. Roman asks him to tag in.
Roman comes in and faces off against Jey. Roman hits a shoulder tackle on Jey. He goes to trash talk with Jimmy. Jey hits back with punches, but Roman hits an uppercut to get a two-count. Roman has Jey down on his knees. Jey hits a back elbow. He tags in Jimmy Usos for some double-team action. Roman rolls to the floor to avoid a superkick.
Roman gets back to the ring after a while and unloads punches in the corner. Jey hits back with a uppercut. Jey gets to the second rope and unloads some punches. Roman runs him over. He distracts the referee to allow Solo to choke Jey. Solo tags in and puts on shoulder stretch. Jey fights back with a jawbreaker. He tags in Jimmy for some double team. Solo hits a big uppercut to counter.
The crowd is trash-talking Roman some more. Roman asks Heyman why he is there in London. Solo manhandles Jimmy some more. Roman tags in and hits a driveby dropkick. Roman hits a kick back in the ring. He hits a clothesline before more corner clotheslines and slams on his chest. Solo holds onto Jimmy's shoulder. Jimmy gets to his feet but Roman keeps him away from Jey. Jimmy lands on his feet on a suplex. Roman tries to pull his legs but Jimmy kicks him away. Solo pulls Jey off the apron to stop a tag from Jimmy. Solo runs over Jey on the floor.
Back in the ring, Roman misses a Superman punch and Jimmy tackles him to the floor. Tags to Jey and Solo. Jey comes in hot and hits quick moves on Solo. Jey hits hip attack in the corner after some more quick kits. Roman takes a blind tag but Jey clotheslines him to the floor. Jey hits a suicide dive on Roman before Roman catches him on the ropes with a Superman punch. He hits another Superman Punch in the ring. Jimmy tags in and hits double spear with Jey while Roman getting ready for a spear himself.
Solo breaks the pin. Both teams get up and face off before starting a brawl. Solo and Jey fight to the floor while legal men fight in the rig. Roman hits a Superman punch but Jimmy kicks out of the pin. Jimmy blocks a spear with a superkick. Jimmy goes for a splash but Roman counters it with a Guillotine choke. Jimmy seems to be fading. The referee checks on him and Jimmy overpowers him. Jey tags in and Roman nails him with an uppercut.
Jimmy tackles Roman into the referee to send him tumbling down to the floor. The Usos hit 1D but there is no referee. The Usos for The Usos Splash but Solo pushes Jey off the top. Solo also fights Jimmy. Solo takes Jimmy while Roman takes Jey to hit Urinage. Solo hits Samoan Spikes on both men. The referee comes back in and Solo stacks The Usos. Roman goes for the cover but The Usos kick out.
Solo hits more punches and sends Jimmy into the steel steps. Solo hits a superkick on Jimmy to set him up on the announce table. Solo hits a running splash but Jimmy moves away from the announce table. Roman is in shock watching this. Jey hits a superkick but Roman slingshots with Superman punch. Jey hits another superkick and Roman comes back with a spear. Jey kicks out of the pin. Roman is shocked once more. Jey actually hits a lowblow in that kick out. The Usos batter Roman with superkicks. They also hit Solo with a superkick. Jey hits a splash from the top to get the pinfall.
Winner – The Usos
This is the first pinfall on Roman since December 2019. Paul Heyman is shocked. The Usos stand tall in the ring to close the show while Roman is down on the floor, clutching his head in his hands.