WrestleMania main event match changed to Winner Takes All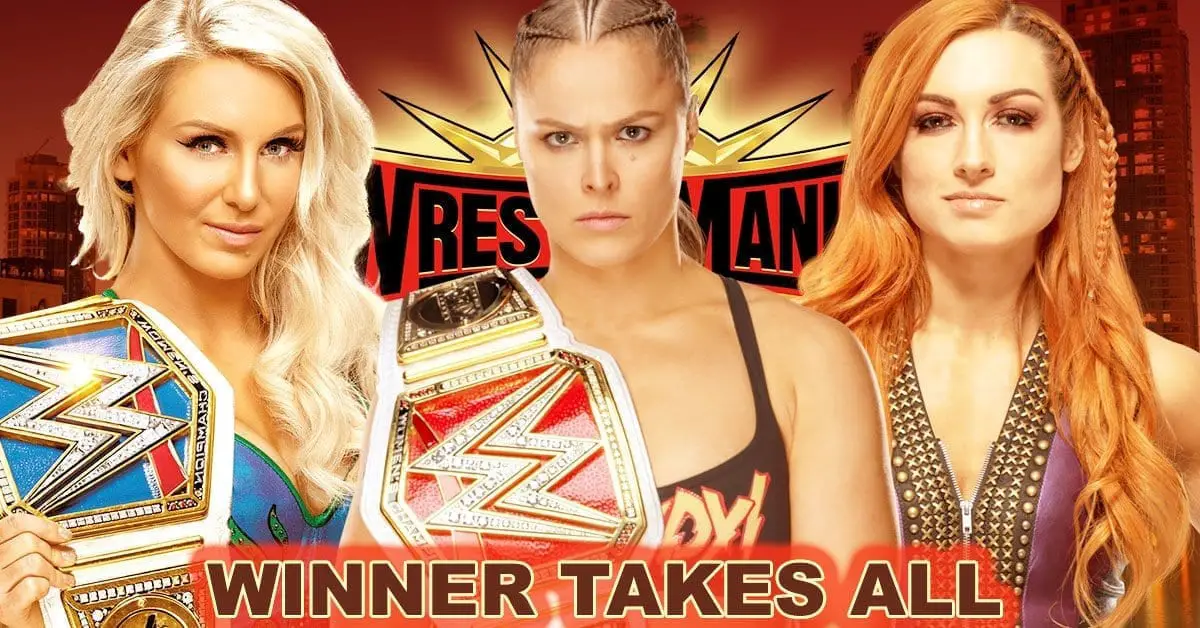 As promised earlier in the day, Stephaine McMahon came out to open RAW episode tonight and went on announce that the main event match at WrestleMania will be the winner takes all match between Ronda Rousey, Becky Lynch and Charlotte Flair with the winner taking home both the RAW and SmackDown Women's Championship Title.
Ever since its announcement on the night after Royal Rumble, the match has gone through so much swerves with the (kayfabe) multiple suspensions to Becky Lynch, addition of Charlotte Flair into the match by Vince McMahon, Ronda threatening to relinquish the title and the latest change with Charlotte Flair becoming the new SmackDown Women's Champion out of nowhere. But despite the convoluted storyline, the momentum with the story was enough to make it the first ever Women's match to become the main event at WrestleMania.
The Winner Takes All stipulation increases the stakes for the first ever Women's Main Event Match in the WrestleMania history. With the belief that Asuka taking on some other women star is not going gain any traction, WWE has decided to make the triple threat match an even bigger event. Although, it is not announced exclusively that WWE will have only one champion in the women's division, but that certainly seems to be the direction the promotion is going. Sasha Banks and Bayley don't exclusively put the Women's Tag Team Championships against Raw wrestlers, so perhaps WWE might have female stars cross over between Raw and SmackDown more.
You can check out our WrestleMania center- a one-stop center for all things related to WrestleMania.