WWE WrestleMania Backlash 2021 Match Card(Updated)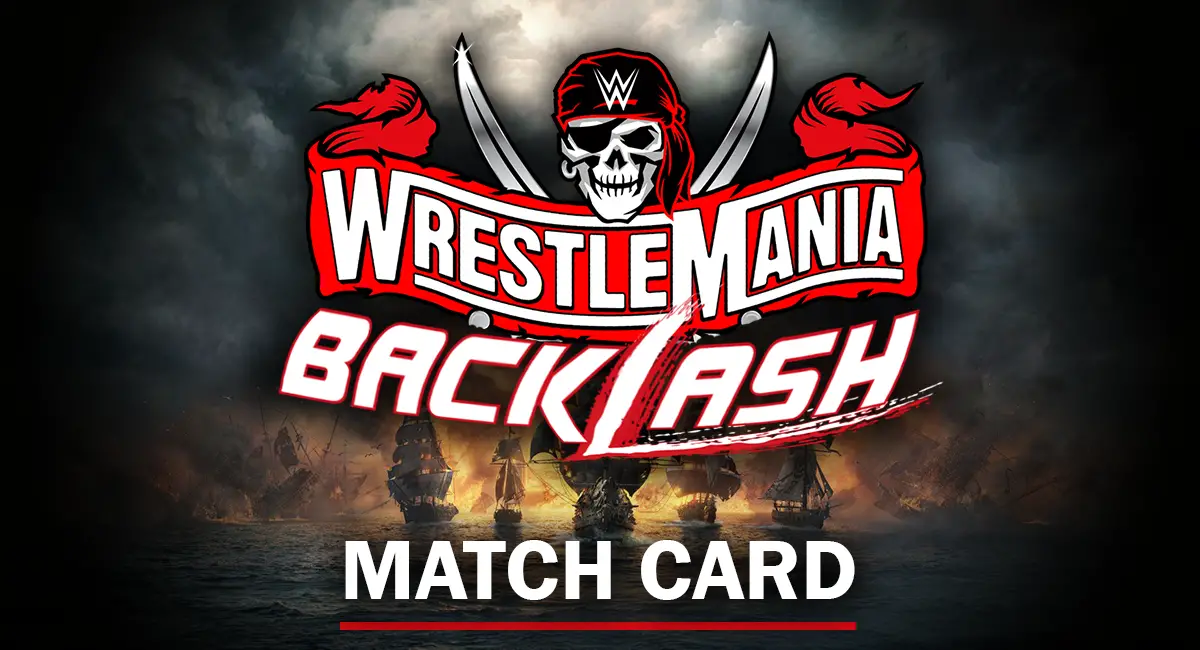 WWE WrestleMania Backlash 2021 PPV is the first WWE PPV taking place after WrestleMania 37 and will deal with the fallout from that event. The show will air on 16 May 2021 from 7 PM EST and is likely to have 7/8 matches including several title matches.
3 title matches are announced for the show as of now. The rest of the matches will be announced in due time and we will be updating the complete WrestleMania Backlash 2021 match card here below.
Bobby Lashley(c) vs Drew McIntyre vs Braun Strowman – WWE Championship
Bobby Lashley attacked Drew McIntyre(then WWE Champion) after the WWE Title Elimination Chamber match. This helped Miz to cash in Money in the Bank briefcase and win the WWE Championship. Lashley then faced Miz as per a pre-arranged agreement and won the WWE Championship.
Later, Lashley was announced to defend the title against Drew McIntyre at WrestleMania 37. Lashley called out a bounty on McIntyre and said he will give WWE title shot to anyone who is able to take out and defeat McIntyre. Mustafa Ali, Ricochet and Baron Corbin took the bet but were unable to defeat McIntyre. At WrestleMania, McIntyre got distracted by MVP to miss Claymore and Lashley capitalized by putting him in the Hurt lock to pass him out and win the match.
On the RAW after 'Mania episode, Drew McIntyre admitted that he lost focus during the match. McIntyre then won the #1 contender triple threat match by defeating Randy Orton and Braun Strowman to set a rematch with Lashley for WrestleMania Backlash 2021. T-Bar and Mace attacked McIntyre after this match.
Next week, McIntyre faced T-Bar and Mace in a handicapped match and Braun Strowman came out to make the save. Strowman & McIntyre teamed up to face T-Bar & Mace the following week and McIntyre accidentally took out Strowman with a clothesline.
McIntyre asked for a singles match against Strowman. Strowman got a stipulation added that if he beats McIntyre, he would be added to the match at WrestleMania Backlash. Despite interferences from MVP & Lashley, who wanted it to remain a singles match, Strowman was able to beat McIntyre after another interference from T-Bar & Mace.
Roman Reigns(c) vs Cesaro – WWE Universal Championship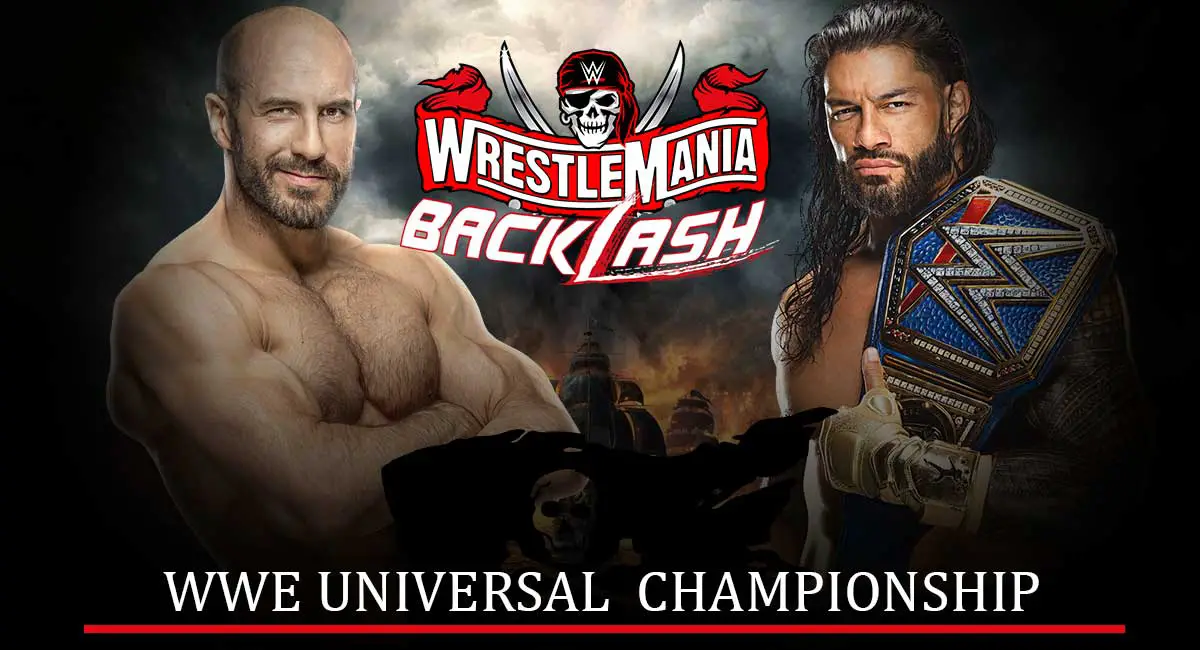 Cesaro asked for an Universal Championship match against Roman Reigns on 16 April episode of SmackDown but instead given a match against Jey Uso. Seth Rollins, who was defeated by Cesaro at WrestleMania 37, attacked Cesaro during that match. Next week, Daniel Bryan came to Cesaro's aid and even pushed to get him a title match. Roman Reigns responded by giving Bryan a title match with the stipulation that if Bryan fails to win the match, he will be barred from SmackDown.
Roman retained the title against Bryan, resulting in Bryan being banned from SmackDown. Cesaro came out to save Bryan from a chair-con-to but failed to do so. Cesaro was supposed to face Seth Rollins on 7 May episode of SmackDown with the stipulation that Cesaro will get Universal title match if he wins. Cesaro defeated Rollins to fix his match against Roman at WrestleMania Backlash 2021. He later attacked Roman, Jimmy & Jey Uso and stood tall over them.
Bianca Belair(c) vs Bayley – SmackDown Women's Championship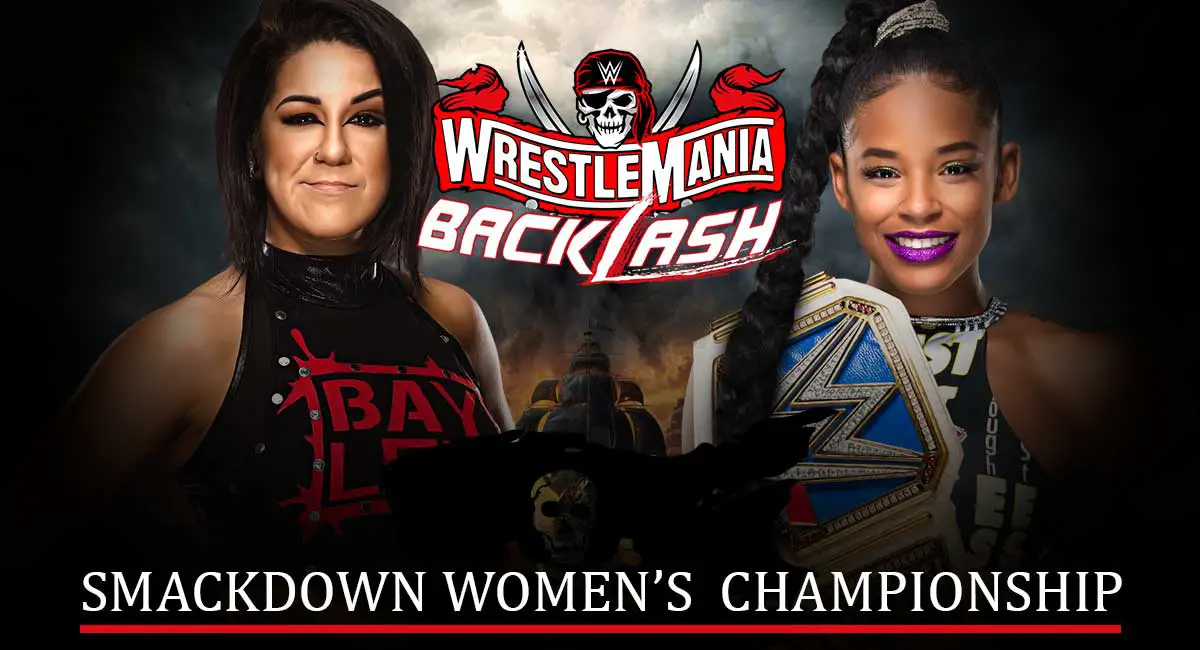 Bianca Belair won the SmackDown Women's Championship at WrestleMania 37. On 16 April 2021 episode of SmackDown, Bayley challenged Bianca for a title match. On 23 April, WWE announced the match between at WrestleMania Backlash event. On 23 April episode of SmackDown, Bayley sarcastically praised Bianca for her win at WrestleMania, leaving Bianca confused, before laughing at her face.
On 30th April episode of SmackDown, Bianca Belair and The Street Profits defeated Bayley and the Dirty Dawgs in a mixed tag team match. Next week, Bayley presented Bianca Belair in her celebration of Women's Champions segment but said Belair is not at her level, just like the rest of them. Belair came out to confront Bayley on her comments. Bayley attacked Beliar and was able to take her down.
Rhea Ripley(c) vs Asuka vs Charlotte Flair – WWE RAW Women's Championship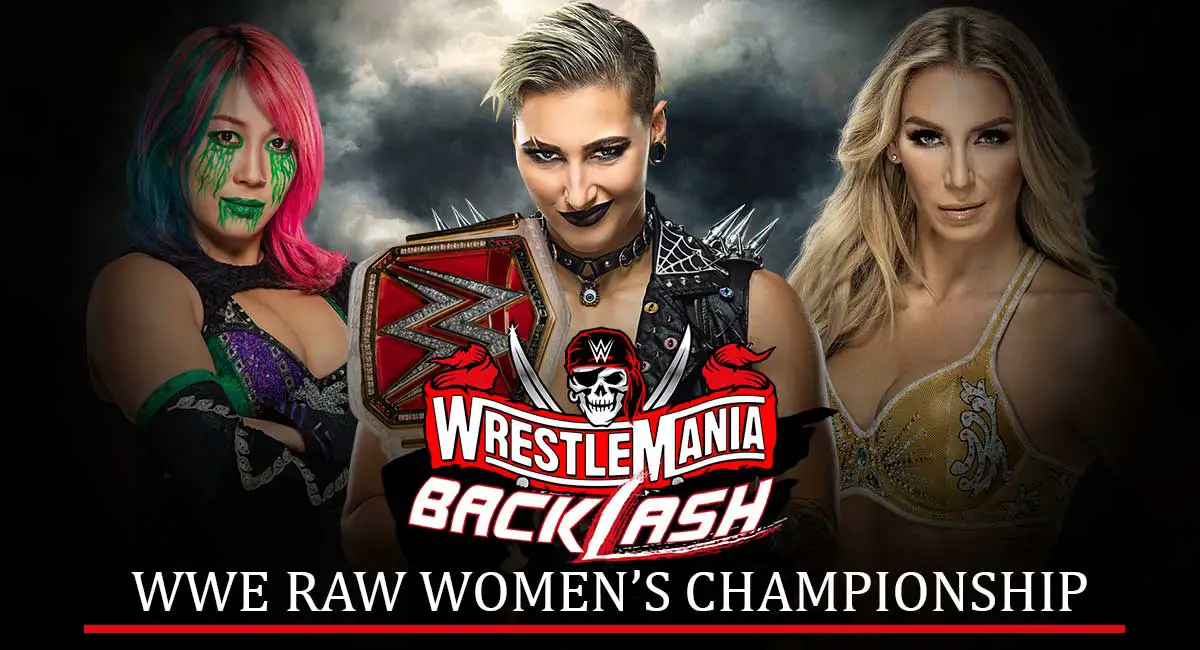 Rhea Ripley defeated Asuka to win the RAW Women's Championship. Charlotte Flair appeared on RAW after WrestleMania episode and addressed how she was left out of WrestleMania and Rhea weaseled her way to the title match. Later that night, Flair interfered in the rematch between Asuka & Ripley.
Next week on RAW, Flair and Asuka faced off in a #1 contender's match for the title. Rhea Ripley cost her the match by pulling her out of the figure eight lock. Asuka ended up winning it by a surprise roll-up. Flair went on and attacked the referee for not catching Ripley's interference. Flair was then suspended from RAW indefinitely.
However, next week she was brought back by WWE Official Sonya Deville who reinstated her Flair apologized to the referee. Prior to 3 May episode of RAW, Rhea Ripley was announced to defend her title against Asuka at WrestleMania Backlash. On the show, Flair made her case with Sonya to be added to the match to which Sonya agreed and turned the match into a triple threat.
Rhea Ripley defeated Asuka in a singles match at WWE RAW episode of 10 May 2021 in a non-title match.
Dirty Dawgs vs The Mysterios – WWE SmackDown Tag Team Championship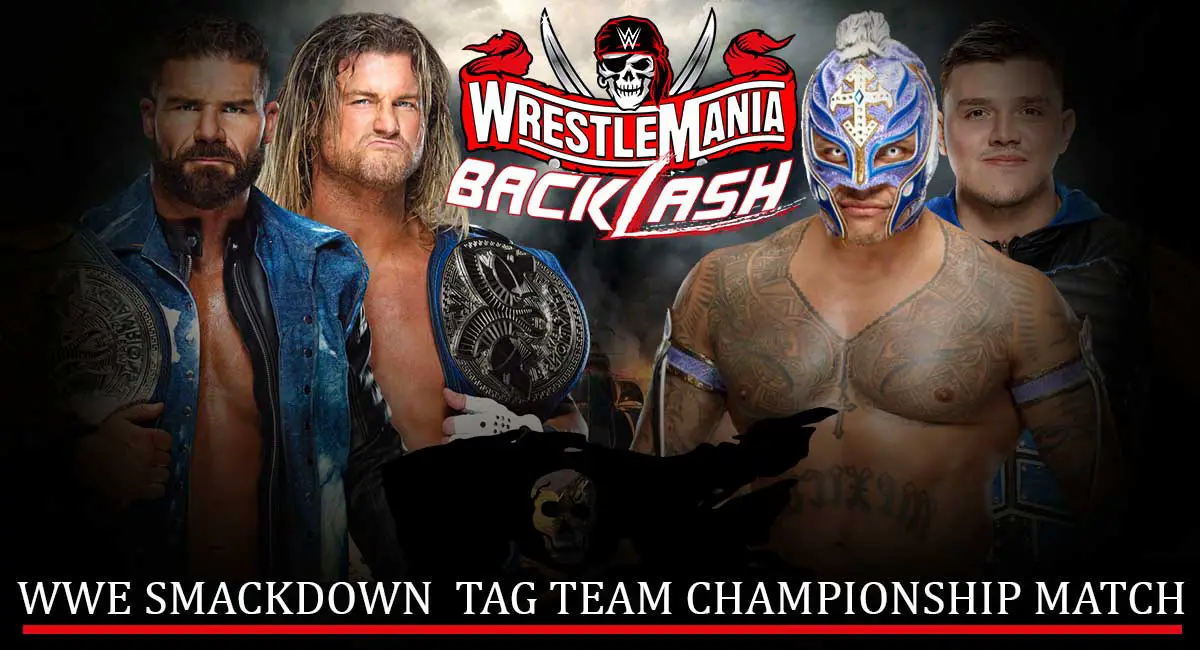 The Mysterios became the #1 contender by defeating the Alpha Academy in a tag team match at SmackDown episode of 30 April 2021. They are getting a title shot at WrestleMania Backlash 2021.
Damian Priest vs The Miz – Lumberjack Match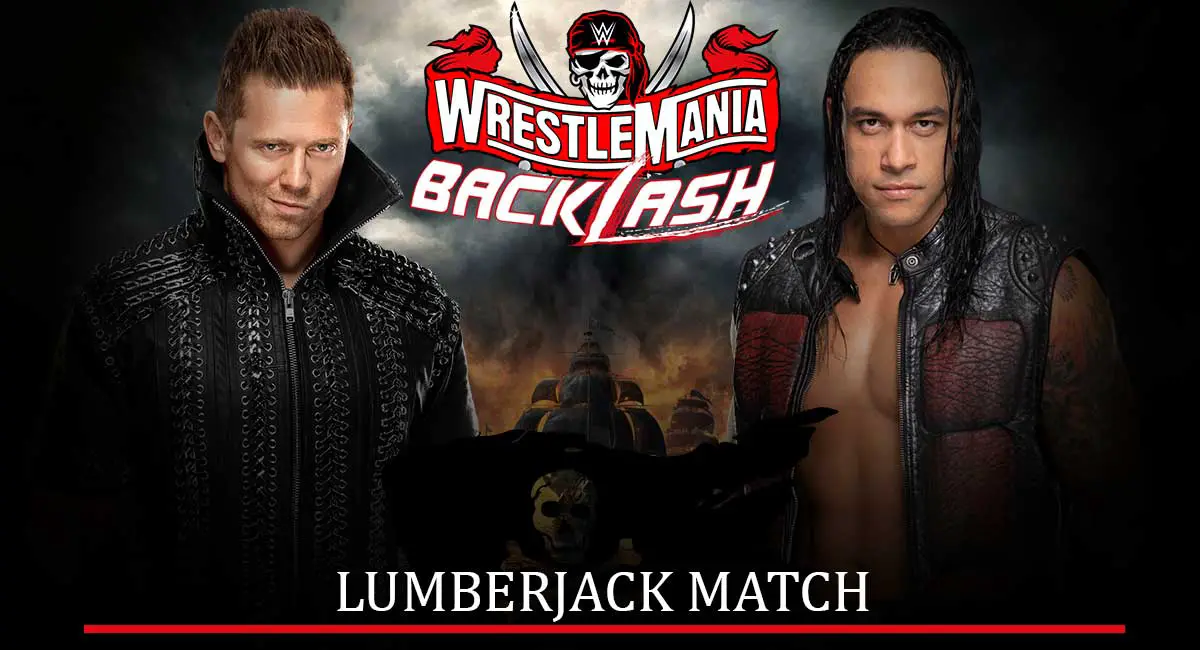 Damian Priest was feuding with Miz & John Morrison ever since his call-up to WWE RAW. Priest proposed a match against The Miz at WrestleMania Backlash. As John Morrison asked for a match against Priest on 10 May episode of RAW, Priest suggested that the winner of this match will choose the stipulation for the match at WrestleMania Backlash. Priest defeated Morrison and choose the Lumberjack match stipulation.
---