WWE SmackDown Live Results & Updates- 29 January 2019
Welcome to the live blog of the SmackDown episode of 29th January 2019 which will deal with the fallout from the Royal Rumble 2019.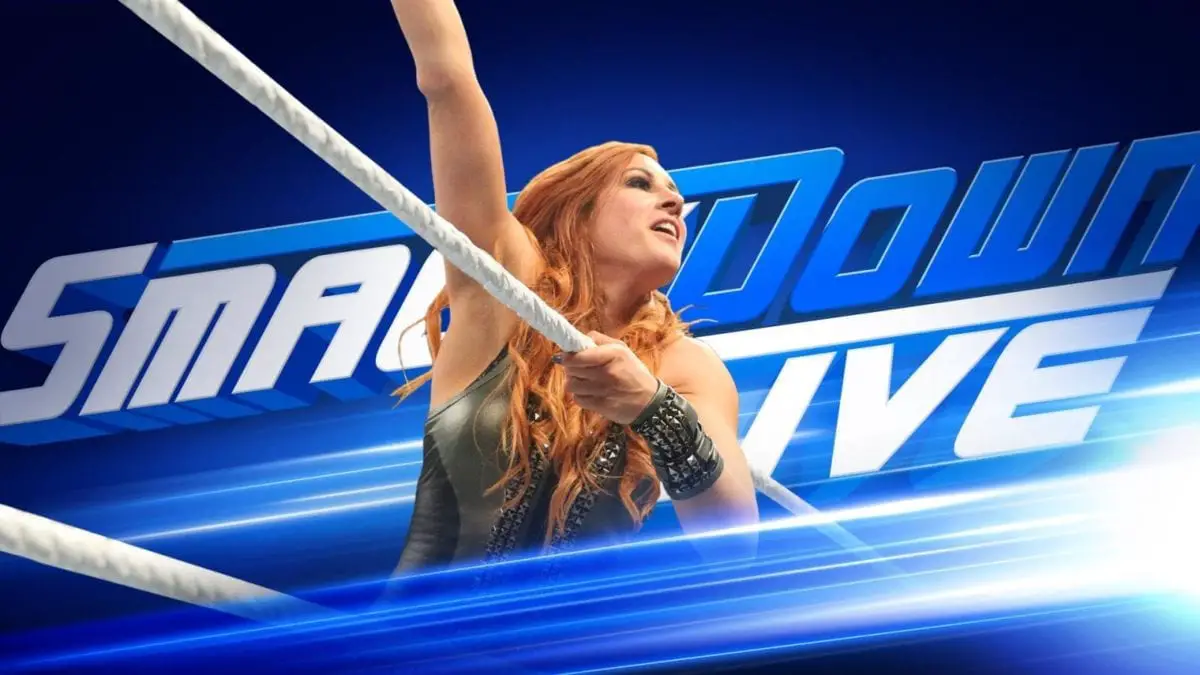 The show has opened with the story around Becky at Royal Rumble and RAW last night.
1. Will Becky's Rumble win be challenged?
Becky comes out to the ring with a rousing response from the crowd. She started by Lynch mentioning her appearance on Raw, saying she couldn't resist looking at Ronda and she realized how different they are. Lynch says the beginning of the Rumble event didn't go her way but unlike Ronda, she doesn't crumble when she loses. She came out and won the Royal Rumble match on one leg.
Charlotte comes out and tells Beck that it's possible that Becky learned from Charlotte and it was she who brought her to the main event. Charlotte says she is proud and happy, she can do it all for her. Becky punches Charlotte taking her down as she leaves the ring. Charlotte runs after Becky and starts to attack her on the ramp. The two fight around ringside as WWE officials come out and break them up.
2. Shinsuke Nakamura vs R-Truth – United States Championship
Truth enters rapping with Carmella at his side. In the ring, he mentioned that he was jacked up by Nia and that he would have won Royal Rumble and that's why he is granted the United States Championship match.
Nakamura starts with a drop-kick on Truth and immediately goes for Kinshasa but Truth counters with a lie detector to send Naka out of the ring. Truth taking a knee to the body after Naka lays him across the top turnbuckle. Naka hits a couple more running knees for a near fall. Truth counters a landslide and gets the pin and the win out of nowhere.
Winner – R-Truth via pinfall, New U.S. champion.
It looks like Truth and Nakamura didn't know it was a three count at first. Truth is the new champion and Nakamura's reign lasted for only two days.
3. R-Truth vs Rusev – United States Championship
After Truth's victory, Rusev comes out and says he deserves to be champion more than R-Truth. He challenges Truth to a title match right now. Carmella shoves Lana down and Truth blocks Rusev from getting to her. Truth agrees to the title match and the ref makes it official.
AS we come back from the break, Rusev has Truth in a headlock. Rusev keeps control in the corner but Truth counters and rolls Rusev to get the pin and win.
Winner- R-Truth by pinfall
As Truth leaves, Nakamura attacks him at the ringside and sends him back in the ring where both Rusev and Nakamura started brutalizing him. Both took turns to hit Truth with a boot to the face while the other one holds Truth. Where is all this going?

Becky is shown leaving the arena when she was asked why she refused for medical staff to look at her injury? She said she is fine and she doesn't need more time on the shelf.
Rey Mysterio has made his way to the ring. Now, Truth also refuses medical attention saying he is the new U.S Champ. Let that sink in!!
4. Rey Mysterio vs Samoa Joe
Mysterio is in the ring waiting for Samoa Joe but outcomes Zelina Vega to distract him and Andrade comes and attacks him from behind. Rey countered after some beating and goes for 619 but Andrade blocks it to hit the hammerlock DDT.
Before, Andrade used the three amigos made famous by the late great Eddie Guerrero.
Gallows and Anderson approach Rusev backstage. Anderson asks why he attacked R-Truth like that and that too after him being in 2 back to back matches. Rusev tells him to go back to catering and to take his girlfriend with him. They challenge Rusev to a match with Nakamura tonight. Nakamura comes in and accepts. Rusev warns Nakamura of betraying him.
5. World's Best Tag Team Celebration
Miz and Shane make their way to the ring. They say they don't need confetti and Champagne to celebrate. Shane thanked Miz for his support to make his childhood dream of becoming a Tag Team champion come true and shows a montage video of Miz and what happened since the Crown Jewel event to them becoming the Tag Team champions.
Crowd chants- "You still got it" for Shane. Shane has another surprise for Miz and calls Miz's dad out to come in the ring. Miz's dad says he loves him and is proud of him. Shane announces a 4-way elimination match to determine the contender for Tag Team title opportunity against them.
6. Why does Mandy hate Naomi?
Sonya Deville and Mandy Rose announce their participation in the Women's Tag Team Championship Match at Elimination Chamber. When asked why she hates Naomi so much, she shows footage from Tough Enough from 2015 where Naomi was instructing her and she called her weak. Sonya says Mandy hasn't been the same since that day and we didn't hear what Naomi said off the air and she made Mandy cry. And Mandy doesn't cry. Mandy says that she cried until her boyfriend couldn't take it anymore and dumped her. She says Naomi ruined her relationship and she went after hers. Mandy says this will never end and her mind right now is on the Elimination Chamber.
7. Heavy Machinery vs The Usos vs The Bar vs The New Day – 4-Way Tag Team Elimination Match for the no. 1 Contender
Otis runs over Jimmy to start things off. Uso tags in Kofi instead of his own brother to face Dozer. Kingston uses his speed to evade Otis until the big man sits on him. Big E tags in and squares off with Dozovic. They collide and neither man budges. They dance, lock their legs until Dozer scoops him up for a body slam, and tags in Tucker Knight for a double team move.
Cesaro and Sheamus double team Jimmy to score a two-count. Jimmy hits Cesaro with a side suplex to give himself a little breathing room. He tags Jey goes to work on Sheamus. Big E tags himself in off of Jey and Kofi helps him take out Sheamus with a powerbomb for a near fall. Otis tags in from Sheamus and Kofi kicks him in the face. He catches Kingston in a crossbody and they hit the Compactor to eliminate The New Day.
Jey sends both members of Heavy Machinery out of the ring so his brother can take them out with a dive. The Bar picks up Jey and drops him on the barricade.
Cesaro holding Knight in a headlock. Tucker picks him up for a sidewalk slam to break the hold. Otis gets the tag and starts beating up both members of The Bar. He does the worm and hits a splash for a two count. Sheamus prevents another Compactor and breaks up a pin. Jimmy tags himself in and hits Knight with a crossbody for a near fall. He superkicks Tucker before Sheamus tags himself in and hits Knight with a Brogue Kick for the pin to eliminate Heavy Machinery. The Usos come in and take out Cesaro so Jey can hit the Superfly Splash on Sheamus for the win. The Usos will face Miz and Shane for the titles at Elimination Chamber.
Winner- The Usos via pinfall
8. The New Championship Belt
WWE Champion Daniel Bryan comes down to the ring. Daniel Bryan asks the fans if they know who won at the Royal Rumble. The fans chant Becky and Bryan tells them no, each and every one of them. They all won. And their children won and their children's children all won. Because he won. And because a victory for him is a victory for every being on planet earth because Daniel Bryan is the planet's champion.
Bryan brings Rowan out and he is carrying a bag with something in it. Bryan says carrying around the WWE title makes him a hypocrite and asks for a trash can. He says the WWE title is a symbol of excess and is made from the skin of a cow. He throws the belt in the trash can and Rowan brought out a title belt made of wood and vegan leather.
Brayn is telling how the new belt is 100% sustainable when AJ comes out. He asks Bryan if he thought he would just sit in the back and watch him throw the title in the trash. AJ Styles says for someone who doesn't like big corporations, he went out to find the biggest insurance policy AJ Styles has ever seen. Randy Orton's music hits and he comes down to the ring.
Bryan, Rowan are in the ring with RKO, Jeff Hardy, and AJ claiming their stakes for the title shot. Mustafa Ali comes out and asks if anyone remembers what he did at the Rumble. RKO interfered with him mid-way saying how he was thrown over the top rope by Nia. Samoa Joe comes out and tells Ali that he got lucky. He mocks AJ by referencing her wife Wendy. AJ punches Joe to start a brawl.
Bryan, looking at the brawl, says none of them deserves his title. Triple H appears on the screen that he will defend against all of them at Elimination Chamber. The show ends with the brawl still ongoing and Bryan retreating to the ramp.
Daniel Bryan (c) vs AJ Styles vs Randy Orton vs Jeff Hardy vs Mustafa Ali vs Samoa Joe for WWE Championship in Elimination Chamber Match.