WWE SmackDown Live Results and Updates- 21 May 2019
Welcome to the Live Results and Updates blog of SmackDown Live episode of 21 May 2019 which will be live from Dunkin Donuts Center, Providence, RI, US. We will start posting updates as the show will start at 8 PM EST(21 May 12 AM GMT/5:30 AM IST). Please keep refreshing the page for the latest updates.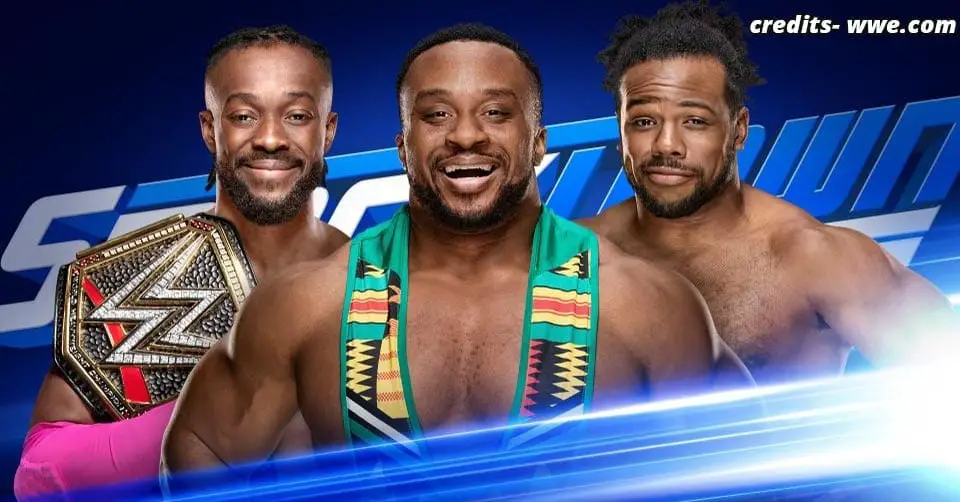 Quick Results
Ali beats Andrade
Carmella vs Mandy Rose ends in no contest
Kofi Kingston beats Sami Zayn
Becky Lynch and Bayley beat Charlotte Flair and Lacey Evans
Roman Reigns beats Elias
Show
The show opens with Shane McMahon at backstage, talking on the phone when Elias strolls up. He apologizes for losing to Roman Reigns at Money in the Bank, blaming the crowd for the loss. Shane tells him that he will be at this corner tonight during his rematch with Roman.
#1 Is that Big E?
Kofi Kingston and Xavier Woods enter and stand at the ramp. They tell us Big E is returning tonight and bring out someone under a veil. As they remove the veil, it's not Big E under it but some poor clone. The real Big E enters after doing his usual intro. They all enter the ring and Woods mentions how Big E isn't cleared to wrestle yet. Big E talks about how he's missed his brothers and he's missed the WWE Universe. They also joke about some of Big E's Twitter activity. Kofi says he's supposed to be serious now because they want him to be serious. They talk Money in the Bank until Kevin Owens enter.
Owens stands on the stage with a mic but before he could say anything, Zayn comes out. He calls all of this a bunch of nonsense. The New Day continues berating Owens and Zayn until Owens walks off. Sami rants on The New Day and accuses them of contributing to a toxic culture. Woods starts interrupting Zayn with the trombone while he was speaking with fans also joining in. Sami says he says New Day's night will not end in the fun as he's going to beat Kofi in front of these trash people and he will be lucky to walk away at all. Kofi tells Sami not to let the hip-swiveling and the pancakes fool him because The New Day throws down when it's time to. Kofi says he's going to walk out on his own two feet and he's going to walk right through Sami. Big E gets the crowd hyped up one more time as The New Day's music hits.
Carmella is backstage searching for R Truth. Drake Maverick has wanted flyers of Truth. Carmella asks Apollo if he's seen Truth. He replies he is also looking for him. Carmella stops someone wearing a bad blonde wig and asks if they have seen Truth. It's him. Carmella pulls him into a room and tells him he has a bad disguise. Truth thinks he has 7 more hours to go before the title belongs to him for good, because it's the 24/7 Title. Carmella explains the rules to him. Truth begs her for help and she agrees to.
#2 Ali vs Andrade
They lock up and Andrade back Ali to the corner and Ali shoves him away, only for Andrade to balance by the ropes, while Zelina Vega lies down below him and taunts Ali. Ali tries to strike Andrade again, but Andrade goes outside the ring, quickly comes back and clotheslines him. He manages to spike Andrade on the head with an inverted frankensteiner. Ali tries to hit a backflip, and a brief distraction from Zelina Vega allows Andrade to dropkick him mid-air.
Ali goes for the summersault dive but Andrade has managed to hit his knees on Ali's back. As Ali tries to come back to the ring, Andrade sends him to the barricades from the apron. The referee starts the count and Ali reaches the ring only for Andrade to hit the three amigos on him. He once again throws Ali out of the ring and this time follows him outside. He crashes Ali to the barricade with an Irish whip and then throws him into the crowd. Andrade comes back and asks the referee to start counting again. As Ali beats the count at 9, Andrade places him against the turnbuckles and hits the double knees to get a near fall. Ali rolls up Andrade and gets the pin out of nowhere.
Winner- Ali
Backstage, Carmella has done some makeup on Truth but is still recognizable. He is also wearing women goggles and a cap. Worst disguise ever. Mandy Rose enters the ring for her match against her which is next.
Lars Sullivan gets a special video package.
#3 Carmella vs Mandy Rose
R-Truth Mella to the ring with the 24/7 title around his waist. Carmella jumps on Rose before unloading on her with punches. Mella brings her back in and kicks her in the face. Sonya gets on the apron and Mella pulls her into the ring. After the ref gets her out of the ring, Mella hits a superkick to Mandy. A ton of Superstars run down to battle Truth for the 24/7 title. He picks up Mella and runs away. The match, I assume, has ended in no contest.
Bayley is interviewed backstage by Kayla Braxton where she tells us that as nobody was believing in her, she created her own opportunity at Money in the Bank.
R Truth and Carmella are still being chased backstage.
#4 Kofi Kingston vs Sami Zayn
Backstage Big E has been attacked and he says it was Owens. Woods tends to him while Kofi heads to the ring to battle Zayn. Kofi rushes Zayn and starts beating on him until he rolls out of the ring. Kingston gives chase and hits a clothesline. Sami backdrops Kofi out of the ring to give himself a breather. Zayn controls the pace until Kofi hits a dropkick from the middle rope.
Zayn hit a superplex from the top turnbuckle. The announcers say Woods has taken Big E to a local medical facility. Kofi misses Trouble in Paradise the first time but hits it on the second attempt to get the pin.
Winner- Kofi Kingston
Post-match, Paul Heyman appears at the ramp with the MITB briefcase. As Kofi is distracted, Dolph Ziggler of all people attacks him from behind. He places a steel chair over his head and slams it into the announce table. Ziggler knees his head from behind. When the referees arrive, he chases them away before stomping on Kofi one more time with the chair still on. Kofi is being taken out on the stretcher after Ziggler leaves.
As Roman was strolling backstage, he hears Elias singing but could not locate him. He finally finds him standing on top of a trailer truck.
#5 Becky Lynch and Bayley vs Charlotte Flair and Lacey Evans
Match has already started and we see Bayley mount punches on Charlotte. Charlotte sends her into the turnbuckle to take back control. Bayley tries to make a tag but Charlotte yanks Becky off of the apron. She brings her back to the corner so she can tag Evans to take over. Bayley hits a big forearm and finally makes the tag. Lynch takes down Flair with a flying forearm and a dropkick from the top rope. She kicks Evans off the apron before hitting Charlotte with the Bexploder. Charlotte nails a big boot to stop the onslaught. Evans nails Lynch with The Women's Right. Bayley tags in push Lacey from the apron and roll up Charlotte for the pin.
Winners- Becky Lynch and Bayley
Jinder Mahal tries to roll up R Truth but Truth breaks the pin. He is attacked by more wrestlers but Truth survives for now.
#6 It Should have been Ziggler!
Ziggler is asked by Kayla Braxton about his attack on Kofi. He tells her that he will reply to fans. He comes out to ramp and says when Ali was injured and Kofi took his spot, it should have been him. He says everything Kofi has done since, running the gauntlet, elimination chamber match, winning WWE Championship at WrestleMania, it should have been him instead. He is on the verge of crying as he talks about watching Kofi accomplish what he should have done.
Special Video package for Triple H vs Randy Orton match at Super Showdown.
#7 Roman Reigns vs Elias
Roman goes right after Elias and knocks him out of the ring. Shane distracts Roman so Elias can hit a low blow while the ref isn't looking. He throws Reigns into the ring post as we head to a break. Reigns begin unloading on Elias with corner clotheslines. Shane grabs Roman's foot as he sets up for the Superman Punch. Elias jumps on him but Roman puts Elias on the top turnbuckle. Elias counters and hits a spinning powerbomb for a near fall.
They trade strikes until Reigns hits a Superman Punch. Shane puts Elias' foot on the bottom rope to break the count. Reigns take out Shane with a drive-by dropkick. Elias takes control and rams Roman into the steel steps. Elias hits a big flying elbow for two. Elias was taking out the turnbuckle when Shane placed the guitar in the ring. He distracts the Ref but Elias was hit with the Spear by Roman for the pin.
Winner- Roman Reigns
Shane immediately attacks Roman after the bell. Roman knocks Shane down and picks up Elias' guitar. He prepares to hit McMahon when Drew McIntyre comes out of nowhere and lays him out with a Claymore. SmackDown ends with Shane and McIntyre standing over a fallen Reigns.
SmackDown Results Chronology