WWE SmackDown 19 February 2021: Live Results, Updates, Winners, Highlights
Welcome to ITN's Live blog for WWE Friday Night SmackDown episode of 19 February 2021(2/19/2021) – the Elimination Chamber 2021 go-home episode as we bring you the Live Results, Winners, Updates, highlights and videos from the show.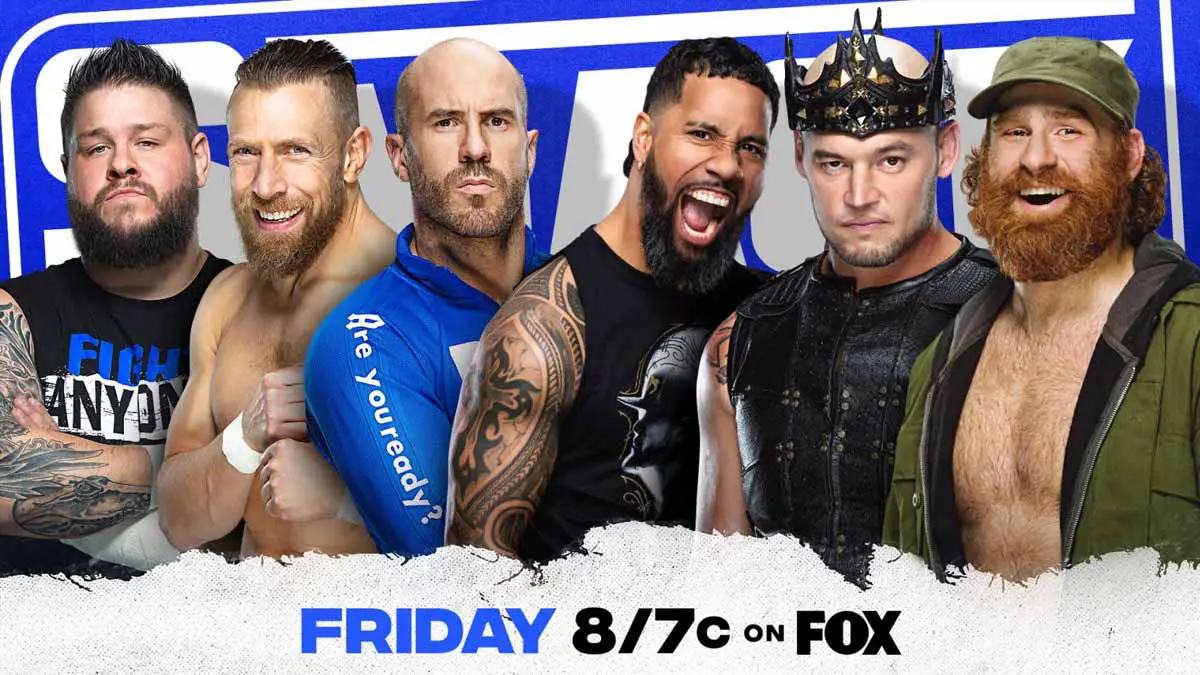 WWE has advertised only one match- a 6-man tag team match between the Elimination Chamber match participants. Although, we can definitely expect more drama from WWE Universal Champion Roman Reigns. Check the preview for the episode here.
Edge Should Choose Roman!!
Royal Rumble Winner Edge opens the show as he comes out to the ring. He says he has some decisions before Elimination Chamber. He gives a preview of sort for Elimination Chamber before saying he must start to evaluate who he is gonna face at WrestleMania. Roman Reigns' music hits and he comes out with Jey Uso and Paul Heyman. Roman stares at Edge from the ramp for a while. The crowd starts to boo Roman as he enters the ring.
Roman says there is only one person Edge could choose- it's 5 times main eventer – Roman himself. Edge tells him that he can't just choose Roman as his opponent, because main event of WrestleMania will be the one he chooses- whether it will be AJ Styles, Drew McIntyre, Kevin Owens or anyone. He hasn't even focused on Roman yet and it will be a lot different when he would start to put pressure on Roman.
Sami Zayn comes out with his documentary crew and starts to rant about being overlooked by WWE management, and now by two biggest star of the industry – Roman and Edge. He asks his crew to come closer to the ring and focus as Sami points to WrestleMania sign. Jey Uso superkicks Zayn.
Edge and Roman continue to stare at each other all this timet. Roman hands his title to Heyman, gestures Edge that he means no harm and goes to say something to Edge in his ears. Roman is not audible to us. Edge keeps staring at Roman as he leaves the ring with Heyman and Uso.
Apollo Crews vs Shinsuke Nakamura
WWE Intercontinental Champion Big E will be on commentary. Nakamura makes his entrance after the break. Apollo Crews gets an interview at the Gorilla where he says Big E has not even seen real Apollo. On commentary, Big E says he has already given so many chances to Apollo for IC title.
Nakamura starts with punches and knee strikes. Apollo tries to drop him but Nakamura keeps the strikes going. He drops a knee to the face. Apollo fights out of a brief headlock and hits a couple of dropkicks on Nakamura. Crews sends Nakamura into Big E as the action moves out of the ring. Big E has some words for Apollo as we go to the break.
Apollo Crews is in control after the break and gets a two-count. Nakamura comes back with a dropkick and continues to hits kick after kick to Crews. He hits the rolling German suplex for a two-count. Apollo hits a big spinebuster to get a two-count. Apollo rocks Nakamura but the Japanese star gets him in an armbar to get the submission.
Winner – Shinsuke Nakamura
Crews attacks Nakamura after the match. He ends up throwing Nakamura out of the ring and sends him into the barricade. Crews goes to pick the steel steps but Big E stops him and tells him to walk away as the match is over. As Big E goes to check on Nakamura, Crews runs over both of them with the steel step. Nakamura is sent over the barricade. Apollo takes the step and Big E into the ring. But a referee stops Crews from hurting Big E in the ring. Big E slides out of the ring and Crews just drops the steel step over him nonchalantly. The segment comes to an end as the medics rush to check on Big E.
Big E is taken out on a stretcher. Seth Rollins watches Big E as he makes his entrance. Rollins is on the stage and gets a replay of last week. Rollins says his friends walked out on him last week and disrespected him. He has filed an official complaint against Cesaro for ruining his comeback moment which took two months to be planned. Rollins claims that he will win this case but millions have already embraced his vision.
Kevin Owens is backstage. We see Edge walking upto him. Edge tells KO that he appreciates that he gets back up again. KO says Edge will understand him since he also keeps coming back. He mentions how Roman stole win from him three times already and at Elimination Chamber he just want to win the title. Edge walks away before saying that it would be good to face KO at WrestleMania. We see Sonya Deville escorting Big E to the ambulance.
Ruby Riott & Liv Morgan vs Tamina Snuka & Natalya
Tamina hits a facebuster on Ruby to start. Ruby sells that attack before tagging in Liv Morgan. Morgan tries to get her attack going but Tamina proves to be too powerful. Tamina cuts off a springboard move with a double ax handle. Natalya comes in and continues with the attack. Morgan turns it around in the corner. Ruby comes in for a double team. Ruby is in control and keeps the offenses going.
Natalya almost counters Ruby but Liv had already tagged in and rocks her with a knee. Billie Kay comes out to the ramp. Ruby gets distracted and Natalya drops her from behind for a two-count. Natalya tries to go for a sharpshooter but Ruby sends her to the rope. Tamina tags in and drops Liv from the apron. Tamina hits Ruby with an tilt-a-whirl Urinagi to get the pin.
Winners- Tamina and Natalya
After the match, Billie Kay runs into the ring to celebrate with the winners. Tamina drops Billie and stands tall over her.
Ding Dong! Hello!! with Shayna Baszler & Nia Jax
Bayley steps through the front door of her "Ding Dong, Hello!" set. The door bell rings again and Bayley opens the door. Jax and Baszler are there as her guests. They takes shots at Bianca Belair and SmackDown Women's Champion Sasha Banks while Bayley laughs and listens. Reginald The Sommelier comes out with a mic to interrupt. He can't let them slander the good name of Sasha. Jax and Baszler tries to intimidate him in the ring.
Sasha Banks enters and tells gets in Reginald's face and says he never speaks for her. For Jax and Baszler, whether they like it or not she is The Boss, and the title means she makes the rules. Bianca Belair interrupts. Belair tells Banks that she is the star of the division because she won the Royal Rumble. It looks like Belair was about to pick her WrestleMania opponent but Reginald interrupts and proposes a match.
Bianca Beliar, Sasha Banks & Reginald vs Nia Jax, Shayna Baszler & Bayley
Bianca starts with a waistlock takedown on Baszler. She tags in Sasha who hits a knee to Baszler's gut. Reginald comes in to celebrate with Sasha & Bianca. But they just ridicule him. Nia tags in and runs over Sasha. Nia whips Sasha to her corner. Baszler and Sasha tag in one after the other to keep control over Sasha. Nia hits a powerslam on Sasha.
Sasha sidesteps Nia in the corner. Bayley goes and trip Bianca from the apron. Sasha knocks out Bayley with a sidekick to her face. Reginald tags in and tries to take down Nia. He fails in his multiple attempts thought. Bianca and Sasha go and trip Baszler at the ringside. Nia goes for a powerslam on Reginald when Sasha and Bianca hit them with double dropkicks. Reginald land on Nia in a pinning position and Nia could only get her shoulders up after 3 count.
Winner – Bianca Beliar, Sasha Banks & Reginald
Kayla is backstage with Cesaro. Cesaro talks about Seth Rollins for a while and says he was respecting Rollins last week and hoping the old Rollins came back, but that did not happen. That's why everyone walked away from him last week. Cesaro wants to focus on Elimination Chamber and winning the Universal Title from Roman Reigns. Edge walks up and praises for his newfound grit. Cesaro thanks him. Cesaro mentions he will see Edge at WrestleMania after he wins at Elimination Chamber.
Rey Mysterio and Dominik Mysterio vs. Chad Gable and Otis
SmackDown Tag Team Champions Robert Roode and Dolph Ziggler are on commentary for this match. Gable takes Dominik down to start. They tangle some more and Gable goes for a German but Dominik lands on his feet. Dominik with dropkicks and a kip up for a pop. Otis tags in. Dominik charges but Otis levels him with a big shoulder.
Otis goes for Rey as he flies in with a senton. Otis turns it around and catches Rey with a big slam. Otis stands over Rey and drops a splash in the middle of the ring. Dominik is leveled with a double ax handle. Gable comes in and coaches Otis to drop another splash on Rey. The referee calls the match, apparently because they didn't listen to the count.
Winners- Rey Mysterio and Dominik Mysterio(by DQ)
After the bell, Gable and Otis continue to attack Rey. Gable drags Rey over to the corner and Otis hits a big splash from the second turnbuckle. Fans start booing Otis now. Gable hypes Otis up as he hulks up and stands tall.
Edge approaches Daniel Bryan backstage. Edge says he is thankful for Bryan to fight to get his career back. Bryan is glad Edge is back. Bryan proposes Edge pick him for WrestleMania 37 if he wins title at the Elimination Chamber. Edge asks if he would call that a dream match. Bryan says some people would call it long overdue. They nod at each other as we go to a break.
Kevin Owens interrupts Cesaro and Daniel Bryan in the back, asking if they want to talk strategy. Bryan says they were discussing what to do if they get hit with Stunners like last week. Owens says last week he interrupted a big fight and decided to strike first against others but that won't be the case this week.
Carmela is doing her makeup backstage when Reginald brings her a glass of wine. She asks why it took so long to bring her this glass. He says he had to make sure it was the perfect temperature. Carmella asks if they're playing games now. She asks if he really thinks she just didn't see him out in the ring. He says it's not how it looks. She takes a sip of the wine and spits it out, then tosses the rest in Reginald's face. Carmella can't believe he is serving this to her now. She tells him to go get a better glass and he walks off.
Kevin Owens, Daniel Bryan and Cesaro vs Baron Corbin, Sami Zayn and Jey Uso
Bryan starts off with Uso and they go to the corner. Uso unloads but backs off. Bryan brings him back to the corner for kicks. Bryan tags in Cesaro and they hit a big double team slam.
Uso scrambles to his corner and tags in Corbin as Cesaro waits to fight. Corbin wants none of Cesaro and in comes Sami off the tag. Cesaro grabs Sami and holds him so Bryan can come in with a kick or two. Bryan works Sami around the ring now. Sami counters and levels Bryan in the middle of the ring. Sami beats Bryan around with stiff knees to the gut. Corbin tags in and drops Bryan with a right hand. Corbin uses the middle rope on Bryan as the referee counts and fans boo. Corbin beats Bryan down in the heels' corner now.
Sami comes back in and has words with Corbin. Bryan takes advantage and tags in Cesaro. Cesaro runs wild on his opponents, sending the other two to the floor and unloading on Sami. Cesaro goes from corner to corner with big running uppercuts on Sami. Sami rolls to the floor for a breather as fans pop for Cesaro. Sami, Corbin and Uso argue at ringside now. Corbin rolls Sami into the ring, where Cesaro is waiting to deliver a Cesaro Swing. Cesaro then catapults Sami into the corner, where Corbin is tagged in. Cesaro immediately grabs Corbin for the Swing. Corbin stops it but Cesaro stomps and starts with the Swing again as we go to commercial break.
Back from the break and Cesaro is swinging Corbin. Uso ends up coming in and attacking Cesaro. Uso pulls Cesaro to the floor and launches him over the announce table as fans boo and the referee counts. Edge watches as Uso brings Cesaro back in and dropkicks him in the corner.
Paul Heyman is also on commentary now. Sami, Corbin and Uso triple team Cesaro in the corner. Corbin with a back suplex to Cesaro. Corbin unloads on Cesaro in the corner and has words with the referee, allowing for a quick cheap shot by Sami. Uso tags back in and goes to work on Cesaro. Cesaro blocks a shot and delivers a big uppercut. Uso comes right back and whips Cesaro across the ring into the turnbuckles. Uso keeps control and covers Cesaro for a 2 count. Uso grounds Cesaro with a headlock now.
Uso takes Cesaro back to their corner and in comes Corbin to take over. Corbin misses a big running corner splash. Cesaro with a springboard corkscrew uppercut from the middle rope. Fans pop for Cesaro. Bryan and Sami tag in. Bryan ducks and dropkicks Uso off the apron. Bryan unloads on Sami into the corner now. Bryan keeps control and clotheslines Sami. Bryan with a big corner dropkick to Sami, then Yes Kicks as fans cheer him on. Bryan takes Sami to the top and hits a big hurricanrana for a close 2 count as Uso breaks it up. Owens runs in and superkicks Uso, sending him to the floor.
Owens runs off the apron with a big Cannonball to Uso on the floor. Bryan kicks away at Sami with Yes Kicks but Sami ducks a roundhouse kick. Bryan kicks out at 2. Sami comes right back with the Blue Thunderbomb but Cesaro breaks the pin up. Corbin tosses Cesaro to the floor. Owens drops Corbin, who drops Cesaro at ringside. Sami goes to the top but Bryan cuts him off and climbs up for a super double underhook suplex from the top. Bryan then rolls into the Yes Lock in the middle of the ring. Sami taps out.
Winners: Daniel Bryan, Cesaro and Kevin Owens
After the match, the music hits as Bryan stands tall and gets the "Yes!" chant going again. Corbin comes from behind and drops him with End of Days. Owens hits a Stunner to Corbin. Sami hits KO with a big Exploder. Cesaro runs in to nail Sami with a big uppercut. Jey superkicks Cesaro before Edge hits the ring to deliver a big Spear to Uso. Roman Reigns then appears out of nowhere and takes Edge out with a Spear of his own. Reigns stands tall over Edge as the final SmackDown before WWE Elimination Chamber goes off the air.