Who is Sasha Banks' Husband Sarath Ton: Everything to Know about
Do you know, who is the reason for Sasha Banks' great costumes? It's Sarath Ton – Sasha Banks' Husband, Costume Designer, and a former wrestler. Read on if you want to know more about him.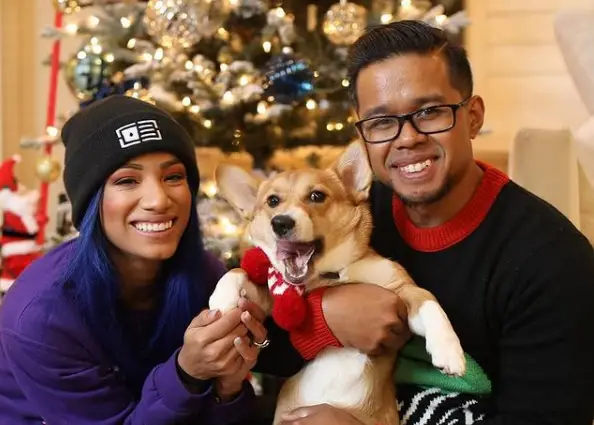 | | |
| --- | --- |
| Name | Sarath Ton |
| Date of Birth | 9 June 1983 |
| Birth Place | Springfield, Massachusetts |
| Ring Name | Mikaze, Kid Mikaze, Rutherford Hayes |
| In-Ring Experience | 13 Years(2002-2015) |
Sarath Ton is a former wrestler and is currently a costume designer in WWE. He was born on 9 June 1983 in Springfield, MS. He wrestled from 2002 to 2015 in various independent wrestling promotions. Sarath's claim to fame is that he is married to Sasha Banks and his costume designer. He also has a movie-related podcast on Youtube called Sarath & Chris's Movie Therapy Podcast.
Sarath Ton & Sasha Banks (From Love To Marriage)
Sasha Banks and Sarath Ton met during the days they both use to wrestle in the Independent circuit in Boston. During an interview with Charly Caruso for WWE, Sasha revealed about their first date and said he found Sarath a bit too forward. But things went well and they got into a relationship.
During the same interview, Sasha revealed how Sarath left his career in between and moved to Tampa with her when she got the offer from WWE.
"We met in wrestling. We both started in the Independents together and we worked for the same company down there. And when I got signed to WWE, he quit his job to be with when I moved to Tampa for FCW."
Talking about their relationship, Sasha revealed how she considers Sarath as his best friend.
"He is my best friend. I can talk to him about anything. And it's so nice to have someone there when you do get frustrated or you are upset. It's just like that you have your companion there to talk to."
Sasha and Sarath got married in 2016 in a private ceremony which was attended by several WWE stars and both their family members.
Apart from being her husband, Sasha also has an in-home costume designer in Sarath. Apparently, all her costumes are made by Sarath himself.
Current Relationship Status
Sarath Ton is currently married to Sasha Banks. Both Sasha and Sarath maintained privacy around their relationship and are not seen that much in public together. They have also stayed away from any kind of scandal on-screen and in real life. Currently, the pair do not have any kids.
Sarath Ton's Wrestling Career
Sarath Ton is a former professional wrestler who has worked mainly with independent wrestling promotions under the ring name Mikaze or Kid Mikaze. His in-ring debut came with Premier Wrestling Federation Northeast on 2 November 2002. But Chaotic Wrestling was the promotion that he worked mostly with 98 matches credited under his belt. He also won the Tag Team and Junior Heavyweight titles in Chaotic Wrestling.
Not only this, but Mikaze also appeared for the likes of Ring of Honor, NWA, Beyond Wrestling, apart from various independent promotions. He even appeared at IMPACT One Night Only: X-Travaganza PPV in 2015. Sarath appeared on WWE RAW in 2012 under the ring name Rutherford Hayes in a handicapped match against Ryback.
Mikaze had a unique in-ring style as he inculcated Mixed Martial Arts into pro wrestling. Combining this with the aerial attacks which are typical of cruiserweights made him exciting to watch.
Retirement
His only other in-ring appearance for WWE came in NXT where he teamed with Jason Jordan in a dark match against The Vaudevillains (Aiden English & Simon Gotch). It was during this match that Sarath suffered a blow to his head. A resulting concussion forced him to retire from pro-wrestling.
Career As Costume Designer
Sarath Ton is currently working as a costume designer in WWE. Sasha Banks mentioned in an interview that Sarath immediately told her that she need better costumes in one of their early meetings. Even before they came in a relationship, he has been making costumes for the Boss.
Later, Triple H came to know about his Costumes and gave him a trial. Sasha revealed this incident as below:
"I remember, one year Triple H came to me and said I heard you husband made costumes. I was like, "Ya, he does." He said we need help with WrestleMania and I would love to give him a tryout. From there on, he made Triple H's gear, Bella Twins.. So many people's gear and now gets to be on road with me. It's really really cool that we both are doing what we love to do."
Apart from Triple H and Bella Twins, Sarath Ton has made many costumes for Paige, Summer Rae, and many other WWE Superstars. It is fair to say that Sarath has transitioned into a successful career as a costume designer after retiring from the ring.
Kid Mikaze Championships and Achievements
CW Heavyweight Championship
CW New England Championship (2 times)
CW Tag Team Championship (3 times)
PWF Mayhem Junior Heavyweight Championship
PWF Northeast Tag Team Championship (2 times)