WWE Royal Rumble 2019 Live Updates and Results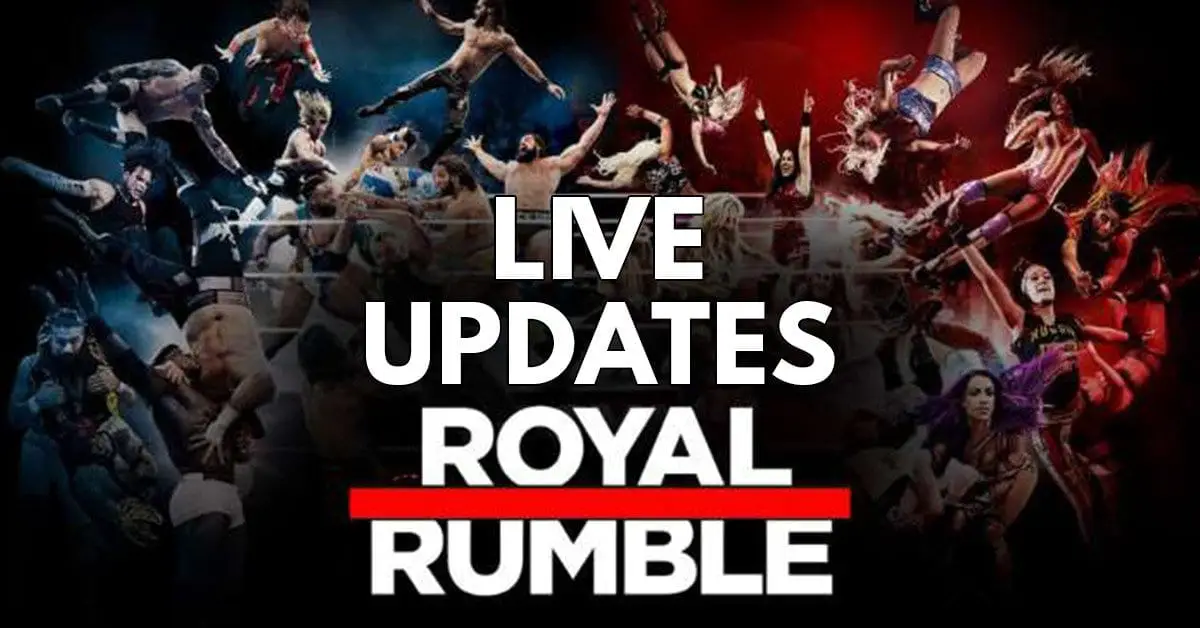 Welcome to the Live Results & Update blog of the WWE Royal Rumble 2019 PPV event on 27th January 2019 from Chase field, Pheonix, Arizona.
Kick Off Show
The Pre-show is started with a panel of commentators, Jonathan Coachman, Beth Phoenix, Booker T, and Jerry "The King" Lawler, previewing all the matches for tonight's show. We already have some big news as John Cena is officially out of the Rumble due to his ankle injury and Braun Strauman will replace him on the card.

Another match is added to the kickoff show and it's rather strange. Since Akam of AOP is out injured with a legitimate injury, Rezar will team up with Scott Dawson of The Revival against the RAW Tag Team Champions Bobby Roode and Chad Gable. If Rezar and Dawson win, each of their teams will earn a future shot for the tag titles. Brock Lesner vs Finn Balor is being touted as the David vs Goliath battle on every turn by WWE and we know how that battle ends. Check out our predictions here.
Daniel Bryan has cut a promo earlier at the Chase Field spectators area, continuing his rant about the special edition Rumble Burger. He crushed the burger under his boots to end the segment. Bobby Roode and Chad Gable have made their way to the ring. Rezar has come out with 205 Live Manager Drake Maverick followed by Dawson.
Bobby Roode and Chad Gable vs Scott Dawson and Rezar
After an initial tussle, Dawson and Razer are able to corner Gable in their corner and dominate him for a while. Roode finally got the tag and has attacked opposition members. Dawson rolled Roode for two counts, Roode and Gable double team to hit the finisher on Dawson for the pin and the win.
Winner – Bobby Roode & Chad Gable
Lio Rush and Bobby Lashley have interfered with JBL on the podium. Rush asked if anyone else looks "Almighty" and continued saying Lashley is going to win the Royal Rumble tonight. David Otunga and Shawn Micheals have joined the commentary team. Micheals is asked what is required to win the Rumble as he has done it twice, what his advice is. Michaels replied he is not sure because there are so many superstars in the ring and Rumble is full of surprises. Michaels also mentioned the reports of a brawl between Tomasso Ciampa, Johhny Gargano, The Velveteen Dream, Alister Black, Adam Cole, and Ricochet after last night's NXT Takeover event are true and that these superstars will face off in a 6-Man Tag Team Match in the Halftime Heat Event next Sunday during the halftime of NFL's SuperBowl.
Rusev (c) vs Shinsuke Nakamura – United States Championship Match
Rusev pushes Nakamura in the corner and followed with a big kick in the mid-section. A suplex is followed by a clothesline to send Nakamura out of the ring. As Rusev throws him, Nakamura avoided the step and sent Rusev into the barricade. He hit Rusev on the apron, but Rusev on top of the turnbuckle for a kick in the stomach. Rusev was locked in by Nakamura but Rusev overpowered him.
They are trading punches. Rusev gets the upper hand and throws Nakamura to the corner and followed it with a cartwheel. Nakamura has gone out of the ring. He brings out some kicks but can't get the pin. Nakamura was setting up for his finisher but Rusev avoided his kick. Now Nakamura has locked Rusev but Rusev has picked him up. He is still locked though and about to pass out. Rusev has finally countered the lock and hit a big suplex.
Rusev went for a suplex from the top turnbuckle but Nakamura is able to escape. Nakamura hit a landslide slam for two counts and was opening the turnbuckle when Lana came to the apron and tried distracting Nakamura. Rusev tried to gain an advantage but he has hit Lana. Nakamura hit him from behind with the Kinshasa to get the pin.
Winner- Shinsuke Nakamura by pinfall – New United States Champion
Buddy Murphy vs Kalista vs Hideo Itami vs Akira Tozawa
They are sizing each other up. Itami rolls out of the ring and the other three take turns rolling each other up for one count. Tozawa gets hit with a backbreaker by Murphy. The champ counters a hurricanrana but gets taken down by a second one. He catches Kalisto jumping off the apron and hits a suplex on the floor. Hideo gets back in the ring and dares Murphy to come at him. They trade takedowns and kicks to the back. All four men participate in an awesome spot at ringside that sees Murphy, Kalisto and Tozawa hit the floor hard.
Kalisto monkey flips Tozawa into Murphy at ringside before hitting a seated senton on Itami. The champ launches Kalisto into Itami and Tozawa comes in with a missile dropkick to Murphy. Tozawa drills Itami with a suicide dive. Murphy backdrops Kalist onto them before he takes his own risk and dives over the top onto all three of them. Kalisto spikes Murphy with a hurricanrana for two. Buddy hits a powerbomb on Kalisto for a two-count.
Tozawa plants Murphy with a reverse hurricanrana. All four men attempt pinfalls in quick succession. Itami kicks out after Kalisto hits him with the Salida Del Sol. A flurry of kicks from all four men ends with Tozawa decking Murphy in the face. Murphy hits Itami with a few knee strikes and then hit Murphy's Law to get the pin.
Winner – Buddy Murphy by pinfall
Main Show
Asuka (c) vs Becky Lynch – SmackDown Women's Championship
Becky put Asuka in a headlock and backs Asuka to the ropes for a clean break. They come to a stalemate and Lynch hits a hard right hand. She yells at Asuka to fight her while continuing to control the pace. Asuka hits a few kicks to the leg to take The Man down for one count. She kicks Lynch in the face a few times to show disrespect, so Becky grabs her leg and makes her pay with some stiff strikes. Asuka went out of the ring. Becky went for the dropkick near the apron but Asuka escaped to knocks Becky off the apron with a hip strike. Action has moved ringside.
Becky kicks Asuka off the apron to get the upper hand back. Lynch hits the Bexploder into the barricade. She corners The Empress for some kicks to the body. She starts focusing on the arm to set up for the DisarmHer. Asuka misses a hip attack and Lynch unloads on her. Both women end up using their finishing submissions with the help of the ropes at different points. Lynch jumps off the middle rope right into a knee to the face. Asuka barely connects with a missile dropkick but makes contact with another hip attack. She brings Becky down with a German suplex.
Becky escapes the arm lock and then the Asuka Lock. Both of them are on apron brawling. Asuka tried to hit a German suplex from the apron but Becky resisted. She herself tried the Buxploder but Asuka managed a neck breaker. They start trading punches as they get to their feet back in the ring. Asuka hits a spin kick for a near fall.
Lynch hits a Bexploder from the top turnbuckle but can't get the pin and tried a leg drop. Which Asuka avoids and applies the Asuka lock. Both tried to lock the other for submission before Becky locks Asuka. Asuka breaks free and nails her with a kick to the head. Becky rolls her into the DisArmHer. They trade near falls before The Empress puts her back into the Cattle Mutilation. Becky is forced to tap and Asuka retains.
Winner – Asuka by submission
Becky is shown ringside gutted but seems focused and determined.
The Bar vs The Miz and Shane McMahon
Shane has exploded on Sheamus, forcing him to go out of the ring. Miz and Cesaro are tagged in and Miz tried to roll up Cesaro. Cesaro counters Figure Four and nails an uppercut in the corner. Sheamus tags in so they can double team The A-Lister. Shane comes in to provide an assist. Sheamus knocks him off the apron before The Miz corners him for some It Kicks. The Celtic Warrior drives Miz to the ropes so Cesaro can hang him up. The Bar clears off an announce table but Shane saves Miz from being powerbombed through it. He lays Cesaro on the table and Miz holds him in place. McMahon climbs up but Sheamus saves his partner. Shane leaps down and knocks Sheamus off his feet.
Sheamus hits a knee drop from the middle rope for a two-count on The Miz. He hits the 10 Beats of the Bodhran before tagging Cesaro for a double suplex. The Bar cuts the ring in half with quick tags and double team moves. Shane gets the hot tag and ducks a Brogue Kick. He starts going to work on Sheamus with some of his signature moves. He stacks up Cesaro and Sheamus in the corner for Coast to Coast, but Cesaro pops up and catches him for a Big Swing.
Shane locks Cesaro in a triangle submission until Sheamus breaks it up. The Miz kicks Sheamus out of the ring but ends up being taken down by a clothesline right after. The Bar hits White Noise for a close two count on McMahon. Cesaro held Shane as Sheamus was getting ready for Brogue Kick. But Sheamus connected the kick on Cesaro as Miz pushed him. Miz quickly hits Sheamus with the Skull Crushing Finale and tags in Shane. Shane manages to hit Shooting Star Press from the top rope to pin Cesaro and win the match.
Winner – The Miz and Shane McMahon, New SmackDown Tag Team Champions
Attendance at the Chase field is 48,193.
Ronda Rousey (c) vs Sasha Banks – RAW Women's Championship
Sasha made her way to the ring but had to wait for a long time for Ronda to come out as other language commentators cut a promo. Sasha is again attacking Ronda verbally during their intro. As the match starts,
Banks counters an arm drag with one of her own. Sasha and Banks trade counters and Rousey mocks The Boss with her own pose. Ronda hits a snap suplex and rolls over for a second. Banks counters a third but Rousey keeps control. When Sasha slaps Ronda, she hit a kick in Sasha's chest to send her out of the ring. Ronda missed a running elbow to break a LED ringside. Sasha lays her out with a suicide dive and keeps control in the ring after that.
Banks hits a double knee in the corner for a quick two-count. She catches Ronda with a knee but Ronda comes back with a running elbow for a near fall. Sasha hits Rousey with a running knee and then counters Piper's Pit and locks Ronda in an armbar with finger manipulation. Sasha puts on the Bank Statement but Ronda manages to escape it. Ronda hit Piper's Pit. She goes to the top. Sasha cuts Ronda off on the top rope and hits a superplex.
She has locked Ronda's arm but Ronda counters to slam her. She tried to go for armbar but Sasha countered to throw her out of the ring. Sasha tried to lay her out with suicide dive but Ronda catches her lock her in armbar and Sasha taps out outside the ring, hence Sasha survives. Ronda takes Sasha back into the ring to hit punches and a jumping knee for two counts. Banks sends her into the bottom turnbuckle and drops a knee on her injured arm. Sasha counters Piper's Pit and locks in the Bank Statement. Rousey counters the armbar with a gut-wrench suplex before hitting another Piper's Pit for the pin and the win.
Winner – Ronda Rousey via Pinfall

Banks and Rousey share a moment of respect in the ring. Sasha leaves as Ronda celebrates her win. Sasha comes back and offers a handshake before holding up a Four Horsewomen symbol and turning her back on Rousey.
Women's Royal Rumble Match
The first entry is the NXT star, Lacey Evans. She picks up the mic and declares we will witness the history as she will start to clean up the women's division. Natalya is no. 2. They throw each other over the ring before Natalya hits a clothesline near the rope but Lacey survives. Natalya counters a powerbomb from Lacey with a hurricanrana.

Mandy Rose is in at no.3. Natalya has put both Lacy and Mandy in a double sharpshooter.

Liv Morgan is no. 4 and she is thrown out by Natalya as soon as she comes for the first elimination of the night. Lacy and Mandy double team on Natalya before Lacy sends Mandy into the corner.

No. 5 surprises entrant Mickie James. She clotheslines everyone in the ring and tried to send Mandy out with a hurricanrana.

No. 6 is Ember Moon. She also hit some suplexes and punches on others. Mickie tried to throw out Ember and Mandy but fails.

No. 7 entry is Billie Kay. She refused to go in as the ring is too crowded.

No. 8 is newly wedded Nicky Cross. She flatlined Billie outside the ring and comes in to take out everyone with a suicide dive from the top turnbuckle. She continued to attack everyone until Mandy controls her.

No. 9 – Peyton Royce. The IIcconics are double-teaming on Cross. They have thrown Ember over the top rope but she hangs on.

No. 10 – Tamina. She slammed others until Nicky Cross send her out of the ring from in between the ropes. Mickie James is eliminated by a superkick from Tamina.

No. 11- Xia Li. She kicked Tamina in the midsection quite a few times and carried on with kicks to the others.

No. 12 – Sarah Logan. She flatlines Cross and throws Moon over the top ropes but she again survives using her legs on the rope. Iiconics have eliminated Nikki Cross.

No. 13 – Charlotte Flair. She comes in and gets involved with Moon and Tamina. Evans throws Iiconics out.

No. 14 Is Kairi Sane. Flair eliminates Xia Li with a big boot.

No. 15 is Maria Kanellis. Tamina is eliminated by Flair.

No. 16 – Naomi. She eliminates Mandy. Mandy tried to powerbomb her into the barricade but she survives by keeping her legs on the barricades.

No. 17- Candice LeRae. Rose rains on her parade by pulling Naomi off the apron. Flair sends Evans out for another elimination.

No. 18 – Alicia Fox. Maria and Fox teamed up. And we are seeing some antics from Fox before she starts to brawl with Kanellis and eliminates her.

No. 19- Kacy Catanzaro.
No. 20- Zelina Vega.

No. 21 – Ruby Riott. Roitt is helped by other members of Riott Squad as they take down Flair. They eliminated Alicia Fox and LaRea. Vega is hiding under the ring for some reason.

No. 22 – Dana Brooke.
No. 23- Io Shirai. Riott sends Sane out of the ring for another elimination. The Squad teams up on her until Io Shirai comes down and takes out everyone.

No. 24 – Rhea Ripley. Dana sent Kacy out but she saves herself being eliminated using a handstand only to sent out again by Rhea Ripley.

No. 25 – Sonya Deville. Dana is eliminated. She was mocked by Zelina from under the ring and guess what- Hornswoggle is under the ring as well. He
chases Vega back into the ring so Rhea can throw her out.

No. 26 – Alexa Bliss is making her return in the ring.

No. 27 – Bayley. Eliminates Ruby Riott in the second try and then Rhea Ripley.

No. 28 – Lana is wearing a cast on her injured leg. Moon tried to eliminate Shirai.

No. 29 – Nia Jax. She attacks Lana outside the ring. Bayley was thrashing Fliar as Nia came in to clear the ring and eliminated Io Shirai and Natalya.

No. 30 – Carmella. She comes in to hit Hurricanrana on Jax. Becky Lynch asked Finlay to replace the injured Lana and the crowd is getting behind her which forces Finlay to send her in. She is sporting a bandage on her forehead. She takes on Nia as soon as she goes in.
Bliss eliminates Moon from the apron. Bayley hits Alexa with a buckle bomb before she and Mella take her out. It's down to the final five- Nia, Bayley, Flair, Becky and Carmella. Flair eliminated Carmella with a big boot. Nia eliminated Bayley. Final three- Becky, Flair and Nia. Becky is sent out from in between the ropes. Flair somehow picked up Nia on her shoulders but she is unable to throw her out. She did put her on the apron on the second attempt and Becky pulls Nia's leg from outside to eliminate her.
As Becky was going into the ring, Nia pushed Becky into the steel steps, causing a leg injury. Becky is unable to get into the ring. The referee was about to announce Flair the winner but Becky manages to get into the ring. Flair is focusing on her injured leg now. Becky sends Charlotte over the top rope but she survives. But, Becky eliminated her on the second attempt and is going to WrestleMania. Flair is distraught outside the ring and Becky is celebrating her win. The crowd response actually died down a bit after the initial euphoria.
Daniel Bryan vs AJ Styles – WWE Championship
They lock up and AJ takes Bryan to the corner and unloads. The referee calls for a break as Bryan gets under the rope. Styles knocks him down with a shoulder and applies a headlock. Bryan escapes to the outside. Bryan backs AJ to the corner and hits a knee to the ribs and they traded strikes.
Bryan dumps AJ over the top turnbuckle and he hits the ring post on the way out. Bryan rams Styles into the ring post again as he begins to focus on his left arm. Bryan drops Styles into short-arm scissors. AJ grabs the ropes to break it. Some back and forth punches until AJ nails Bryan with a dropkick. He hits a neck breaker for a two-count with one bad arm. Both men trade pin attempts until AJ goes for the calf crusher.
Bryan drops Styles with a dragon suplex for a near fall and then hits a hurricanrana. AJ tries to counter on the top but Bryan kicks him to the floor. Styles recovers and hits a sliding knee on the apron followed by a moonsault DDT on the floor. When they get back into the ring, Bryan puts Styles in the Label Lock. AJ counters into the Calf Crusher. Daniel counters and hits an enzuigiri.
They end up on the top turnbuckle together but Bryan slips through AJ's legs and climbs back up. Styles backflips out of a super back suplex and locks Bryan in the Calf Crusher again. Bryan breaks free and goes for a backslide. AJ is quick to hit him with a brainbuster to get a two-count. Bryan kicks AJ when he goes for the Phenomenal Forearm. Styles nails him with a Pele kick out of desperation.
Erick Rowan has entered at the ringside. The age-old story. Daniel Bryan accidentally hit Referee to knock him down. Styles clash on Daniel Bryan but the referee is down and AJ can't get the pin. Rowan comes in the ring to hit the chokeslam on Styles. Bryan crawls to put his hands over Styles to get the pin and the win.
Winner- Daniel Bryan via pinfall
Bryan hit another boot to the face of Styles after the match. Rowan comes in and he and Bryan pose before going back.
Brock Lesner (c) vs Finn Balor – WWE Universal Championship
Balor has taken the fight to Lesner with a strong start with dropkicks and slams. But Lesner picked him up and throws him out of the ring where he sent Balor to the barricade and then hit a German Suplex on the floor. As Lesner tried to send Balor through the table, Balor countered and pushed Lesner into the sharp corner of the table. Brock is hurt in the midsection. Lesner comes in and throws Balor into the corner and continues his punishment.
He hit multiple German Suplexes in the ring. Balor countered in the corner and hit a swing blade but Lesner soon countered himself. Lesner tries to pick Balor up for F-5 but fails. He succeeds in 2nd attempt but F-5 is countered to a DDT by Balor. He then sends Lesner out with a dropkick and followed it with 3 suicide dives. Lesner somehow comes back in the ring but is hit by a dropkick in the corner and then a Coupe De Grace from the top trunbuckle. He went for the pin and gets two counts as the crowd count delightfully with the referee but Lesner counters to lock him in Kimura lock. Balor is forced to submit and Lesner wins.
Winner- Brock Lesner by Submission
Lesner later came into the ring to hit a German suplex on Balor. Then again a F-5 as the crowd started booing him. Nice offense from Balor throughout the match.
Men's Royal Rumble
Elias is in the ring with his guitar as the no. 1 entry. Crowd is ecstatic..lights off and mobile flashes on. The environment is amazing. He is claiming to start and finish the Rumble and was about to start singing when WWE Hall of Famer Jeff Jarrett enters. He enters in his trademark style, takes the mic and cut a promo. Elias asks him for Duet and crowd agrees. Jarrett starts spelling his name when Elias started hitting him to start the match.
Jarrett hit some punched on Elias but eventually got hit by guitar and is sent out.
No. 3 is Shinsuke Nakamura. He caught Elias with a kick on the face. an Elbow by Elias caught him. Elias goes for the Old School but Nakamura countered it only to go over the top rope to the apron.

No. 4 is Kurt Angle. He comes in and hit suplex after suplex on both Elias and Nakamura and tried to eliminate Elias.

No. 5 is the New Day member Big E. He attacks Nakamura right away. "New Day rocks" chants going on. Kurt Angle hit angle slam on Big E. Nakamura sends Angle on the apron and pushed him for elimination.

No. 6- NXT North American Champion Johhny Gargano.
No. 7 – Jinder Mahal with Singh Brother. He comes in and slammed Gargano. Gargano sends him over the top and a super kick to eliminate him.

No. 8 – Samoa Joe comes in and takes everyone down before eliminating Big E.
No. 9 – Kurt Hawkins. He comes in the ring and picked on Joe and runs out of the ring. Joe locks him into Coquina clutch. Elias breaks the lock and Hawkins goes under the ring just like Zelina Vega did.

No. 10 – Seth Rollins. Comes in and hit some spinning kicks. He sends Elias over the rope and then through the post. Elias hangs on but is ultimately eliminated by Rollins.
No. 11 – Titus O' Niel. He is careful this time and does not slip. Instead of going into the ring he went under the ring to search for Hawkins. Hawkins gets back in the ring with Titus following him. Hawkins eliminated Titus before himself getting eliminated.
No. 12- Kofi Kingston.
No. 13 – Mustafa Ali. Ali mocks Nakamura and sends him over the rope with a superkick.
No. 14 – Dean Ambrose. He and Rollins start brawling before he sends Kofi over the rope. Kofi survives again and comes back in the ring to hit a DDT on Ambrose. Ambrose puts him aside and then eliminates Gargano.

No. 15 – No Way Jose. Into the ring and sent out of the ring by Samoa Joe.
No. 16 – Drew McIntyre. Headbutts Jose and take out others. He comes in the ring and hit Claymore Kicks on Rollins, Ambrose and Samoa Joe.

No. 17- Xavier Wood. He comes and helps Kofi to go back in the ring. But both are eliminated by a clothesline by Drew.
No. 18- WWE NXT UK Champion- Pete Dunne. 600 Days in his Championship Reign. He hit a German Suplex on Ali and then take on Samoa Joe and Drew McIntyre.

No. 19 – Andrade. Gets involved with Dunne and then with Ambrose.
No. 20 – Apollo Crews. Wrecks everyone in the ring. Rollins tried to eliminate McIntyre but he survives.
No. 21 – NXT start Alister Black. Eliminates Ambrose with a spinning superkick.

No. 22 – Shelton Benjamin. He and Crews trade blows. Benjamin survives elimination by Dunne. Samoa Joe locks him in Coquina clutch. Ali saves him. Samoa then locks Ali in Coquina clutch and this time Benjamin breaks it. Ali somehow eliminates Samoa Joe.

No. 23- Baron Corbin. Ali survives elimination a couple of times. Corbin eliminates Crews.
No. 24- Jeff Hardy. He takes down 3 wrestlers from the top rope. Dunne has broken Alister Black's fingers. Corbin eliminates Black. Dunn then works on Corbin's fingers before being hit by Claymore kick by McIntyre and then gets eliminated.

No. 25 – Rey Mysterio. Hit by a backbreaker from Corbin and then gets involved with Andrade.
No, 26 – Bobby Lashley. Goes for clotheslines on Rollins who pulls the ropes down to eliminate Lashley. Lashley then pulls Rollins out and gives him a beating. Lashley sends Rollins through the announce table.

No. 27 – Braun Strowman. He eliminates Baron Corbin and then Shelton Benjamin.
No. 28- Dolph Ziggler. Eliminates McIntyre.
No. 29 – Randy Orton. He has a staredown with Strowman but misses RKO. Strowman picked Andrade on his shoulders, who in turn was suplexing Ali. All 3 were in a chain on top of each other and Rey Mysterio takes everyone down with a jump from top turnbuckle to end a superb move. Strauman is sent out through the ropes.

No. 30- R-Truth. He is rapping at the entrance but is then attacked by Nia Jax. She made her way to ring to enter the Men's Rumble and started taking everyone out. She eliminates Ali and after a staredown with Randy Orton, sends him on the rope. She asks Mysterio to hit 619 but Nia picks him in between the run and tries to eliminate him. Rey countered and hit 619 on her. Rey was ready for West Coast Pop on her but instead, she gets hit by RKO from Orton and soon after gets eliminated. Orton eliminates Mysterio and Andrade eliminates Orton.

Last Four remaining– Strowman, Andrade, Ziggler and Rollins. The other 3 attacked Strowman but he somehow counters to eliminate Andrade over the ropes. He then kicks Ziggler out. Strowman and Rollins are the final two men remaining. They end up on the apron together and Rollins hits a Stomp to get the last elimination and win the match. The show ends with him posing and pointing toward the Wrestle Mania sign.