WWE RAW Live Results & Updates – 3 May 2021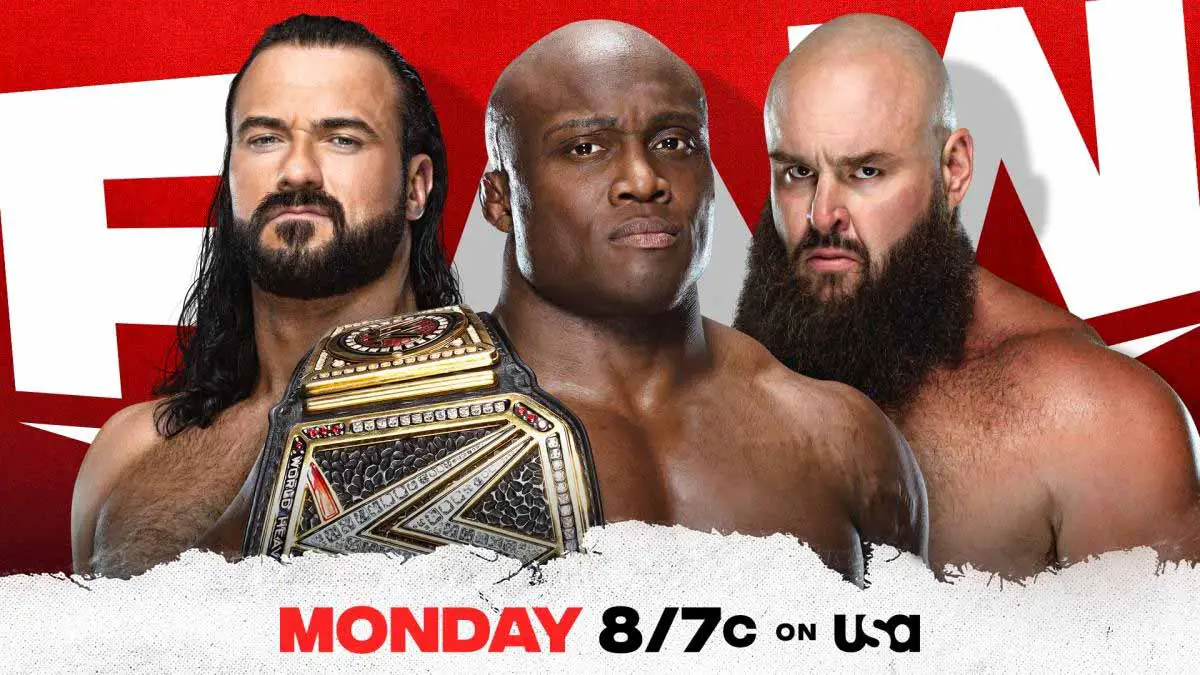 WWE RAW episode of 3 May 2021 has three big matches announced with the likes of WWE Champion Bobby Lashley in action. WWE RAW Tag Team and WWE Women's Tag Team titles will be on the line in separate matches as well as several other storylines will progress as WWE continues to build-up towards WrestleMania Backlash 2021 event.
Join us as we bring you the live results, updates, winners and highlight videos from WWE RAW 3 May 2021 episode. You can also check our preview here.
Event Name – WWE Monday Night RAW
Date – 3 May 2021
Location – Yuengling Center, Tampa, FL, US
Start Time – 8 PM EST(2 February 2021 12 AM GMT/5:30 AM IST)
WWE RAW 3 May 2021 Quick Results
AJ Styles & Omos(c) defeated New Day(Kofi Kingston & Xavier Woods) via pinfall to retain WWE RAW Tag Team Championship Match.
Charlotte Flair defeated Dana Brooke in a singles match via submission.
Damian Priest defeated John Morrison in a singles match via pinfall.
Lucha House Party(Lince Dorado & Metalik) defeated Shelton Benjamin & Cedric Alexander via pinfall in a tag team match.
Angel Garza defeated Drew Gulak via pinfall in a singles match.
Riddle & Randy Orton defeated Elias & Jaxson Ryker via pinfall in a tag team match.
Shayna Baszler & Nia Jax(c) defeated Lana & Naomi via pinfall to retain WWE Women's Tag Team Championship.
Bobby Lashley defeated Braun Strowman via pinfall in a singles match.
---
The show opens with a short recap of the storyline involving Bobby Lashley, Drew McIntyre and Braun Strowman as well as T-Bar & Mace. Earlier today, MVP was with Adam Pearce and Sonya Deville. They will do a coin toss over who will Lashley face later tonight. Strowman and McIntyre appear and start arguing about wanting to face Lashley. Pearce tosses the coin and it is Strowman who will face Lashley tonight. MVP tells Strowman that after Lashley will put him in Hurt Lock tonight, he wont be able to make it to WrestleMania Backlash.
AJ Styles & Omos(c) vs New Day – WWE RAW Tag Team Championship Match
WWE RAW Tag Team Champions AJ Styles and Omos make their way to the ring. They are appearing on the show for the first time since winning the titles at WrestleMania. AJ cuts a promo talking about winning the titles. He then asks us whether we miss them. Styles says they were partying in the Carribeans. He also reminds us that he is now a Grand slam champion.
New Day interrupt him as their music hits. Woods & Kofi congratulate them before slandering them for missing RAW. Kofi says the reason they are 11 times champions because every time they lose the titles, they pick themselves up and dust themselves off and win it back. Kofi makes a case about champions missing the show and recalls how he use to be as the WWE Champion two years back. Omos gets fed up with their promo and tells them to come into the ring. We go to the first commercial of the night.
AJ starts with Woods but Omos asks to tag in. Omos with big blows to Woods' back. Woods tag in Kofi who run circles around Omos. Omos no-sells Kofi's kick before pushing him down to the mat. Kofi runs the ropes and hits a dropkick. Woods tags in for a double dropkick but Omos explodes from the ropes with double clothesline on Kofi and Woods. Omos tags in AJ who gets distracted and rolled up for a two count. A dropkick sends him down to the floor. Woods hits a suicide dive on the floor and Kofi takes him out with a crossbody from the top rope.
New Day keeps AJ under control now. A basement dropkick from Woods before tagging in Kofi. Kofi with a throw and a running kick before putting on a chin lock. AJ fights back to his feet but is sent into the turnbuckle. Woods tags in for a big clothesline and a kick to his back. AJ fights back with punches but Woods kicks at his knee to bring him down once more. New Day continues to keep AJ in their corner and stomp on him in the corner. They get several two-counts.
Kofi puts on a shoulder lock now. AJ comes out of it but Kofi hits a pump knee to get a two-count. AJ hits a Pele kick on Kofi and Woods comes in to prevent the tag. AJ runs circle and tags in Omos. Omos turns Kofi inside out before hitting a backbreaker on Woods. Omos with a splash in the corner on Woods. He destroys Kofi with a double-hand chokeslam backbreaker. Woods is beaten up some more before AJ tags in and hits the Phenomenal forearm from Omos' shoulders to get the pin and the win.
Winners – Omos & AJ Styles
Backstage, Charlotte Flair is with Sonya Deville when Adam Pearce walks in on them. Flair leaves. Pearce is not happy with Sonya over Flair.
We get a vignette for Eva Marie. She hypes her return and says she wants to give it back. The vignette ends with her new "Eva-Lution" promo.
We get the replay from last week how Damian Priest and New Day threw tomatoes on Elias, Jaxson Ryker, Miz and John Morrison. We cut to Elias and Ryker. They want to avenge last week's humiliation. They have some tomatoes in the basket and go to throw it on New Day. Instead, they catch Randy Orton with them. Orton is pissed off at this. Riddle runs past him on his scooter.
Charlotte Flair vs Dana Brooke
Flair toys with Dana to start with and mocks her. Dana with some forearms and takes Flair down with head scissors. Flair with a big knee to the gut to take control back. She hits a big kick to Dana's face at the apron. She throws Dana to the floor. Dana catches her with a big strike and hits a step-up anziguiri. Flair keeps control for the next minute. Dana counters in the corner and hits a couple of back elbows in the corner. She hits a Swanton bomb but could not get the pin. Flair hits a chop block to cut off Dana and puts on figure four on Dana. Flair changes it to figure eight and gets the submission to get the win.
Winner – Charlotte Flair
After the match, Flair is still keeping the figure eight lock on Dana. Mandy Rose runs in and hits a dropkick on Flair to break it. Mandy, with a bicycle kick, sends Flair out to the floor. Sonya Deville comes out as her music hits. We go to a break.
Back from the break, Charlotte Flair and Sonya Deville are in the ring. Deville says she is allowing Flair to make a proposal here tonight. Flair asks why she was left out of the RAW Women's Title action at WrestleMania Backlash and wants to be added to Asuka vs Rhea Ripley title match. Flair goes on about putting Ripley on the map last year and having Asuka take her opportunity. She thanks Deville for reinstating her, but she should be added to the match. She says Ripley and Asuka can only take the division so far but if Flair is added, she makes it that much more important.
Deville says Flair made a good case and she is adding Flair to the match to make it a triple threat. The music interrupts and Ripley comes out, saying this is absolute crap. Ripley says nobody likes her as she enters the ring. She accuses Deville of working her own plan here. Asuka comes out as her music hits. Asuka also calls this crap and taunts Flair for being a crybaby. Ripley steps to Deville and yells at her. Flair jumps on Ripley from behind. Asuka attacks Flair and sends her to the floor. Asuka dances around in the ring as the segment comes to an end.
Kayla Braxton is backstage with Humberto Carrillo. We see replay from last week how WWE United States Champion Sheamus beat up Carrillo. Carrillo says Sheamus has been bullying everyone just because he thinks he can but he won't let Sheamus disrespect him. Sheamus suddenly attacks from behind and beat up Carrillo. Sheamus lays out Carrillo completely and he might be ready to answer open challenge next week. Sheamus walks off.
Backstage, Adam Pearce stops Sonya Deville. He accuses her of abusing her power and asks if he needs to go to a higher authority over her recent actions. Sonya says she sent him a text but there is bad reception in the building. Deville says she had to make an urgent decision and it couldn't wait. She says Pearce is right and they should be making these decisions together. They face off to end the segment.
Damian Priest vs John Morrison
We go back to the ring and The Miz is with Morrison. They're not happy with how The New Day and Damian Priest attacked them with tomatoes last week. Miz rants about his accomplishments and compares himself to the Rock, Steve Austin, John Cena and others. Morrison talks about his new "Drip Drip" gimmick and tries to get him to talk about him. Miz ignores him a couple of times before saying that Morrison would beat the respect into Priest.
The lights go out and Priest makes his way to the ring. Priest hits the ring and we get a pre-recorded promo where Priest talks about respecting Miz and being proud of sharing a ring at WrestleMania with him. He continues saying that he is from New York City, where Miz wouldn't last. He goes on and says he will break Miz's jaw.
Damian Priest trips Morrison to start with. Morrison transitions from a leg lock to a chinlock. They tussle for a while before Priest clotheslines Morrison out to the floor. Priest is under control and beats down Morrison in the corner. Morrison turns it around and unloads but Priest slips out and takes Morrison down. Priest keeps control for a while. Priest misses in the corner and Morrison hits a dropkick to get a two-count. Morrison with a chinlock on the mat.
Priest gets back to his feet but Morrison takes him down again and puts on the chin lock. Priest hits an inverted atomic drop. Both men are down. They get back to feet and Priest starts hitting kicks to Morrison. Morrison counters with a roundhouse kick of his own. Priest with a big forearm and throws Morrison into the corner. He goes for the Broker Arrow but had to resort to a lariat. Priest goes to the top but Miz distracts and Morrison catches him with a Spanish fly from there to get a near fall.
Back and forth continues. Miz distracts the referee this time. Morrison gets Priest in an inside cradle but the referee was dealing with Miz. Priest with a ringing clap and Hit the Lights Out to get the pin and the win.
Winner – Damian Priest
Mansoor is backstage with Adam Pearce and signs a contract for RAW. Pearce welcomes him to the brand. Sheamus walks in and talks about what happened to Humberto Carrillo. He takes a few shots at Mansoor. Sheamus mentions Mansoor possibly challenging him for the title tonight and get hit by a Brogue Kick so that fans can get to know about him. We will see a one-on-one match between them.
MVP is with Kayla Braxton now. He rants about Strowman weaseling his way into the WWE title match at Backlash. He adds how Drew and Lashley are similar in term of their journey. He also proposes that Lashley and Drew take out Strowman so that they can go on and have a "rightful" match between themselves. He adds Lashley will beat him in the main event tonight.
Cedric Alexander & Shelton Benjamin vs Lucha House Party
The match has already started as we return from the break. Alexander with a single leg takedown before Metalik takes him down with a springboard move. Metalik hits a dropkick to get a two-count. Alexander with a Michinoku driver and tags in Benjamin. Benjamin with a couple of bodyslams on Metalik and a back body drop to get another two-count. Benjamin hits a backbreaker before tagging in Cedric.
Cedric takes over and keeps the onslaught going. Metalik hits a big boot and a bulldog. Hot tags to Dorado and Benjamin. Benjamin hits a big clothesline to get a near fall. Shelton blocks a hurricanrana and then a DDT to hit a big boot for another two-count. Dorado hits a big DDT. Alexander runs and gets sent out. Dorado tags in Metalik and takes out Alexander with a crossbody. Metalik hits the rope drop elbow on Benjamin to get the win.
Winner – Lucha House Party
After the match, Alexander takes the mic in the ring as Shelton recovers on the floor. Alexander rants on Benjamin taking about their fall from being the Tag team champions and being thrown out of Hurt Business. Alexander says he should have turned his back on him because he is the weaklink. He talks about Benjamin being there for so long and still not making it. Alexander then says this team is done and leaves the ring.
Drew Gulak stops Angel Garza and asks whether the rose in Garza's hand is for him. Gulak finds it funny that Garza is supposed to the ladies man and still can't score. Gulak says the rose smells as bad as Garza's win loss record and challenges him for a match. Gulak adds that it will be him who smells like roses. Garza says if he wins, he will shove the rose up Gulak's a*s.
Kayla Braxton is with Shelton Benjamin. Benjamin says he has survived in WWE because he can take a hit. He has seen so many bright young superstars come and go and they all fizzle out. He also says Cedric was in Hurt Business because he say something in him. Shelton warns Cedric will fizzle out and he will survive.
Angel Garza vs Drew Gulak
Garza rips his pants and throws them at Gulak to start with to get an advantage. Garza beats up Gulak in the corner before a dropkick. Garza beat downs on Gulak on the mat. A big backbreaker from the hammerlock position. Gulak fights back from the corner with chops.
Gulak puts on a chin lock now and runs his mouth. Garza gets to his feet and somehow manages to throw around Gulak using the ropes. Garza with a clothesline and dropkick in the corner. A big running kick from Garza in the corner against the turnbuckle before he hits the wing clipper to get the pin.
Winner – Angel Garza
After the match, Garza puts a rose in Gulak's pants in his butt and then kicks at his butt hard to be true to his words to shove the rose up his a*s.
Matt Riddle & Randy Orton vs Elias & Jaxson Ryker
Riddle and Orton make their way to the ring one by one. Elias and Ryker enter next. Elias and Orton start. Orton is angry and takes Elias to the corner to beat him up. The referee separates them. Elias with a kick to midsection and tags in Ryker. Ryker beats down on Orton in the corner until the referee separates them. Orton with a rake to eyes as Riddle distracts the referee. Riddle puts on the kimura and Ryker slams him down.
Ryker takes Riddle to the corner and Elias tags in to hit a big knee to Riddle's face to get a two-count. Elias with chops on the ropes and beats down Riddle to keep control. Riddle tries to powerup but Elias with back elbows to keep him under control. Ryker tags in and Elias drops Riddle on his knees with a suplex. Ryker hits another suplex to get a two-count. Ryker puts on a camel clutch and Riddle comes out to hit a ripcord knee.
Hot tags to Orton and Elias. Orton with a big clothesline and decks Ryker from the apron. Elias counters the draping DDT and takes Orton to the announce table. Orton counters to drop Elias on the announce table now. He also takes care of Ryker as he charges at him. Back in the ring, Orton hits a backbreaker. He tags in Riddle and hits a draping DDT to Elias. Ryker comes in to eat an RKO. Riddle gets the pin on Elias with the Floating Bro on Elias to get the win.
Winners – Riddle & Randy Orton
Riddle and Orton celebrate in the ring for a while before we cut to Kayla Braxton and Drew McIntyre backstage. McIntyre says he does not care about who wins between Lashley and Strowman as long as they beat the hell out of each other. He is asked about T-Bar and Mace and McIntyre has questions about whose side are they on. McIntyre says he will win the title back. Strowman comes in and talks about MVP saying McIntyre and Lashley should take out Strowman in the triple threat match. Strowman says he earned his opportunity by beating him last week. He also claims to win the title at Backlash. McIntyre says he will not. Some more words between them as the segment comes to an end.
Sheamus vs Mansoor – WWE United States Championship Match
Sheamus enters for the title match. We get the replay of Sheamus beating down Humberto Carrillo. Mansoor enters for the match as the announcements gets done. Sheamus with a headlock takedown to start with. Mansoor avoids a big move and shoves Sheamus back. Sheamus slaps him and Mansoor hits a forearm. Mansoor hits a dropkick and gets in the crucifix for a two-count.
Sheamus with a big blow to his back and puts him on the ropes before hitting a big shot to drop him to the ringside. The referee starts counting and Mansoor gets back at 5. Sheamus beats up Mansoor in the ring and hits his signature blows to the chest on the apron. On the floor, Sheamus drops Mansoor on the barricades. The referee starts counting again and gets to 9 when Mansoor returns.
Sheamus is shocked at Mansoor returning. Mansoor comes back with back elbows. He trips Sheamus into the turnbuckle and hits a tornado DDT for a two-count. Mansoor goes to the top and Sheamus trips him. Sheamus hits the white noise and gets ready for the Borgue kick. Humberto Carrillo suddenly attacks Sheamus to cause a DQ.
Winner – Sheamus
Carrillo beats down Sheamus in the corner. Sheamus goes out and Carrillo hits a suicide dive. Sheamus drives him into the announce table and hits a Brogue kick to Carrillo in the ring. He hits another one to Mansoor also as he gets up.
Alexa Bliss is in her playground with her doll Lily. She says Lily is a big fans and seeing her favorite superstar up close was truly a nightmare. She loves playing hide and seek and her favorite color is red. Bliss says Lily has got her hands dirty quite a few times and wherever Lily goes trouble seems to follow and certain someone has caught her eyes. But she won't be telling us who that person is and we should not blame her for what happens. Bliss sings as the segment comes to an end with Lily's weird smile.
Shayna Baszler & Nai Jax(c) vs Lana & Naomi – WWE Women's Tag Team Championship Match
Nia and Naomi start. Nia misses a leg drop. Baszler tags in and Naomi hits a step-up enziguri on her. Lana tags in and hits a crossbody splash. Lana with a reverse STO to get a two-count. Double-team work from Naomi and Lana keeps Shayna under control. They hit the double team facebuster to Shayna.
Nia pulls out Naomi and sends her into the announce table. Reginald gets in the ring for the referee to delay the pin count. Shayna goes for the Kirifuda clutch. Lana slips out of it and goes for a bulldog. But Shayna catches her in Kirifuda clutch in the second attempt and gets the win.
Winner – Shayna Baszler & Nia Jax(retains Women's Tag Team titles)
Bobby Lashley vs Braun Strowman
MVP says Strowman in the strongest but he is not Lashley strong. He says this is a fight between two bulls and the bull Lashley will break Strowman's will. Lashley enters for the match. We cut to the break.
Strowman enters for the match next. They face-off in the ring as the announcmeent gets done. Lock up to start. They tussle and Lashley hits a shoulder block in the corner. Strowman throws back elbows to Lashley. Strowman no-sels Lashley's shoulder tackle. Lashley hits a neckbreaker and Strowman kicks out at 1. Strowman with a tackle as Lashley charges. Strowman sends Lashley out to the floor with a clothesline. Lashley circles around the ring.
Strowman hits a corner splash before Lashley gets his boots up the second time. Lashley hits a big forearm from the ropes to get a two-count. Lashley tries to put on a lock on the arm. Strowman gets out of it and was going for a big blow to the chest when Drew McIntyre enters. Strowman is not happy with this and gets out of the ring to confront McIntyre. Lashley takes out Strowman from behind. He offers McIntyre a fist bump and offers to team up. McIntyre does not respond.
We return from a break and McIntyre is on the commentary. Lashley slams Strowman to the mat and stomps on him in the corner. Lashley with some blows to the head on the ropes and the referee had to interfere. Lashley slams Strowman into the turnbuckles now. Lashley hits a snap suplex now and works on Strowman's ribs. Lashley takes him to the corner and hits a running shoulder tackle. Lashley hits a big punch in the corner and Strowman is knocked out.
Lashley gets to the second rope and start to punch on Strowman. Strowman scoops him up and drops Lashley in the middle of the ring to get a two-count. Strowman hits a corner splash. Strowman with a big kick and goes for the powerslam. Lashley slips out and goes for the Hurt Lock. Strowman picks him up for the sidewalk slam.
Lashley goes to the floor. Strowman follows and goes for the running tackle. Lashley throws Strowman into Drew McIntyre. Lashley and Strowman get back to the ring now. McIntyre is angry at Strowman and gets to the apron. Strowman gets distracted and Lashley catches him with a spear to get the win.
Winner – Bobby Lashley
After the match, Drew McIntyre hits the Claymore kick on Lashley. McIntyre gets ready for another Claymore and hits Strowman with it. The commentary team announces Drew McIntyre vs Lashley for RAW next week. The show goes off the air as McIntyre celebrates in the ring.