WWE RAW Live Results and Updates- 27 May 2019
Welcome to the Live Results and Updates blog of WWE RAW episode from 27 May 2019.
Location- Spring Center, Kansas City, MO, US
Start Time- 8 PM ET(28 May 2019 12 AM GMT/5:30 AM IST)
Check- RAW 27 May 2019 Preview
We will start posting updates once the show starts. Please keep refreshing the page for the latest updates.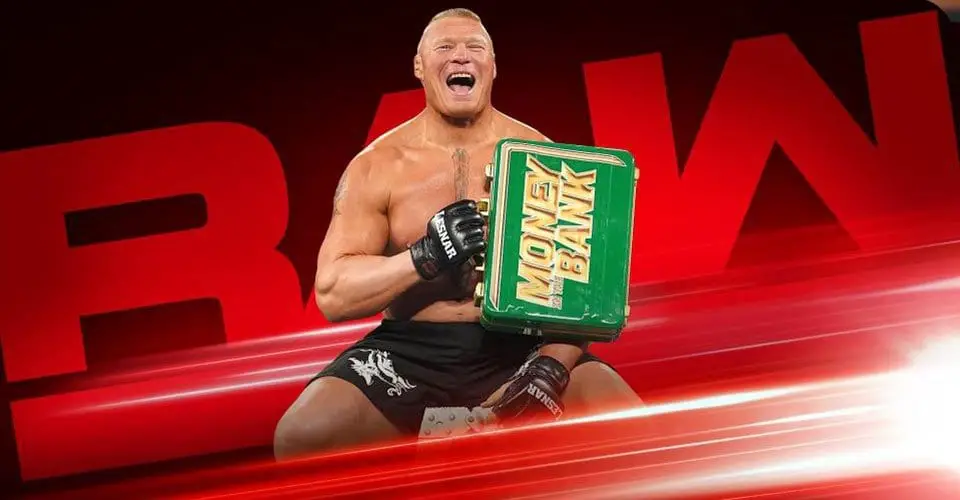 Quick Result
Shane McMahon defeats Lance Anio'a
Becky Lynch and Nikki Cross defeat the IIconics
Ricochet defeats Cesaro
Baron Corbin defeats the Miz, Braun Strowman and Bobby Lashley in Fatal 4-Way Match
Seth Rollins defeats Sami Zayn
Show
A fatal 4-way match is announced for the no. 1 contender to face Seth Rollins at Super Showdown.
WWE is paying tribute to the US Armed Forces before the show starts.
1. When will Lesnar cash-in MITB Briefcase?
Cut to Brock Lesnar backstage, smiling sheepishly. Kofi Kingston makes his way to the ring. The replay of Dolph Ziggler attacking him is shown. Kofi starts on the mic- Kevin Owens reinjured Big E's knee and Ziggler attacked him. But Ziggler has failed since he is still standing. He dares Lesnar to cash in the briefcase on him. Seth Rollins' music hits. Rollins tells Kofi that he also wants to know who Lesnar wants to cash in on. And since both the champions are here, he asks Lesnar to come out. And out comes Lesnar with the 'beastbox' and dances like crazy. This is fun.
Both Rollins and Kofi's music hits one by one and Heyman also tries to get in the act by mimicking to play guitar. Rollins is not impressed and walks backstage. Heyman says that they were going to announce whom Lesnar was going to face, but Rollins leaving the stage has resulted in them not announcing their decision. Kofi runs behind Lesnar but Dolph Ziggler attacks him from behind and slams him on the steel ramp. Xavier Woods comes to the aid of his New Day buddy as Ziggler retreats.
2. Ziggler-Woods Brawl
Back from the break, Kofi is carried out by the officials with Woods alongside him. Ziggler attacks Woods now. They start the brawl and reach the ring. Ziggler throws Woods out of the ring and sends him to the barricade a couple of times. Woods hits a low blow and throws around Ziggler in the crowd for a while and dumps a trash can on him. As they return to ringside, Ziggler takes control and hits a couple of stiff chair shots. He takes Woods inside the ring and again hits chair on Woods' back. He was setting up the chair for a stomp when Kofi runs out with a chair himself. Ziggler runs away.
As we return from the break, Kofi and Woods are still in the ring. Ziggler now appears on stage and cuts a promo. He says Kofi has been wasting his time on worrying about Lesnar cashing-in his contract when he has to worry about him at Super Showdown where the two will face off. He has been defending Kofi in front of others and praises Kofi, but says it should have been him holding the WWE title.
AJ Styles is announced injured and will be replaced by Baron Corbin in the fatal 4-way match later today. The Usos are throwing a party backstage for Memorial Day.
3. Who will face Shane McMahon?
Shane McMahon is shadow boxing backstage and tells Cathy Kelly that he wants some practice before his match at Super Showdown. He will be in action today. He's accompanied by Drew McIntyre to the ring as we head to break.
Hype video for Randy Orton vs Triple H match at Super Showdown.
Shane says that the McMahon family and the Samoan Dynasty have gotten along for a long time. He just basically highlights the nepotism in WWE. He says that Roman Reigns does not show any respect. Shane makes it even more personal by saying that Reigns' father Sika Anoaʻi, made mistakes and his father got in between those mistakes. He then says one of the Superstars from the Samoan Dynasty will face him next.
4. Shane McMahon vs Lance Anoa'i
Lance Anoa'i, one of Roman Reigns' cousins, will face Shane. Before the match can begin, Drew McIntyre roughs up Lance and throws him into the steel steps. He hits a few chops and a suplex at the ringside. Shane tells Drew to stop attacking McIntyre.
The match starts and Shane lands a few punches. Lance retaliates and lands a dropkick on the nose of Shane McMahon, but then Shane lands an elbow to the jaw. McMahon puts Lance in a triangle submission hold and he taps out.
Winner- Shane McMahon
Shane and McIntyre continue to attack Lance, and now Roman Reigns makes his way to the ring, attacks Drew McIntyre and then Shane. Before Reigns could continue his attack, Shane is dragged out of the ring by Drew McIntyre.
5. More cash-in drama!
Brock Lesnar and Paul Heyman are once again in the ring, this time with a referee in the ring. Before Paul Heyman can make the announcement, Seth Rollins, the Universal Champion makes his way to the ring. Rollins calls Lesnar "a joke" and tells him that he's not afraid of him. Seth calls Lesnar a coward and demands him to cash it in.
Heyman reads out the conditions of the Money in the Bank contract. Lesnar realizes that he has a year to cash in his contract and slaps Heyman with the contract. Lesnar laughs and tells Rollins "screw you", I have a year to cash in and walks backstage.
24/7 champion R-Truth runs into the ring trying to escape from several other wrestlers who want to take the title off him.
AJ Styles is interviewed backstage and says that he felt a pop in his back at Money in the Bank and that he won't face off in the fatal four-way match later tonight. He is going to be out for a while. Baron Corbin attacks him out of nowhere.
6. Becky Lynch and Nikki Cross vs The IIconics
Cross starts off against Billie Kay. Billie backs Nikki to the corner and tags Peyton, but Nikki gets out of the corner and prepares for a fight. Royce works on Cross' left arm but Cross takes her down with an arm drag. Royce recovers and brings her to the corner. Kay tags in and Nikki immediately takes her down in a headlock. Cross takes down both IIconics at ringside with a dive as we head to a break.
Kay attacks Becky who is on the outside. Kay continues to put Cross in a submission. Kay prevents a tag to Becky but Cross eventually makes it to her. Lynch comes in and hits a forearm from the middle rope. She hits Royce with a Bexploder and hits a leg drop. Kay breaks up the pin and throws her into the turnbuckle. Billie takes out Cross before she and Royce hit Lynch with a double team for a near fall. Cross takes Kay down on the apron while Lynch hits Royce with a side slam for the win.
Winners- Becky Lynch and Nikki Cross
Lacey Evans' music hits and she heads down to the ring and returns back.
Backstage, The Usos' Bloc Party continues, which has the addition of The Revival. The Usos and The Revival have a temporary truce for now.
7. Cesaro vs Ricochet
Ricochet hits an early hurricanrana before Cesaro takes control with a few strikes. Ricochet sends him out of the ring with an enziguri as we head to commercial. Cesaro is holding Ricochet in an abdominal stretch. The One and Only starts to fight back but Cesaro suplexes him off the mat by his neck to score a two count. Ricochet counters an uppercut and hits a superkick.
Ricochet heads up to the top rope and goes for 630 but Cesaro nails him with an uppercut. Ricochet counters a superplex and Cesaro levels him with another uppercut for a nearfall. Ricochet then counters when Cesaro tries to powerbomb him but is sent out of the ring but he uses his agility to bounce back in and take Cesaro down for the pin and the win.
Winner- Ricochet
Rey Mysterio will give up the United States title next week as he is currently out injured. Samoa Joe makes his way to the commentary desk and says that he hopes Rey Mysterio will hand him back the title that is rightfully his.
The Usos Bloc Party continues with a contest between Dash Wilder and Jimmy. Miz and Braun Strowman cut a backstage promo before heading to the ring. Commentators remind us of the Strowman vs Lashley match for Super Showdown and tell us that either of them will have two matches at the show if they win this match. Corbin and Lashley enter.
8. The Miz vs Braun Strowman vs Baron Corbin vs Bobby Lashley – 4-Way Elimination Match
Lashley and Corbin go after Strowman but Miz starts punching Lashley. Corbin and Miz are thrown out of the ring and Lashley and Strowman start going at each other. Strowman was about to chokeslam Lashley but Lashley grabs his hand and shows his strength. Corbin comes back to the ring and works with Lashley to send out Strowman. Miz lands a neckbreaker on Corbin and takes Lashley to the knees to hit a series of sidekicks on both of them. Corbin counters and hits a side suplex.
Lashley and Corbin start working on the Miz now before Lashley goes to the ringside to slam Strowman to the barricades multiple times. Miz fights off Corbin at the top but Lashley comes back to the ring. Then, it was Corbin's turn to crash Strowman to the barricade. Corbin joins Lashley for a double superplex on the Miz before Strowman joins in to hit the tower of doom. Strowman gets two counts on Lashley before the action heads to the outside. Strowman the lands a double dropkick on Corbin and Lashley. Strowman tries a running tackle on Corbin only for Lashley to cut him in his path. Miz is thrown into the barrier by Lashley and Corbin. Corbin and Lashley land a suplex on Strowman on the outside.
Corbin and Lashley again start to work on Miz in the ring. Miz starts unloading on Corbin as Lashley goes outside to take care of Strowman. Miz low bridges Corbin out of the ring only for Lashley to come back and hit him with a delayed vertical suplex. Miz slams Lashley's face on the rope and counters Lashley's attempt for another suplex. He roughs Lashley up and hits a series of running double knees. Corbin stops him and hits deep six to get nearfall.
Strowman comes back into the ring and hits splashes on Corbin and Lashley. He drops Miz on the apron and tackles Corbin outside the ring. Lashley stops the running truck before both reverses each other's attempts. They start to brawl and goes into the crowd. Corbin and Miz start their work in the ring. Miz avoids a deep six and hits the running knee stomp. Corbin counters the second running knee stomp hits the End of Days to get the pin.
Winner- Baron Corbin, will face Seth Rollins at Super Showdown
Brock Lesnar is shown backstage, chilling with Heyman and the MITB briefcase. Still to come, Bray Wyatt's Firefly Fun House.
The Usos and the Revival get into each other's face before R-Truth comes and tells them he is not here. Anderson and Gallows try to roll him up but could not get the pin. The chaos starts as a fight breaks out between the Usos and the Revival while other wrestlers run after R-Truth.
9. Bray Wyatt's Firefly Fun House
Wyatt is talking to a group of kids once again. Wyatt asks if we liked his recent secret. Wyatt calls the monster "The Fiend" but says he's alright because he's here to protect us. Abby The Witch is there and Wyatt accuses her of bullying him. Wyatt ends up playing a game of limbo with two kids holding the stick. Wyatt says he will always light the way but all we have to do is, let him in! Wyatt turns upside down like he used to and crawls under the stick.
10. Electric Chair with Sami Zayn
We have a new segment called the Electric Chair, where the live audience will ask questions to a Superstar every week. This week's guest is Sami Zayn. Sami is first asked by a member of the audience who asks when is his retirement. Sami insults him by asking him if his parents are related. He's then asked if he misses the Ginger Snap(Becky Lynch) from the mixed-match challenge. Zayn counters the boy by asking him if he is referring to Seth Rollins.
Next question is how he feels about Braun Strowman destroying him. When another guy asks him why he has not won the Universal Championship by now, he shuts him up and tells the audience that they had the opportunity to ask him about many other things including AEW. Seth Rollins' music hits and Zayn runs away from the ring as he enters. Seth is frustrated and throws away the Electric Chair out of the ring.
11. Seth Rollins vs Sami Zayn
As the bell rings, Sami immediately runs out of the ring. Rollins catches up with him and takes control when they get back in the ring. Rollins looks in a vicious mood as he inflicts fury on Zayn. Rollins goes for Zayn's fingers, trying to twist them. The ref makes Rollins back up and Sami jumps on him with a clothesline. Zayn puts Rollins in a sleeper hold and then proceeds to land a few kicks on the Universal champ after a clothesline. Rollins is pushed into the ring post as we head to the break.
Rollins and Zayn exchange punches before Rollins lands a superkick but both men are down. Rollins lands punches and chops followed by a Slingblade. Rollins lands the Blockbuster but Rollins can't pin Zayn as he rolls out. Rollins lands two Suicide dives on Zayn on the outside. Rollins hurts his knee in the second dive. Zayn capitalizes and lands the DDT to get a nearfall.
Rollins lands a superkick but his knee gives up. He goes for the Stomp, but Zayn moves out. Zayn puts Rollins in a Figure Four Leglock. Rollins reverses the lock and Sami gets to the rope to break the hold. Rollins lands a step-up enziguri, but Zayn counters with a Blue Thunderbomb to get another nearfall. Both men on the top turnbuckle but Zayn is pushed to the floor from there.
Rollins tries the splash and Zayn counters by putting his knees up. Zayn goes for the pinfall but Rollins kicks out once more. They start trading punches before Rollins lands the stomp. He takes him a while to recover. With eyes on the entrance for Brock Lesnar, he lands one more stomp to get the win.
Winner- Seth Rollins