WWE RAW 15 March 2021: Live Results, Updates, Winners & Highlights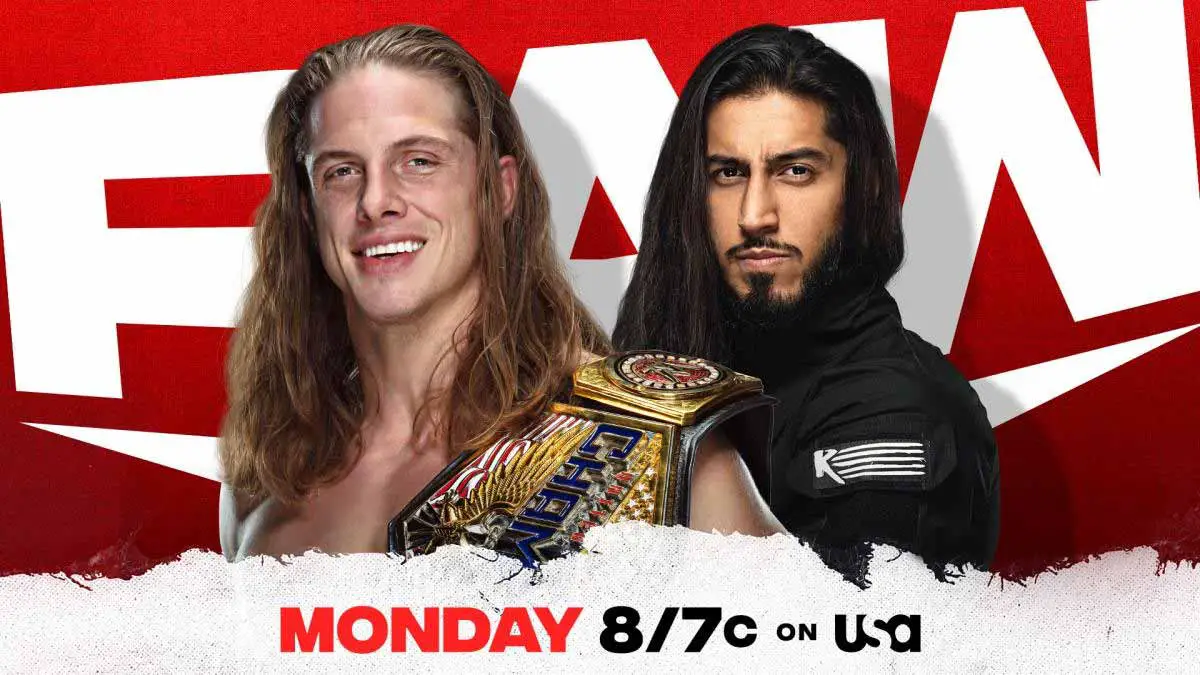 Welcome to ITN's Live blog for WWE Monday Night RAW episode of 15 March 2021(3/15/2021) as we bring you the Live Results, Updates, winners, highlights and videos from the show.
Two title matches and the start of Almighty Era is promised for this week's episode. You can check the preview here.
Almighty Era Begins
The commentators announce Lashley vs Drew McIntyre for WWE Championship at WrestleMania 37. MVP takes the mic and we are officially in the Almighty Era. Lashley says he has worked for it and destroyed everyone. He will destroy Drew McIntyre in the main event of WrestleMania and then will destroy everyone else after that and the Almighty Era will reign supreme. The Miz & Morrison come out. Miz tries to get Lashley to put his title on the line against him for one more time.
Drew McIntyre comes out. He says he did not have the chance to formally congratulate Lashley. He understands the journey to win the WWE Championship as it also took him 17 years to win that title. He then recalls how he went through 30 men and defeated Lesnar in 5 minutes to win the title. But what did Lashley do? MVP tries to interrupt the promo, but McIntyre asks him what is the nature of this relationship. He use to believe that MVP is the puppetmaster and Lashley is the monster but Lashley speaks for himself now.
Miz interrupts from the apron saying that he has go through him first. McIntyre smiles and tells him that he has two options- either he can attack him while he is talking to Lashley or he can turn around and run away. McIntyre finishes his promo with Lashley and also mentions that he will face Sheamus at Fastlane. McIntyre gets ready for the match against Miz when Lashley attacks him. After Lashley leaves, Miz hogs on him to unload. Sheamus attacks Lashley at the ramp as he was going back. MVP and other officials takes the situation under control. We go to the break.
Sheamus is backstage with Sarah Schreiber now. Sheamus says he wants to beat Drew this Sunday at Fastlane and he wants him at 100%, not 90%. Sheamus says Lashley is messing in his business, where he doesn't belong. Sheamus wants a match with Lashley tonight because after he wants to show Lashley what he won't be able to do at WrestleMania. He goes on about being the one to beat Lashley.
Drew McIntyre vs The Miz(w/ John Morrison)
Miz unloads in the corner to start. McIntyre turns it around and chops Miz a few times. A suplex from McIntyre. Miz stops a charge with a back elbow. McIntyre no-sells a kick and hits the Glasgow kiss headbutt. McIntyre unloads with punches before hitting a clothesline. He uses the ropes to hurt Miz in a submission. Miz rolls out of the ring and tries to escape. McIntyre picks him up and sends him into the barricade. He sends Miz back to the ring.
Morrison tries to grab his leg but McIntyre does not get affected. He throws som accessory in the ring which distracts McIntyre. Miz attacks from behind but could only keep control for a few seconds. McIntyre hits the Alabama slam and gets ready for the Claymore. Morrison gets Miz out of the ring and the referee boots from the ringside. We go to the break as McIntyre smiles at an angry Morrison.
McIntyre is unloading in the corner as we return. Miz manages to hit a DDT and goes for the skull-crushing finale. McIntyre with a shoulder tackle, a clothesline, a fallaway slam, and a kip-up. He throws Miz out of the ring and thrusts him many times into the barricade. Next, he slams Miz's face into the steel steps a few times. McIntyre with a Futureshock DDT in the ring. McIntyre gets ready for the Claymore now and hits it. However, he does not cover Miz. McIntyre gets up and points to the WrestleMania sign before putting Miz in the hurt lock. Miz taps out immediately.
Winner – Drew McIntyre
Braun & Shane
Braun Strowman is in the ring and calls out for Shane. Shane McMahon comes out to the stage. Shane says he doesn't know why Braun wants him out here. Braun replies that he's been bullied by guys like Shane all his life but he is not smarter than him. Shane is insulted. He says he'd never make fun of another man. Braun says Shane came out to apologize but he fumbled through it because he got scared. Shane tries to take shots at Braun.
Braun says Shane didn't have the guts to come out and say what he wanted– he wants a match with Shane tonight. Shane says Braun can't handle him and is stupid. Shane says if Braun wants a Brains vs Braun" kind of match for tonight, he's on.
R-Truth interrupts Lana, Naomi, Dana Brooke and Mandy Rose in the back, doing his impersonation of WWE Hall of Famer Steve Austin. Mandy reminds him that tomorrow is 3:16 Day, not today.
Lana & Naomi vs Dana Brooke & Mandy Rose
Naomi starts off with Brooke. Naomi hits a big elbow to the face. Rose tags in but Naomi drops Brooke on her way out, then attacks Rose. Rose catches Naomi and tosses her to the mat. Rose takes Naomi to the corner and unloads. Brooke tags in for the cartwheel elbow into the corner on Naomi. Rose tags back in and hits a running knee to the face for a 2 count on Naomi. Rose takes Naomi back to the corner and beats on her. Rose slams Naomi and in comes Brooke with a moonsault for a 2 count.
Lana counters and hits a side-Russian leg sweep. Lana drops Brooke on the apron and then slams Rose into the mat a few times. Rose runs into a boot in the corner. Lana with a bulldog now. Brooke breaks the pin. Naomi comes in to even the odds but gets double teamed by Brooke & Rose. Asuka's music hits as she enters. Shayna Baszler goes after her at the ramp but Asuka ducks and hits a roundhouse kick. Asuka unloads on Baszler until some referees come out and separate them. In the ring, Brooke takes the blind tag and hits Lana with the swinging neckbreaker for the pin.
Winner- Dana Brooke & Mandy Rose
Riddle approaches The New Day backstage, riding up on his scooter. He wishes them good luck in tonight's title match. There's some comedy after Riddle suggests they get matching pancakes and tattoos. The tattoos was coming on a little bit strong but matching scooters seems fine. Riddle hypes them up as The New Day heads to the ring for the next match.
Hurt Business vs New Day – RAW Tag Team Championship
Woods starts with a chin lock. Alexander turns it around. Alexander hits a shoulder tackle. They run the ropes a few times, dodging each other. Woods gets Alexander in a small package for a two-count. Woods with an armdrage before tagging in Kofi. Kofi gets a two-count after a kick. Benjamin tags in and hits a spinebuster. A big clothesline from Benjamin now. He scoops and slams Kofi a few times. He keeps Kofi in his corner for a while.
Kofi counters from the top turnbuckle to tag in Woods. Woods drops Shelton from the apron first. He takes down Cedric a few times. Shetlon tries to run interference but Woods sends him out. Woods with a few moves on Alexander before throwing him out. Kofi tags in and they both try to take out the opponents. Hurt Business cut off their dives and are in control as we go to the break.
Alexander and Woods are trading strikes as we return. Woods cuts off the charge with an elbow. Alexander does the same with a clothesline. Alexander gets angry and hits a falcon arrow to get a near fall. Woods with a superkick and both men are down. Kofi tags in but eats a roundhouse kick from Shelton. Kofi comes back with the headscissors and a boom drop. Shelton drops him before Kofi comes back with the SOS.
Kofi mises the Trouble in Paradise. Shelton hits a German suplex from the top and Woods has to break the pin. Woods spikes Cedric with a DDT on the floor. Kofi hits the Trouble in Paradise on Shelton and takes out Alexander with a suicide dive. Woods hits an elbow drop from the top. Kofi hits a stomp from the top as Woods keeps him on his knees. Kofi getse the pin on Shelton to win the tag titles.
Winners- New Day(Kofi Kingston & Xavier Woods)
AJ Styles comes out and congratulates New Day for the title win. Kofi asks him what he wants. AJ says he and Omus feel they should be the tag team champions. AJ ends up challenging New Day for the RAW Tag Team titles with Omus. Kofi takes the mic and asks him whether they are even a tag team. AJ says yes. Kofi and Woods accept the challenge.
WWE 24/7 Champion Bad Bunny and Damian Priest are backstage. They take shot at The Miz and John Morrison. R-Truth appears and hands Bunny some Stone Cold merchandise, and wants the 24/7 title back. Bunny talks something with Priest before telling R-Truth that he respects him and the game. Bunny hands over the 24/7 Title to Truth. Bunny and Priest walk off. The pack starts chasing Truth away for the title as we go back to commercial.
Damian Priest vs Jaxson Ryker
Ryker rocks Priest to start. Priest immediately drops Ryker with the Broken Arrow. Priest then nails the Hit The Lights for the pin to get the easy squash win.
Winner- Damian Priest
After the match, Elias drops Priest from behind. Elias brings a guitar in the ring but Bunny takes it and tosses it away. Elias scoops Bunny for a slam but Bunny ends up getting out and rocking Elias with a punch. Priest hits Elias with Hit The Lights in the middle of the ring. Priest and Bunny celebrate as Elias and Ryker look on. John Morrison comes out and distracts them while Miz attacks Bunny from behind with a guitar shot. Miz runs away as Priest checks on Bunny now.
Sarah Schreiber is backstage with MVP and Bobby Lashley. MVP is angry about Sheamus attacking Lashley earlier. He says that the exact same thing that happens to Sheamus tonight will also happen to Drew McIntyre at WrestleMania.
Shane McMahon vs Braun Strowman
Shane is already in the ring. Strowman comes out to the ring. Shane takes the mic and says he does not wrestles everyday, so he needs a warm-up. Shane does push-ups and jumping jacks at ringside. Strowman says he is just stalling. Shane has a hopscotch board at ringside, to help him warm up. He says it could help Strowman count. Strowman gets angry and chases Shane around the ring.
Strowman chases Shane around the ring and catches him. He beats up Shane and sends him into the barricade. Strowman goes for the running train but Shane grabs a camera and attacks him. He strikes Strowman with camera a few more times. Shane sets him up on the announce table and hits an elbow drop sending Strowman through the table. Shane gets up and brings out a bucket of slime from under the ring. He throws slime all over Strowman. He then tells Strowman to never challenge him again and calls him stupid.
Alexa Bliss is swinging on a swing in her playground backstage. She says it's time for inflicting pain. The pentagram is sitting on a swing next to her. She tells Orton if he wants her out of his life so bad, he has to take her out of it. He will get his chance this Sunday at WWE Fastlane. She asks him if he's going to take that chance. Bliss starts laughing to end the segment.
Asuka vs Shayna Baszler
Asuka enters for the match. Shayna Baszler is out with Nia Jax. She gets an inset promo saying she is going to knock Asuka's teeth again tonight and enjoy it even more. Baszler enters the ring and gets ready but Asuka attacks her from behind. Jax hits the ring but Asuka takes her out as well.
Asuka rocks Baszler and then nails the running kick to the face to knock Jax to the floor. Baszler gets up and the referee calls for bell. Asuka starts with a Hip Attack into the corner. Asuka throws Baszler and then knocks Jax off the apron with a Hip Attack. Asuka misses a Hip Attack on the ropes and gets stuck on the ropes. Baszler hits her with stiff kick to the mouth.
Baszler with punches before Asuka turns it around. Asuka goes for the arm bar but stops when Jax tries to get on the apron. Asuka knocks her back to the floor, then dropkicks her in the back to send her into the barricade. Baszler takes advantage and goes for the Kirifuda Clutch. They tangle and Asuka turns it into a pin for the win.
Winner- Asuka
After the match, Baszler fades out Asuka with the Kirifuda Clutch. Baszler goes for a kick while she's down but Asuka catches it and hits a Germans suplex. Asuka unloads with kicks to the face. Asuka removes the turnbuckle pad, pulls out Baszler's mouthpiece and grinds Baszler's mouth into the exposed turnbuckle steel. Asuka smiles as she goes to kick Baszler's mouth into the exposed steel again. Baszler rolls to the floor as the referee calm down Asuka.
Riddle vs Mustafa Ali – WWE United States Title Match
Ali grounds Riddle but he fights back and rocks him. Riddle with kicks and a big gutwrench suplex and a running kick to send Ali to the floor. Riddle yells at RETRIBUTION. Ali grabs him sends him into the edge of the announce table. Back to the ring, Ali hits a running kick. They tangle at the ropes and Ali hits a throat shot and a swinging neckbreaker on the floor. We go to the break.
Ali is in control after the break. Riddle fights back with chops but Ali hits him in the throat. Riddle misses in the corner. Ali traps Riddle's head in the apron cover and punches him a few times. Ali hits a big reverse neckbreaker. Riddle tries to come back with some kicks. Riddle unloads with punches, a pele kick, kips up, a running forearm in the corner, a Exploder suplex and a Broton in quick succession.
Ali blocks the Final Flash knee with a big kick. They trade roll-ups. Ali had Riddle in a pin but T-BAR has distracted the referee. Riddle comes back and hits Bro Derek in the middle of the ring for the pin.
Winner- Riddle
After the match, Riddle runs away to the ramp as RETRIBUTION storms the ring. Ali throws a fit and yells at T-BAR and RETRIBUTION as Riddle celebrates with the title.
Drew McIntyre is in the ring. He says MVP is making promises earlier and fans don't like it when you don't deliver on promises. Drew promises he and Sheamus will bring a level of physicality like never before at WWE Fastlane. Drew says Sheamus is looking to take him out on the last stop before WrestleMania 37 but he is going to take Sheamus out and then take back his title from Bobby Lashley.
Bobby Lashley vs Sheamus
Winner – Bobby Lashley
After the match, Lashley stands tall with MVP in the ring. Lashley and McIntyre stare at each other. Lashley picks Sheamus back up and applies The Hurt Lock. Drew enters the ring and Lashley has some words for him. Drew drops Lashley with a big Claymore as Lashley gets distracted. Sheamus gets back to his feet now. Sheamus and Drew stare each other down the final RAW before WWE Fastlane goes off the air.