WWE NXT Live Results & Updates- 27 November 2019
Welcome to ITN's Live Results and Updates Blog for the WWE NXT episode of 27 November 2019 (11/27/2019).
Date- 27 November 2019
Location- Full Sail Live, Winter Park, FL, US
Time- 8 PM EST(28 November 2019 1 AM GMT/6:30 AM IST)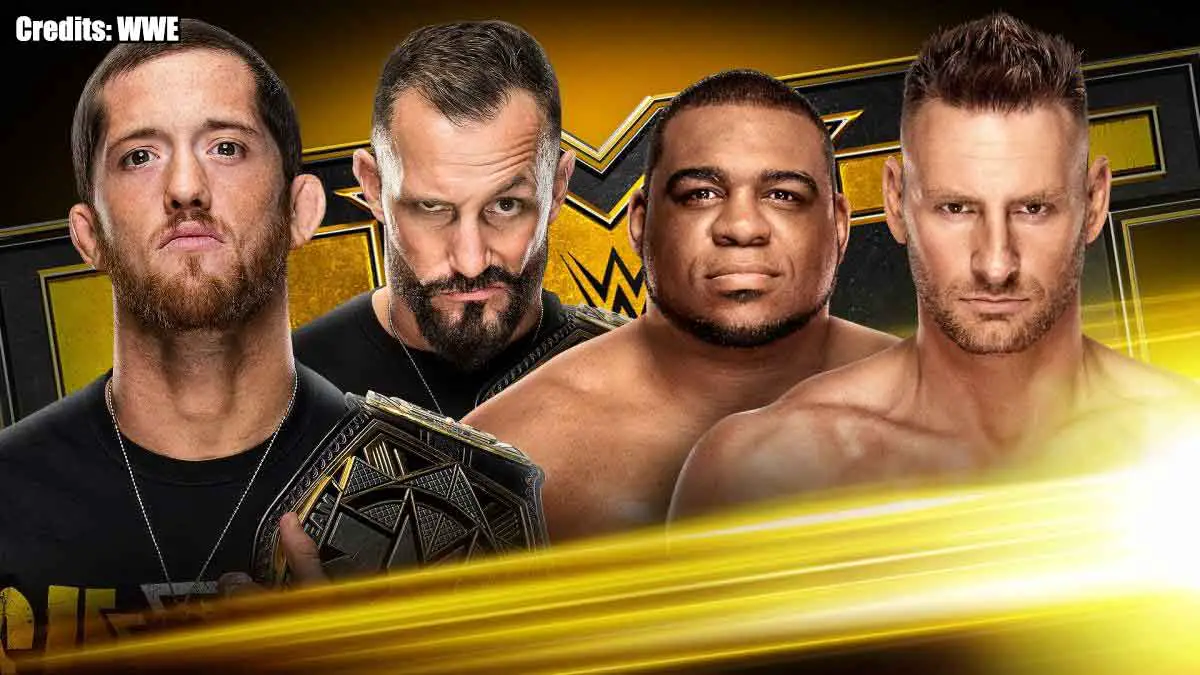 WarGames and Survivor Series are over and NXT stood tall at the end of all the chaos in the last month. Even as we move on from those events, there are many open-ended storylines to be taken care of. Tegan Nox's turn was coming but it was shocking to see. Tommaso Ciampa has put his NXT Championship quest on hold for WarGames and he will resume his journey towards claiming back the Goldie. But where does Finn Balor fit in all of this? There will be two title matches for the show with NXT Tag Team Title and WWE Cruiserweight Championship on the line.
Now We Celebrate!
The episode opens up with a video package with highlights from "Takeover: WarGames 2019." As we go live, Josiah Williams is on the stage, talking about how NXT beat up on RAW and SmackDown at Survivor Series and now it's time to celebrate. The NXT roster empties out into the NXT Arena, celebrating with each other and the crowd, as Josiah raps the intro.
The music hits and The Undisputed Era comes out to the entrance ramp. Tommaso Ciampa, Keith Lee, Matt Riddle, and Dominik Dijakovic enter the ring. Adam Cole tells everyone that NXT won the night because of the Undisputed ERA and none of the superstars who is surrounding the ring have done anything at Survivor Series weekend to celebrate. He goes on about dominating at both events and says they are just getting started. He says they are the Iron Men of this brand.
Tommaso Ciampa had enough of it. He trashes Cole and tells the UE that Keith Lee and Dominik Dijakovic will take the tag team titles away from them tonight. He also says that Roderick Strong's days as North American Champion are limited now. He then addresses Goldie and tells it that he is coming for it. Finn Balor comes out with his music and steps through The Undisputed Era. He stares at Cole and then speaks to Ciampa from a few feet in front of Cole, telling him that he is in Ciampa's way now. Keith Lee the mic and tells Fish and O'Reilly to get in the ring for their match.
The Undisputed Era vs Keith Lee & Dominik Dijakovic
The bell rings and Kyle O'Reilly and Bobby Fish attack Keith Lee and Dominik Dijakovic in their corner. They take out Dijakovic but Lee fights off both opponents. Lee tosses one to the floor and launches the other out onto him as fans pop. Dijakovic returns to the ring to stand with Lee as we go back to commercial.
Back from the break and Roderick Strong has stepped in for Bobby Fish due to an injury. Strong works on Lee as the back and forth continues between the teams. Strong gets taken out a few times by Lee. Dijakovic slams Lee on top of the champs for a big pop. Dijakovic fights off both opponents now. Strong with a chop block from behind. Strong with more power moves and shots to the leg of Dijakovic. Strong keeps him down and works on the leg. Strong drops Dijakovic again for another close two-count.
Back from the break and Strong is still working on Dojo's knee. O' Reilly comes in and makes the mistake of decking Lee. Lee finally tags in and unloads on both opponents for a pop. Lee tosses O'Reilly into Strong after more running wild by himself. O'Reilly saves Strong from a powerbomb. Lee ends up tossing them both at the same time for another pop. Fans chant for Lee again as he stands tall. They bring Lee out and O'Reilly charges at him with a big knee. They bring Lee back in and Strong misses a knee from the top.
Lee knocks O'Reilly out of the air when he jumps. Dijakovic tags in but Strong chops him. Dijakovic takes Strong to the corner and unloads. Strong fights back and goes back to the hurt knee of Dijakovic. O'Reilly tags in but Dijakovic lifts him. O'Reilly catches him in a Triangle. Dijakovic powers up. Strong runs in but Dijakovic slams them both at the same time for another big pop. The UE look to walk away but Lee stops them at ringside. Dijakovic springboards off the top and nails the champs on the floor. Fans go wild.
O'Reilly snaps Dijakovic's hurt leg over the middle rope. Strong tags in but Dijakovic nails a double chokeslam. Adam Cole runs down but Lee hits a Pounce, sending Cole flying into the second row. Dijakovic is hit by High Low by Strong and O'Reilly for the pin to win as Lee runs in just a second too late.
Winners- The Undisputed Era