WWE Raw Live Results & Updates – 5 October 2020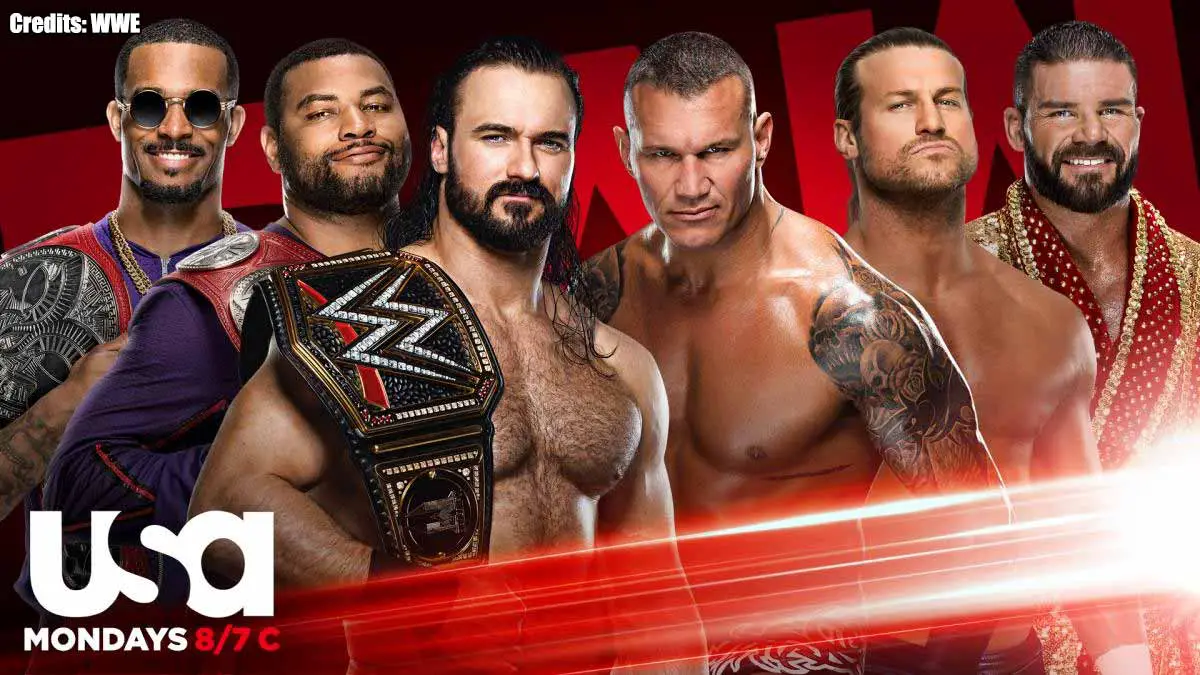 Welcome to ITN's Live Results and Updates blog for WWE Monday Night Raw episode of 5 October 2020 featuring six-man tag team match with Randy Orton & WWE Champion Drew McIntyre, and a special edition of Kevin Owens show with Bray Wyatt as per Raw's Preview for 5 October 2020.
Randy Orton's Promo
The show opens with the commentators informing about the two announced matches for the night. We cut to Randy Orton somewhere in the back. He starts to talk about what happened at Clash of Champions, how Big Show, Christian, Shawn Michaels and Ric Flair cost him the WWE Championship. He then recalls the last Monday's retaliation against the four of them. He then warns Drew McIntyre that this is not over in a very long promo.
Suddenly, the door opens and it is Drew McIntyre. McIntyre starts to beat up Orton in the room. WWE staff comes in immediately and get them apart. Orton runs away as we cut to the break.
Natalya, Lana & Zelina Vega vs Asuka, Mandy Rose & Dana Brooke
Natalya and Dana Brooke start the match with back and forth until Brooke hits a German suplex. Mandy Rose is tagged in and hits a drop kick as she continues to keep control. Zelina Vega goes to trip Asuka off the apron. Rose tries to take her on which gives Natalya the chance to deck Rose from behind.
The heels keep control against Mandy for a while. Rose finally tags in Asuka who runs riot with hip attacks and kicks. Asuka hits Lana with running knee but Natalya breaks the pin. Brooke comes in to take care of Natalya. Mandy takes the blind tag and hits Lana with punt knee to get the pin.
Winners – Asuka, Mandy Rose & Dana Brooke
After the match, the winners celebrate a bit before leaving. Natalya and Vega are checking on Lana when WWE Women's Tag Team Champions- Shayna Baszler and Nia Jax come out. Vega slips off after seeing the danger. Baszler and Jax attack. Baszler takes care of Natalya on the outside while Jax hits a Samoan drop on Lana on the announce table.
After the break, we see R-Truth doing a mock Draft between RAW and SmackDown with the names like Mr. McMahon, Sam Roberts and the Ninjas on the list. A janitor attacks Truth and wins the 24/7 Championship. It is Drew Gulak, who then puts on the caution sign and runs away.
Mustafa Ali, Ricochet and Apollo Crews are backstage when MVP comes to them. MVP says he heard them talking about the WWE Draft. He also tells them that he has got an opening in The Hurt Business for tonight only and gives an example of how Cedric Alexander could be a champion soon. They all walk in different directions but Ricochet is looking like considering MVP's offer.
Seth Rollins & Muprhy vs Dominik Mysterio & Humberto Carrillo
Seth Rollins and Murphy are in the ring now. Rollins asks for a mic but Murphy does not give it to him. Rollins tells him this is not the time for their argument. Murphy replies how he has been his loyal follower but last few weeks made him rethink. Murphy asks him to apologize to Aalyah. Rollins snaps and tells him how he did not reveal more of their messages where Aalyah was speaking bad about her family. Rollins repeated that he is the messiah and Murphy is the disciple and Murphy should keep this in his head.
Dominik and Carrillo enter and attack their opponents before the bell. Murphy fights off Carrillo, then pulls Dominik off Rollins in the corner. Murphy and Rollins get double-teamed before both Carrillo and Dominik hit suicide dives.
The match has started as we return from the break. Rollins takes down Mysterio and keeps control. Murphy tags in and Rollins shouts at him not to tag in unless Rollins tells him to. Rollins continue to be in control with a gutbusterand and a Slingblade. Murphy comes in to assist but Rollins snaps at him again.
Carrilo tags in and takes on both opponents. Carrillo hits a missile dropkick on Murphy to get a two-count. Rollins distracts Carrillo and Murphy hits a DDT. Dominik makes the save. Dominik sends Rollins face-first into the barrier. Murphy goes out and sends Dominik over the barrier. Rollins yells at Murphy again about not needing to assist him. Carrillo takes them down with a corkscrew. Back in the ring, Murphy catches Carrillo with a knee strikes mid-air to get a pin.
Winners – Murphy and Seth Rollins
Braun Strowman wants a match tonight since RAW Underground is not happening. Adam Pearce tells him that since he is a SmackDown star, he can not book him in a match. But if he could find an opponent for him, he could book Strowman in an Exhibition match, which will not be sanctioned. Strowman agrees and walks off. Keith Lee comes up to Pearce and tells him he is signing up for that.
Seth Rollins grabs Murphy backstage and wants him to apologize if Murphy still wants to be his disciple. He has until 10pm to find him and apologize.
Kevin Owens Show with Firefly Fun House
Kevin Owens is in the ring setup for the KO show. Owens tells us he could not forget the feeling of Mandible claw, he thoguht he was paralyzed. Owens wonders why does these dark souls like The Fiend & Aleister Black has a problem with him. Bray Wyatt appears on the big screen with Firefly Fun House. Wyatt wants Owens to be his friend and sings a friendship song. All of his puppets also sign along with him.
Owens tells him that he could not be brainwashed like Alexa Bliss and is just waiting to beat him up on Friday. Wyatt gets serious and replies that 'he' does not like bullies and Owens will know what he is getting into this Friday. Owens tells him that he is coming to find him tonight itself. He leaves the ring and heads to the ramp. Aleister Black attacks him from behind and takes him out with the Black Mass.
Braun Strowman vs Keith Lee – Exhibition Match
The commentators say this unsanctioned match will not count to any win-loss records. Both men enter and start in the ring. They come to stalemate for a couple of times. They collide a few times with niether man going down. Strowman hits a dropkick to send Lee out of the ring. Lee fights back at the ringside. Strowman whips Lee into the steel ring steps and the referee has counted out both of them.
Result – Count Out
Strowman gets angry and runs over Lee through the barricade. WWE officials run down and tro send Strowman back. Lee recovers and decks Strowman after jumping from the steel steps. They continue to brawl up the ramp and Lee spears Strowman, leading to both of them falling down to the floor beside the ramp.
We get another vignette for Bianca Beliar where she is shown smartEST of WWE.
WWE 24/7 Champion Drew Gulak is running around backstage. R-Truth appears from a trash can and Gulak runs over another one which had Akira Tozawa in it. All three competitors end up in a large trash can. They continue to tussle inside the trash can and the referee count for a pin. Truth emerges from the can with the title. Truth runs away with the title.
Bobby Lashley and Shelton Benjamin vs Apollo Crews and Ricochet
MVP, Bobby Lashley and Shelton Benjamin are out to the ring. MVP tells Ali may have won the match last week, but they will never win the fight. He also says that last week would not have happened without Retribution. He puts Retribution on notice.
Ricochet, Mustafa Ali and Apollo Crews come out and cut their promos. They talk about last week's win and reprimands MVP on always making excuses. MVP gets angry and tells Lashley to punish them brutally, especially Ricochet.
The match goes back and forth before Lashley finally locks up Crews in the Hurt lock to get the submission win.
Winner – Bobby Lashley & Shelton Benjamin
We see Murphy walking backstage when he sees Aalyah Mysterio. Murphy apologizes to her and says Seth Rollins thing has gone too far. Aalyah says it's not his fault. She asks if he is still considering an apology to Rollins. Murphy says he isn't sure and walks off.
The Hurt Business is backstage when Mustafa Ali comes up to them and tells MVP to bring Bobby Lashley and Shelton Benjamin with him to their match tonight so that he could start working on them after he is done with MVP. Ali storms off. The Hurt Business are bewildered and Lashley and Benjamin want to go after Ali but MVP tells them not to.
Rollins is Sorry!
Seth Rollins comes out to the ring and tells Murphy his time has come. Murphy comes out to the ring. Murphy isn't saying anything. Rollins ask him to just spit it out and let's get this over with. Rollins berates him and recalls how he was in obscurity when Rollins saved his career and thats why Murphy apolozing to him should not be difficult.
Murphy suddenly tackles Rollins and starts unloading on him. Rollins tries to run away but Murphy sends him over the announce table. Rollins grabs hold of a kendo stick but Murphy snatches it and hit back on Rollins. They are in the ring now and Murphy is asking Rollins to apologize to Aalyah. Rollins calls out Aalyah Mysterio's name and says he's sorry. Rollins says he didn't mean to bring Aalyah into this.
Murphy drops the stick and Rollins suddenly leaps up from the mat and takes Murphy down. He goes to hurt Murphy's eyes before unloading with the kendo stick. Rollins goes to get a steel chair when Aalyah comes out. The rest of the Mysterio Family also runs down. Rollins leaves Mysterio Family to argue with Aalyah. Murphy is down in the ring and Rollins is smiling from backstage.