Brock Lesnar vs Goldberg Rivalry Storyline
This article is about Brock Lesnar vs Goldberg Rivalry storyline during their WWE career.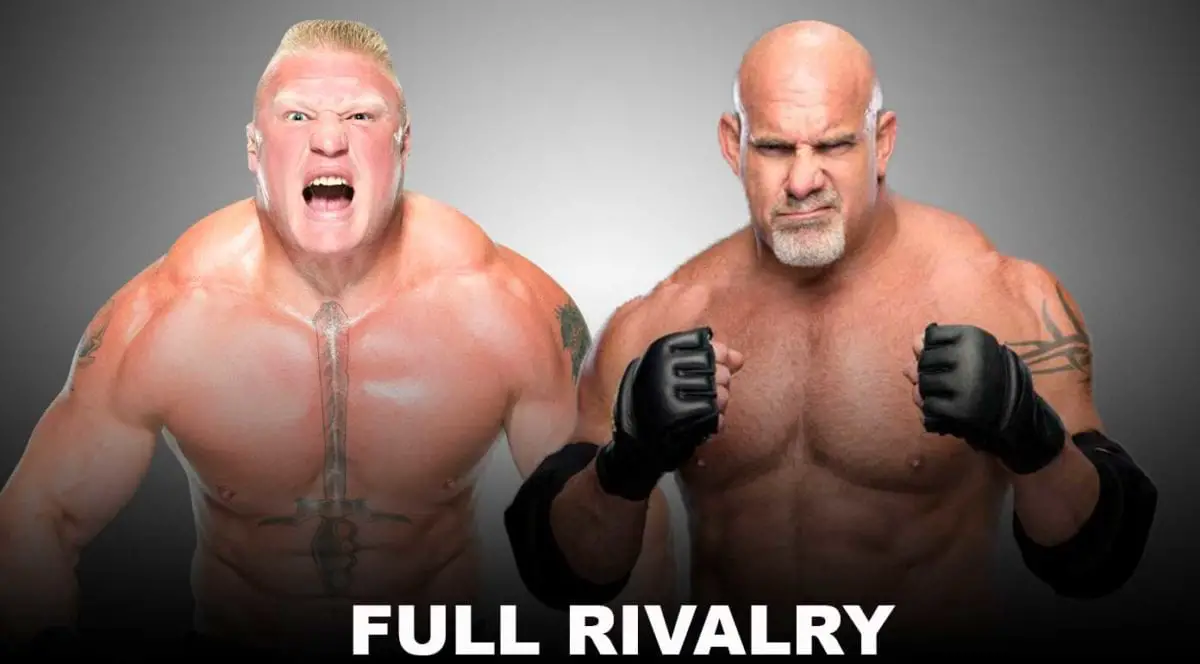 Goldberg was an unstoppable force in WCW, their biggest superstar during their last breath. But when WWE took over WCW, they did not sign him right away. In fact, it took almost 2 years that Goldberg came to WWE. And then too, he was only signed for 1 year as WWE feared that their fans will not lap him up due to being the flagbearer of WCW. What Goldberg was to WCW in 1997, Brock Lesnar became the same star for WWE in 2002. With both being at WWE in 2003-04, their face-off was inevitable. And even when they were at different brands, their paths did cross. Let's dive into the storylines and results from the Brock Lesnar vs Goldberg rivalry.
How many matches have Brock Lesnar and Goldberg had in their career?
Goldberg and Brock Lesnar have faced each other on 3 occasions.
1. WrestleMania 21, 2004
2. Survivor Series 2016
3. WrestleMania 32, 2017
What is Brock Lesnar's Win-Loss Record against Goldberg?
Matches- 3
Win- 1
Losses- 2
#1 First Encounter at WrestleMania 2004 with Steve Austin as the special guest referee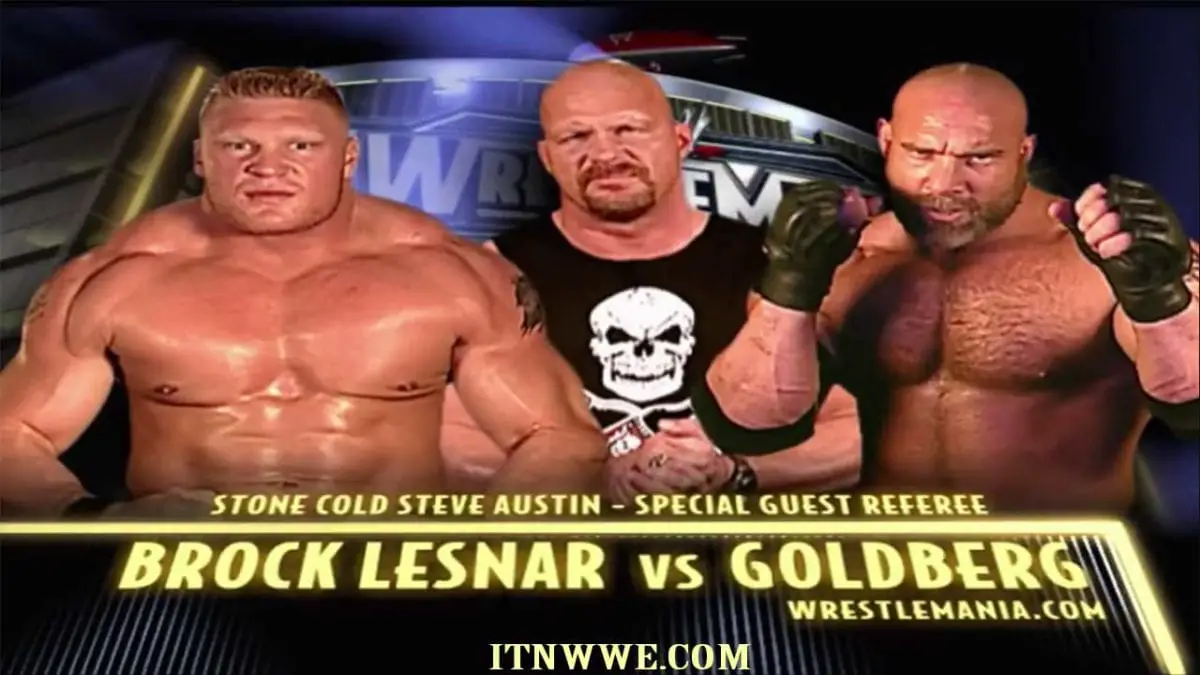 Build-up to the Match
The storyline between Goldberg and Brock Lesnar started at the Survivor Series 2003 when Brock Lesnar was claiming in a backstage interview that he can beat anyone. Goldberg interrupted him at the time and the tension between them started. At the Royal Rumble match, Goldberg entered at no. 30 and was at his devastating best. Lesnar, who was not in the match, attacked Golberg which resulted in Goldberg being eliminated from the match. Goldberg demanded the match against Lesnar next night at RAW but was only given the ticket to No Way Out event by RAW General Manager Steve Austin.
At No Way Out, Lesnar came out and insulted Goldberg which prompted Goldberg to attack him. Goldberg was taken out of the arena by the security but he returned later during Lesnar's WWE Championship defense. He speared Lesnar and Lesnar lost the WWE title to Eddie Guerrero. Next night at RAW, Lesnar attacked Steve Austin who was seen suggesting Goldberg attack Lesnar while also stealing his ATV. Vince McMahon set up the Interbrand match between Lesnar(SmackDown) and Goldberg(RAW) while also making Steve Austin the special guest referee.
Match Description
With such an explosive lineup, the match was anything but. It became common knowledge in the online community that Goldberg's contract was up after WrestleMania. But another twist came in the story when rumors started circulating that Lesnar was also leaving WWE after this match. This resulted in a lot of hostility towards them as they entered for their match with the chants like "You sold out" towards Lesnar in particular. The match itself did not help the cause. Lesnar and Goldberg spent first few minutes after the bell staring at each other and locking in only to come at a stalemate, prompting this match sucks chants.
They finally started with some action as spears, suplexes, clotheslines were executed. Goldberg almost won the match with a neckbreaker and a spear but Lesnar kicked out. At this point, Goldberg went nose to nose to Steve Austin to liven up the crowd for a bit. Lesnar hit the F5 for a nearfall. He missed a Spear but Goldberg didn't. Goldberg followed it up with a Jackhammer to get the win in 13 odd minutes which felt like a half an hour. After the match, Lesnar gave the middle finger to Stone Cold and he replied with a stunner. Golberg came back in the ring and Austin celebrated with him with some beers but he hit him also with the stunner to give the moment which became more memorable than the match.
Winner: Goldberg
#2 Goldberg Returns to WWE Survivor Series, 2016
WWE Return and Build-up to the Match
The relationship between WWE and Goldberg has always been frosty. He was part of the company for one year between WrestleMania 2003 to WrestleMania 2004 but even at that he never emerged as the true superstar and the face of the company as he was with WCW. The things never improved between them for more than a decade until about 2015-16. Golberg was announced to be the pre-order bonus star in the WWE 2K17 game which had Lesnar on its cover. This became a bone of contention between them and both traded insults throughout the summer during the promotional events and social media.
Things started to pick up when Goldberg appeared at ESPN in October 2016 to promote the game and expressed that being in the game had given him some thoughts about returning to WWE. Paul Heyman extended a challenge for Goldberg to face Brock Lesnar in October. This prompted Goldberg to return to RAW next week and the response from the fans was thunderous. The match became official in the next few weeks and ultimately became the main event of Survivor Series.
Match Description
The match between them was another shocking affair. After a staredown in the middle of the ring, Lesnar started the match by picking up Goldberg and shoving him in the corner. That was the only thing that he got to do as after that Goldberg pushed him away, hit two spears back to back and ended the match with a jackhammer to win in merely 86 seconds. It was a shock because WWE had built-up Lesnar for years but he was so easily destroyed by Goldberg.
Winner: Goldberg
#3 Goldberg(c) vs Brock Lesnar, Universal Championship, WrestleMania 2017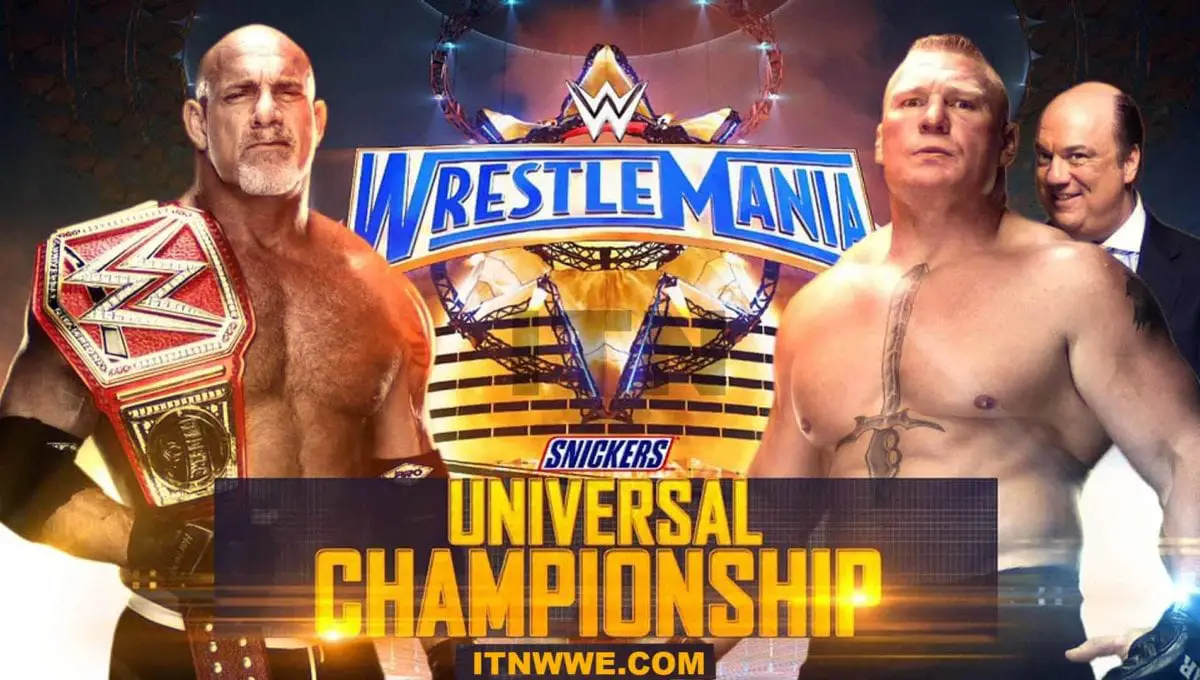 Build-up to the Match
Initially, Goldberg's return to WWE was just for one match at Survivor Series but later WWE signed him until WrestleMania. On the next night of Survivor Series, Goldberg announced himself as the first entrant for the Royal Rumble 2017. On the first RAW episode of the year 2017, Goldberg appeared and told Kevin Owens and Chris Jericho that he will win the Royal Rumble and will challenge KO for the Universal Championship at WrestleMania. During the Royal Rumble match, Goldberg eliminated Lesnar before being eliminated himself by the Undertaker. On the next night, Lesnar put forward the challenge for one final match between them at WrestleMania.
On February 6th episode of RAW, Goldberg interrupted Kevin Owens and Chris Jericho to accept Lesnar's challenge and in turn, also challenged Owens for the Universal title match at Fastlane. Jericho accepted the challenge on KO's behalf which created the problem between KO and Jericho. Before Fastlane, KO assaulted Jericho as he hosted the festival of friendship. At Fastlane, as Owens faced Goldberg, Jericho appeared at the ramp to cause a distraction to Owens. Goldberg took the advantage to execute a spear and a jackhammer to win the match and the Universal Championship.
Match Description
The next night on Raw, Goldberg was confronted by Lesnar, who executed an F-5 on Goldberg. On the final Raw before WrestleMania, Goldberg responded with a spear on Lesnar. At WrestleMania, Lesnar started the match by hitting 3 German Suplexes back to back but Goldberg answered with a couple of spears. Goldberg again hit a spear to send Lesnar through the barricade. Later, Lesnar kicked out of the pin after a jackhammer and went on to hit 10 continuous suplexes from Lesnar and an F5 to win the match. The match was more of a glorious brawl but thoroughly entertaining. Also with this match, the pair redeemed themselves from the disastrous WrestleMania match in 2004.
Winner: Goldberg
---
See Also
Follow the "Rivalry" tag to Know about Rivalries of More WWE Superstars.
---