Beth Pheonix & Matches Announced For RAW 2 March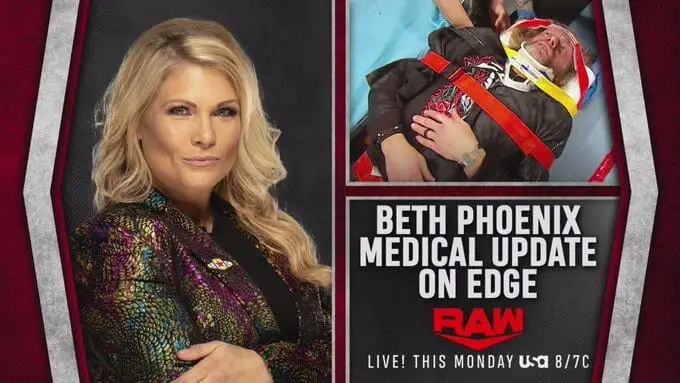 Beth Pheonix is announced for WWE RAW's next week episode on 2 March 2020 to provide an update on Edge's medical condition.
Edge was assaulted brutally by Randy Orton after his return to WWE. Edge returned as a surprise entrant for the Royal Rumble match. But, on the post-Rumble RAW episode, Randy Orton turned on him and attacked him, injuring his neck in the process.
Since then, Edge is out of action with a storyline injury. Now, WWE is using his real-life wife, Beth Pheonix, to take forward the storyline. It is possible that the segment this week might lead to the announcement for the WrestleMania match between Randy Orton and Edge.
In other announcements for next week, an all Latino tag team match is booked. Rey Mysterio and Humberto Carrillo will be taking on WWE United States Champion Andrade and Angel Garza. All four of them are involved in a storyline since Andrade won the United States Championship from Rey Mysterio back in December.
Another match announced is between AJ Styles and Aleister Black. The feud between them started this week on RAW when Styles started an argument with Black. Styles' OC then beat up Black and left him injured before his match against Erick Rowan.
Despite his injury, Aleister Black went on to compete against Rowan and won the match. However, he kept selling his injury throughout the match.
The lineup for next week's WWE RAW(2 March 2020) is as below:
Aleister Black vs AJ Styles
Rey Mysterio & Humberto Carrillo vs Andrade & Angel Garza
Beth Pheonix to Provide Medical Updates for Edge