MITB 2019: Bayley become Ms. Money in the Bank
Bayley has won the Women's Money in the Bank Ladder Match at the namesake show in an incredible match when she defeated  Nikki Cross, Naomi, Natalya, Mandy Rose, Carmella, Ember Moon, and Dana Brooke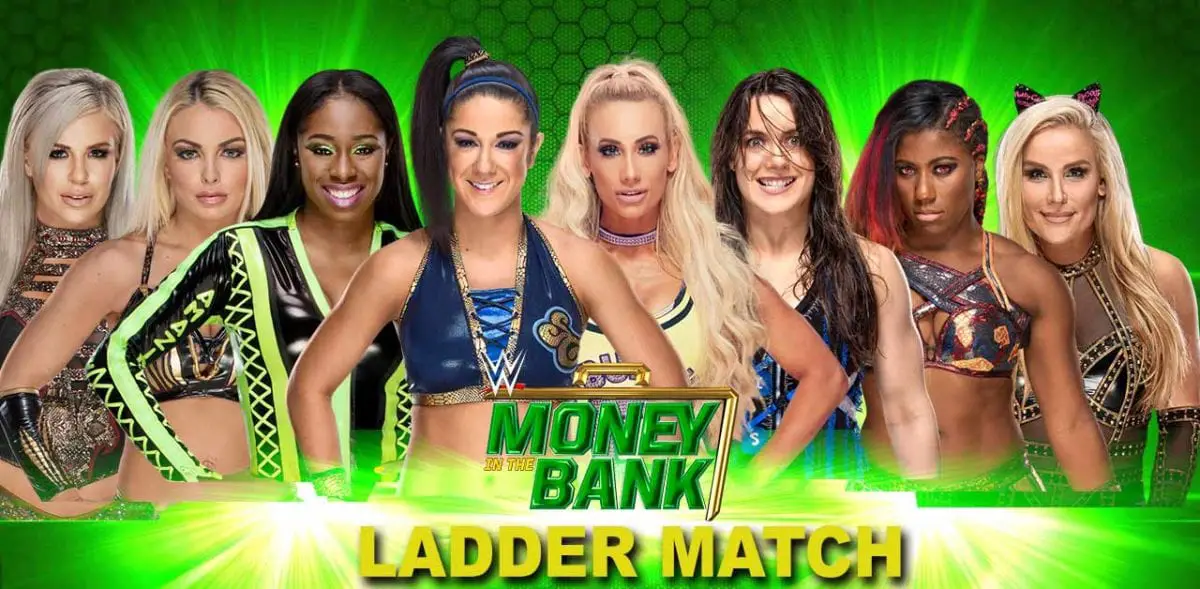 Storyline
WWE directly announced the participants for Women's Money in the Bank Ladder match without any sort of buildup. Alexa Bliss, Naomi, Natalya, and Dana Brooke were booked from the RAW side while Bayley, Mandy Rose, Carmella, and Ember Moon were announced from the SmackDown roster. While the SmackDown side of participants worked a tag team match to hype the match, the RAW side of Women was involved in a fatal 4-way match.
Nikki Cross replaced Alexa Bliss in the fatal 4-way match at RAW when the switch was attributed to a luggage issue. However, it was announced later that Alexa Bliss is not cleared by the medical team to participate in the match and Nikki Cross was announced as her replacement.
Match Description
The brawl starts as the bell rings. Ember Moon runs out to grab a ladder while Nikki has trapped Brooke and Naomi in the apron cloth and is unloading on them. She also brings in the ladder and hits everyone with it. Brooke takes her down but Moon traps Brooke in between Ladder and turnbuckle. Nikki comes back and grabs Moon from behind only for Moon to thrash her in the ladder.
Mandy Rose gets a spot next before Natalya sends her to the ladder with a German suplex. She tries same to Naomi but she lands on her feet on the ladder. Things slow down a bit as more ladders are brought into the ring. Naomi takes down several women at once while Carmella is looked at by doctors at ringside for a possible knee injury. Mella is helped to the back and is shown walking with a serious limp. Naomi hits a moonsault to Bayley on top of a ladder. Dana ends up hanging from the briefcase at one point. 
Bayley tried to set-up the ladder but Natalya and Rose thrash the ladder onto her. Moon hits a lung buster on Natalya and Nikki hits a spinning neckbreaker on Moon. Brooke throws the ladder at Nikki next. Brooke and Rose fight at the top of the ladder for some time before Cross, Naomi and Bayley join them. Natalya pushes the ladder with everyone still on it. Moon hits a blockbuster on Natalya off the top of the ladder. Rose comes in to hit Moon with a suplex. She was going up the ladder as she saw Carmella coming back down the ramp.
Rose goes down where Carmella gets the better of her. Sonya Deville takes her down and incredibly takes Mandy Rose to the top of the ladder in a fireman's carry. As they reach the top, Bayley comes up and pushes both of them. She then takes down the briefcase to win the match.
Winner of the match and Money in the Bank Briefcase- Bayley 
THERE AIN'T NO STOPPING HER NOW…@itsBayleyWWE has WON the #MITB contract! pic.twitter.com/bh0JpMW2Mg

— WWE (@WWE) May 19, 2019