AEW Revolution 2022 Results & Live Updates- Page v Cole, MJF v Punk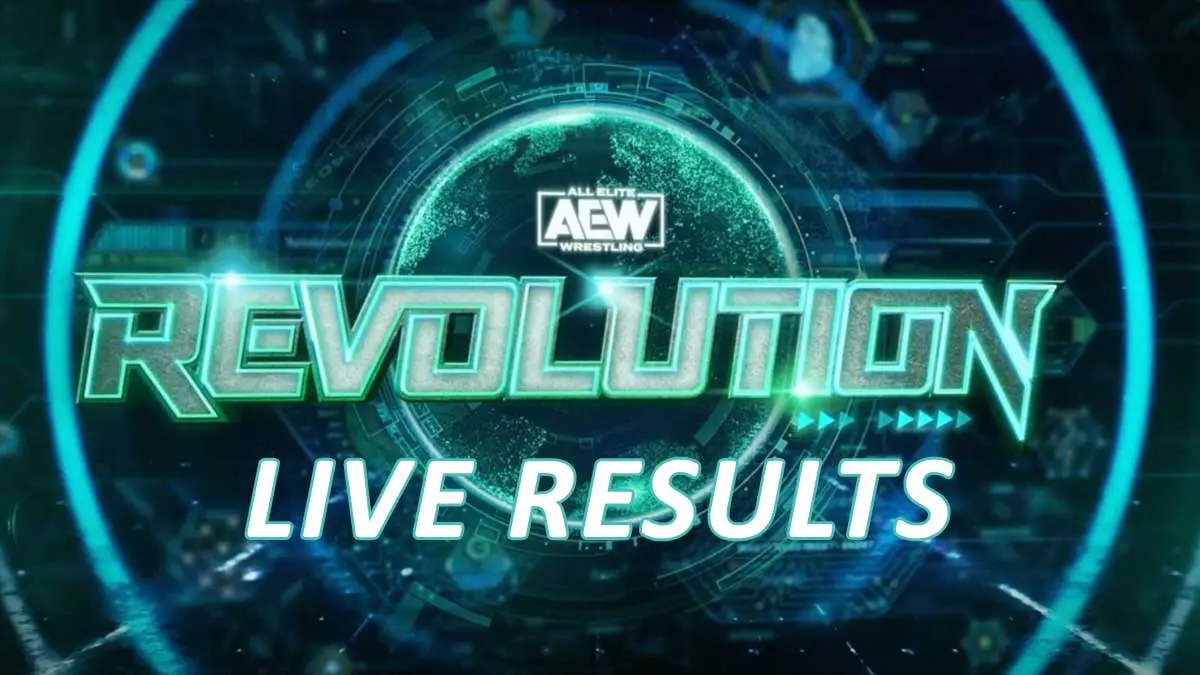 AEW is back with another PPV with AEW Revolution 2022 PPV with a great set of matches and we will be here with all the results and updates from the show.
AEW World Champion Adam Page will defend the title against Adam Cole in the main event. Dr. Britt Baker DMD will defend the Women's title against Thunder Rosa. The tag team titles will be on the line a three-way match between Jurrasic Express, The Young Bucks and ReDragon. TBS Championship will be defended as Jade Cargill looks to continue her undefeated streak against Tay Conti.
Apart from this, some big singles matches are also on the card. CM Punk and MJF will clash in a Dog Collar match to complete a brutal feud. Chris Jericho vs Eddie Kingston and Jon Moxley vs Bryan Danielson are the other two big grudge matches. A Trios match between AHFO(Andrade, Matt Hardy & Isiah Kassidy) and Sting, Darby Allin & Sammy Guevara.
A new #1 contender match for TNT title will be crowned with Face of the Revolution Ladder match between Keith Lee, Wardlow, Powerhouse Hobbs, Ricky Starks, Orange Cassidy and Christian Cage Three matches are announced for the Buy-In pre-show. Hook will make his PPV debut against his former coach QT Marshall. Former friends Leyla Hirsch and Kris Statlander will also face off. Death Triangle's PAC and Penta Oscura will team up with Erick Redbeard against House of Black.
Join us as we bring you the live results and updates from AEW Revolution 2022 PPV with winners and highlights. Also, you can check here to order the show from Fite TV if you are outside United States.
AEW Revolution 2022 Results
Live Updates from AEW Revolution 2022
We will start posting updates from the show from 7 PM EST onwards once the pre-show starts. You can check the pre-show above.
Before Show Updates
There are reports that "Swerve" Shane Strickland will debut on this show.
Leyla Hirsch vs Kris Statlander
Stat hits a shoulder tackle to start. A body slam follows when Leyla charges at her again. Leyla sweeps her hand with a kick when Stat goes for a handspring. Leyla stomps on Kris, taking her to the floor. Leyla traps her arm in the steel steps and hits dropkick on them. Back to the ring, Leyla uses the ropes to hurt the arm some more. Statlander hits a powerslam as Leyla comes off the ropes.
Leyla intervenes as Stat goes to the top. She once again goes to work on the arm. Kris hits chops before Leyla brings her down in the cross armbreaker. Kris gets on her feet and Leyla has to let her go to avoid a powerslam. Kris catches her off the springboard and hits on bodyscissors. They start trading shots now in the middle of the ring. Kris ends that sequence with a backbreaker.
Stat hits clotheslines, a roundhouse kick and blue thunderbomb for a two-count. A running uppercut and a knee strike follows. Leyla catches her leg and slams her on the apron. Kris stops a knee strike before Leyla counters Big Bang Theory with headscissors on the floor. Leyla hits a running knee as Kris comes back to the ring. She hits a trio of German suplexes. Leyla puts on the cross armbreaker. Statlander drags herself and gets her leg on the ropes to break the move.
Leyla hits forearms. Kris stops double knees and takes her to the top turnbuckle. She hoists Leyla on her shoulders and drops her to the mat face-first. She hits another blue thunderbomb for a near fall. Leyla moves to the floor and uses turnbuckle to hit Kris after distracting the referee by throwing her wristband. Leyla hits a springboard moonsault and gets the pin.
Winner – Leyla Hirsch
After the match, Red Velvet comes out to check on Statlander.
A promo for MJF vs CM Punk match.
Tony Schiavone is in the ring. He is here to bring out a special guest. Kenny Omega's music hits but Don Callis comes out in his place instead. Callis snatches the mic away from Tony. He says they have to listen to him tonight. He talks about Kenny's title reign, all while Kenny had multiple injuries, and blames it on the fans who sucked Kenny's blood. He wanted to bring Kenny out tonight, but got disgusted by what is on the card. Callis hopes the Young Bucks will become AEW Tag Team Champions and talks about how Adam Cole has created a sleeper cell. He hopes Adam Cole becomes the traditional AEW World Champion until Kenny comes back.
A promo for Jon Moxley vs Bryan Danielson match.
Hook vs QT Marshall
QT Marshall takes the mic on the stage and says when you have to do something right, you have to do it yourself. He is going to show one of his prized students what does being cold-hearted means. Taz is on commentary. Hook comes out.
Hook avoids the lock up and picks the ankle to drop QT. He tosses QT with a judo throw by picking his arm. Hook puts on a leg lock and QT catches the ropes. QT hits a big blow before Hook sends him to the floor with a clothesline. QT asks him to come to the floor, but Hook ignores him. QT punches in his throat after shielding against the referee. Hook hits an overhead suplex on the floor. QT drives Hook into the bottow turnbuckle. QT hits a vertical suplex and an elbow drop for one-count.
Hook hits a Northern Light suplex and bridges to get a two-count. QT rakes his eyes and then hits a back suplex. QT goes to the top but Hook sweeps him using the ropes. QT avoids the Redrum. He goes for the cutter but Hook puts on the Redrum and immediately gets the tap out.
Winner – Hook
A promo for the World Title match between Adam Page and Adam Cole.
House of Black(Malakai Black, Buddy Mathews & Brody King) vs PAC, Penta Oscuro & Erick Redbeard
Black goes for a running boot but PAC avoids it. Tags to Penta and Mathews. Penta avoids Mathews moves and hits headscissors to send him to the floor. They trade pin attempts in a quick sequence. They come to a stalemate. Brody and Erick tag in. They tackle each other a bunch of times in quick succession but neither men goes down. Black and Mathews sweep Penta and PAC off the apron. Erick sends Brody to the floor and tackles him into the barricade. He sends Black and Mathews to the barricade before hitting a crossbody on Brody on the floor.
Back to the ring, Penta tags in. House of Black take control over him and they keep Penta in their corner for a minutes or so. Penta tries to fight out but Mathews stops him from the tag. Penta skips past him and brings in PAC. PAC hits back kicks and a dropkick. He hits a running kick in the corner. He catches Black with a kick to the midsection on the apron. Mathews hits him with hanging DDT from the ropes. Brody tags in and starts beating up PAC. He hits a big chop before bringing in Black.
Black puts on headscissors lock. The referee is distracted when PAC has his legs on the ropes. Black removes them and takes PAC to the middle. PAC drags himself back to the ropes. Black with more kicks. Mathews come in and hits a kick to the back. More quick tags from House of Black before PAC fights out and tags in Penta. Penta hits a crossbody on Black and Mathews and knocks off Brody. Penta hits slingblades on Black and Mathews. Penta hits Canadian Destroyer on Black and a piledriver on Mathews in one swift move. Mathews catapults Penta to the ropes, but Erick has taken the tag.
Erick hits a senton off the ropes. Erick fights off Black and hits a powerslam. Mathews breaks the pin. Black hits him with a knee. PAC hits him with a dropkick. Mathews hits a Meteora on Black. PAC hits poisonrana on Black. Brody and Erick fight in the ring now. A boot from Erick. Brody hits clotheslines. Brody hits Death Valley Driver but could not cover for the pin. Erick is sent to the outside and Brody hits a suicide dive on him. Other four are getting ready to fight it out. Trading strikes. Double Superkicks from Death Triangle. PAC hits a dive on Mathews on the floor. Penta and Black are on the apron.
Black fights out against Penta and a knee. Penta hits Fear Factor on the apron. He takes Black to the ring, but the referee says Black is not legal. Mathews hits him with a curbstomp. PAC comes in and drops Mathews. Black takes care of him. Erick comes in and Mathews and Black circle him. Erick hits a shot at Black. He goes for a chokeslam on Mathews but Black hits him with Black Mass. Erick does not go down and goes for a chokeslam on Black. Black spits black mist on him. Brody hits Erick with piledriver and Black pins Erick.
Winner – House of Black
Promo for Jericho vs Kingston match, which will open the main show. Jim Ross comes out just as the pre-show ends. The main show is live now.
Chris Jericho vs Eddie Kingston
Jericho is the first one to come out. The commentators note that he is hell serious in entrance and not smiling at the fans singing Judas. Eddie storms into the ring. The bell rings. Eddie starts with a half and half suplex. Jericho lands on his head and is down in the corner. Eddie hits a neck breaker for a two-count. Jericho is stunned with a quick start from Eddie. Jericho fires back by raking his eyes and hits a big shot. He slams Eddie into the barricade. Jericho with punches on his forehead.
Kingston hits back with an enziguiri. They trade chops in the middle of the ring. Eddie takes over and hits Machine Gun chops. Jericho goes for the eyes again but Eddie hits him with a DDT. Jericho reverses an Irish whip and hits a clothesline on the back of his head. Jericho gauges his eyes again and takes more shots. They go to the top rope. Jericho softens him up before hitting hurricanrana from the top. He gets another two-count.
Jericho exposes a turnbuckle. Eddie recovers in this time and hits a Northern Light suplex. They are on the apron. Jericho stops an exploder and hits a suplex from the apron to the floor. Back to the ring, Jericho ducks a backfist and hits a German suplex. He hits another German suplex. Jericho hits another German suplex and then connects Lionsault for a near fall. Eddie explodes with a clothesline. Jericho reverses and puts on the Liontamer. He hits deep on the Walls of Jericho. Eddie crawls and reaches the ropes.
Eddie hits Jericho with a Saito suplex as Jericho is arguing with the referee Audrey Edwards. Eddie hits another suplex before hitting the spinning backfist to get a near fall. Eddie is disappointed at not getting the pin. The referee talks to him and he gets up one more time. Jericho hits him with Codebreaker and gets another near fall. Jericho screams at Eddie to get up and then hits another codebreaker. Jericho gets ready for the Judas Effect. Eddie gets up, ducks Judas Effect and hits back to back spinning backfists. Eddie stretches his arm and puts on a submission move to force Jericho to tap out.
Winner – Eddie Kingston
Eddie does not realize that he has won the match. The referee raises his hands up. Eddie asks Jericho to shake his hand as Jericho promised earlier. Jericho goes to shake hands but then decides not to. Jericho leaves the ring and goes to the back. Eddie takes the response from the crowd.
Jurassic Express(Jungle Boy & Luchasaurus)(c) vs ReDragon(Kyle O'Reilly & Bobby Fish) vs The Young Bucks (Matt Jackson & Nick Jackson) – AEW World Tag Team Championship
JB and KOR start. KOR hits a sidekick to the quads. He puts on a side headlock. KOR hits a boot. JB hits a couple of armdrags. JB hits more kicks before Fish tags in for double team against him.Young Bucks come in. Everyone is sent to the floor and Jungle Boy hits a suicide dive on them. Fish knocks JB off the top and low bridges Luchasaurus to send him out. JB avoids Nick but Matt hits him with a kick to the knees. Bucks hit Luchasaurus with a dive before ReDragon join them for stomping on him.
Matt goes to pin JB but Fish breaks it. ReDragon come in and work in tandem offense on JB in the corner. KOR goes for the pin and the Bucks break it this time. Fish and KOR work on JB before he coutners and sends them to the floor. The Bucks tag in. JB fights off both of them. Fish brings him to the floor and JB hits him with a crossbody off the barricade. JB goes to tag Luchasaurus but Fish sweeps him off the apron. Bucks hits kicks on JB and KOR once again breaks the pin. JB tries to steal a pin but KOR stops him. KOR ends up knocking off Matt from the apron as he was going after JB.
Luchasaurus tags in and runs over both teams with clotheslines. He back elbows in all four corners. He avoids superkicks from the Bucks and rusn them over. Luchasaurus hits a cannonball on ReDragon on the floor. Matt is knocked off the apron by him. Nick counters with a Canadian Destroyer. Matt and Nick go for double team but Luchasaurus gets hit with double chokeslams. He hits chokeslams on KOR and then on Fish. Jurassic Express hits Doomsday Device on Matt but he kicks out of the pin.
Nick hits a superkick on Fish. KOR tags in from JB. KOR and Nick face off before things break out in chaos. Matt, JB and KOR are down in the ring. Matt is sent to the floor. KOR hits a knee to the chest. ReDragon double team on JB. Fish puts JB on the top and nails him with an elbow. JB knocks him off but KOR stops him from making any move. Fish hits avalanche exploder. KOR puts on a kneebar on JB and Fish hits him with a diving headbutt. Nick hits an elbow drop to break the submission. Nick with enziguiri and superkicks. Luchasaurus superkicks Nick. Luchasaurus holds KOR and JB hits moonsault press on them. Luchasaurus goes for the pin but Nick breaks it.
The Bucks bring in the title belt. The referee stops them but KOR snatches it and runs over JB with it. JB still kicks out. ReDragon hit Hi-Low and Luchasaurus breaks the pin. Bucks sweep Luchasaurus off the apron. Bucks wipe out everyone with superkicks. Nick hits a dive on Luchasaurus on the floor. BTE trigger on JB but KOR breaks the pin. KOR is sent to the floor by Bucks. JB fights back against Young Bucks with headscissor and German suplex. Luchasaurus hits a dive on the outside. He comes back in for double team on Matt with chokeslam and powerbomb combo and Jungle Boy gets the pin.
Winner – Jurassic Express
Keith Lee vs Wardlow vs Powerhouse Hobbs vs Ricky Starks vs Orange Cassidy vs Christian Cage – Face of the Revolution Ladder Match
The winner gets a title shot at AEW TNT Championship. Taz joins the commentary team. Two members of Team Taz are in the match – Ricky Starks and Powerhouse Hobbs. Orange Cassidy moves out of the ring as the bell rings. Lee is surrounded by others. Christian and Starks are also sent out to the floor. Three big men face off. Cassidy hits lazy kicks on all three. Lee goes for a suplex but Wardlow and Hobbs take them to the floor.
Christian hits three big men with ladders on the floor. He takes the ladder to the ring but Starks snatches it from him. Orange Cassidy hits him dropkick to send him to the floor. Christian comes in but OC avoids kill switch. Christian sends Starks and OC to the floor. Hobbs comes in and drops Christian. He climbs but Christian stops him and hits inverted DDT off the ladder. Keith Lee htis crossbody on Starks and Christian. Lee swings around OC and throws him on Wardlow. Lee sets up the ladder but Wardlow stops him. Lee gets down for a face-off with Wardlow.
Hobbs picks up the ladder and knocks them off to the floor. Starks comes in just as Hobbs was setting up the ladder. Both climb it but OC sweeps the ladder. He puts it on his shoudler to start a helicopter wing. Lee and Wardlow picks up the ladder and OC gets up on it. OC ends up getting lowblowed with the ladder. Christian is knocked off by Hobbs. Lee is sandwiched against the ladder and OC is thrown against it by Hobbs. Hobbs hits a superplex on OC off the ladder.
Christian hits a spear on Hobbs on a ladder. Christian is tired as he sets up the ladder. Starks takes it to the side and hits a spear through the spear. Starks climbs but Wardlow catapults it to slams his face into the ladder. Wardlow now sets up the ladder but all the other competitors come in. Starks and OC are on Wardlow's back. Hobbs climbs the ladder. Wardlow climbs with other two still on his back. Lee and Christian climb from the other ladder. Wardlow and Hobbs are the only one remaining as others are knocked off one by one. Wardlow and Hobbs drop each other.
Lee, Hobbs and Wardlow face-off. OC is down on the mat. Lee picks up OC and throws him on Starks and Christian on the floor. Hobbs misses a move and ends up on the floor. Wardlow hits Lee with a clothesline to send him to the floor. Wardlow is pumped and fires in shots on everyone. Hobbs and Wardlow take up Lee up on the ramp where a bigger ladder is setup. Wardlow and Hobbs goes to pick up the ladder but it breaks in half. Hobbs strikes Lee and Wardlow with the ladder. Hobbs goes to chokeslam Lee on the announce table but Wardlow knocks them off the stage.
Starks hits a low-blow on Christian in the ring. Starks climbs but Wardlow gets back to the ring. Danhausen comes out and curses Starks and Wardlow. Starks is dropped to the mat. Christian climbs but Wardlow hits him with a powerbomb. Starks has his hands on the brass ring, but Wardlow hits him with a powerbomb on a ladder which was bridged with the other ladder. Wardlow brings down the brass ring to win the match.
Winner – Wardlow
Tony Schiavone is on the stage for a special announcement. It is a special contract signing. He is the Realest Shane "Swerve" Strickland. Swerve comes out to the stage and signs the contract. Swerve says he can go on and on about his matches and titles that he has won. But he has one question- Whose House? The crowd chants "Swerve House."
Jade Cargill(c) vs Tay Conti – AEW TBS Women's Championship Match
Quick start from Conti has Jade stunned. Jade avoids a kick and goes for the Jaded. Conti counters and puts on an arm submission. Jade comes out of it and hits a big pump kick. Conti hits judo throws by the arms. She hits running kicks in the corner and then hits swinging DDT for a two-count. Conti takes out Sterling on the floor. Jade knocks Anna Jay in reply with a pump kick.
Jade slams Conti's face into the steel steps. Back to the ring, Tay hits a pump kick. They trade roll-ups. Jay takes a cheap shot at Jade and Conti rolls her up, only for Jade to kick out. Conti hits a DDT for another near fall. Jade counters the Tay-KO and hits Eye of the Storm for a near fall. Jade goes to the top and hits a frog splash for another near fall. Conti uses Anna as a shield to knock Conti with a pump kick on the floor. Back to the ring, Conti hits a piledriver but Jade kicks out of the pin. Conti goes to the top. Jade drops her on the turnbuckle and hits the Jaded for the pin and the win.
Winner – Jade Cargill
CM Punk vs MJF – Dog Collar Match
CM Punk's music hits but it gets cut off in between. MJF walks out instead as his music starts. MJF gets into the ring. The stage goes dark and some new music is played. CM Punk takes a lot of time to come out. Punk brings back his music from ROH and also the same attire. Dog Collar is put around both men's necks. The chain is very long, covering the whole ring diagonally.
Punk pulls MJF by the chain MJF has to rake the chain, which catches Punk in the eyes. MJF tries to get to the floor and Punk pulls him back. Punk puts the chain across the ringpost and pulls MJF into the turnbuckle. Punk unloads in the corner and MJF pleads to him. Punk moves to the top and MJF slips out underneath him and hits at his knee. MJF hits a powerbomb for a two-count. MJF slams the chain on Punk's back. Punk screams in pain. He then sends MJF to the corner and hits a rising knee. MJF counters the bulldog to slam Punk in the middle of the ring. MJF hits punches on the forehead with the chain.
MJF chokes out Punk with the chain before taking the mic. He tells Punk to tell the fans that he quit just like he quit on him. Punk tells him to eat shit. Punk is bleeding. MJF gets on the middle rope and screams at the crowd as they boo. Punk yanks him off using the chain. Punk hits a punch with the chain and uses it to hit a Russian leg sweep. Punk hits a leg drop. He hits a rising knee strike in the corner and a bulldog. Punk waits for MJF to get on his knees and slams the chain on his back.
Punk beats him up for a while. MJF hits a Punk's laceration on the forehead and tries to choke him out with chain. Punk uses the corner to roll up for a two-count. MJF goes for powerbomb but his grip is gone. Punk counters with GTS attempt but MJF stops him and puts on fujiwara armbar. Punk counters with a backslide pin attempt and then puts on Anaconda Vice. MJF struggles and then pulls the hair for a pin attempt. MJF drops him on the ropes, but Punk avoids the heat sinker by hanging on the ropes. MJF lands on his back. Punk hits the shining wizard with the chain wrapped around his knees. MJF is knocked out to the floor.
Punk wraps the chair around MJF's eyes. Punk hits chain punches. He unloads with more punches on the floor before slamming him into the steel steps. Punk takes more chain shots. Punk misses the shining wizard and crashes his knee into the steel steps. Punk is struggling but hits more punches on the floor. Back to the ring, Punk signals for GTS, but he is hopping on one foot. Punk gets MJF on his shoulders but his knee crumbles. The crowd gets behind him. MJF hits chain punches. He goes for a piledriver on the apron, but Punk counters and hits the move himself. Though, he has injured his knee further.
Punk goes to the top, wraps chain around his elbow, but MJF gets away to avoid the elbow drop. MJF covers but Punk kicks out. MJF brings out thumbtacks. MJF hits rising knee strike. He goes for the running bulldog but Punk bites his hand. MJF hits punches and forearms. Punk fires back but could not hit the brainbuster. Punk stops MJF's brainbuster. Punk hits MJF with a roundhouse kick. CM Punk goes for the Pepsi bomb but MJF counters to drop him on the turnbuckle. MJF hits a superplex on the thumbtacks. Punk kicks out of the pin.
MJF has some thumbtacks on his arm. He screams for Wardlow to come out. Wardlow comes out. MJF asks for the diamond ring. Wardlow acts like searching for the ring and could not find it. Punk picks up MJF and hits GTS. MJF lands on the thumbtacks. Wardlow then finds the ring in his right pocket and hands it to CM Punk. Warldow leaves. Punk picks up the ring and nails MJF with it a punch with it. Punk covers and gets the pin.
Winner – CM Punk
Britt Baker DMD(c) vs Thunder Rosa – AEW Women's Championship Match
They lock up. Front headlocks from both women. Baker hits a suplex. She hits some shots in the corner. Rosa hits some punches to the arm as she works on it. Baker rolls up for a lockjaw but Rosa has anticipated it before hand. Rosa hits a backbreaker. Rising knee strikes in the corner from Rosa. Baker counters with a neckbreaker. Hayter rakes Rosa against the ropes as Baker distracts the referee. Baker hits knee strikes to her face. Rosa hits a step up enziguiri. Baker slams her into the turnbuckle to counter her charge.
Baker slams her shoulder against the ring post. The referee argues with her over something and this gives Hayter and Rebel a chance to takes shots on Rosa. Rosa unloads on the ropes. She hits an armdrag but is out of energy. Baker puts her in hammderlock. Rosa hits a German suplex. She starts to hype up, and hits clotheslines. Rosa drops Baker on the ropes and hits dropkick to her back. Rosa hits a running stomp and a Northern Light suplex for a two-count. Rosa hits double knees in the corner.
Baker slams her to the mat. Rosa goes to counter a suplex but Baker hits he with a few punches. Baker hits a pendulum suplex. Rosa fires punches to her stomatch. A running elbow in the corner. Baker hits a Northern Light suplex. Baker gets the gloves on. Rosa nails her with a dropkick in the corner. Rosa hits a superplex and a swinging neckbreaker. Rosa hits a sliding lariat for a two-count. Dueling chants from the crowd. Baker counters a driver with an elbow. Baker hits double underhook.
Rosa hits punches. Baker goes for the lockjaw, but Rosa counters with a pin attempt. More back and forth before Rosa drops Baker on her head. Rosa climbs to the top. Baker hits avalanche Air Raid crash for a near fall.
Baker hits a punch. Rosa goes for a tombstone. Baker reverses it. Rosa hits the piledriver but Rebel distracts the referee to stop the count. Rosa knocks Rebel on the apron. Hayter slides in the title belt and Baker hits the curbstomp on top of it. Baker throws out the title and covers, but Rosa kicks out. Baker goes for the lockjaw. Rosa reverses it into a rear naked choke, but Rebel has distracted the referee once again. Rosa gets mad and hits a spear on Rebel to take him from the apron to the floor. She then runs over Hayter. Rosa returns to the ring and Baker catches her with the curbstomp to get the pin.
Winner – Britt Baker
Bryan Danielson vs Jon Moxley
Front chancery from Bryan to start. They continue to grapple for a while. Bryan takes both of them to the floor. Bryan gets back and waits on Moxley. Moxley gets back and we get more grappling for a while. They start trading chops now. Then, they trade punches and elbows. Moxley hits kicks to the chest until Bryan hits him with a dragon screw leg. Bryan hits Yes! kicks. Moxley tries to defend the last kick but Bryan hits it on his ribs.
Bryan hits chops which hypes up Moxley. Moxley fires back with chops only for Bryan to hit him more with chops. Bryan hits a suplex. He goes to the top but misses the diving headbutt. Bryan brings Mox down and then hits back to back running dropkicks in the corner. Bryan ducks a clothesline before Moxley hits a German suplex and a Saito suplex. Bryan hits a roundhouse kick. Bryan puts on the bodyscissor front face lock. Moxley slams him to the mat.
Bryan unloads with punches in the corner from the second rope. Bryan hits body kicks. Moxley sends him flying with a back body drop to send him to the floor. They both avoid suicide dives and brawl on the floor. They both knock each other out with an elbow strike. Moxley looks like bleeding from the head. Back to the ring, they trade knees to the body. Bryan is also bleeding on the head. Mox hits a headbutt. Bryan counters Paradigm shift with a rolling elbow. Mox drops him with a big lariat.
They fight on the top. Bryan takes down Mox with an avlanche back suplex. Bryan hits elbows on the collarbone. He puts on the dragon sleeper. Moxley drags his leg to the bottom floor. Mox goes for the sleeper now but Bryan counters. Moxley nails Bryan with elbows now. He puts on the cross armbreaker. Bryan rolls over to put on the LaBell lock. Moxley gets to the bottom rope.
Bryan grabs the arms for his signature stomps but Moxley brings him down and they trade kicks to the face in sitting position. Moxley puts on the bulldog choke. Bryan is in trouble. He counters with a roll-up for a two-count. Bryan hits a back suplex, a dropkick and running knee to get a near fall. Bryan hits the stomps now. He puts on the triangle sleeper now. Bryan nails elbows to the head while sleeper is on. Moxley powers up to pin Bryan's shoulders and gets the pin.
Winner – Jon Moxley
After the match, Bryan is arguing with the referee over the pin. Moxley gets his hands raised and shows off. Bryan starts a brawl again. The referee calls for security as they continue to brawl. William Regal comes out to the ring and they stop the brawl. Regal slaps Moxley. And then slaps Bryan. He tells them something and get them to shake hands.
AHFO(Andrade El Idolo, Matt Hardy & Isiah Kassidy) vs Sammy Guevara, Darby Allin & Sting – Tornado Trios Match
They get to the action right away. Darby going after Andrade. Sting and Hardy and Sammy and Kassidy are the other pairs. Jose tries to intervene but Sting beats him up. Jose is sent into the steel steps by Sting and Darby. They make him sit on a chair with can on and Darby hits him with a suicide dive. Andrade slams Sting and Darby with a trash can. Andrade drops Sammy on the barricade with suplex. Hardy is beating Sting in the ring. Andrade gets double suplex from Darby and Sammy.
Sting fights out of double team from Hardy and Kassidy. He slams them with trash can before Darby hits them with coffin splashes. Sammy htis GTH on Kassidy. Andrade hits dropkick on Sting. He then hits bucklebomb on Darby. Andrade puts Darby in Tree of Woe. He fights off Sammy and stomps on Darby. Hardy hits Sammy with Twist of Fate. Sting breaks the pin. Hardy and Sting fight on the floor now. Darby avoids Andrade's charge against the barricade. Sting whips Hardy into the barricade. Mark Quen comes out to save Kassidy from Sammy. Sammy fights off and sends Quen and Kassidy over the barricade. Kassidy hits a DDT on the floor.
Sting and Hardy fight in the crowd now. Sting slams chair on Hardy's back. Darby and Andrade also go out there. The Butcher and the Blade attack Sting and Darby. Butchers swings Darby into the barricade. Private Party was looking to put through the table. Sammy fights back and makes Quen run away. Sammy hits Spanish fly on Kassidy from the top of the stage and through the table.
Sting fights the Butcher and the Blade. Hardy hits him with a low blow. Hardy takes Sting on the upper tier. Darby and Andrade fight below them. Sting batters Hardy with punches and then hits splash through Andrade and through a table. You still got it chants from the crowd. Hardy takes Darby back to the ring. Hardy slams a chair on the back. Darby counters with Scorpion Death Drop on the chair. Darby hits Coffin drop on Hardy to get the pin.
Winner – Darby Allin, Sting & Sammy Guevara
Adam Page(c) vs Adam Cole – AEW World Championship Match
They lock up and Page shows his strength advantage to take Cole to the ropes. Page puts on a hammerlock. Cole reverses it. Cole rains down elbow in the corner. Page drops him with just one. Page hits chops in the corner. Cole hits a kick to the midsection. Page hits another chop, a clothesline in the corner and a short-arm lariat. More chops from Page. Cole goes to the floor and Page hits him with a sliding dropkick through the ropes. Page slams Cole into the barricade.
A running boot knocks out Cole. Cole slams Page's right arm into the ring post and then into the steel steps. He slams the shoulder into the steel steps now. Back to the ring, Cole kicks at Page in the corner. Page hits chops and Cole quickly hits back with a Ushi Garoshi. A suplex from Cole before he nails down elbows on the shoulder. Cole uses the ropes to hurt Page's right arm. Page hits chops in the corner. Cole hits a spinning backbreaker. Cole puts on an arm lock. Page hits a big boot. Cole counters a Death Valley driver with knees to the back.
Page hits a punch before Cole hits a low kick. Cole goes for the Panama Sunrise but Page catches him with a kick midair. Page hits more punches before a fallaway slam. He hits a springboard clothesline on the apron. Cole drops to the floor and Page drops him on the apron with a powerbomb. He quickly follows with Orihara Moonsault. Page gets ready for Buckshot but Cole slips to the floor. Cole hits a Gamengiri. Back to the ring, Page counters with a Liger bomb to get a near fall.
Page goes for superplex. Cole fights back but could not finish the sunset flip. Cole catches Page with a superkick midair as he goes for a moonsault. Page counters a superkick with Dead Eye for another near fall. They trade strikes on their knees. Page stops Cole from removing his knee pad. Back and forth strikes until Cole puts on crossface. Page gets to the ropes. They both are on the apron now. Cole slams Page's elbow on the apron. Page hits tombstone piledriver for a near fall.
They trade strikes once again on their knees. Page hits a headbutt. Cole hits a pump kick. Cole hits an enziguiri and a brainbuster for a two-count. Cole is on the top and Page meets him there. Page hits an avalanche power slam for a near fall. Page gets ready for the Buckshot Lariat but ReDragon comes out. Cole nails a superkick to drop Page to the floor and then hits Panama Sunrise on the floor. Back to the ring, Page kicks out.
Page fights back with rolling elbows. ReDragon distracts the referee for Cole to hit a low blow. Cole hits Panama Sunrise and Last Shot in quick succession but Page still kicks out of the pin. Cole hits a superkick to set up another Last Shot but Page hits a big lariat. Cole hits superkicks to counter Buckshot Lariat. More superkicks follows but Page avoids Last Shot by going flat on his stomach.
ReDragon set up a table for Cole for Panama Sunrise but Page counters with Dead Eye through the table. Dark Order comes out to check on Page. They start beating up ReDragon when they argue with them. Page gets up and sends Cole back to the ring. He hits Buckshot Lariat but Cole gets his arm on the ropes. Page ties Cole's arm on the ropes. Cole hits a superkick and unties himself. Page drops him and hits Last Shot after removing his knee pad. Page hits Buckshot Lariat to get the pin.
Winner – Adam Page
After the match, Page celebrates his win. Cole is down in the ring but Page gets his hand up and shakes it. Page gets his hands raised to close the show.