AEW Rampage July 28, 2023 Results, Live Updates, Winners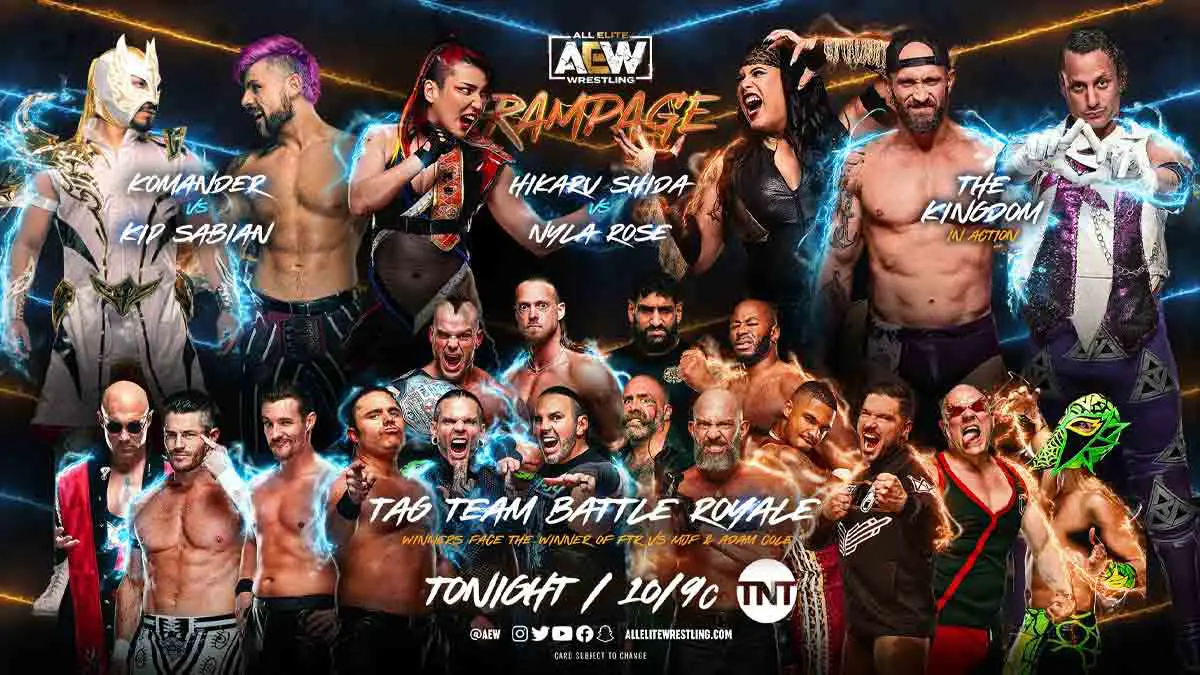 Welcome to the live results blog for AEW Rampage July 28, 2023 episode, which was pre-taped earlier this week in Albany, NY(Spoilers are available here).
The show featured a tag team battle royal feature The Hardys, The Butcher and The Blade, Big Bill & Brian Cage and others tag teams. Hikaru Shida took on Nyla Rose in an important women's match.
The Kingdom were also in action along with Komander facing Kip Sabian in a singles match. Tune in below as we post results from AEW Rampage July 28, 2023, with live updates, winners, highlights and complete action.
RESULTS
Big Bill & Brian Cage won the Tag Team Battle Royal.
Komander defeated Kip Sabian in a singles match via pinfall.
The Kingdom(Mike Bennett & Matt Taven) defeated enhancment talent in a tag team match via pinfall.
Hikaru Shida def. Nyla Rose
LIVE UPDATES
Tag Team Battle Royal
Many of the competitors corners Big Bill, but he fights them off. Matt Hardy is now fighting him. Satnam is randomly beating up people. Luther has Cage on the ropes. Christopher Daniels is working on Angelo Parker. Brother Zay hits a hurricanrana on Serpetico to send him into a cutter from Matt Sydal. Big Bill eliminates Luther as he was targeting Big Bill. Serpentico is also thrown out. Lethal saves Parker from elimination. Satnam hits a big blow on Daniels' back and works on him on the ropes. Zay holds onto the ropes with one hand after he falls over the ropes. Satnam throws him out again to eliminate him.
Parker and Menard throw Matt Sydal out of the ring. Satnam hits a big chop on the Blade. The Hardys eliminate Parker. Butcher fights off Bill and Cage. Lethal clotheslines Page to the apron. Page hits back with a cutter and puts Lethal to the apron. Sonjay Dutt is decked off the apron. Satnam eliminates Page from behind. The Hardys push Satnam into Lethal on the apron to eliminate him. Page and Lethal brawl to the back.
The Hardys are working on Satnam's leg. Cage and Bill eliminate Matt Menard. The Butcher and The Blade drops Daniels on knees before throwing him out. Satnam blocks Twist of Fate from Matt and throws him out of the ring. Jeff hits Satnam with jawbreaker and then hits a Twist of Fate. Cage and Bill also join in the attack to eliminate Satnam from the match. The Butcher and The Blade eliminate Jeff Hardy. Butcher-Blade & Cage-Bill are the only ones left in the ring. They start to brawl. Blade hits a twisting neckbreaker on Cage. Blade hits a stunner on Bill before a clothesline from Butcher. Cage saves Bill from elimination.
Cage drops Blade with a driver before a flatliner on Butcher. Blade saves Butcher from elimination and they double team on Cage. Bill runs them over with a double clothesline. A corner clothesline and a big boot on The Butcher from Bill. Cage and Bill hit Powerbomb/clothesline combo on Blade before throwing him out. Butcher fights them both with quick shots. He hits a backbreaker on Cage and a shot at Bill's knee. Bill and Cage hit Butcher with an assisted chokeslam before sending him out of the ring to get the win.
Winners – Big Bill & Brian Cage
We hear from The Kingdom over what Ring of Honor and tag team wrestling mean for them.
Komander vs Kip Sabian
Sabian gets Komander to the mat and works on his arm. Komander does the same with Sabian. Sabian hits a shoulder tackle. Komander hits arm drags before Sabian sends him to the floor. Sabian nails an uppercut. Komander comes back with a dropkick before hitting a top con hilo. We cut to a break.
They trade shots as we return. Komander hits a tijeras and rounhouse kick to get a near fall. Sabian tries to counter but Komander gets him in a shoulder trap. He gets a near fall with a backslide. Komander nails a big right before dropping Sabian on the ropes. Sabian catches him with a pump kick before throwing him to the floor and hitting a penalty kick. He hits an Arabian Press on the floor. Sabian hits a running shooting star press. Sabian gets him in a torture rack. Komander slips out and hits a back elbow.
Sabian diverts the referee's attention to allow Penelope Ford to rake Komander's face. Sabian hits a slingshot suplex. Komander hits a ringboard destroyer. He hits a shooting star press after walking the ropes to get the pinfall.
Winner – Komander
The Kingdom(Mike Bennett & Matt Taven) vs Enhancement Talent
The Kingdom completely outclass their opponent and finish off the match within a minute or so.
Winners – The Kingdom
Nyla Rose vs Hikaru Shida
Nyla tackles Shida in the corner behind her back. The referee warns her against using Shida's kendo stick. Nyla beats her up in the corner. Shida comes back with some kicks and a dropkick. She sends Nyla to the corner with tijeras. Nyla avoids a missile dropkick before throwingn Shida to the floor. Shida goes for a hurricanrana on the floor but Nyla sends her into the barricade. We cut to a break.
Shida is firing back as we return. She blocks Nyla's shots, hits a question mark kick, and hits another big kick before a suplex to get a two-count. The Outcasts are watching this match. Nyla goes to the apron. Shida hits a roundhouse kick to knock her off before hitting a running tackle off the apron. Nyla hits back with a chokeslam as they get back to the ring. Shida counters a powerbomb with a hurricanrana before hitting a falcon arrow to get a near fall.
Rose hits a lariat to block Katana kick. Nyla goes to the top for but Shida disturbs the ropes to drop her off balance. Shida hits some headbutts before an avalanche falcon arrow. Shafir puts Rose's boot on the ropes to break the pin. Shafir tries to use the kendo stick but Shida catches it and slams it on Shafir. Rose rolls her up for a two-count. Shida hits a Katana kick to get the pinfall.
Winner – Hikaru Shida
The Outcasts come out to the stage. Shida screams at them as the commentary team announces Shida vs Toni Storm match for AEW Women's title at Dynamite.