AEW Rampage February 18, 2022: Results, Spoilers, Preview, Card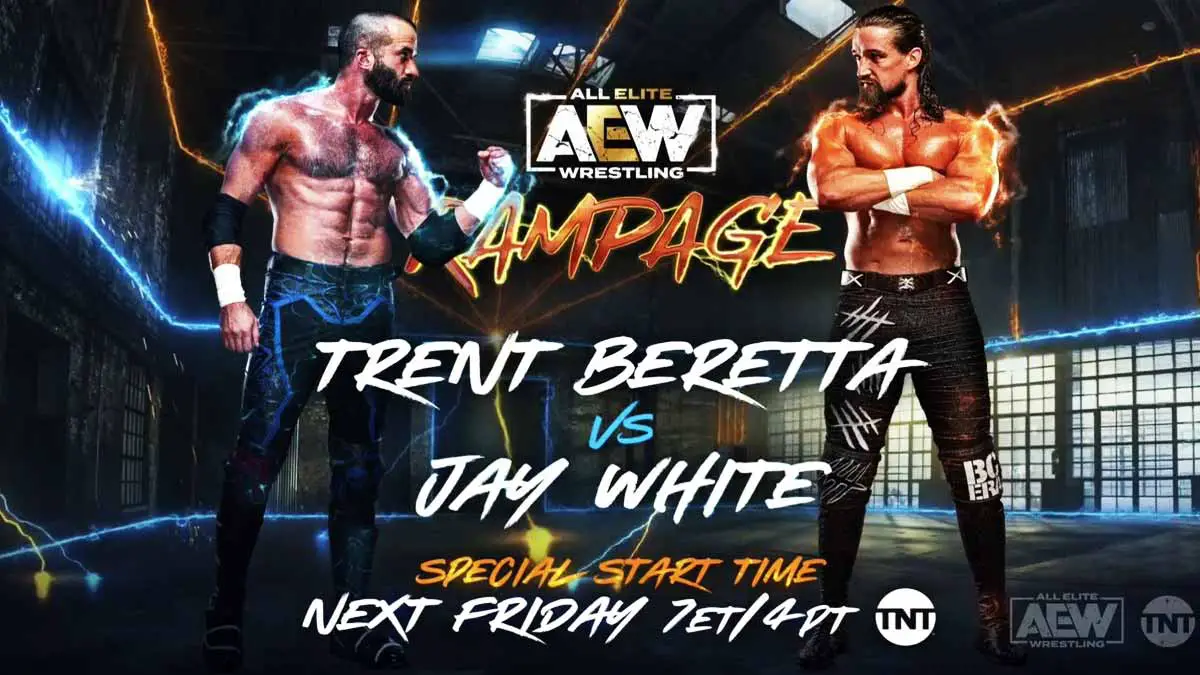 AEW Rampage episode of February 18, 2022, will be a pre-taped show. It will be taped at Nashville Municipal Auditorium, Nashville, TN along with Dynamite episode of February 16. This week's Rampage will have a special start time of 7 PM EST this week.
The episode will mark the AEW in-ring debut of Jay White. Powerhouse Hobbs of Team Taz will face Dante Martin in a Face of the Revolution Qualifying match. 
Keep reading to get complete details on the February 18, 2022 episode of AEW Rampage.
**Find Spoilers at the end of the page.
Show – AEW Rampage
Date – February 18, 2022
Location – Nashville Municipal Auditorium, Nashville, TN, United States
Time – 7 PM EST/4 PM PST
AEW Rampage Results from February 18, 2022
Adam Cole defeated 10 in a singles match via pinfall.
Powerhouse Hobbs defeated Dante Martin via pinfall in Face of the Revolution Ladder Match Qualifier.
Serena Deeb defeated Angelica Risk via submission in 5-minute Challenge
Jay White defeated Trent Baretta in a singles match via pinfall.
Live Updates
Adam Cole vs Dark Order's 10
They lock up and 10 pushes Cole to the mat. Cole puts on a headlock. 10 triest to hit a sideslam but had to hit a shoulder tackle. Cole kicks at him to take him to the corner. 10 rains on him with elbows. He hits a German suplex next. He gets on the second rope and unloads with big punches. Cole slips out and hits a kick at 10's knee. He slams the knee into the ring post a few times.
Back to the ring, Cole hits some elbows and a neckbreaker. Cole goes for a suplex but 10 stops him and hits a delayed vertical suplex himself for a two-count. Cole once again kicks at his knee. Cole throws him to the floor and slams the knee against the steel steps. Cole with more elbows. 10 counters with a big forearm. He struggles to be on his feet and Cole runs him over with a pump kick. We cut to a break.
10 hits back with clotheslines and a spinebuster as we return. He goes for a full Nelson before Cole hits an enziguiri and a backstabber for a two-count. 10 reverses the Panama Sunrise and then hits a big lariat on Cole for a near fall. 10 drops Cole across the ring but is struggling with his knee. Cole hits dropkick before 10 counters another Panama Sunrise with a spear.
10 goes for the Full Nelson. Cole slips out. Cole rolls over the second time and gets a two-count. 10 puts the Full Nelson lock on Cole and he is struggling. Cole pushes the referee in the corner in his attempt to come out of Nelson. He hits a low blow behind the referee's back and quickly follows with a superkick and Last Shot to get the pin and the win.
Winner – Adam Cole
Dante Martin vs Powerhouse Hobbs – Face of The Revolution Qualifier Match
Hobbs charges with a corner splash before the bell rings. The referee separates him from Martin before calling for the bell. Martin hits two Gamengiri to counter. Hobbs catches him in the springboard move. Dante keeps up with the attack and forces Hobbs to the floor with a couple of dropkicks.
Hobbs trips him from the ropes. He drops Dante on the ropes and hits a tackle to drop Dante to the floor. Hobbs throws Dante back to the ring. He tosses him across the ring a couple of times before we cut to a break.
Dante fights off a bear hug with elbows. Hobbs throws him away. Dante fires back with elbows and uppercuts. Hobbs tackles him to the mat for a two-count. Hobbs drives his knee into Martin. He removes his knee pad and goes for a knee drop but nobody is home.
Dante hits clotheslines a couple of times before a springboard uppercut to drop Hobbs. Hobbs moves to the floor and Dante hits torquilo dive on him. Dante hits a missile dropkick as they get back to the ring. Dante hits forearms and a kick. Hobbs stops the Irish whip and hits a spinebuster to get the pin and the win.
Winner – Powerhouse Hobbs
Tony Schiavone is with Jade Cargill and she asks who is next for her. Jade has $ sign printed all over her dress. Hardy Family Office comes in and pitches a match with AHFO's Bunny. Cargill says he walk, talk and smell like money. Mark Sterling says they will show up, Jade will beat Bunny and they will walk out with even more money. Their match is set for next week.
Serena Deeb vs Angelica Rish – 5 Minute Challenge
Serena Deeb comes out. She will face local talent Angelica Risk. The clock starts ticking as the bell rings. Deeb goes behind the back with a hammerlock. Risk tries to take control but Deeb drops her and stomps over her. She gives the chance to put on Full Nelson, but easily comes out of it. Deeb drives Risk's face into the mat with a stomp. Deeb catapults her opponent in the bottom rope.
Deeb goes for a cover but stops in between as she wants to beat her up some more. She toys around with Risk. Risk hits a punch to her midsection. Deeb hits her with an uppercut and then hits a powerbomb. She puts on the Serenity lock to get the submission.
Winner – Serena Deeb
Jay White vs Trent Baretta
They lock up and Trent pushes White to the corner. White hits a shoulder tackle and more quick strikes in the corner. The referee warns him against force in the corner. Trent takes advantage of that distraction to hit back with chops. They run the ropes and Trent drops him with a shoulder tackle. Trent hits big chops as they go from corner to corner. White tries to come back but Trent counters with a back body drop.
White drops him on the ropes before driving him into the barricade and the ring apron. Trent counters an Irish Whip to send him into barricade. Trent hits a clothesline on the floor. Back to the ring, White hangs onto the ropes to avoid a move. He goes on to suplex Trent pver the top rope and out of the ring to send us to the break.
White is in control as we return. He hits some kicks to the midsection. Trent whips him to the corner as the crowd hypes him up. Trent hits a springboard moonsault on the floor. Back to the ring, Trent charges at him with a back elbow. White counters a DDT and hits a Flatliner. White hits a German suplex for a two-count.
Trent hits a tornado DDT for a two-count. Trent hypes up and hits some punches at White. He hits a dropkick to send White out to the floor. He charges at White for a spear but White counters it with a knee. White hits a suplex to send Trent into the barricade. White hits an Urinage to get a near fall.
White looks for Northern Light suplex but Trent hits with back drop suplex. Trent hits half and half suplex to counter Blade Runner. Trent hits a running knee strike to get a near fall. White hits a blow to the midsection. They start trading strikes in the middle of the ring. White hits some chops. Trent hits a lariat and then hits a Piledriver for a near fall. White counters the second piledriver to hit Blade Runner to get the pin and the win.
Winner – Jay White
---
Preview
Jay White vs Trent Baretta: After attacking Trent Baretta two times, Jay White will finally face him in a singles match. Will he be able to mark his impact in his in-ring debut in AEW?
Powerhouse Hobbs vs Dante Martin: Powerhouse Hobbs will collide against Dante Martin as both of them will battle to secure their place in the Face of the Revolution ladder match.
Adam Cole Takes on 10: As Adam Cole starts his rivalry with AEW World Champion Adam Page, he will face Dark Order's 10 in a singles match.
Serena Deed 5 Minute Challenge: Serena Deeb will continue to showcase her skill and dominance with her 5-minute challenge.