AEW Rampage Holiday Bash Dec 25, 2021: Spoiler Results, Preview & Card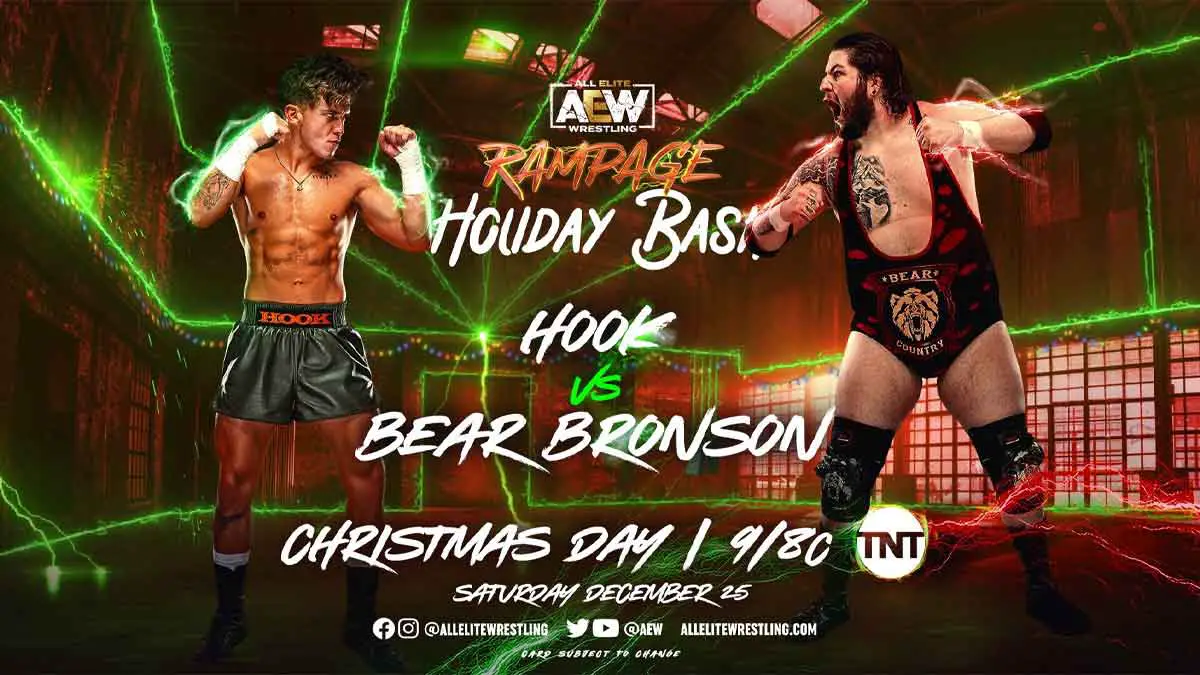 AEW Rampage will have a Holiday Bash episode on Saturday, December 25, 2021. AEW has moved Rampage this week from Friday to Saturday for a special Christman episode. This will be a pre-taped event that will be taped alongside the Holiday Bash edition of Dynamite on December 22 at Greensboro Coliseum, Greensboro, NC.
Holiday Bash episode of Rampage will feature the second match of Hook. He will face Bear Bronson in a singles match. Meanwhile, Sammy Guevara will defend his TNT Championship against Cody Rhodes. 
Keep reading to get the complete details for AEW Rampage Holiday Bash edition on December 25, 2021.
Date – December 25, 2021
Location – Wintrust Arena, Chicago, IL, US
Time – 9 PM EST (December 26 – 2 AM GMT)
Results
Jungle Boy defeated Isiah Cassidy in a singles match via submission.
Hook defeated Bear Bronson in a singles match via submission.

Kris Statlander defeated Leyla Hirsh

in a singles match via submission.

Cody Rhodes defeated Sammy Guevara(c) in AEW TNT Championship Match via pinfall.
Live Updates
Jungle Boy vs Isiah Kassidy
Kassidy takes advantage of Jungle Boy's injury to the lower back. JB comes back with a kick and then follows with quick moves. A big chop from JB. He is sent to the apron. Isiah hits a cutter on the ropes to drop him to the floor and then hits a suicide dive. Back to the ring, JB slaps back at Kassidy. Kassidy drops him with a punch. Matt Hardy takes a cheap shot as the referee is distracted. Kassidy rolls through a sunset flip to hit a dropkick. We cut to a picture in picture.
JB tries to take out Kassidy's ankle. He hits a big lariat and then fisherman's falcon arrow for a two-count. Kassidy hits him with an enziguiri and a poisonrana for a two-count. JB gets a two-count with a German suplex. Kassidy lands on the floor and JB hits a suicide dive. Marc Quen grabs his leg and Christian attacks him. Luchasaurus also comes in and they take care of Matt Hardy also.
JB avoids Kassidy's attack and puts on the snear trap to get a win via submission.
Winner – Jungle Boy
Miro gets a promo. He says he wants to return without any flaws.
Hook vs Bear Bronson
Bronson goes for the arm wrench and Hook reverses it for a while. Hook manages a takedown. He goes for a single leg Boston Crab but Bronson reaches the ropes quickly. Hook unloads on the body in the corner. Bronson turns it around and unloads on body himself. Hook takes him down with a leg sweep. Hook puts on an overhook submission. Bronson drags to the ropes.
Bronson beats him up in frustration. He drops Hook on his back. Hook recovers quickly and hits a larait and a suplex. He hits a side head lock suplex. He unloads on with hammer blows to set up the Tazmission submission to get the win.
Winner – Hook
Leyla Hirsh vs Kris Statlander
They lock up and Statlander pushes Leyla to the corner. Kris goes for a side suplex but Leyla counters with a side headlock takedown. Kris drops her with a shoulder tackle and flexes for a while. Leyla brings her down with takedown. She hits double knees and a dropkick in the corner.
Kriss sends her to the apron. Leyle counters with a tackle. Kris hits a spanish fly. She follows with a delayed vertical suplex. Leyla counters with a takedown. She gets a two-count after sweeping out Kris' leg. Leyla puts on a heel hook. Kris overpowers amd slams her to the corner. Leyla with gamengiri from the apron. She hits running knees to get a two-count.
They trade punches in the middle. Statlander hits blue thunderbomb for a two-count. Kris gets her on her shoulder. Leyla takes her down. Kris hits a back elbow and drops her in the middle. Statlander puts on the Spider crab and gets the submission.
Winner – Kris Statlander
Cody Rhodes vs Sammy Guevara – AEW TNT Championship Match
Sammy hits a dropkick immediately after the bell. He goes for the GTS but Cody avoids. He hits another dropkick after running the ropes and then clotheslines Cody to the floor. Cody gets over the barricade to regroup while Sammy poses in the ring. Cody is back to the ring and he puts on a side headlock. Sammy gets one with a roll-up. Sammy sends him to the apron and then drops him with a hip toss. Sammy hits a powerslam to get a two-count.
Cody hits a springboard move to come back. Sammy throws him to the floor and slams him to the steel steps. Cody gets away from Sammy attack and slams him to the apron. Cody with knees to the rib and a hip toss before he grounds Sammy with a submission move. We cut to a picture in picture break.
Cody hits a delayed vertical suplex.as we return. He misses a moonsault. Sammy runs him over with several moves and then hits a double springboard cutter. He hits crossroads and then a dive on the floor.
Cody counters with a powerbomb on the steel steps. He beats up Sammy for a while on the floor and then hits crossroads in the ring. Sammy kicks out at two. Cody is looking for a top rope move but Sammy drops him and then hits a splash. Cody also kicks out of a near fall. Sammy goes for a 450 splash. Cody gets his knees up. Cody hits back-to-back crossroads and then hits a piledriver to get the pin and the win.
Winner – Cody Rhodes(new TNT Champion)