AEW Rampage August 25, 2023 Results, Live Updates, Highlight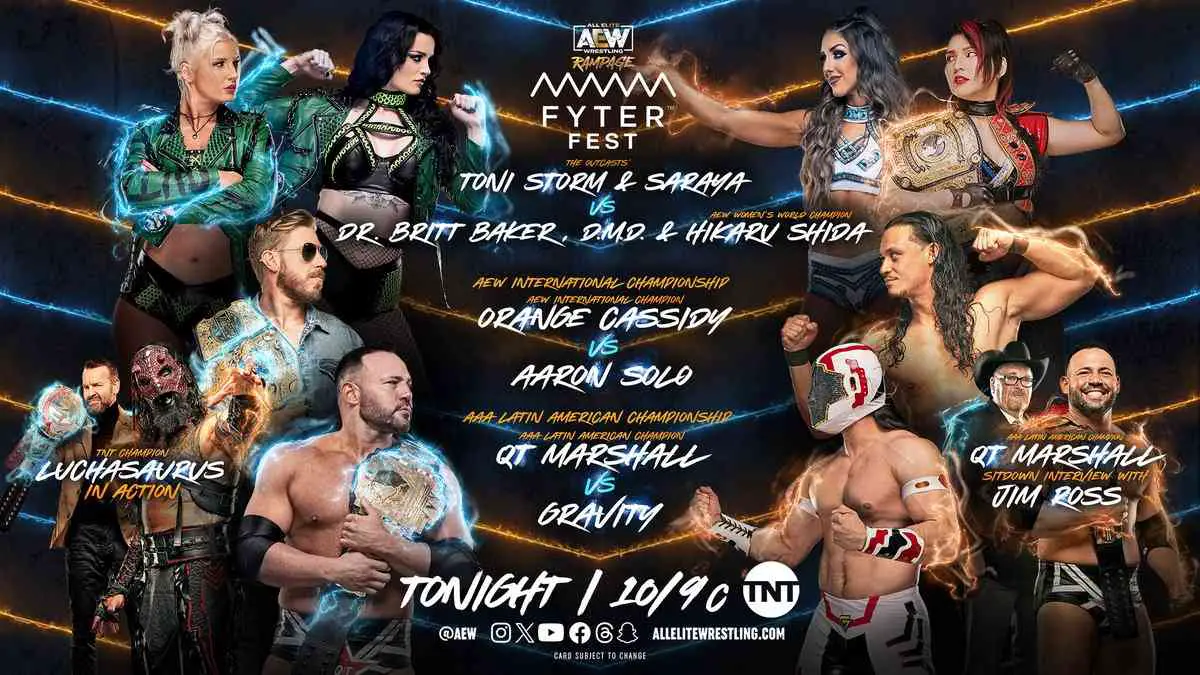 Welcome to the live results blog for AEW Rampage August 25, 2023 episode which was taped on last Saturday, and continued the build-up for AEW All In 2023.
4 matches were announced for the show including 2 title matches. Orange Cassidy defended AEW International Championship against Aaron Solow. QT Marshall defended AAA Latin American title against Gravity. TNT Champion Luchasaurus was in action in a singles match.
4 women in AEW Women's Championship match, Toni Storm, Saraya, Hikaru Shida & Britt Baker clashed in a tag team match. Tune in below as we post results from AEW Rampage on August 25, 2023, with live updates, winners, highlights and complete action.
RESULTS
Orange Cassidy(c) defeated Aaron Solow in a singles match via pinfall to retain AEW International Championship.
QT Marshall(c) defeated Gravity in a singles match via pinfall to retain AAA Latin American Championship
Luchasaurus defeated Ren Jones in a singles match via pinfall.
The Outcasts(Toni Storm & Saraya) defeated Hikaru Shida & Britt Baker DMD in a tag team match via pinfall.
LIVE UPDATES
The show opens with a graphic in memory of Bray Wyatt.
Orange Cassidy(c) vs Aaron Solow – AEW International Championship
Harley Cameron sings for Aaron Solow in his entrance. Solow starts with a kick to midsection. Cassidy brings him down to the mat with a side headlock. Solow turns it around but Cassidy brings him down again with another headlock to get a two-count. Solow counters with a leg scissors. Cassidy does a headstand to break free of it. An armdrag from Cassidy with his hands in the pocket sends Solow to the floor. Harley gets in front of Solow to stop Cassidy's attack. Cassidy hits her with lazy kicks. He ducks Solow's shot which almost catches Harley. Cassidy takes advantage of their argument to hit a suicide dive. Back to the ring, Cassidy goes to the top but Harley trips him with the referee distracted by Solow. We cut to a break.
They block suplexes from each other. Solow hits a shot to midsection. Cassidy slams his face into the turnbuckle. He hits a crossbody off the top. Cassidy ducks a crockscrew kick during a back and forth sequence. Cassidy hits a stundog millionaire and a DDT to get a two-count. Cassidy gets ready for Orange Punch when Harley starts to sing to distract him. Solow hits a corkscrew kick and a suplex to get a near fall. He hits a diving double stomp next, but Cassidy kicks out again. Harley comes in to try and hit Cassidy with a boot. But, the referee catches her. Solow runs over Cassidy with the boot to get a near fall. Cassidy ducks a move and hits Orange Punch and Beach Break to get the pinfall.
Winner – Orange Cassidy
Jim Ross is with AAA Latin American Champion QT Marshall. QT says everyone feels that he has surrounded himself with other big stars, but it is the other way around. He talks about how he is being criticized of getting opportunity with his connections to Tony Khan, and questions why did it take him to go to another promotion and another country for him to win a title. He shares his frustration of not having an action figure while you can order Escaliber action figures.
QT Marshall(c) vs Gravity – AAA Latin American Championship
Johnny TV is on the commentary. QT cuts a promo after his entrance talking in Spanish and mocks Gravity for not being as good as him or his brother Bandido. Gravity slaps him before the bell rings. Gravity hits armdrags and dropkicks to send QT to the floor to follow up with a tope suicida. QT catches him with an uppercut midair. Gravity hits a tijeras on the floor. He does the moonwalk on the apron before QT blocks another tijeras and powerbombs him on the apron. We cut to a break.
They trade chest slaps as we return. Gravity gets QT in a cradle to get a two-count. He gets another two-count with a cassadora. Gravity hits a Canadian Destroyer to counter a powerbomb and gets another two-count. Gravity hits a corner clothesline and a big boot. QT catches him and hits a backbreaker. Gravity reverses a suplex with a sunset flip to get another two-count. Gravity hits a series of thrust kicks before hitting a bridging 21-plex for a near fall. QT hits a short arm lariat to take the control back.
QT attempts a Diamond Cutter from the top rope but Gravity escapes and stings QT's chest with big chops and uppercuts. He hits an Air Raid Crash but QT kicks out of the near fall. Gravity gets to the top but QT hits a diamond cutter and a powerbomb to get the pinfall.
Winner – QT Marshall
We hear from Dark Order who tell us that their match at Death Before Dishonor has opened pandora's box.
Luchasaurus vs Ren Jones
Jones ducks the lock up and nails an elbow. He ducks in the corner and hits an uppercut. Luchasaurus runs him over and hits a chokeslam. He hits a clothesline on the back of his head to get the pinfall.
Winner – Luchasaurus
The Outcasts(Toni Storm & Saraya) vs Hikaru Shida & Britt Baker DMD
A big brawl starts the match. Ruby grabs Baker's leg to stop the curbstomp after she drops Saraya. Saraya takes her to the corner to tag in Toni. Toni keeps control in the corner. Saraya takes cheap shots at Baker while Toni keeps the referee distracted. Toni knocks Baker off the apron with a hip attack. Ruby unloads on Baker on the floor while Toni distracts the referee again. Kris Statlander comes out and beats up Ruby. She picks up Ruby in a fireman's carry and takes her back. We cut to a break.
Toni keeps the control as we return from the break. Big shots from Toni for a while. Baker hits a neckbreaker to drop Toni. Shida gets the tag and she runs over Toni before knocking off Saraya. More quick moves on Toni before Shida takes down both Toni and Saraya with one move. Toni trades chops before dropping Shida. Baker comes in but her bad footwork costs her as Toni slams her to the corner. Saraya tags in and they hit a double team powerbomb on Baker. Shida breaks the pinfall. All 4 women are down after they hit each other with question mark kicks and superkicks. Baker and Shida come out on the top in the brawl after this. Baker hits a neckbreaker on Saraya. She looks for lockjaw but Saraya grabs the referee's leg. Toni sprays Shida's face with spray paint to blind her. Baker decks Toni to the floor. Baker goes to check Shida, who decks her with a big elbow. Saraya hits nighcap DDT to get the pinfall.
Winners – The Outcasts
After the match, Baker checks on Shida on the floor. Toni Storm and Saraya tussle over the title belt on the ring as the show goes off the air.