AEW Full Gear 2022: Sting & Darby Allin vs Jeff Jerrett & Jay Lethal Result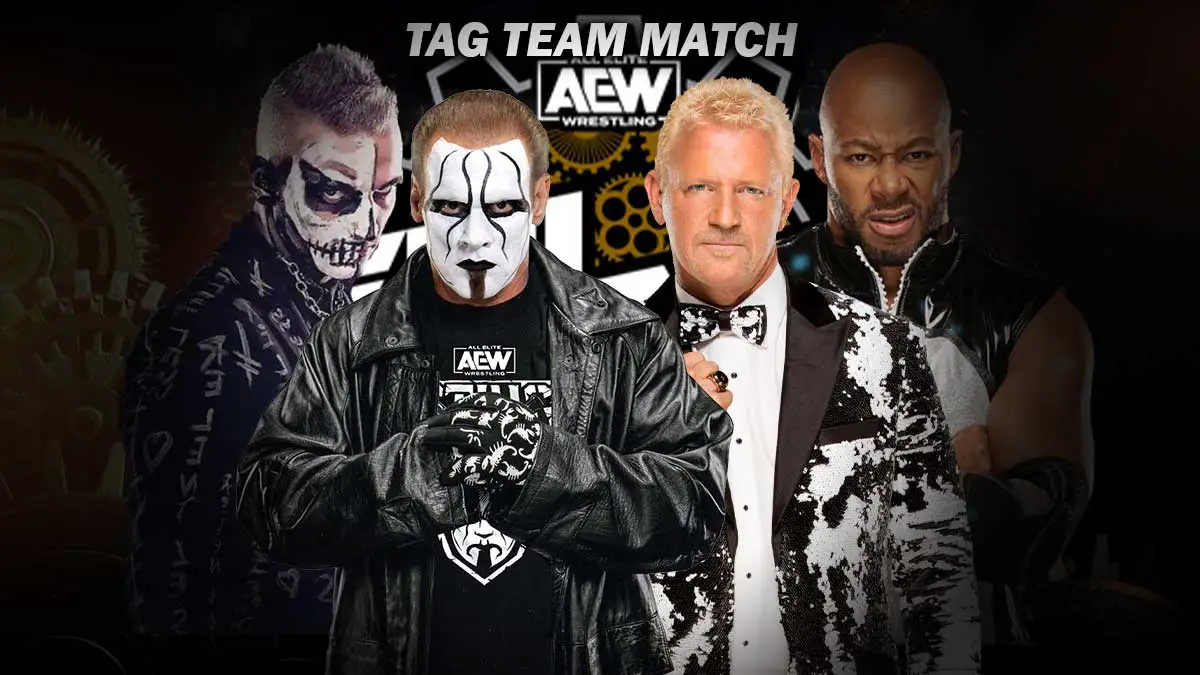 Jay Lethal and Darby Allin had a rivalry going for the past month or so. Darby defeated Lethal in a singles match but Lethal termed it as a fluke. They clashed in a rematch at the November 9 episode of AEW Dynamite. Jeff Jarrett came to AEW that night to side with Lethal and his team.
Jerrett also revealed that he is officially All Elite and called out Sting. He even hit Darby Allin with his signature guitar shot. As a result, it was announced that Jeff Jarrett along with Jay Lethal would take on the team of Darby Allin & Sting at AEW Full Gear 2022.
Live Update
Jay Lethal entrance music hits followed by Jeff Jarrett. Soon a body bag appeared on the ramp, and when Lethal tried to approach it Darby Allin came running and attacked Lethal with his skateboard. 
Meanwhile, Sting appeared behind Jeff Jarrett inside the ring. The Real Last Outlaw was intimidated to see Sting right behind him.
The fight went to the crowd and down the stage.
After hitting Jarrett with a suplex, Allen went behind the stage and brought a ladder. He went on top of it but was caught by Satnam. He carried him and then threw him on the ramp. 
Satnam then went for the rescue of Jay Lethal who was fighting Sting in the crowd. Satnam saved Lethal, but then Sting hits both of them with the crossbody. 
Meanwhile, Jarrett takes Allin back inside the ring. Jeff attacked Allin, and after a while, Lethal get inside the ring as well. The chaos finally settled as Allin and Lethal continued the action in the ring whereas Sting and Jarrett stand in the corner. 
Later, Sting ad Jarrett received a hot tag. Sting hit Jarrett and Lethal with the splash to the corner. After that, he put Jarrett into the Scorpion Death Lock. Sonjay Dutt tried to break it, but then Satnam Singh came and hit Sting with the chokeslam. 
Jarrett covered him but Sting kicked out. Soon, Allin went for the coffin drop but Jarrett hit him with his guitar. Somehow, Darby survived it and get to his feets using kip up. 
Sting got the tag but Satnam Singh came to the rescue again. Sting ducked his corner splash, and puts him in the position for the Stinger, Darby goes to the top, and then they used the combo of coffin drop and Stinger to put down Satnam Singh. 
Later, in the ending moments, Sting countered Lethal Injection by Jay with a Stinger Death Drop, and Darby Allin hits the coffin drop to get the pinfall. 
The icon Sting & Darby Allin defeated Jay Lethal and Jeff Jarrett in a tag-team match.