AEW Dynamite Sept 6, 2023 Results, Live Updates, Highlights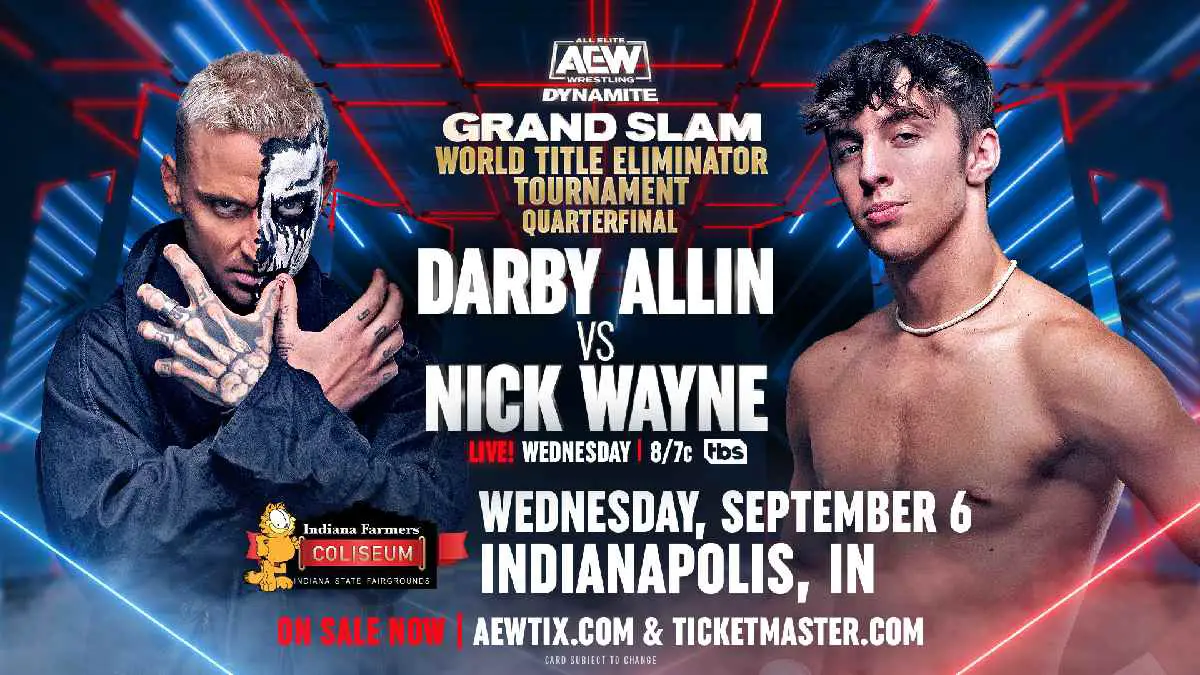 Welcome to the live results blog for AEW Dynamite September 6, 2023 episode which was live from Indianapolis, IN.
Jon Moxley defended AEW International title against AR Fox just 3 days after winning it. Kris Statlande also defended AEW TBS Women's Championship against Emi Sakura. Chris Jericho and Sammy Guevara returned to tag team action against Aussie Open as they mounted a challenge towards tag team titles.
Friends turned competitors as Darby Allin and Nick Wayne clash in one of the quarterfinals of Grand Slam 2023 World Title Eliminator tournament. The other quarterfinal saw Roderick Strong take on Trent Beretta. AEW World Champion MJF was for a promo after an unprovoked attack from Samoa Joe. Hangman Adam Page was also set for a segment.
Tune in below as we post results live from AEW Dynamite September 6, 2023 episode with live updates, winners, highlights and complete action.
QUICK Results
Jon Moxley(c) defeated AR Fox in a singles match via pinfall to retain AEW International Championship.
Kris Statlander(c) defeated Emi Sakura in a singles match via pinfall to retain AEW TBS Women's Championship.
Le Sex Gods(Chris Jericho & Sammy Guevara) defeated Aussie Open(Kyle Fletcher & Mark Davis) in a tag team match via pinfall.
Roderick Strong defeated Trent Beretta in Grand Slam World Title Eliminator Quarterfinal via pinfall.
Darby Allin defeated Nick Wayne in Grand Slam World Title Eliminator Quarterfinal via submission.
LIVE UPDATES
The show opens with Orange Cassidy coming out. The crowd chants, "Thank you, Orange!" for him. Cassidy thanks the fans and says they told him to stay home but he is not gonna do that. He will be here every single week whether he has a title or not because he is Freshly Squeezed Orange Cassidy and he does not have a catchphrase.
Jon Moxley(c) vs AR Fox – AEW International Championship
Fox ducks a lariat and hits chops in the corner. Mox hits back with chops of his own before some countdown punches. Fox counters a whips, gets to the apron, hits punches and a missile dropkick. Mox rolls to the floor and Fox hits a suicide dive. Mox catches him with a shot on the apron to take over control. Nick Wayne and Darby Allin are watching the match backstage. Mox rakes his back. Fox comes back with a knee strike and a DDT on the ropes. Mox throws Fox on the barricade and then over it into the crowd. We cut to a break.
Fox comes back with an enzuigiri as we return. Mox no-sells a couple of clotheslines before Fox fires shots and a cutter. Fox gets caught in the corner but hits another cutter quickly. He hits a senton on the floor next. Moxley kicks out of a near fall when Fox brings him back to the ring. Moxley puts on a kimura before hitting some hammer and envil elbow. Fox tries to hit back but Mox hits a King Kong Lariat and Deathrider to get the pinfall.
Winner – Jon Moxley
Moxley leaves immediately after the match. Darby Allin comes out to check on Fox after the match. Nick Wayne is still backstage. Darby watches him on the big screen as Christian Cage and Luchasaurus approach him. Christian says he watched footage of Wayne's father and found him worse than he thought. Christian says Wayne needs a champion as a mentor to get better and not Darby Allin.
Kris Statlander vs Emi Sakura – AEW TBS Women's Championship
Sakuta hits a Tiger Driver to start the match. Sakura hits a DDT next. Kris gets to the apron and Sakura hits a crossbody to knock her off it. Sakura hits a crossbody against the steel steps on the floor. Sakura gets a two-count when they return to the ring. Stat starts to match Sakura strike for strike with chops. Sakura drops her with a lariat. They collide in the middle with clotheslines thrice in a row, both going down in the third collision. Sakura ducks a discuss lariat and slams Stat to the mat. Sakura hits a double underhook backbreaker to get a two-count. Stat drops her face first in an inverted powerbomb. She hits a discuss lariat and Wednesday Night Fever to get the pinfall.
Winner – Kris Statlander
Roderick Strong is with the Kingdom and is asked about his parents backstage in an interview. Strong talks about his parents being alcoholics and not being there for their children. Professional wrestling gave him a stage where no was judging him and he can express himself freely. Strong says Adam Cole knows about all of this. He once again vows to win World Title Eliminator tournament.
Le Sex Gods(Chris Jericho & Sammy Guevara) vs Aussie Open(Kyle Fletcher & Mark Davis)
Davis backs Jericho into the corner. Jericho rakes his eyes and hits punches. Davis hits a clothesline to drop him. Jericho sends him to the corner before tagging in Sammy for a double team tackle. They pose in the middle of the ring. Davis hits back with a double clothesline. Sammy is dropped face first on the turnbuckle. Fletcher tags in and hits a body slam. Sammy starts to trade chops with him. Sammy hits a corkscrew dropkick, which lands a bit low. Jericho tags in to hit a delayed double vertical suplex, keeping Fletcher in the air for around 20 seconds. We cut to a break.
Sammy tags out to Jericho. Jericho tackles Davis. He jumps from the top. Aussie open hit him with a double lariat but Sammy catches Davis with a cutter at the same time. Jericho hits Fletcher with a cutter. Jericho hits a springboard kick to knock off Fletcher from the apron. Sammy hits a tornillo on Aussie Open on the floor. Aussie Open send Sammy into Jericho's crossbody. They sandwich Sammy and Jericho on the floor. Jericho is hit with a roundhouse kick and a double team slam, but Jericho kicks out of the pin.
Sammy comes in to hit Spanish Fly. Jericho fails to put Fletcher in Walls of Jericho. Fletcher hits a kick, a running kick and a brainbuster to get a near fall. Jericho knocks Sammy off the apron with an ax handle. He manages to catch Fletcher with Judas Effect to get the pinfall.
Winner – Le Sex Gods
Sammy pushes Jericho away after the match when he tries to raise his hands. Sammy is clearly not happy with a couple of shots from Jericho that landed on him. They shove each other and security separates them. Sammy walks out in the audience.
---
We see a recap of Bryan Danielson vs Ricky Starks match. Starks says in a video promo that he proved to AEW & Danielson by not tapping out.
Samoa Joe Can Get Away with Anything!
AEW World Champion MJF comes and starts promo with how he started his journey in independent wrestling in Indianapolis. He was pissed when he was told by Tony Khan previously that he will have to wrestle again in two weeks, but then he realized that its Grand Slam in two weeks, and he is pumped for it. MJF then says there is one person in particular who needs to be taught a lesson. Before MJF can say who that is, Samoa Joe comes out. Samoa Joe asks him what is the problem, kid. MJF says Joe is mistaking his entrance music for some ice cream truck. Joe says MJF is mistaking him for a champion from other company, and asks again what is the problem, kid.
MJF gets pissed that Joe has called him kid twice now. MJF then goes to make up some jokes on Joe. Joe says MJF is having hard time comprehending what is going on. Joe asks him again what is the problem, kid, and MJF gets triggered once again, saying he will knock Joe's teeth out. MJF then composes himself. MJF says Joe might be looking for a title match, but there is a whole tournament going on to face him. MJF then starts to tell us about the time he got a try out at WWE and how William Regal screwed him. MJF says he then sent him packing when he got the chance, and warns Joe that he will do the same to Joe next if he is not careful.
MJF says Samoa Joe is great, but what did he do when worked as an extra. MJF says Jeo shoved him away because he knew he could get away with it. But now, he is the AEW World Champion and has headlined the most historic PPV of all time. So, he will tell Joe to stay out of his way, or else he will kill him. MJF drops the mic after his catchphrase. Joe replies that he did not push MJF because he thought he was a kid, but did it because he thought he was a little bitch. MJF slaps Joe.
Joe says MJF is trying to provoke him and get his opportunity away, but he is not gonna respond, but will go through the tournament to get his title shot. MJF starts to leave but Joe kicks at the ropes for a low blow. Joe stands tall. MJF also hits him with a low blow before he unloads on Joe. Joe hits back with an Urinage from the corner. Adam Cole runs out to make the save. After Joe leaves, MJF says his shoulder is hurt. Trainers help him to the back.
Roderick Strong screams at Adam Cole as he makes his entrance. Cole says MJF is not okay, and they should not do it right now. Strong still have a neck brace on which he removes as he gets in the ring for the match. We cut to a break.
Roderick Strong vs Trent Beretta – Grand Slam World Title Eliminator Quarterfinal
Strong pushes Beretta to the corner. A bit of quick back and forth as Strong gets Beretta to the mat. Strong trips Beretta and attempts stronghold but Beretta blocks it. Strong outs on a front facelock. Strong hits a shoulder tackle. Beretta comes back with a high knee strike and Strong clutches his neck immediately. They trade chops next. Strong is able to take Beretta down. Beretta hits a back drop suplex before a back elbow in the corner and a DDT. Strong quickly rolls to the floor clutching his neck. Beretta comes out as The Kingdom check on Beretta. Strong pushes him into the ring post before dropping Beretta's back on the apron.
Beretta fights back as we return. He slips out and hits a couple of German suplexes. Strong grabs the ropes to stop the third one. Beretta hits a twisting Death Valley Driver to get a two-count. Strong comes back with a lungblower, followed with a big kick to get a two-count. They tussle on the top rope. Beretta brings down Strong, but Strong counters it into a pin attempt. Beretta hits a half-and-half suplex and a piledriver. Strong gets his foot on the ropes to break the pin. The Kingdom motivate Strong. Strong holds onto the ropes to avoid a move. Strong hits a jumping kick and End of Heartache to get the pinfall.
Winner – Roderick Strong
Toni Storm is interviewed by Renee Paquette backstage and is asked about use of spray paint that cost Ruby Soho her title match. Toni says she has so many performances that she does not remember it. She is told about a fatal 4-way match next week on Dynamite with the winner facing Saraya at Grand Slam. She gives another vague answer before saying that she is taught to keep her chin up, tits out and watch for the shoe. Toni throws a shoe at Renee again after she exits the frame.
Adam Page has Slacked!
Hangman Adam Page comes out. Tony Schiavone interviews him and he talks about his Battle Royal win with Page putting over the teachers and how underfunded they are. Page wants to talk about what he wants to do in the rest of 2023. Swerve Strickland's music hits and he is escorted by Prince Nana. Nana asks the crowd to show some respect to Swerve. Swerve says you get some perspective after a big loss, and the first thing that came out to him was Hangman Page. Swerve takes shot at Page doing charity, and doing it on the pre-show instead of competing on the main card. Swerve says Page was the cornerstone for AEW at the beginning, became the AEW World Champion.
But, now he is at the pre-show, and he observed that Page has slacked, does not have any new ring gear, new merchandise, no singles promos on Dynamite or Collision. Swerve says if he got the opportunities that Page got, he would have been the first black AEW World Champion by now. Swerve advises Page to move out of the way and let him take his spot. Or Page needs to find that fire and motivation to show him and these people what Cowboy shit is all about. Or they can face off and fight for that spot. Page says he is done with this shit, and if he wants a match he goes to the back and ask for it.
Page leaves the ring. Swerve mocks him using his wife and kids. Page gets into the ring and gets into Swerve's face. Brian Cage attacks Page from behind and drops him with a body slam.
Darby Allin vs Nick Wayne – Grand Slam World Title Eliminator Quarterfinal
Quick counters from both sides before Darby takes Nick down in a side headlock. Nick tries to get out but gets sent to the floor. Nick avoids a suicide dive from Darby, who crashes into the barricade. We cut to a break with Nick being concerned for Darby.
We return to see Nick hitting a superplex and fisherman's buster. Darby gets his knees up on a splash from the top. Darby hits a shotgun dropkick next to get a two-count. More quick back and forth before Darby puts on a figure four leg lock. Nick turns it around to put pressure back on Darby. Darby gets to the ropes to break it. Nick goes for a sunset flip but Darby holds on the ropes. They collide in the middle with a double crossbody and are down in the middle. They trade shots as they get up. Darby asks for a mic and tells Nick that he is hitting like an 18 years old, and ask him to hit him like he wants to win it. Nick nails him with a superkick to get a near fall. Christian Cage comes out with Luchasaurus as his music hits. We cut to another break as Christian gets on the commentary table.
Nick hits a hurricanrana off the apron to drop Darby on the floor. He hits a frog splash after this on the floor. Nick hits Wayne's World in the ring but Darby kicks out of the pinfall. Nick goes for a cutter off the top but Darby pushes him down to the floor. Darby pulls out of a Coffin drop and instead goes for a simple cover. Nick tries to get the pin with the last supper but Darby kicks out. Darby hits a crossbody and uses a few pinning manuevers to get several two-counts. Darby hits a stomp on his shoulder and uses a submission move to get the submission.
Winner – Darby Allin
The show goes off the air with Darby sitting in the ring, still in